A Keyboard To Control All Your Mobile Devices – Logitech K480 Review
Date: December 29, 2014
Author(s): Tom Roeder

A mobile keyboard that does it all, on all of your devices – that's quite the Holy Grail nowadays. Well, what we're looking at here is an offering from Logitech that may just suit the needs of your mobile lifestyle. Whether you're needing to type on your iPad, smartphone, or even your desktop, this keyboard won't hold you back.
---
A Keyboard To Control All Your Mobile Devices – Logitech K480 Review
I have owned a few mobile keyboards in my day, and usually they are not much fun to do some serious typing on – in fact, most of them are downright terrible. Having said that, there are probably no keyboards out there that offer a worse experience than typing on glass, so they certainly do have that going for them.
Most people these days have at least a laptop or tablet and a smart phone with them or near them at all times and use them daily whether on the go or at home. If you do a lot of typing from these devices, you know just how bad typing on glass can be, especially on a smart phone – that screen just can't get big enough to type decently on.
Well, if you're looking for a solution, listen up.
Enter the Logitech K480.
What we are looking at today is a mobile keyboard that has the versatility of easily switching between Bluetooth connections, of up to three different devices, on the fly. Now you might ask yourself, why would you need something like this? To properly utilize a device like this, you don't need to be a traveler, or some business executive going to meetings.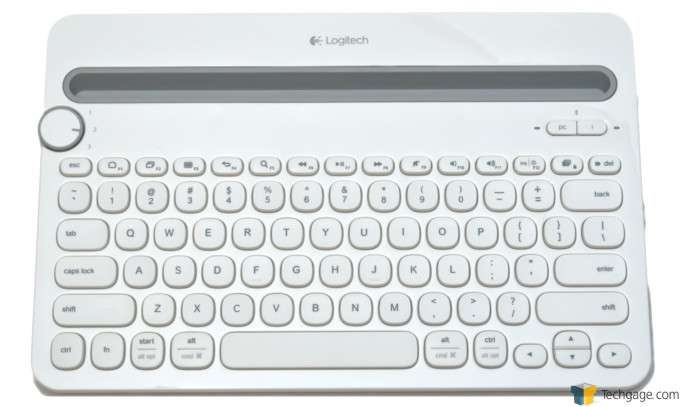 The K480 offers compatibility with all the major platforms – Mac OS X, Windows, Chrome OS, iOS and Android – really anything that has Bluetooth 4.0 or higher this keyboard can be used with.
The design is simple and clean, keeping consistent with most modern mobile devices. This model shown is white with grey trim – there is another model available in dark grey with yellow trim.
The K480 does have a somewhat sizeable footprint for being a minimalist keyboard that is designed to be taken on the go – I found that the top of the keyboard had quite a bit of unused real estate, but that may be there to give the device some structural strength in that area, since this is where you will be inserting the device that you are typing on.
On the top left, you will find the rotary "Easy Switch" dial – this does exactly what it sounds like it does –switches the keyboard to whichever device you have it paired with, on the respective number.
Across the top is the slot where you will insert your device. I tried this device with my iPhone 6, iPad 2, and my Microsoft Surface. Everything fit well, except for the Surface (RT first generation). I could insert it portrait style, not landscape as it was just barely too long for the slot – not a big deal for me, because my Surface came with its own keyboard.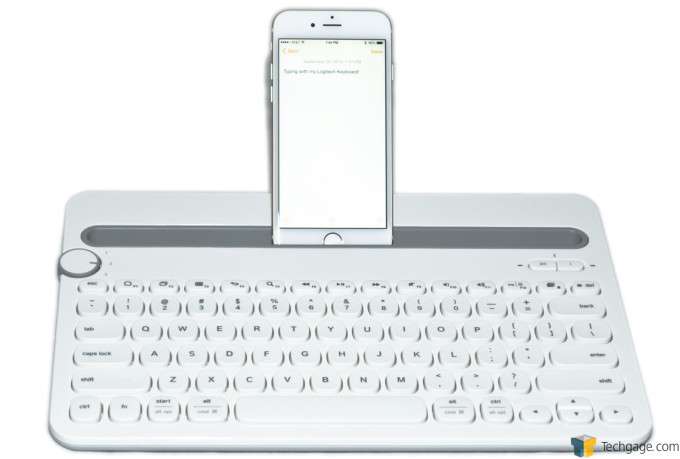 The keys themselves are a pretty standard layout – on the upper right you find the button that you use to perform the pairing, and you will select the "pc" button for everything except iOS and Mac OS X, and the "i" button for your Apple made devices, thus using the function keys appropriately to your device.
There are function keys on the top row of the keyboard that can be used for returning to the home screen of your device, multimedia controls and so on.
As far as typing on the keyboard – I feel I need to preface this section of the review. Some people are very picky about the keys they press, some are not. I spend a lot of time behind a keyboard at my job – being an IT professional, that comes with the territory. I also spend a decent amount of time behind a keyboard at home too. The differences between mechanical gamer's keyboards, laptop keyboards and others, can be quite astounding. I often have a hard time adapting back to my mechanical gamer keyboard when I get home from work. At work I use a Mac keyboard, and the differences are huge. Having said that, keyboards are like women with their flowers – some women love roses, some love lilies. Everyone is different and has their own unique preferences. Keeping that in mind, I always recommend people try keyboards in person before they buy, simply because what one person may love, another may not.
I found typing on this keyboard to be a less than desirable experience. The keys have the "mushy" feel of a membrane keyboard switch, and I found extensive typing really fatigued my fingers. I found the keyboard to be thicker than necessary, wider than necessary, and overall has a cheap feel to it. These are my experiences using the device, but I am used to more top end, premium devices. That being said, I have to keep in mind that this is a $50 device – for that $50 you get Bluetooth connectivity to three devices, a slot to set the device in, and a small enough footprint to throw in your bag and take with you. For the price point, there is a lot of value there I have to admit.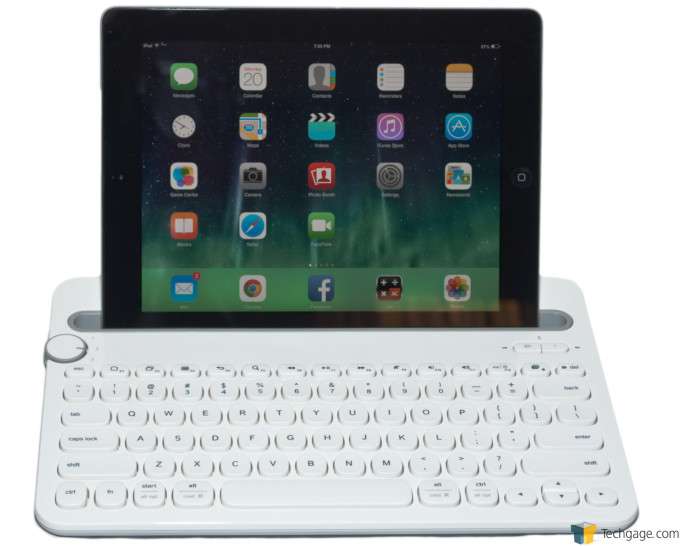 Probably the most obnoxious part of my user experience with the K480 was this: on my iPhone, when I am ready to send the message that I have typed, there is no "send" button on this keyboard. That means when you are done typing the message, you have to take your hand off the keyboard and tap the screen to send the device. This may not be a big deal to some people, but I found it a bit silly that the makers would put a button on the keyboard to take you back to your home screen (useless, in my opinion) but they would omit a "send" button – just a glaring oversight, I think.
I personally do not have the necessity for a device like this – the reason I don't is because my MacBook has OS X Yosemite on it and that allows me to perform all of my texting on my iPhone from my Mac. Not everyone has this option, but the utility of this Logitech K480 is really big for someone on the go.
With the influx of inexpensive laptops out there like the Chromebooks and inexpensive Windows laptops, I am not sure what the future holds for tablets. I personally don't care for tablets anymore after owning one. However the smart phone market is only getting bigger by the minute, and this keyboard certainly makes communicating on one a lot easier and more convenient.
Copyright © 2005-2019 Techgage Networks Inc. - All Rights Reserved.