A Look At Corsair's iCUE Software For macOS

Date: March 17, 2020
Author(s): Tom Roeder

Gaming on a Mac. It does happen, and macOS users have never exactly been spoiled for choice when it comes to gaming accessories. Corsair saw this gap in the market and decided to make its well-known peripherals and iCUE software available for macOS users.
---
A Look At Corsair iCUE For macOS
"Gaming on Macs" – probably three words that are rarely said in a positive light. macOS has always been known more for media creation and software developers, rather than for gaming. macOS machines simply don't have the level of expandability or compatibility (or affordability) that their Windows-based counterparts do, so the natural flow of the gamer is always to Windows.
However, as hardware keeps getting better and better, and popular games are keeping longer life-cycles than ever (Counter-Strike: Global Offensive is entering its eighth year now), platforms such as Linux and macOS are getting more choices for games than ever before. If you haven't looked at the Steam store lately for Linux and macOS choices, there is a fairly impressive offering.
Here at Techgage, we have extensively reviewed many of Corsair's offerings, and are all familiar with iCUE and its capabilities. When the news came that iCUE was coming to macOS, it definitely piqued our interest.
Corsair has sent us three peripherals to test out the new iCUE for macOS with:
Corsair K70 RGB MK.2 Keyboard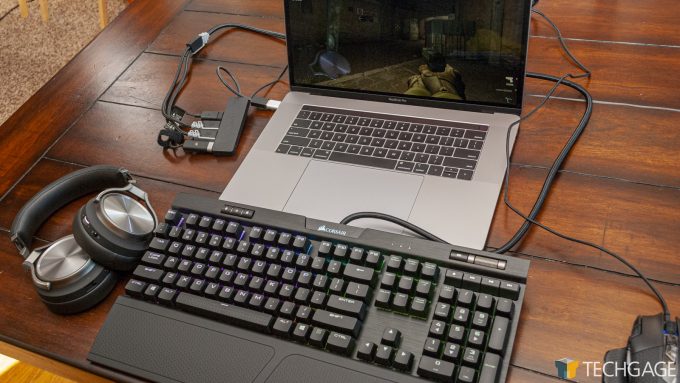 Key features include an aluminum frame / top plate giving it tremendous rigidity, and a nice weight, coming in at 2.75 pounds, or 1.25kg. This particular model comes in the CHERRY MX Silent variety of switch, and per-key RGB dynamic lighting.
The K70 RGB MK.2 has full 10-keys, multimedia controls, and a volume roller. It also has FPS and MOBA keycap sets, 100% anti-ghosting with full-key rollover, Windows key-lock mode button, and detachable wrist wrest. Model featured priced at $169.99 USD.
Corsair Nightsword RGB Mouse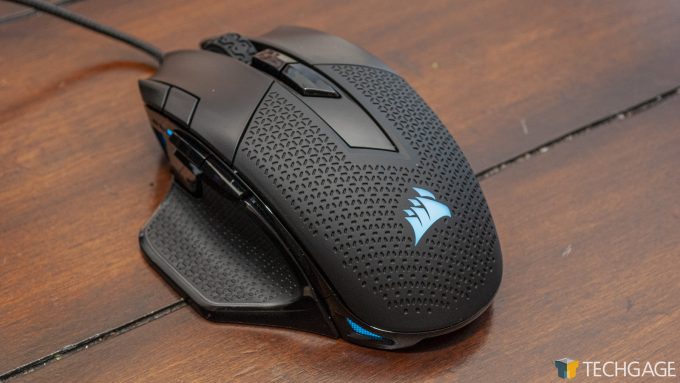 The Nightsword features zone-controllable RGB lighting, 8 programmable buttons, 18,000 DPI optical sensor, Omron brand switches which are rated for 50 million uses. Three on-board profiles, selectable polling rate, and weight tuning, coming in at $79.99 USD.
Corsair Virtuoso RGB Wireless SE Headset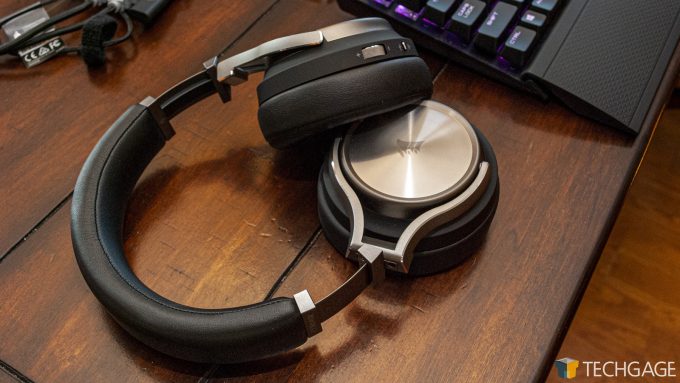 We just recently gave this headset and in-depth review, you can check that out here. MSRP at $209.99 USD.
Using iCUE On macOS
Installation of iCUE on macOS is pretty straight-forward, and once installed, there is no learning curve whatsoever. If you've used iCUE on Windows, you will immediately be familiar with its macOS offering. The GUI is identical, all of the buttons are in the same place, and they all do the same thing. If any of your devices are due for a firmware update, you can see that here and apply those if you like.
On the main Devices screen, we immediately see our three devices already populated on the list.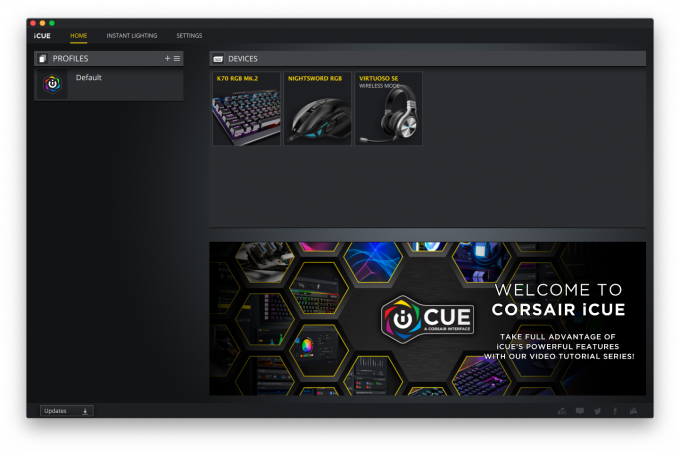 We can go over to the K70 RGB MK2 Keyboard and adjust lighting, set macros, and hotkeys.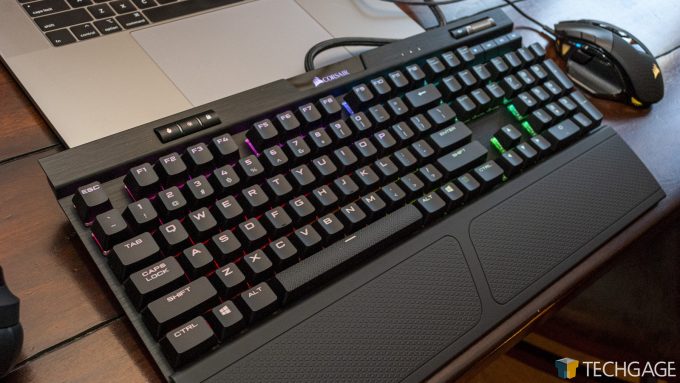 Over to the Nightsword RGB Mouse section, we can set the lighting as we like it on a zone-per-zone basis. We can also tune the DPI to our liking and assign some presets for it. We can also calibrate the mousepad surface to get optimal traction.
Lastly we can install weights in strategic locations in the mouse and iCUE will assist us in knowing where the center of mass is.
Over to the Virtuoso RGB Wireless SEs we can set lighting profiles, and adjust the EQ of the headphones. There are several pre-sets, or you can set your own EQ presets if you like.
Overall, we could not find any key differences between the macOS and Windows versions of iCUE, but Corsair has noted in the past that it's still not at feature parity. Certain older peripherals may require a firmware update before they can be used on macOS, which means a Windows PC would be required to get one to that point. If you purchase a new Corsair peripheral today, you will almost certainly be good to go. For an official list of supported gear, check the official iCUE for macOS page.
Usage and Final Thoughts
Using iCUE has always been a breeze, regardless of it is on Windows or macOS. It does what you need it to do, and it does so very reliably. I did some gaming on my MacBook Pro, and everything worked as expected – just as easily, seamlessly, and reliably as in Windows.
One thing I really like, and I imagine a certain part of the market will be doing the same, is using iCUE with Corsair products for work, not gaming. There are parts of my job that require some repetition, and it's really nice to be able to have long commands programmed in as macros, making customization really handy outside of gaming. Even better, you can keep your actions all organized with the help of profiles. With one set of peripherals, you can easily configure them for use across a variety of workloads.
Whether you are using Corsair products simply because you like the build quality and features, and leverage those for your work, or for the customizations and edge they give you in competitive gaming, Corsair's iCUE has you covered in Windows, and now in macOS!
Copyright © 2005-2020 Techgage Networks Inc. - All Rights Reserved.