A Look At Patriot's Viper V360 Headset And V560 Gaming Mouse

Date: December 15, 2015
Author(s): J.D. Kane

Whenever a company with an established history and market presence branches out into a new venture, it's always exciting. That's exactly how we at Techgage felt when Patriot Memory sent us its very first Patriot Viper gaming peripherals. Read on for our look at the V560 gaming mouse and V360 7.1 surround headset.
---
A Quick Look at the Patriot Viper V560 Mouse and V360 Headset
Patriot is a name familiar to gamers and non-gamers alike. The company has been in the memory and storage markets for many years now with a strong reputation for performance and reliability.
It was therefore a bit of a surprise – albeit a pleasant one – when we heard rumblings that the company was throwing its hat into the already-crowded gaming peripherals ring.
It was even more of a surprise when Techgage generalissimo Rob Williams asked me if I wanted to sample some Patriot Viper gaming gear and write a "quick look" article on them. Being a curious cat, I said yes. Plus it's always nice when you're among the first to sample a brand new product line.
So here is what Patriot sent yours truly: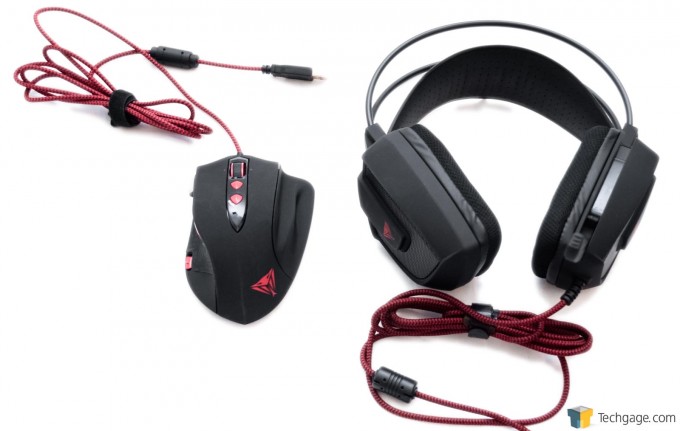 On the left is the Viper V560 Laser Gaming Mouse; right next to it is the Viper V360 7.1 Virtual Surround Headset. Let's look at them in more detail.
Patriot V560 Mouse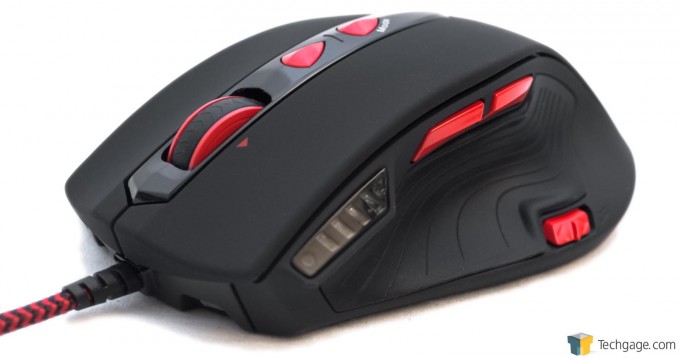 This is clearly a right-handed mouse (sorry, southpaws!). The styling is aggressive, with its deep-cut contours on the flanks. The red and black color scheme also accentuates this impression of aggressiveness.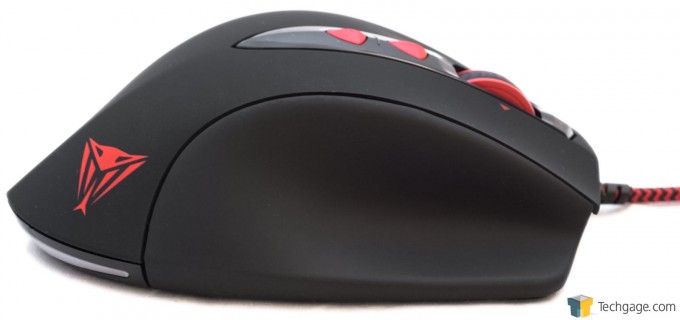 The V560 fits comfortably in your hand, partly because of its shape as seen in these profile shots. It seems to be well-designed for any style of grip, too. While the shape contributes to this, the rubberized coating on the mouse's surface and a strip of textured rubber in the thumb groove are also factors. I also noticed that this mouse is a little bigger than many of its competitors, so gamers with larger hands will appreciate its more generous dimensions. Plus it's got an additional secret party trick which I'll reveal shortly.
Front and rear views also scream aggression. To be honest, it's not much different from other gaming mice on the market. It's got nine buttons in all: Left- and right-click, a three-position clickable scrollwheel (down, left, and right), a pair of buttons aft of the scrollwheel, and a pair of thumb buttons. You can also see the DPI level indicator LEDs just in front of where your thumb rests. The red switch on the left-rear is the DPI switch.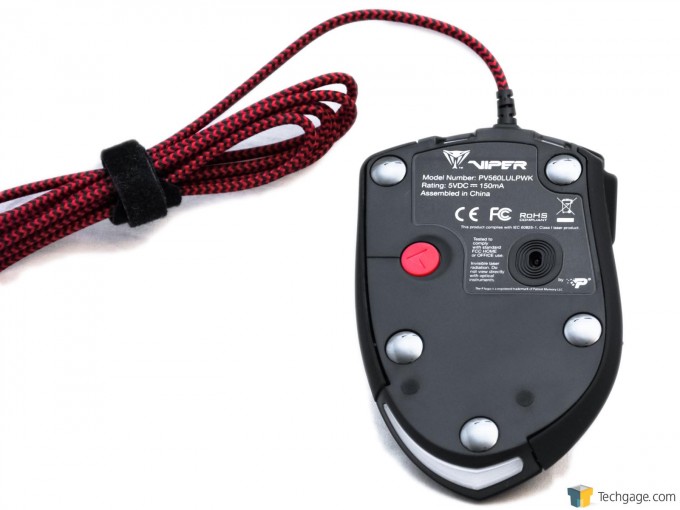 Here's a look at the V560's bottom. There are three things of interest here. First are the five round ceramic footpads. These make mouse movements silky smooth; in fact, this might be the smoothest-moving mouse I've ever tried. The two other notable details are the emitter for the laser sensor and the round red button to its left. By the way, the mouse sensor has a maximum DPI of 8200.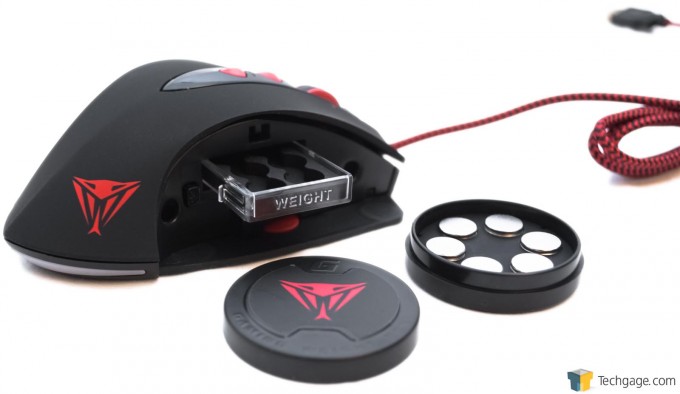 Push that red button, and you spring the V560's surprise feature: the right flank comes off. There are two reasons why it is removable. First, V560 comes with a second right flank piece with more pronounced grooves for your ring- and little fingers to rest on. This is one of a few gaming mice with bodywork that can be customized. The other reason for the removable right flank is that there is a tray in which you can put weighted disks to increase the V560's mass if so desired. These are features that used to be the preserve of high-end gaming mice. The round container is where the weighted disks are stored when not in use.
The Patriot Viper V560 gaming mouse package includes the mouse itself, a container of weight disks, one optional right flank piece, and some Patriot Viper paraphernalia in a snazzy red envelope.
Now that we've had a look at the V560, let's shift our attention to the V360 7.1 Virtual Surround gaming headset.
Patriot V360 Headset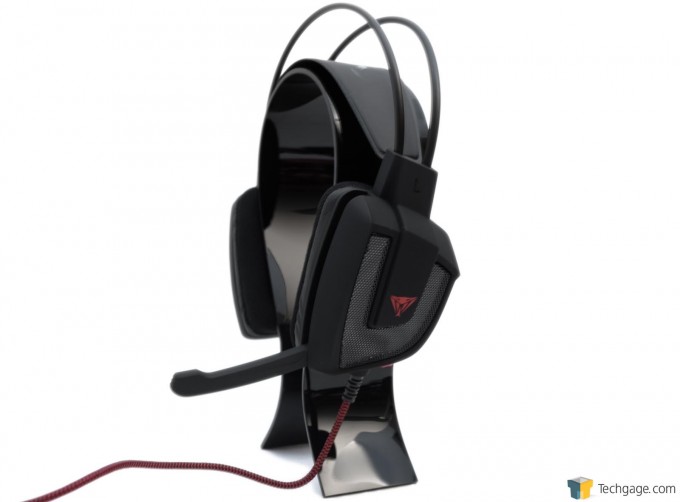 Much like its V560 stablemate, the V360 is dressed in black and red. The ear cups are stylized trapezoids accented by a silver fine-mesh grille on the outside. This glows red when the headset is plugged in.
The left ear cup houses the mic boom, which swings down into position. It also has the headset's controls. There is a bass boost on/off switch, a volume control roller, and an on/off switch for the LEDs in the ear cups.
The padding on the inside of the twin bars on the headband is thin, but somehow it feels more than adequate. Allied to the V360's light weight, this headset is one of the most comfortable I've ever had the pleasure of putting on my noggin.
Also adding to the excellent ergonomics is the padding on the ear cups. Note how the red of the inside of the padding visually mimics the mesh grille on the outside of the ear cup. That's excellent attention to detail, Patriot.
A final detail: The V360 is equipped with a USB connector. Plug this in and, when used with the Patriot Audio Center Software (which you can download from here, under Downloads), you can tweak your V360's sound output to taste.
What's included in the retail package? There is the headset itself, of course. Patriot also gives you a velvet carrying pouch as well as a red envelope of goodies, including a pair of Viper Gaming stickers.
Here is a slideshow composed of a collection of screenshots of the Viper Mouse Software, which allows you to configure your V560 to your requirements, a screenshot of the Viper Audio Center Software, and some photos of the both the V560 and the V360 with their LEDs on.
Performance Testing
Since this is more like a "mini-review" than a full-fat look at both of these Patriot Viper debutantes, our commentary won't be as comprehensive as usual. Nevertheless, we'll make sure you get a very strong impression of what it's like to live with these Patriot gaming peripherals.
We'll assess the V560 gaming mouse first.
I love its aggressiveness, both in its aesthetics and in its philosophy. While its shape isn't exactly distinctive, I wouldn't call its looks copycat, either. There's a good reason why it looks the way it does: It follows the "form follows function" maxim. If anything, the V560 is one of the better gaming mice in the market at following this maxim. Couple that with the optional right flank piece, and the V560 just boosts its cred further in terms of not just aggressive looks, but also improved function. The optional flank piece transforms this mouse. With the stock flank, it's great for claw-style users. The optional flank piece turns the V560 into a mouse more suited for palm-grip stylists.
The weight disks also are a great added value. The V560 sans its weight disks is just the right weight, but I can see the ability to add mass to the mouse adding to improved feel and control for other users. This feature is an uncommon one for gaming mice, and to see it incorporated into one that costs a mere $49.99 is a delightful surprise.
The buttons on the V560 are mostly satisfying. The sole exception, I'd say, is the right-click, which feels a little mushy in my review sample. I found myself wanting to push it harder than I'm used to, just to make sure it was actuating properly. This can lead to fatigue over hours of use. I'm not sure if this is a phenomenon unique to my review sample, or if perhaps Patriot might want to have a look at this part of the V560 more closely to see if it can improve things.
I'm also very impressed with the ceramic footpads. I'm tempted to say this is the smoothest-moving mouse I've ever had my hands on. It's a pure joy to use, whether in games or not.
As far as the Viper Mouse Software is concerned and how it works with the V560, I've got no complaints. The software is easy to use, and the mouse is responsive to each change in configuration.
Moving on to the V360 gaming headset, well, I'm quite enthused with them as well. The default sound signature is a touch on the dark side; Patriot has prioritized bass and low-mid frequencies, so treble sounds are a little lacking. On the plus side, though, the bass output is not boomy. Rather, it is pleasing in its tightness. Activating the bass boost doesn't actually add a lot of bass output; it does give off a very pleasing rumble effect in the ear cups.
The ergonomics are just as good as the sound quality is. The headband is well-designed, so the fit is very comfortable. The V360 is also light, ensuring hours of use sans fatigue. The controls are also easily within reach.
The Viper Audio Center Software allows you to tweak the V360's sound output to your heart's content. You can dial in the best surround sound output for yourself, boosting/cutting each individual channel's volume output. You can also tweak equalizer settings, changing any of the frequency band outputs as desired.
Very impressive for a first effort, Patriot.
Final Thoughts
Patriot has made a ballsy move here by introducing these new products. It's a shot across the bows of perhaps the biggest bully of this neighborhood, Corsair. Like Patriot, Corsair sells system memory, storage devices (flash memory and SSDs) and gaming peripherals (and PC chassis and cooling devices). By introducing a line of Viper gaming gear, Patriot is demonstrating that it is not afraid of anybody. It's the underdog in this fight, unquestionably, so for it to survive, much less thrive, it must offer high-value products that compete favorably with its rivals while also offering excellent value.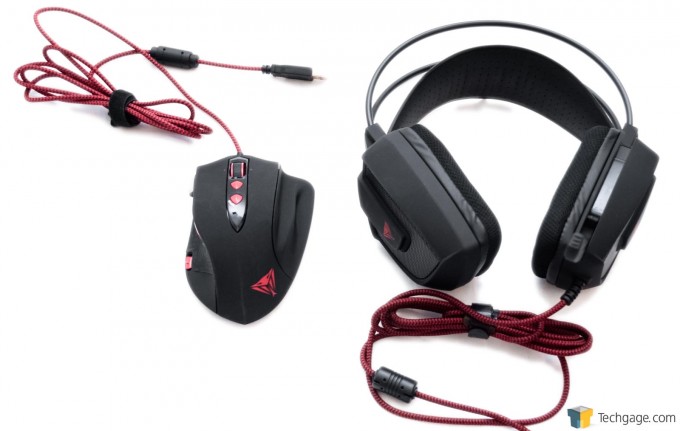 While this is nothing more than just a quick look at these products, I feel comfortable in saying that this pair of Patriot Viper gaming gear feel like they're as good as anything in the market. The products look great and feel great. Plus they offer great features.
Patriot's trump card, though, is the value these items seem to offer given the features they have and the price for them. The V560 gaming mouse, for everything it gives you, costs $49.99; the V360 7.1 Virtual Surround Sound headset will set you back just $69.99. Given what's offered, there's no question Patriot could steal some thunder from its rivals, particularly Corsair.
One thing's for sure: I'm keen to see more of Patriot's Viper gaming gear.
Pros (V560 Gaming Mouse)
Aggressive aesthetics.
Excellent ergonomics.
Responsive software.
Super-smooth movement.
Great value.
Versatile and functional.
Cons
Vague feel on right-click button.
Pros (V360 Gaming Headset)
Aggressive looks.
Excellent ergonomics (light weight and great fit).
Responsive software.
Good controls.
Great value.
Cons
Slightly dark default sound signature.
Copyright © 2005-2019 Techgage Networks Inc. - All Rights Reserved.