A Look At Radeon ProRender 2.0 GPU Rendering Performance

Date: January 20, 2021
Author(s): Rob Williams

AMD's Radeon ProRender has come a long way since the last time we tested it, with the latest iteration adding ray tracing acceleration support for new RDNA2 Radeon graphics cards. For this article, we're going to focus on GPU rendering (with 21 GPUs), with CPU and heterogeneous rendering to be explored later.
---
Introduction
It's been a little over two years since we've last taken a look at Radeon ProRender performance, so to say we're overdue for an update would be an understatement. AMD recently provided us a few Blender projects that have been converted for ProRender use, so some of the scenes will look familiar.
In the time since we've last checked out RPR performance, AMD's been busy building its renderer's capabilities up. It recently introduced AI-accelerated denoising, RT acceleration with RDNA2 graphics cards, a flexible shader node system, and InfinityFabric Link support. The latest version of ProRender supports Blender and Maya, while 3ds Max, Creo, Houdini, and other implementations lag a bit behind.
Both Blender and Radeon ProRender are advanced tools that empower creators to design incredibly convincing renders – such as the Mercedes-AMG F1 W11 Performance seen in the video above – and yet anyone wanting to get in on that action can do so for absolutely no cost. No trials; nada. On that note, if you want high-res wallpapers of that impressive car render, you can snag it on the ProRender page.
If you do dive into RPR, or you're already using it, you can keep up-to-date with its goings-on at the official blog. Following the company's official @RadeonPro Twitter account might not be a bad idea, either.
For this article, we're going to be focusing on GPU rendering performance, leaving CPU and CPU+GPU for later. In our testing so far, CPU rendering took far longer than we would have expected it to, at least when we compare how the same CPUs and GPUs scale with the Cycles render engine. We're working on delivering updated CPU workstation benchmarks soon, so we'll spend some time this week tweaking the render settings to see if we can get better efficiency out of the CPUs.
Fortunately, anyone wanting ProRender performance right now likely care most about GPU, so we're glad to have at least that. To help give a better impression over how the current crop of GPUs perform in RPR vs. older-gen cards, we're including the Pascal-based GeForce GTX 1080 Ti, Polaris-based RX 590, and also the Vega-based Radeon RX Vega 64 and VII for testing here. Here's the full list:
Since the projects we used for testing here largely match those we use in our regular Blender testing, we compared the end image quality results side-by-side to see how they compared. Ultimately, there are definitely going to be some noticeable differences, although they're not always detrimental ones. If you build a project up from scratch with RPR as the target from the start, it won't be hard to get the end result you're looking for.
Installing ProRender in Blender is a little strange if you've never installed an add-on before, but while it's different, it doesn't mean that it's difficult. You simply need to download the .zip from the ProRender download page, and then open Blender's preferences to install it through the add-ons tab on the left side. You may need to manually click the enable box to activate it afterwards.
Please note that none of the render times shown in the graphs below should be compared to the Cycles results from our dedicated Blender performance articles. Both Radeon ProRender and Cycles are completely different engines, and thus have different settings to configure and algorithms at play. If Cycles has a faster render time, it doesn't necessarily mean that it's faster than RPR for the same IQ.
GPU Rendering Performance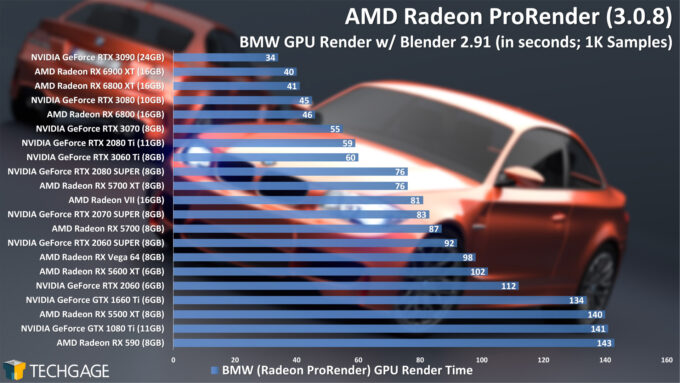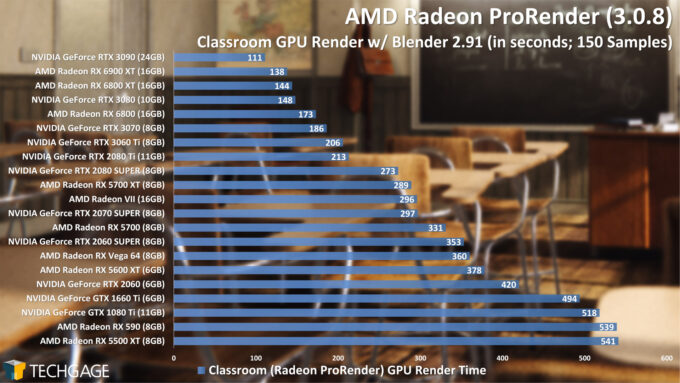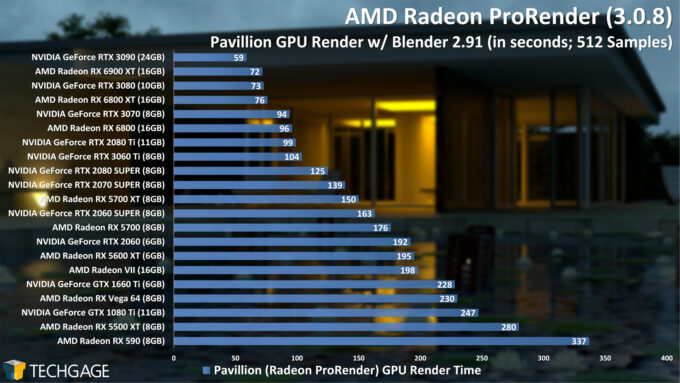 (Note: While the Radeon ProRender Blender plugin version is 3.0.8, the render engine itself is version 2.0)
If you compare these results to those from our Blender 2.91 performance look, you'll see that some of the scaling is quite different in places. Interestingly, the Radeon VII didn't perform as well in the Classroom RPR test as it historically has with the Cycles version, but overall performance from the older-gen Radeon GPUs is still quite good.
One thing that is made obvious when comparing our Cycles results to this Radeon ProRender set is that AMD wasn't kidding about its RT acceleration on RDNA2 graphics cards. The totality of the updates and polish AMD has brought to RPR helps its cards give NVIDIA a serious fight. Only the RTX 3090 manages to beat out AMD's top dog Radeon RX 6900 XT.
If you're using an older-gen graphics card, these results should make it clear that you're due for an upgrade. That's not just the impression we get from RPR, but other renderers, as well.
Final Thoughts
Despite a total of 21 graphics cards being tested here, this felt like a really quick look. We know that AMD emphasizes strong CPU rendering performance with RPR, so we want to make sure we can include that in the future – and the same goes for heterogeneous render testing. We believe that a new RPR version is set to drop soon, although we're not sure if that will impact our performance results here. Now that we have working projects, though, we'll be returning to testing sooner than later.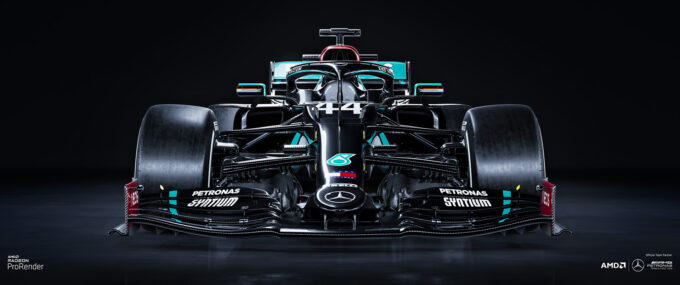 Ultimately, whether or not you need a GPU upgrade should be made clear with the results above. If you have an RDNA1 GPU, you're not in bad shape, and the same goes for the Turing-based GeForce 2070 SUPER, or above.
If you're building a new PC, or upgrading from a really old GPU, you'll want to try to score a current-gen Ampere or RDNA2 graphics card for the best bang for the buck, since the performance hikes over their previous generations are notable on both. In addition, you'll want to consider the frame buffer size on your chosen GPU, to make sure it will easily support your future work.
Of course, scoring a new GPU right now is easier said than done, since models are ultra-scarce right now. The only half-way reliable option right now seems to be going with a system builder that has more reliable access to the new hardware. Or, just wait a few months, and hope the situation gets better. We sure hope so, because it really does get old doing performance looks involving hardware people can't reliably purchase!
Copyright © 2005-2021 Techgage Networks Inc. - All Rights Reserved.