A Review Of The Zmodo Pivot Smart Camera Security Solution

Date: September 6, 2016
Author(s): Tom Roeder

Years ago, only the wealthy could afford in-house camera surveillance. The systems were clunky, impractical, and out of reach for most people. With today's technology, in-home camera systems are more practical, smarter, and able to be easily setup by the average consumer. Is a one-camera security solution right for you?
---
Zmodo Pivot Smart Camera Review
Home automation is really taking off; even big-box stores are championing their own brands of smart, home automation devices.  From garage-specific surveillance and door control, app-controlled bulbs and electrical outlets, to multichannel video surveillance, the consumer sure does have a lot to choose from these days.
What we are looking at today is an all-in-one security solution from Zmodo.  I met with the Zmodo representatives at CES 2016 and was really intrigued by what they had to show me, particularly the Pivot Camera system.  With home automation still in its infancy, there are many things to consider.  While many systems out there have modularity, you have to consider all of the different protocols.  Will this brand work with that brand?  How well do these two brands work together, even though they claim to use the same protocols?
Zmodo looks to simplify all of this, with an all-in-one solution for your security and home monitoring needs.  The Pivot camera system is really geared for someone with a small home, apartment or condo.  The system features one camera, and two door sensors.  The most noteworthy features include:
1080p camera gives you ultimate clarity and detail
360 degree alerts allowing the camera to detect movement out of its current field of view and rotate to capture this motion (more on this later)
Setup is fast and simple thanks to the mobile app
System comes with two window/door sensors that easily pairs to the camera, sending your mobile device an alert when a window or door is opened. You can even purchase additional add-on sensors if you want to increase your security; up to 32 sensors are currently supported
Temperature and humidity sensors as well as a speaker and microphone allows you to talk to people in your house remotely through the mobile app
16GB of on board storage with optional pay service for additional cloud storage
A Visual Tour
I think that I would be safe in assuming that most consumers would prefer their in-home security solutions to be unassuming, and muted in their visual profile, and that is what we have here.  Zmodo has styled this Pivot camera to be about as visually muted and unnoticeable as it could be.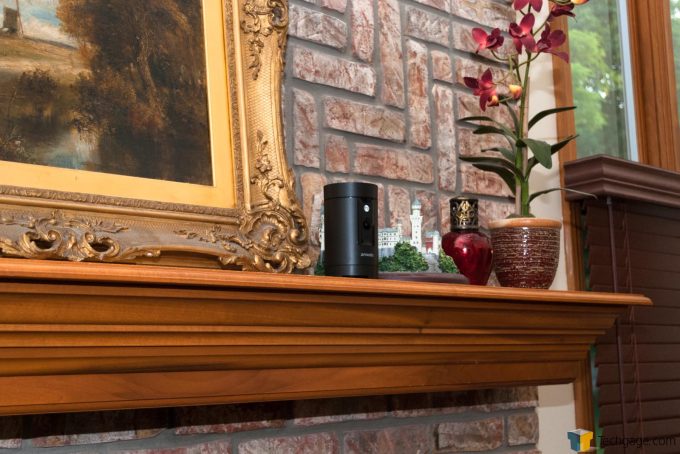 The main body is a cylindrical, and just larger than a 12oz beer can.  The finish is matte black, with an LED status indicator ring at the top.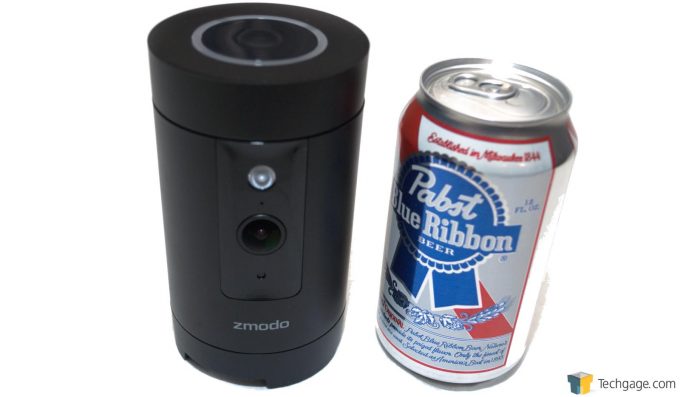 On the front of the camera we find the Zmodo logo, just above that we find the main camera lens, and a couple of sensors (I assume that's what they are) and the white lens above those is the night time IR sensor.
On the back we find the only connector on the unit, which is a standard mirco-USB port that you can power with the included power supply.
The camera has three wide feet that elevate it slightly, keeping the speaker slightly elevated underneath.
The Zmodo Pivot Camera comes with two window or door magnetic sensors.  You can purchase and add up to 32 sensors total, if you wanted to add them to every window and door in your house, or even to your liquor cabinet to see if your curious teenager is stepping on your liquor!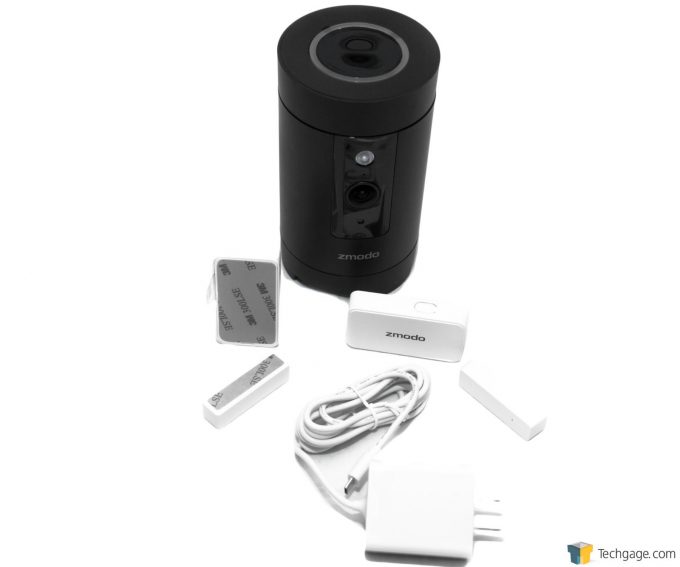 The app can track your temperature and humidity by the day, or even track it over a month's period if you choose.
You can also pair to this device and use it as a Bluetooth speaker for music playing if you choose, with a simple tap of the button on top of the device.
From the app you can set schedules on when the device is to send you alerts, to record or not record video.


















The camera comes with 16GB of on board storage which is not expandable, and you don't have the option of adding a network location to send video files, but there is a paid cloud service which you can send the files to.
You can also choose from within the app other authorized devices that can control the camera, add accessories, and even program the camera to point in a certain direction if a door or window sensor is tripped.
Testing and Final Thoughts
My overall impression with this camera has been good. The video quality is very acceptable for surveillance.  The app is fluid, well laid out, and easy enough to use.  The menus are straight forward and descriptive, and I found joining the Zmodo Pivot to my Wi-Fi was easy enough, and then pairing the camera to the app was just as easy.
There are a couple of things about the app that are a bit clumsy, and not well thought out in my opinion.  Such as when you have your device in portrait mode, the app used to take the live camera stream and compress it so that it would all fit on your screen.
After an update, it no longer does this; rather it added a pan feature so you have to tap an arrow to get the image to pan, and once you reach the end of the pan, you can then make the camera pivot.  If you want to see what is all the way to the left, you tap the left arrow to pan the image to the left, and then the camera moves.  If you want to make the camera pivot right from here, you have to tap the arrow until the image pans all the way to the right, and then the camera will move.
I think most people these days, myself included, rarely have their phones in landscape mode.  In fact, I have my auto rotate turned off so that my phone will always remain in portrait mode.  This isn't a deal breaker, but I think Zmodo should re-think that one, as seeing the entire field of vision from the camera at a glance is more important to me, than perfect fidelity.  This is after all, surveillance video, not memory making time.






Another issue I had with the camera, is there is no adjustment for sensitivity for the camera sending you notifications.  Other camera systems on the market allow you to set sensitivity, or tell the camera to ignore portions of the field of view in order not to send false alerts.
This proved to be a problem for me, as in my main living room, I have very large windows, and just clouds covering the sun is enough to trigger an alert, which was happening several times a day.  So this is something to consider when looking at this camera, how prone will your monitored area be to false alerts?  This will be nearly impossible to know, but I know for sure that light changing in the room was enough to trigger the Zmodo Pivot.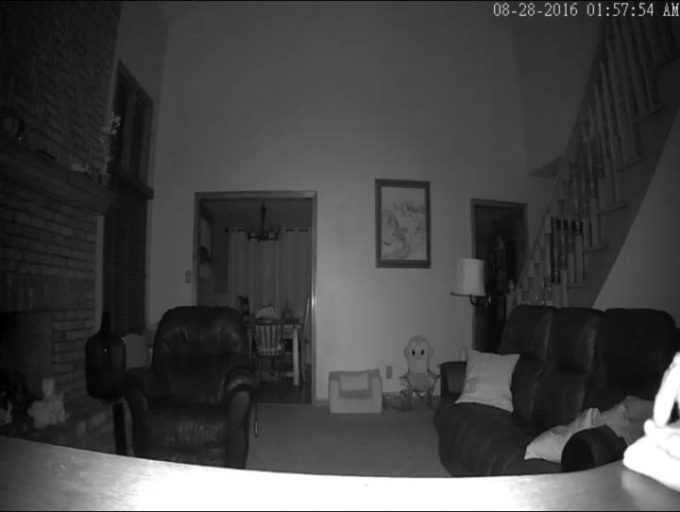 The night vision on the camera is quite good.  I was really impressed with how good it was, but there were times at night when I would receive false alerts, and the video showed absolutely no reason at all why it would have been triggered.  Again, I think that if the motion sensor's sensitivity could be adjusted, this could have been avoided.
One little thing about the night vision on this camera, when it is on, the white lens on the camera does lightly illuminate red (this is the IR LED), so the camera will be visible at night.  Also, you can't put this camera in front of a window to observe the outdoors at night either, as the IR that is used for the night vision reflects off the glass and blinds the camera, which is expected behavior for this type of night vision but I thought it worth mentioning.
Another minor issue I had with the camera, is that the 360 degree motion sensor never seemed to work properly, and from reading online, other reviewers had the same issue.  The camera is supposed to detect motion from all angles, and turn the camera to observe whatever triggered the motion sensor.  This never once worked for me.
All in all, the Zmodo Pivot Camera is not a bad choice, but it does have its limitations.  If you are looking for a one camera system that you can centrally locate in your house and add MANY (up to 32) window and door sensors, than this is the model for you.  Just keep in mind that it isn't without its downfalls, but these may be corrected with future firmware updates down the road.
Pros:
Small, attractive form factor.
Mobile app works well.
Video quality is good.
Temperature/humidity sensory with historical data logging.
Cloud solution for video storage.
Cons:
Prone to false alerts due to inability to adjust motion sensor sensitivity.
Camera does not (at this time) seem to move to observe movement outside of its field of vision, and move to capture video as it claims.
No ability to push video to local network or otherwise local storage, other than Zmodo's paid cloud service.
Copyright © 2005-2019 Techgage Networks Inc. - All Rights Reserved.