A Look at Frozenbyte's Trine 2

Date: November 2, 2011
Author(s): Mario Figueiredo

Released in 2009, Trine offered a unique platforming experience, a colorful world, and progression that made it feel like you were really playing through a storybook. With Trine 2, the game introduces a new engine, improved audio and graphics, even more puzzles and best of all, a much-requested feature: co-op.
---
Introduction
Have you ever jumped? You know, flexing your legs and releasing all of the energy accumulated on a fast upward motion that results in your feet leaving the ground? Of course, most of you have. The good thing about jumping is that it releases other type of accumulated energies; like being excited.
So, what would you do if I told you that Frozenbyte has released a closed beta of its upcoming title, Trine 2? And what would you do if I told you that you get immediate access to said beta if you pre-purchase the game on Steam? And what would you do if I told you that the pre-purchase is available right now? And that the game is going to be released in December? And that it now includes cooperative multiplayer? And that you can also experiment with that mode in the beta?
Whew, I thought so. Ok, on my mark… jump!
Wasn't that great? I extended my arms high in the air too. You should try it. And you should definitely also try the Trine 2 beta. But not with your arms high in the air… unless you fancy the idea of skipping work complaining of DOMS so you can play some more of it at home. But I didn't tell you that.
When Trine was launched in 2009, it pretty much took the gaming world by storm. The platformer was critically acclaimed by reviewers and gamers alike, and went on to receive a great number of awards that year. The game was an absolute visual delight and its gameplay fluid and fun enough to keep gamers wanting to come back to it over and over again.
With the game, Frozenbyte, an indie developer outfit from Finland, cemented its position in the video gaming market and the hearts of many gamers. It was without a surprise then, that the 3rd Humble Bundle (and the first with a developer name attached to it) was entirely dedicated to the company; with the Humble Fronzenbyte Bundle. And no surprise at all that within three days it had raised more than half-a-million dollars.
For Trine 2, Frozenbyte wrote a completely new game engine from scratch. The result is an even more gorgeous and detailed world. Frozenbyte has already accustomed us to its visual artistry, but what you see in the beta is nothing short of excellence. Trine 2 is a detailed and beautiful world of fantasy enshrouded in a dream-like haze. Where the former game had a crispier look, the new engine shows us an artistic rendition of a fairy tale has if we were witnessing it in our sleep.
The game narrator and voice actors have also been greatly improved over the previous game. It's the same crew from the previous game, but boy, have they matured their skills! Terry Wilton, the game narrator, shows the most striking improvement. It surely helped the fact he's no longer meant to be acting as someone reading a children's book.
Instead, Terry now takes the role of a true story teller. His voice is much softer and neutral with just a hint of emotion and none of the occasional patronizing feel of the previous game. It is a true delight to follow the story with Terry's help.
Trine 2 introduces cooperative multiplayer thanks to the new game engine. I've experimented with it already but am unsure at this point of the real impact it will have on the game. Depending on the puzzles mechanics, I can foresee situations in which the solutions in a cooperative game are vastly different from those found in a single-player game. And that would be excellent! But the Beta plays only the first two levels of the game, when things are relatively easy and can't be used for proper evaluation. It was also not very clear to me what kind of impact cooperative mode will have on enemies and other gameplay aspects, like leveling up or finding objects.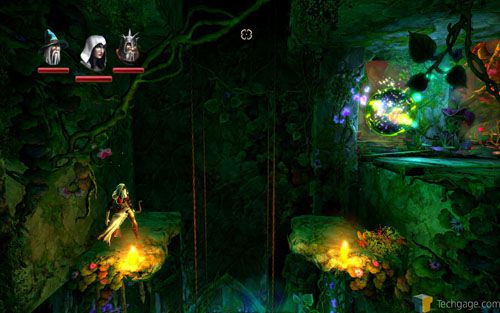 At Techgage, we love Frozenbyte. In fact, we like them so much we are going to give them the honor of being interviewed by us. That's right! Expect, sooner than later, our interview with those gorgeous-looking Finns. And, of course, close to the release date, expect our full review of Trine 2.
Trine 2 can be pre-purchased on Steam for $14.99. With that you get access to the closed beta – a very nice way of keeping us entertained as we wait for the release date. My vote, go get it! And jump while doing it.
Discuss this article in our forums!
Have a comment you wish to make on this article? Recommendations? Criticism? Feel free to head over to our related thread and put your words to our virtual paper! There is no requirement to register in order to respond to these threads, but it sure doesn't hurt!
Copyright © 2005-2019 Techgage Networks Inc. - All Rights Reserved.