AMD Tunes Back In with All-In-Wonder HD

Date: June 26, 2008
Author(s): Rob Williams

ATI's All-In-Wonder cards might have been killed off in 2006, but they are being brought back to life now in the form of the All-In-Wonder HD. The new card is based on the Radeon HD 3650, offers all of the benefits of the TV Wonder series and is priced at $199.
---
Introduction
In fall of 1996, ATI released a unique GPU called the All-In-Wonder. This PCI-based card was based on the 3D Rage II+ chipset and featured 4MB of EDO DRAM. What made the card special was the fact it had a TV tuner built in. Not a hybrid, but rather a combination of two different chipsets, resulting in one card for two very different purposes. It was an interesting idea, because it cut down on the amount of cards needed in the machine, and that has obvious benefits.
After that launch, ATI regularly released updated models, just as they do with their GPU line-ups. Over the course of ten years, we saw the launch of the All-In-Wonder 128, which was the last to be based on the 3D Rage chipset, all the way up to the All-In-Wonder X1800 XL and X1900, based on the same chipsets as their GPU brothers.
In the fall of the same year as the X1900 launch, it was announced that AMD (who then acquired ATI) would be discontinuing the All-In-Wonder line-up, at least on the GPUs. Since then, we've seen some consistent TV Wonder launches, including the HD 600 PCI and HD 650 Combo USB, both of which we took a look at this past February.
Those of you who enjoyed the idea of having a GPU and TV Tuner on the same card can now relax, because AMD has just announced the AIW resurrection, in the form of the All-In-Wonder HD.
Closer Look at the All-In-Wonder HD
During a briefing earlier this week, AMD noted that the excitement around this new launch is huge. So much so, that certain e-tailers, such as Best Buy, will be offering pre-orders almost immediately. How often do you see a pre-order for any type of peripheral? Not often.
The idea behind the All-In-Wonder HD doesn't differ much from older models. The card still offers a fully-functional GPU core and has a tuner thrown in. This combination idea doesn't so much save on costs as it does space. Plus, having a tuner right on the GPU is just convenient.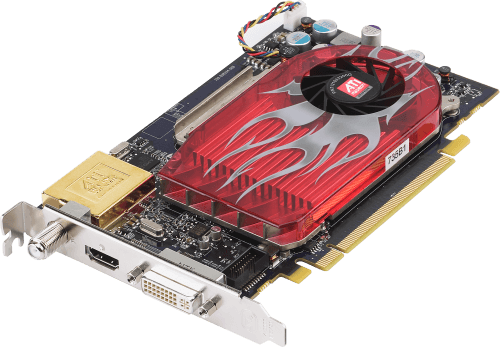 One downside that plagued the older AIW's was that most often, the GPUs would be clocked lower than their non-tuner-based counterparts, for two reasons. The main one was to cut down on costs. No one wanted to pay more than they needed to for such a card, and second, the cards would get too hot, with two very robust chipsets ramped up at the same time.
The new card doesn't fix this problem, but it still features a GPU core capable of delivering reasonable PC gaming performance. The core itself is based off of RV635 PRO, the same one used in the HD 3650. So while it won't enable high-end gaming, it should suffice for lighter gaming or gaming at resolutions of 1600×1200 and lower.
Specs-wise from a GPU standpoint, the card offers a 725MHz Core clock and 600MHz on the memory, which AMD claims will deliver better performance than a standard HD 3650. DX 10.1 is of course supported as well.
As seen in the top photo, the new card appears identical in size to the Radeon HD 3650, but a few new features can be seen. Most obvious is the tuner in the corner near the bracket, but on the opposite side you can see a port connector. This is used to connect to the daughter card, as seen above. That card will be sold separately, as part of the 'ATI All-In-Wonder HD Accessory Kit'.
The primary card on its own will support both HDMI and DVI, but adding the daughter card will open up support for S-Video, stereo input/output and component video. It will connect via a dongle, similar to connecting dual cards for CrossfireX.
Further Look, Final Thoughts
From a technical perspective, the new card's features doesn't differ much from AMD's own TV Wonder products. The most important support for most people is support for 1080p, but that's a no-brainer nowadays. AMD is touting the HD as the key component to create an "ultimate digital entertainment center", so we can expect it would offer all we'd need it to.
With this card, they claim the PC can be turned into the "ultimate high-definition PVR", and that right there tempts me, but of course this can be done today already, on separate tuners. So while certain features might not be new or ground-breaking, the benefit here is that the tuner is on the same piece of PCB as the GPU, and that in itself will be the draw for most consumers.
Other notables offered is UVD, or Unified Video Decoder, which has the ability upscale standard-definition content to near-HD levels, while "ATI Avivo HD TV Enhancement Technologies" enriches the video quality and colors. Sounds delicious.
During the press briefing, AMD concentrated on the upcoming digital transition which will occur next February. The idea behind this is that the tuner here will have no problem handling the transition, because it offers both support for analog and digital. But as you can probably guess, that doesn't matter much when someones viewing content from a television box.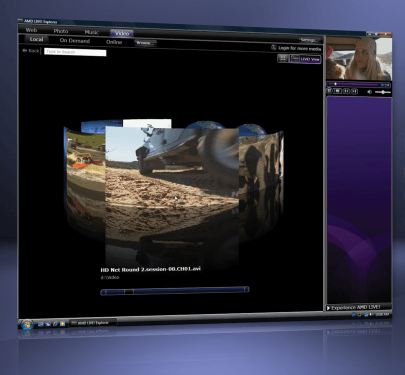 This is where AMD is pushing the AIW HD to succeed. There is no better time than now to build an HTPC, and I can't disagree, since even for me, an HTPC is looking incredibly tempting. I recently looked to see what it would cost me for an HD PVR from my local cable provider, and it was over $500. I am hoping prices are cheaper in the US, but at prices like that, building an HTPC makes a lot of sense.
Nowadays, most people connect their PCs to a high-definition monitor or TV, so adding digital cable is only a step away. Add in a tuner, and the ability to turn the PC into a robust PVR is all too easy. Not only is it a PVR, though, but AMD touts their new Catalyst Media Center as being the "do all" product for video conversion. There are profiles to recode TV shows you download into formats your mobile device can use. Not entirely new, but useful none-the-less.
On top of the new card itself, AMD Live Software will be one of the focal points of the product. It's not so much a media center as it is an environment to store your videos. It allows you to categorize them, as well as stream them to other PCs in the house, or to the Internet. Similar to a Slingbox, you will be able to stream either TV or stored video to another PC, while away.
I inquired as to whether high-definition video could be streamed, and I was told yes, as long as the bandwidth is there to support it. This is unlike the Slingbox which doesn't stream HD, but rather compresses to SD, then upscales it at the destination. From that perspective alone, this card and software combination is looking better than the competition.
That all aside, other important features are support for analog NTSC, digital ATSC and unencrypted ClearQAM. For those who want to give their eyes a break, FM radio is also supported. As mentioned a moment ago, the software includes PVR functionality, along with the UVD and DVD up-scaling feature. Overall, the card is looking to be a relative winner, especially for those looking to save space in their HTPC.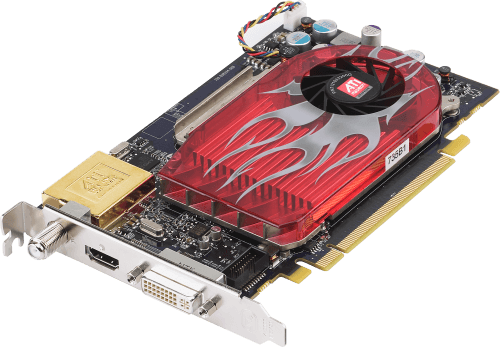 The name ATI All-In-Wonder HD might seem a little odd, since there is no name future-proofing. What will future cards be called? I think that's still up in the air, but it might always be the same. If cards are updated each year, then consumers could go by the box date alone. Or, card manufacturers can handle the naming themselves. Right now, there are no definitive plans as far as the naming convention goes.
I also inquired about Linux support, and at launch, there is no support for the tuner. The graphics card itself should function without issue, but that's not going to sell anyone. It was noted that AMD are currently looking into Linux development and will carry out developing a driver if it's feasible and sensible to do so.
There is no solid launch date for the new All-In-Wonder, but it will happen within a few weeks. Diamond Multimedia and VisionTek are the first companies to develop the new card, which is set to retail for $199. Considering the HD 3650 card itself retails for around $60 and the TV Wonder for around $130, there is surprisingly not much of a premium for the combination, making the choice even more tempting.
For those looking for a card that offers both GPU functionality along with tuner capabilities, the new All-In-Wonder HD is worth looking out for. You can expect a review on these pages in the weeks to come, so stay tuned, as we'll see if the card lives up to the hype. For those looking for in-depth specifications, feel free to peruse the following page, where we lay them all out for you.
Discuss in our forums!
If you have a comment you wish to make on this article, feel free to head on into our forums! There is no need to register in order to reply to such threads.
All-In-Wonder HD Specs
Variety of Broadcast Signals – The ATI All-in-Wonder HD is a feature-rich tuner providing the ability to receive analog (NTSC), digital/HDTV (ATSC) and unencrypted digital cable (ClearQAM) signals with time shifting functionality. You can also listen to your favorite FM radio stations to listen to your favorite grooves, talk shows or the latest news.
ClearQAM – With the advent of Windows Vista, digital cable reception of Clear-QAM channels (unencrypted Digital Cable TV) is now possible. Enrich your Digital Cable TV media experience with ATI Catalyst Media Center in Windows Vista with full Clear-QAM TV clarity.
PVR Functionality – Watch, pause and record live TV with the ATI All-in-Wonder HD. Now you can watch your favorite TV programming when it's convenient for you.
Windows Media Center – The ATI All-in-Wonder HD is designed for Windows XP Media Center Edition, Windows Vista Home Premium or Windows Vista Ultimate. This is where it all begins. You can enjoy your media entertainment right in your living room. Watch live and recorded TV, DVDs, music, photos, and more all within the easy to use Windows Media Center that you know and love.
Enhanced DVD Up-scaling – Watch standard definition video in near HD quality with DVD up-scaling. ATI All-in-Wonder HD uses post processing to enhance standard and low resolution videos and movies for your HD display.
Unified Video Decoder – Enjoy the latest Blu-ray movies and other HD content with a dedicated hardware video decoder. The UVD offloads the intensive process of HD video decoding and playback from the CPU to the GPU while improving visual quality.
Ultimate Image Quality – Performance that rivals high end Blu-ray and HD-DVD players on displays with resolutions that exceed 1080p – up scale to 2560×1600.
Integrated Digital Outputs – Enjoy all your digital content the way you want to, with built-in HDMI with 5.1 digital surround sound and dual-link DVI and DVI to VGA adapter.
ATI All-in-Wonder HD Accessory Kit – Upgrade your PC with the ATI All-in-Wonder HD accessory kit the perfect addition to your ATI All-in-Wonder HD providing connectivity for a wide variety of HD TVs and other displays (may be sold separately).
PCI Express 2.0 – Now you are ready for demanding graphics applications with PCI Express 2.0 support, which allows up to twice the throughput of PCI Express 1.0 delivering incredible overall system performance.
Powerful performance – You'll be blown away by life-like graphics from the latest games created with Microsoft DirectX 10.1 technology, with stunning 3D graphics and shading effects.
120 stream processors – Now you have more than enough horsepower to support demanding games and graphics applications.
AMD LIVE! On Demand – Access your recorded TV, videos, music and photos on almost any device with a broadband connection with AMD LIVE! On Demand.
Video Capture and Convert – Capture and convert MPEG2 video with ATI Avivo HD Video Converter. Easily convert your video into the latest formats such as WMV9, H.264, MPEG4, DixX and transfer them to your Portable Media Player.
Edit and Author DVDs – With ATI Catalyst Media Center you can edit your home videos and burn your own DVDs. It's time to start building that video library you have always wanted and start preserving those priceless memories.
AMD LIVE! Explorer (available on Windows Vista) – Explore your complete digital collections of music, photos, videos and recorded TV shows in a single window using the attractive 3D interface.
---
378 million transistors on 55nm fabrication process
PCI Express 2.0 x16 bus interface
128-bit DDR2 memory interface
Ring Bus Memory Controller

Fully distributed design with 256-bit internal ring bus for memory reads and writes

Microsoft DirectX 10.1 support

Shader Model 4.1
32-bit floating point texture filtering
Indexed cube map arrays
Independent blend modes per render target
Pixel coverage sample masking
Read/write multi-sample surfaces with shaders
Gather4 texture fetching

Unified Superscalar Shader Architecture

120 stream processing units

Dynamic load balancing and resource allocation for vertex, geometry, and pixel shaders
Common instruction set and texture unit access supported for all types of shaders
Dedicated branch execution units and texture address processors

128-bit floating point precision for all operations
Command processor for reduced CPU overhead
Shader instruction and constant caches
Up to 40 texture fetches per clock cycle
Up to 128 textures per pixel
Fully associative multi-level texture cache design
DXTC and 3Dc+ texture compression
High resolution texture support (up to 8192 x 8192)
Fully associative texture Z/stencil cache designs
Double-sided hierarchical Z/stencil buffer
Early Z test, Re-Z, Z Range optimization, and Fast Z Clear
Lossless Z & stencil compression (up to 128:1)
Lossless color compression (up to 8:1)
8 render targets (MRTs) with anti-aliasing support
Physics processing support

Dynamic Geometry Acceleration

High performance vertex cache
Programmable tessellation unit
Accelerated geometry shader path for geometry amplification
Memory read/write cache for improved stream output performance

Anti-aliasing features

Multi-sample anti-aliasing (2, 4, or 8 samples per pixel)
Up to 24x Custom Filter Anti-Aliasing (CFAA) for improved quality
Adaptive super-sampling and multi-sampling
Temporal anti-aliasing
Gamma correct
All anti-aliasing features compatible with HDR rendering

Texture filtering features

2x/4x/8x/16x high quality adaptive anisotropic filtering modes (up to 128 taps per pixel)
128-bit floating point HDR texture filtering
Bicubic filtering
sRGB filtering (gamma/degamma)
Percentage Closer Filtering (PCF)
Depth & stencil texture (DST) format support
Shared exponent HDR (RGBE 9:9:9:5) texture format support

OpenGL 2.0 support
ATI Avivo HD Video and Display Platform

Dedicated unified video decoder (UVD) for H.264/AVC and VC-1 video formats

High definition (HD) playback of both Blu-ray and HD DVD formats2

Hardware MPEG-1, MPEG-2, and DivX video decode acceleration

Motion compensation and IDCT

ATI Avivo Video Post Processor

Color space conversion
Chroma subsampling format conversion
Horizontal and vertical scaling
Gamma correction
Advanced vector adaptive per-pixel de-interlacing
De-blocking and noise reduction filtering
Detail enhancement
Inverse telecine (2:2 and 3:2 pull-down correction)
Bad edit correction

Two independent display controllers

Drive two displays simultaneously with independent resolutions, refresh rates, color controls and video overlays for each display
Full 30-bit display processing
Programmable piecewise linear gamma correction, color correction, and color space conversion
Spatial/temporal dithering provides 30-bit color quality on 24-bit and 18-bit displays
High quality pre- and post-scaling engines, with underscan support for all display outputs
Content-adaptive de-flicker filtering for interlaced displays
Fast, glitch-free mode switching
Hardware cursor

Integrated 400 MHz 30-bit RAMDAC

Supports analog displays connected by VGA at all resolutions up to 2048×15361

HDMI output support

Supports all display resolutions up to 1920×10801
Integrated HD audio controller with multi-channel (5.1) AC3 support, enabling a plug-and-play cable-less audio solution

Integrated AMD Xilleon HDTV encoder

Provides high quality analog TV output (component/S-video/composite)
Supports SDTV and HDTV resolutions
Underscan and overscan compensation

MPEG-2, MPEG-4, DivX, WMV9, VC-1, and H.264/AVC encoding and transcoding
Seamless integration of pixel shaders with video in real time

ATI PowerPlay

Advanced power management technology for optimal performance and power savings
Performance-on-Demand

Constantly monitors GPU activity, dynamically adjusting clocks and voltage based on user scenario
Clock and memory speed throttling
Voltage switching
Dynamic clock gating

Central thermal management – on-chip sensor monitors GPU temperature and triggers thermal actions as required
Copyright © 2005-2020 Techgage Networks Inc. - All Rights Reserved.