Antlion Breaks Free: ModMic Wireless Review

Date: April 17, 2019
Author(s): Jamie Fletcher

If you've got a decent pair of wireless headphones, but now want a wireless microphone, then Antlion Audio may have something for you. The ModMic Wireless takes away the the cable clutter, but does it cut any corners with the audio quality? Let's find out!
---
Antlion Breaks Free: ModMic Wireless Review
We've taken a look at several of Antlion Audio's ModMics over the years, and they get used regularly around the office.
For those not familiar, the concept of the ModMic is to turn your high-end headphones into a gaming headset, but without a lot of the negative associations that 'gaming' peripherals bring to the table.
To most companies producing headsets, mics are an afterthought. The mic doesn't change how a game sounds or performs, it doesn't light up your face with RGB, and most of the people you talk to online will have the same bad mics as well. We all suffer as a result.
Gaming headsets are often rather gimmicky, greebled to the nth degree, and sound OK at best. Over the years though, things have improved, and the sound quality out of them has increased significantly – except for the mic. Going with a real pair of headphones makes all the difference to sound quality, but these hi-fi headphones often don't have mics, since there is no need for them.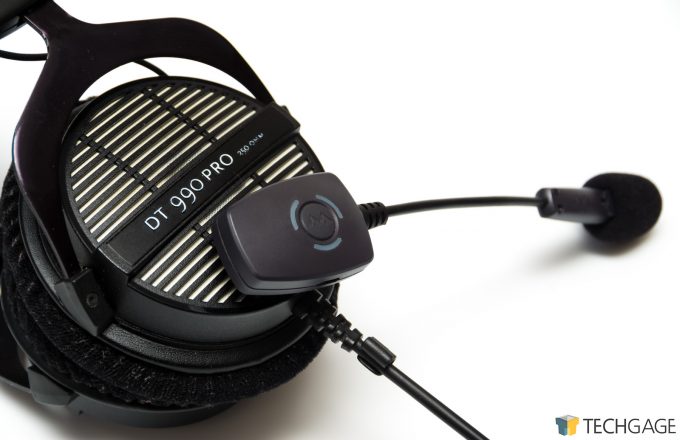 Going with a lavaliere or a desk mic (like a Blue Yeti), is a great option, but you'll often run into problems if you have to move around a lot, which can happen when you're being rather energetic in the middle of a game. This is where the ModMic comes in, as it attaches to any pair of headphones with a magnetic clasp, and turns them into a high-end gaming headset, with a mic that's actually decent.
While the ModMic can sound extremely clear, its ability to shine is held back by two rather important factors. The first is sound quality which will only be as good as the sound card it's plugged into. Given that the ModMic is a condenser type microphone, quite a few sound cards struggle to get it to work properly, and is one of the main reasons for some of the negative reviews. The second factor is the need for wires; getting tangled up with the headphone line, leading to tugging and scratching sounds.
Well, the good news is that Antlion has finally got around both problems by launching the ModMic Wireless. Being a Bluetooth mic, there are no more wires unless you are charging, and since it's wireless, you aren't going to run into issues with a soundcard not being able to drive the mic properly.
The Hardware
On the hardware side of things, there isn't a huge amount going on if you're familiar with the ModMic 4 or 5 we've reviewed previously, as the capsule design is the same. The ModMic Wireless uses the same base as the ModMic 5 with the dual capsule design of both an omni-pickup and a cardioid mode, with a switch that lets you toggle between the two.
Wireless functionality is provided by Bluetooth – which might cause some to recoil slightly, but since we're only dealing with a mic, and not audio playback, quality should be more than adequate. The only issue with Antlion's implementation is that it uses its own Bluetooth module, presumably because it has its own analog-to-digital converter (ADC) built-in and reports itself as an audio device to the operating system, rather than as a Bluetooth device. This means it can't be paired with a typical Bluetooth receiver built into phones and laptops, so you have to use the dongle. The advantage with this means that it's pretty much plug and play, no pairing required, and the OS will treat it like just another audio device.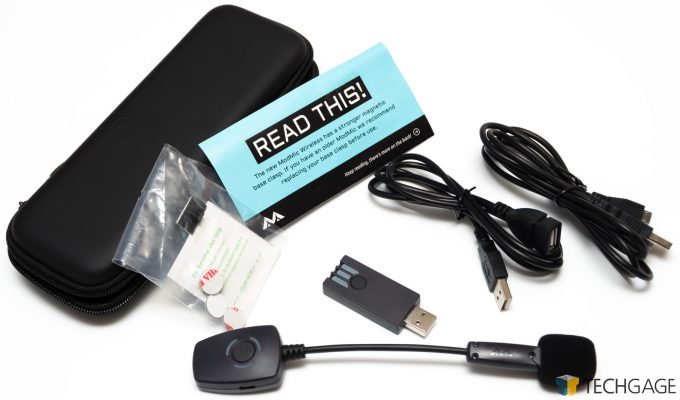 Antlion went with aptX Low Latency as the codec standard, meaning better sound quality over the standard SBC codec, but also much lower latency, typically around 34ms instead of close to 100ms with other codecs. The range is fairly typical of 10 meters, or 32 feet under ideal conditions, but since Bluetooth is a low power standard, actual range will vary, depending on what's in the way.
The wireless functionality does make the ModMic itself larger than the wired versions, requiring a stronger magnet, so if you have an older ModMic, you will need to replace the clasp (which is also mentioned with a big leaflet in the pack). The battery on it also lasts about 12 hours, but it will put itself to sleep if there isn't any activity.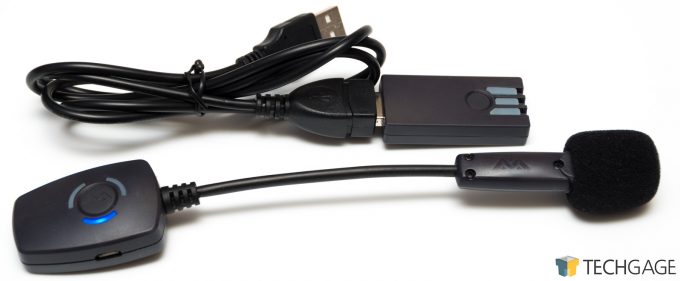 The aesthetics of the ModMic Wireless won't be for everyone. I was definitely getting a 90s vibe going on with the big lights on the dongle, and the slightly bulky shape to the mic itself. The lights on the dongle are too bright for my taste. Of course, what the mic looks like shouldn't be much of a concern when it's sound quality we're worried about.
The Sound
Since the ModMic Wireless uses Bluetooth, there may be some negative expectations on the sound quality. It reports as a 16-bit 48KHz microphone, but it's still the same condenser capsules as the previous ModMics. The reality is that the built-in ADC on the mic is probably much better than the mic input on your integrated soundcard, unless you have a soundcard or audio interface that actually put some work into its input stage (like dedicated mic amps).
When using my ModMic 4 and 5, I had it plugged into a Zoom H1 field recorder which acted as my audio interface over USB. Its main advantage was that it could drive condenser mics which required 2.5 – 5 Volts of bias power (like lavalieres), which made the ModMic very sensitive and worked extremely well. As such, I didn't run into many issues. However, some of the other devices I plugged it into didn't work out so well.
It was surprising to hear how much of a difference each audio interface made. From the pin-drop clarity on the H1, to the unintelligible murmur I would get from a Surface Pro. The motherboard integrated mic input required too much gain and made it noisy, but then my OnePlus 2 phone could handle it just fine.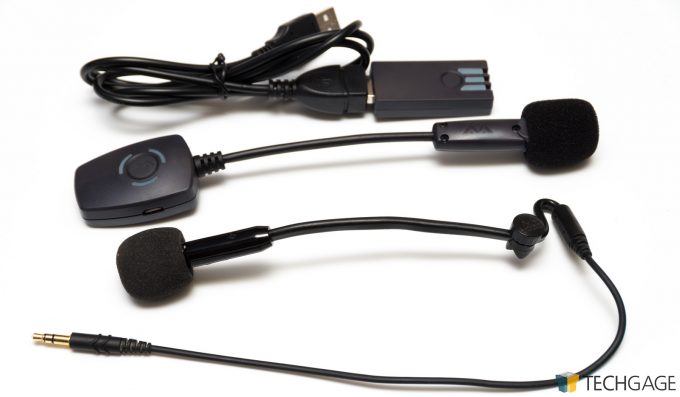 The ModMic Wireless bypasses all this entirely, and will sound exactly the same on each device it's plugged into. So how good does it sound? Well, you decide.
To give you a fair comparison, I'm going to compare the ModMic Wireless against its cousin, the ModMic 5, but we'll give it a best-case scenario, plugged into a Behringer UMC202HD audio interface using XLR and phantom power. Under normal circumstances, you can't plug in a ModMic into an XLR interface, since the ports don't provide bias power, but instead use phantom power which is typically 48 Volts.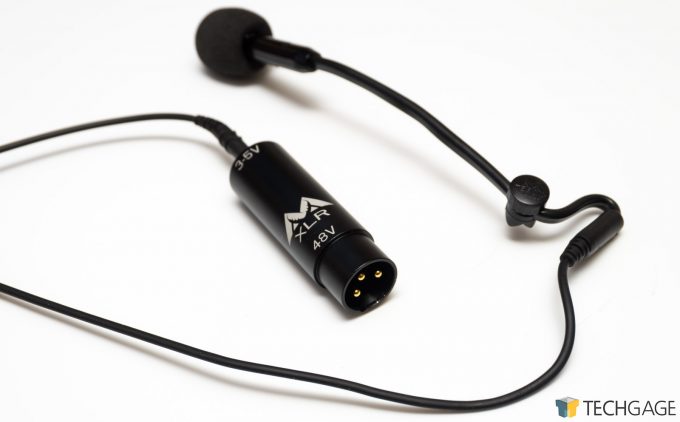 This ties in with another product, as late last year, Antlion came out with an XLR to 3.5mm jack that converts 48 V phantom power down to 3 V used by the ModMic, meaning you can now use the ModMic 4/5 (or any powered mic) over XLR, without frying it with 48 V phantom power.
Final Thoughts
How does the ModMic Wireless compare to a ModMic 5 going through a premium XLR audio interface?
Surprisingly similar.
Antlion ModMic 5 Sample:
Antlion ModMic Wireless Sample:
The previous paragraphs have been recorded by both the ModMic Wireless and the 5. While there will be some intonation differences and slurs, the two should have a similar pacing. There is a subtle difference between the two, with the Wireless being slightly harsher in the mid tones, and the ModMic 5 having slightly more bass and a 'warmer' profile. Both Mics were fitted to the same headphones, but on alternate sides, and positioned equally from my mouth.
The recordings were done using the cardioid pickup mode, meaning it passively isolates some of the background noise. The omni pickup mode does open up the profile a bit, and lets you hear more of the environment, becoming less claustrophobic. Generally, you would use the cardioid mode if you have lots of fans going in the background, or other people, and the omni mode if you're after a better sound overall.
Personally, the ModMic 5 through the XLR interface sounds better, but not by much. The Wireless however, is a lot more convenient and easier to set up – you just plug and go. The XLR setup requires a bit more fiddling to get going, and while the ModMic 5 costs less, overall if you include the dedicated audio interface, it can cost more, but it depends on what you're after. You'll also have those pesky wires to contend with as well. The main difference though is that the Wireless will sound exactly the same no matter what system you plug it into, while the ModMic 5 is at the mercy of whatever recording solution you have set up.
The ModMic Wireless doesn't replace the ModMic 5, they both have the same capsules, and sound very similar. It comes down to whether you have a decent audio interface already, in which case the cheaper ModMic 5 at $70 USD will be great, or if you really hate wires and are willing to pay extra for the ModMic Wireless at $120. In either case, both are very good microphones for those looking to indulge their friends over Discord, while you yell at them to go buy ModMics so you can actually hear them…. and tell them to use push-to-talk while you're at it.
While there are plenty of wireless mic solutions on the market, there are very few in this price range, and Antlion really delivers a compelling option with the ModMic Wireless. We're excited to see where the company goes next with the ModMic concept.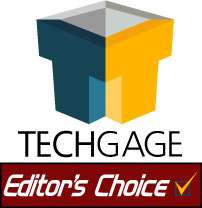 Antlion Audio ModMic Wireless
Copyright © 2005-2019 Techgage Networks Inc. - All Rights Reserved.