ASUS Republic of Gamers G751JY 17-inch Gaming Laptop Review

Date: April 16, 2015
Author(s): Rob Williams

There are gaming laptops, and then there are uncompromising gaming laptops. ASUS' ROG G751JY falls into the latter category for a number of different reasons, with a great one being that it packs some seriously powerful hardware under its hood. How does a 1GB/s SSD sound? 24GB of RAM? GTX 980M? Exactly. Read on!
---
Introduction, A Look At The Hardware & Software
To call ASUS' G751 a mere "gaming notebook" seems like a disservice. It's just so much more – a full-on desktop replacement that excels at gaming. In fact, with its brawny hardware, it's bound to be faster than the desktops most people reading this will own.
To be more specific, I'm talking about the G751JY, the model that slots into the middle of ASUS' G751 line-up. At $2,250, it's clear from the get-go that this gaming notebook means business, but I could make it even clearer with a couple of quick buzzwords: "24GB of RAM", "NVIDIA GTX 980M", and "1GB/s SSD".
Yup – this thing is a monster.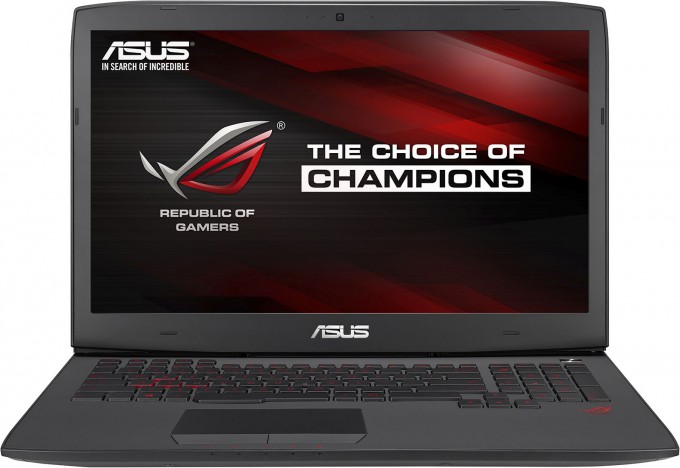 ASUS' G751 models range from $1,500 to $2,800, and I feel that those wanting to get to get the "full package" would do well with this $2,250 variant. Another good consideration would be the $1,500 model; it drops the GPU to 970M, has 16GB of RAM, loses the M.2 SSD, and includes a standard DVD-RW drive in lieu of a BD-RE.
All G751 notebooks feature the same chassis design as the G751JY I'm looking at here, in addition to special game-related keys, and also the bright 1080p display.
A Look At The Hardware
In case I somehow failed to spell it out above: ASUS' G751 is one hell of a powerful notebook. It sports so much high-end hardware, I'm not even sure where to begin. Let's start with the CPU: Intel Core i7-4710HQ, a quad-core offering that supports HyperThreading. For graphics duties, we have NVIDIA's GeForce GTX 980M, and for our volatile memory needs, there's 24GB of DDR3-1600.
Also worth noting is the inclusion of Samsung's XP941 M.2 PCIe-based SSD, one that's at least twice as fast as standard SATA-based SSDs (~1.1GB/s read, ~800MB/s write). That super-fast I/O makes a big difference for those with heavier workloads – it's fast enough where a Windows virtual machine I ran on the notebook felt like it was running at native OS speeds.
I'll let the table speak for itself.
ASUS ROG G751JY Gaming Notebook
Processor
Intel Core i7-4710HQ Quad-core @ 2.50GHz
3.50GHz Turbo; 6MB L3 Cache; HyperThreading
Motherboard
ASUS G751JY Series Notebook (HM87)
Memory
24GB (8GBx3) (11-11-11)
Graphics
NVIDIA GeForce GTX 980M 4GB
Display
LG Philips LP173WF4-SPD1 (17.3″, 1080p)
Storage
Samsung XP941 256GB M.2 SSD
HGST HTS721010A9E630 1TB (7200 RPM)
Optical
MATSHITA BD-MLT UJ272 Blu-ray Writer
Audio
Realtek ALC668 & NVIDIA HDMI
Wireless
802.11ac & Bluetooth 4.0
Connectivity
1x HDMI, 1x mini-DisplayPort, 1x VGA
4x USB 3.0
3 Audio Ports
1x Ethernet
Card Reader
Et cetera
16.38″ x 12.52″ x 2.09″
10.58 lbs
Windows 8.1
Kensington Lock
As far as notebooks go, the G751 is a relative tank. It weighs 10.58lbs, so prepare to break a sweat when bringing it from point A to B. I took this notebook to NVIDIA's GTC last month, and while I appreciated having its power and big screen at the hotel, it wasn't fun lugging it through multiple airports. However, one TSA agent did tell me that it "looked awesome", so there's that.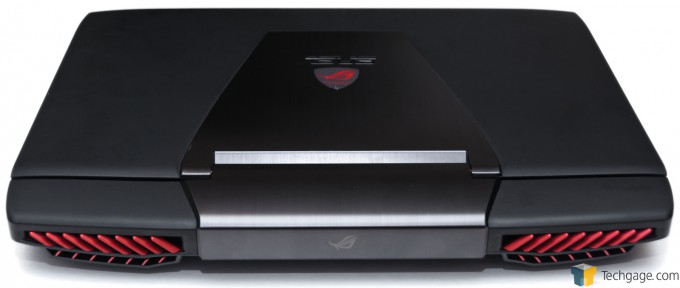 The notebook's exhausts are unsurprisingly large, with a major benefit of that being that it won't sound like a jet engine while it's being stressed hard. At full-tilt, using audio of a decent level should drown out the fan noise completely.
Being such a large notebook, there's no feeling of crampedness when typing away on the keyboard. I am about as fussy as they come where notebook keyboards are concerned, but overall, this one was quite nice to work with. The touchpad is also good to the touch, but the left and right buttons leave a bit to be desired – they feel mushy, and are not that satisfying to push.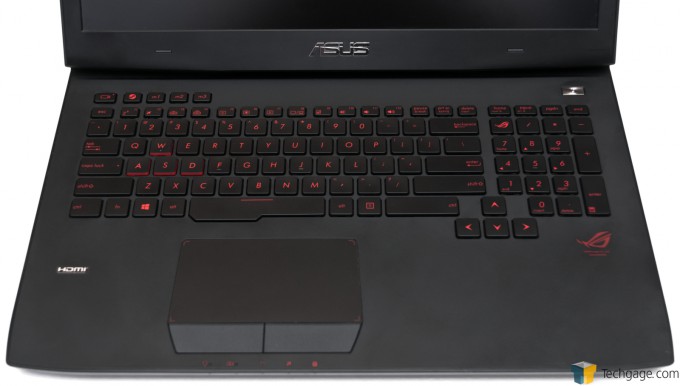 There's more that makes the G751 special than just its beefier hardware. At the top of the keyboard are five buttons related to gaming, with three of them involving built-in macros.
At the absolute left is a camera which ties into NVIDIA's ShadowPlay to record your gaming. The idea is that once it's set up, all you have to do is tap this button while in-game to record, and then tap it again to stop. While you can do this quite easily with regular keyboard shortcuts, this button takes the hassle out of remembering what those keyboard shortcuts are.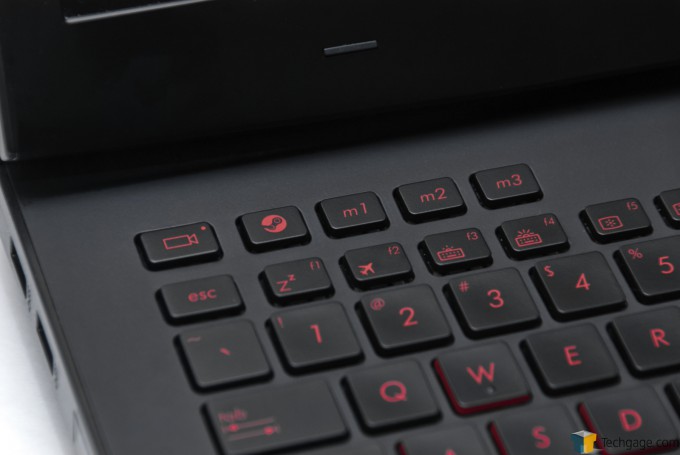 Next to the camera key is one that sports a familiar logo: Steam. Hitting this will launch Steam in Big Picture mode, in case you just want to kick back and take advantage of that interface. Unfortunately, neither the recording or Steam key can be reconfigured.
At the left side of the GT751, and from left to right, is a Kensington lock, dual USB 3.0 ports, the Blu-ray re-writer, and SD card reader.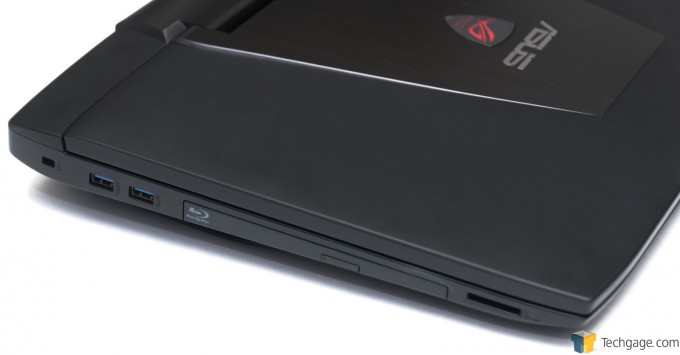 On the right side, again from left to right, are three audio jacks (output, mic-input, and line-input), dual USB 3.0 ports, a mini-DisplayPort, HDMI, LAN, VGA, and the AC power.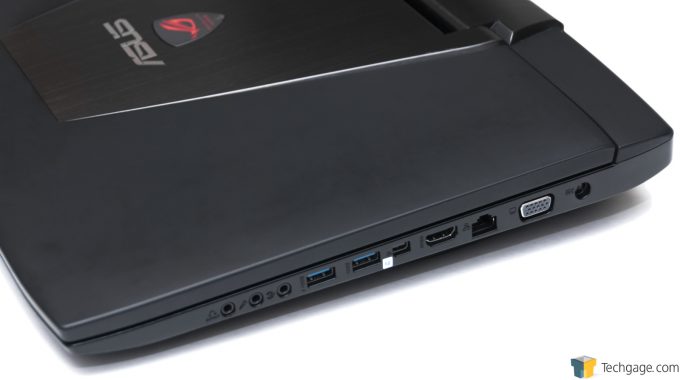 There's not too much that can be said that isn't obvious: the G751 is a tank. It's well-built, well-designed, and looks good, to boot. If only we could get the performance it offers without it needing to weigh 10lbs!
A Look At The Software
We've established that the G751's hardware and design is good, so now it's time to find out if that carries on through to the software. Like the ROG G20 PC I took a look at a couple of months ago, the Windows 8.1 desktop is kept nice and clean, with only a single desktop icon in the G751's case. The same pinkish hue theme once again makes a return, and the amount of bundled software is moderate.
The following shots will show you exactly what software is included with the G751, and also how the Start Screen is configured. There are many Windows 8 tiles applied to this screen, as well as a handful of third-party apps – Netflix, Zinio, Line, WildTangent Games, Microsoft Office, and Music Maker Jam.
The Start Screen doesn't reveal all of the bundled software, though; so for that we'll rely on the 'Installed Applications' section of the Control Panel.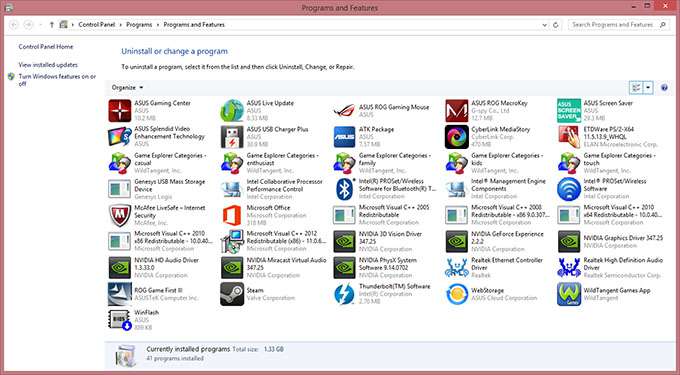 In addition to all of the apps mentioned so far, and also some ASUS-specific ones seen in the shot above, the G751 bundles in McAfee Internet Security and CyberLink MediaStory.
Any time I see security software like McAfee installed, I cringe. I wouldn't mind seeing it so much if it were offered at the first boot, but pre-installed, it's just a nuisance. This especially rang true with the G751, as after setting it up, I couldn't access my network shares. It took me a solid ten minutes to realize that it was because McAfee was interfering. A small issue, but an issue I could have done without.
Before moving on, let's take a look at the available disk space. As mentioned in the hardware section, this particular G751 includes a 256GB Samsung M.2 SSD as well as a 1TB hard drive. ASUS splits both of these into two parts, with the second part of the SSD being given slightly more free space than the primary – a preferred design, I feel, if it must be split at all.
If space becomes limited on this SSD after a while, it's important to realize that Windows hogs some of what's available with its pagefile and hibernation. Thanks to the large amount of RAM this G751 has, hibernation will use ~20GB of the SSD's space, whereas the pagefile will use ~25GB. It goes without saying that 45GB of a 256GB SSD is a massive chunk, so I'd recommend considering your options to free up that wasted space.
As covered in our "Disabling Windows Pagefile & Hibernation to Reclaim SSD Space" article, hibernation – if it's not going to be used – can be disabled by opening a command prompt as Administrator and typing in "powercfg -h off" without quotes.
The pagefile is a little more complicated to deal with. With 24GB of RAM at-the-ready, it means that it'd take some serious circumstance to require a pagefile at all. So I'd recommend moving the pagefile to the hard drive, via the instructions mentioned in the above-linked article. Alternatively, you could keep the pagefile on the SSD, but configure it so that it uses only 16MB until it's required.
ASUS bundles two pieces of ROG-specific software with its G751, including Gaming Center and MacroKey.
Gaming Center is a simple full-screen app that displays the current time, RAM and storage usage, and provides a couple of links to certain configurator tools. I admit that I'm not really sure what the point of an app like this is – it'd be great as a screensaver, but to imagine someone going out of their way to run it, other than to just check it out? I feel like I'm missing something.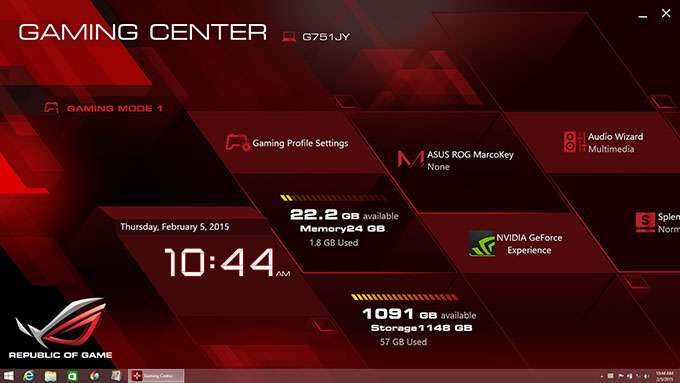 Yes, that really does say "Republic of Game" and "MarcoKey".
MacroKey does a great job of explaining itself. With it, you can create macros with up to 256 individual keypresses (which includes depresses), and then apply them to a specific key and then a profile. While gaming, you can hit the M1, M2, or M3 key to choose the profile, and then use the key combination you programmed in to execute a given macro.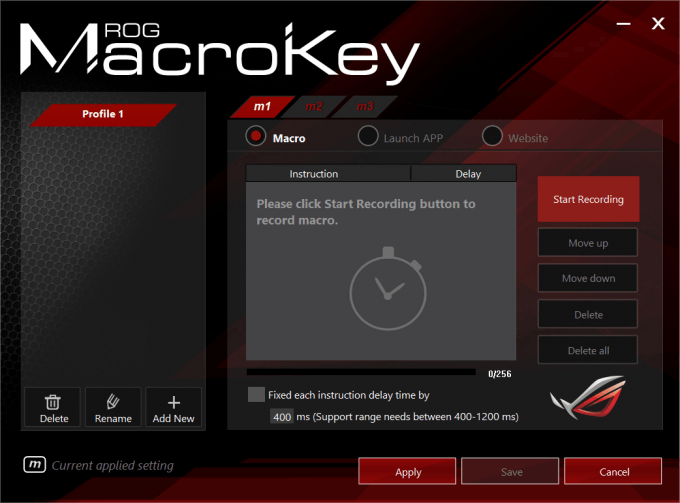 While it's not ASUS' software, I can't wrap this up without mentioning the value NVIDIA's ShadowPlay and GeForce Experience can add to a gaming notebook. As covered earlier, the G751 has a special button that ties in with ShadowPlay to begin recording your game. On the first press, you'll have to set up some configuration options, and then from that point forward, you'll be able to push the key whenever you want in-game to begin recording, and then hit it again to stop.
Need proof of how well that works? No problem. Below is a 60 FPS video that shows video recorded from Borderlands: The Pre-Sequel, Sleeping Dogs: Definitive Edition, and Shadow Warrior at the notebook's native resolution of 1080p. With the help of Fraps, a framerate counter is displayed in the top-right corner of the screen, to help you understand exactly what the performance was like at any given point. You'll notice that despite all three of the games having good graphical detail, the framerate never dipped below 60 FPS – with the one exception of BL: TPS in areas where PhysX kicked into gear.
The reason I encourage use of GeForce Experience is because generally speaking, you never have to tweak for optimum performance on a desktop like you do on a notebook. Thus, GFE is a great way to get a reliable profile applied to a game before you get down to business. In some cases, I actually found that NVIDIA's settings were not as aggressive as I would have liked, so in some cases you may find yourself being able to increase the detail levels further after optimizing through GFE.
With hardware and software taken care of, it's time to get into some game benchmarking. Because the G751JY has such a powerful GPU behind a modest 1080p display, I prepared "Best Playable" results for both its native 1080p display as well as an external 1440p one. Let's jump right in.
1080p (Native) Gaming Performance
To see what the G751JY is capable of in gaming, I've taken a total of nine games – some pulled from our usual suite, along with a couple of extras – and tried to find each one's "Best Playable" settings.
As with the "Best Playable" pages in our regular graphics card evaluations, I tweak the settings of each game until I can find a good blend of image quality and playability. The overall goal is to reach an average framerate of 60 FPS, but in some cases I'll let that slide if it I deem the minor performance hit is with the increased detail.
I gathered all performance data through manual benchmarking, and if you're familiar with our GPU content already, you'll no doubt recognize the scenes from some of the games here. Fraps 3.5.99 is used for framerate reporting.
All of the in-game screenshots on this page were snapped using the same settings listed in the respective Best Playable tables. Also, for the sake of letting you in on how much performance was seen at that moment in time, Fraps' framerate counter can be seen in the top-right corner.
Assassin's Creed IV: Black Flag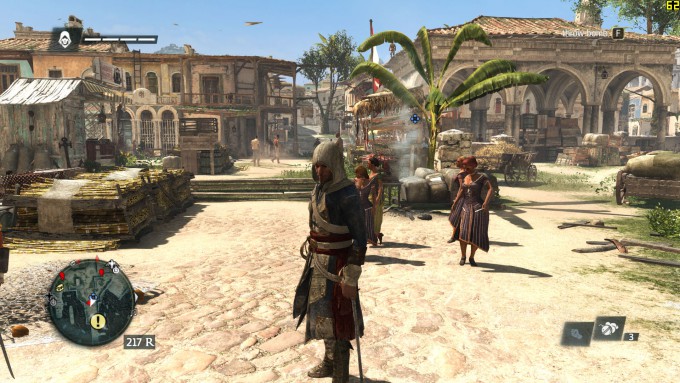 Assassin's Creed IV: Black Flag
Minimum
Average
56
60
From the get-go, we can see just what sort of monster the GTX 980M is. AC IV: Black Flag was able to run at the notebook's native 1080p resolution with graphics cranked to max, with the one exception of the Shadow detail being kept to High, instead of Very High.
Borderlands: The Pre-Sequel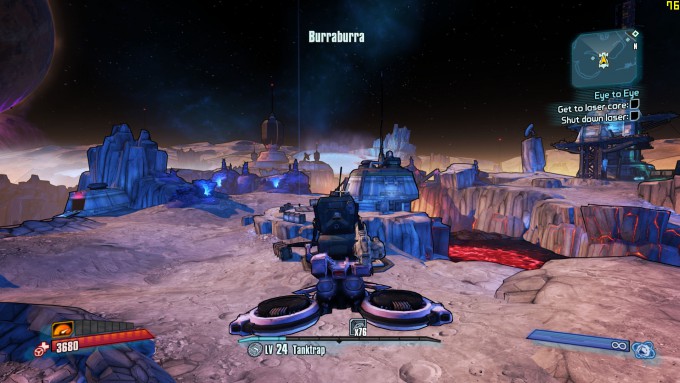 Borderlands: The Pre-Sequel
Minimum
Average
26
82
The Borderlands series does a lot of things right, and one of those things is eye candy. Despite that being the case, none of the titles so far have been that punishing on PC hardware, with a marginal hog added if PhysX is used. It's no surprise, then, that The Pre-Sequel was able to be topped-out without issue, even with High PhysX. Note, though, that unless Low PhysX is used, you'll dip below 60 FPS regularly when PhysX is exercised well (hence the 26 FPS minimum). This is no different on a desktop with top-end GPU, though – PhysX just requires a lot of GPU horsepower to push its cool effects.
Crysis 3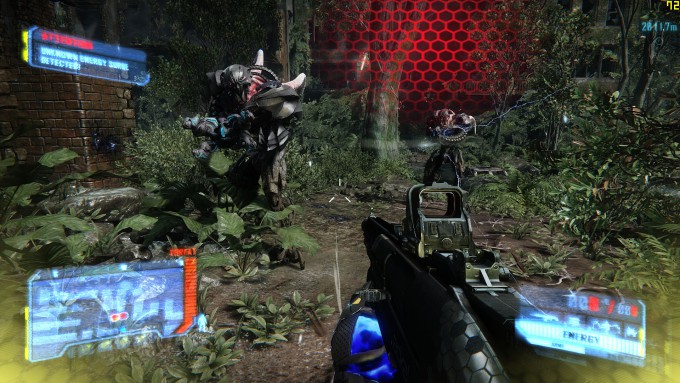 Crysis 3
Minimum
Average
49
71
Not even Crysis 3 can tame this notebook. The screenshot speaks for itself.
Dying Light
Dying Light
Minimum
Average
57
81
Dying Light is an interesting game to benchmark, because sometimes, it feels like it's running better than it actually is, and there are some settings that can make a dramatic difference on the overall framerate. At 1080p on this notebook, though, the sky's the limit.
GRID 2
GRID 2
Minimum
Average
95
109
I am sure this comes as no surprise. GRID 2 is getting long in the tooth at this point, but it still looks great – and at 1080p, it can be maxed out with 4x MSAA and still reach 100 FPS.
Shadow Warrior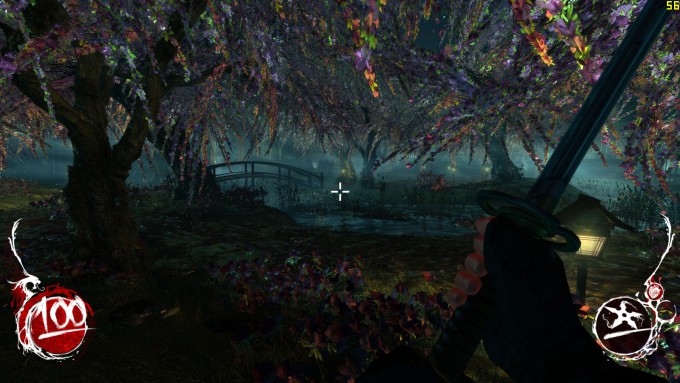 Shadow Warrior
Minimum
Average
66
100
Shadow Warrior is a very underappreciated game as far as I'm concerned, and the graphics and environments are part of the reason why. The entire game is simply gorgeous when maxed-out, and fortunately, the G751JY holds nothing back at 1080p. It's even able to make use of the high-end FSAAx2 anti-aliasing setting.
Sleeping Dogs: Definitive Edition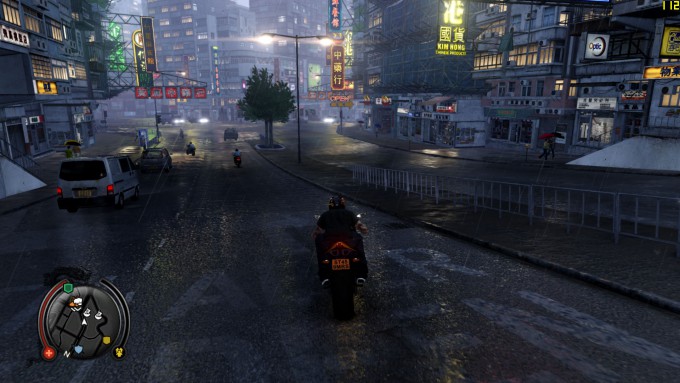 Sleeping Dogs: Definitive Edition
Minimum
Average
82
100
Like GRID 2 but even more so, Sleeping Dogs: Definitive Edition is a downright gorgeous game that runs great on the G751JY. This is one of the games I included in the ShadowPlay video on the previous page, so check that out if you want to see the game in action.
The Crew
The Crew
Minimum
Average
44
58
The Crew is probably one of the most demanding racing games out there today, but with the 980M backing it up, it can be topped-out and enjoyed at close to 60 FPS just fine.
Tom Clancy's Splinter Cell Blacklist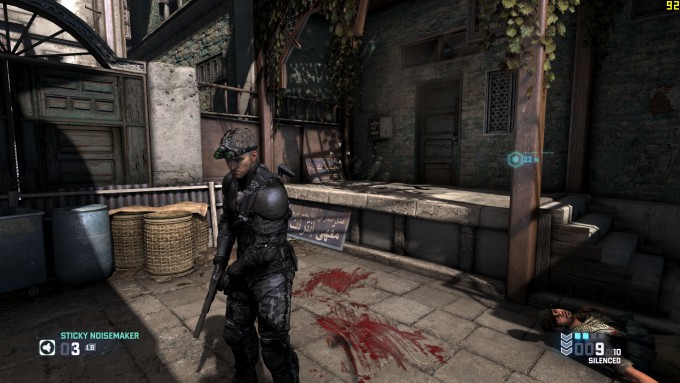 Tom Clancy's Splinter Cell Blacklist
Minimum
Average
57
89
At maxed-out detail levels (ignoring some of the incredibly demanding AA modes), Splinter Cell: Blacklist runs great at 1080p on this notebook. There's something to be said about a game running near a minimum 60 FPS and still looks this good.
With the native gaming report out of the way, let's see how these games fare when piped out to a 1440p monitor.
1440p (External) Gaming Performance
On the previous page, all of the games were tested at 1080p using the notebook's own display, while on this page, we take a look at performance on a 1440p external monitor (ASUS ROG SWIFT PG278Q), connected via DisplayPort. On a related note, I should mention that the G751JY works with NVIDIA G-SYNC just fine.
Allow me to reiterate my testing methodology:
As with the "Best Playable" pages in our regular graphics card evaluations, I tweak the settings of each game until I can find a good blend of image quality and playability. The overall goal is to reach an average framerate of 60 FPS, but in some cases I'll let that slide if it I deem the minor performance hit is with the increased detail.
I gathered all performance data through manual benchmarking, and if you're familiar with our GPU content already, you'll no doubt recognize the scenes from some of the games here. Fraps 3.5.99 is used for framerate reporting.
All of the ingame screenshots on this page were snapped using the same settings listed in the respective Best Playable tables. Also, for the sake of letting you in on how much performance was seen at that moment in time, Fraps' framerate counter can be seen in the top-right corner.
Assassin's Creed IV: Black Flag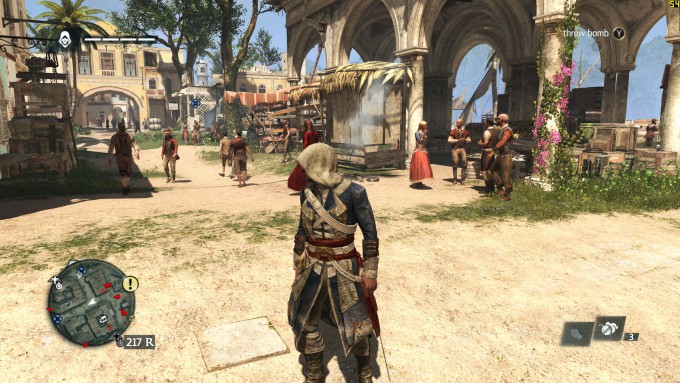 Assassin's Creed IV: Black Flag
Minimum
Average
49
59
Versus the 1080p resolution, it's no surprise that the graphical detail has to be tweaked a fair bit, but surprisingly, the impact made isn't huge. We're still able to keep Very High environment detail, as well as High detail for everything else. The biggest change is with the God Rays detail and also ambient occlusion, which is decreased to HBAO+ Low, from High.
Borderlands: The Pre-Sequel
Borderlands: The Pre-Sequel
Minimum
Average
32
68
Borderlands: The Pre-Sequel is one of the odd games in this roundup that's safe to use the same high-end settings at both 1080p and 1440p. Despite the pixel boost, this game can still average out to 68 FPS. Again, the performance hit comes in with PhysX decides to, hence the modest minimum framerate. Never want to dip below 50 FPS? Simply put PhysX to Low (but honestly, the sporadic slowdown isn't likely to bother you.)
Crysis 3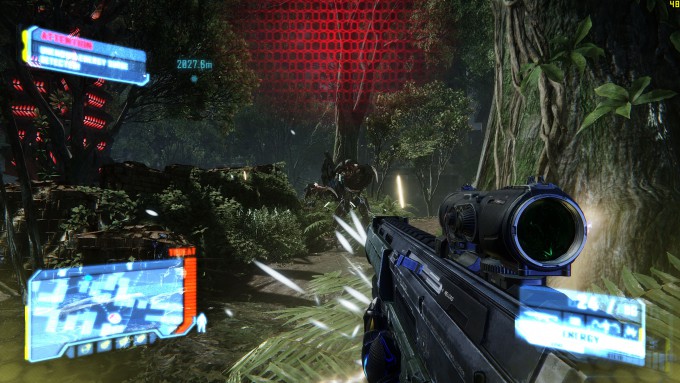 Crysis 3
Minimum
Average
41
58
Substantial detail changes have to be made with Crysis 3 when moving from 1080p to 1440p. We're still able to retain the Very High texture detail, but some other knobs need to be dropped to Medium. Despite the changes, the game still looks gorgeous.
Dying Light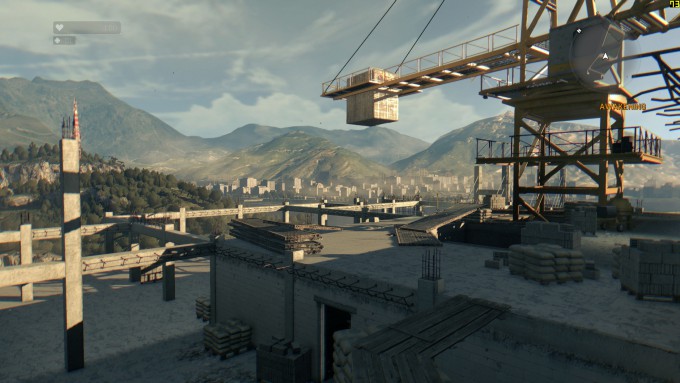 Dying Light
Minimum
Average
45
58
To figure out the Best Playable with this particular game, I relied on GeForce Experience. If I recall, I changed one setting after-the-fact, but for the most part, don't expect to max out the view distance. You might imagine that the NVIDIA special settings would make a big performance impact, but they didn't quite as much as the view distance and texture quality.
GRID 2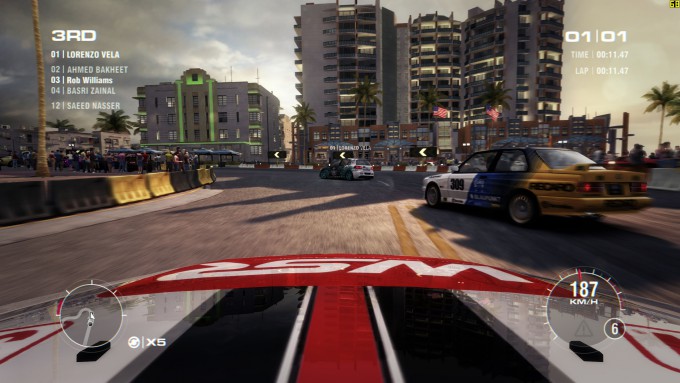 Topped-out, 1440p is no problem whatsoever for the 980M and GRID 2. In fact, we even manage to keep above 60 FPS – a nice perk.
Shadow Warrior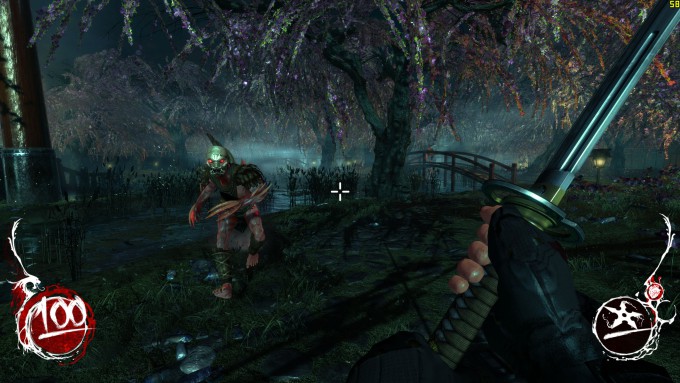 Shadow Warrior
Minimum
Average
70
94
Similar to The Pre-Sequel, the graphics in Shadow Warrior were able to remain the same between resolutions except for anti-aliasing. At 1440, FSAAx2 was too much for certain areas in the game, whereas dropping down to FSAA fixed that problem immediately.
Sleeping Dogs: Definitive Edition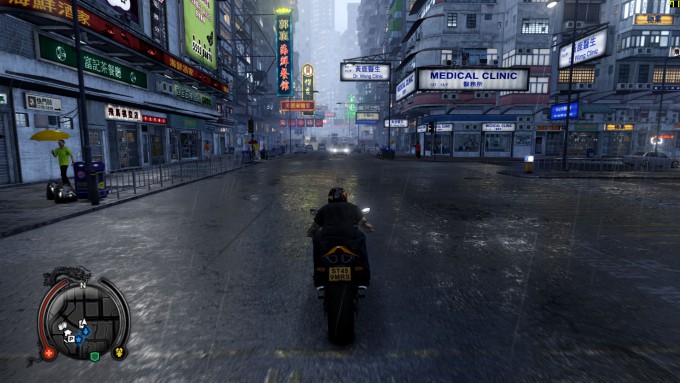 Sleeping Dogs: Definitive Edition
Minimum
Average
50
61
Even at 1440p, Sleeping Dogs: Definitive Edition runs extremely well on this notebook.
The Crew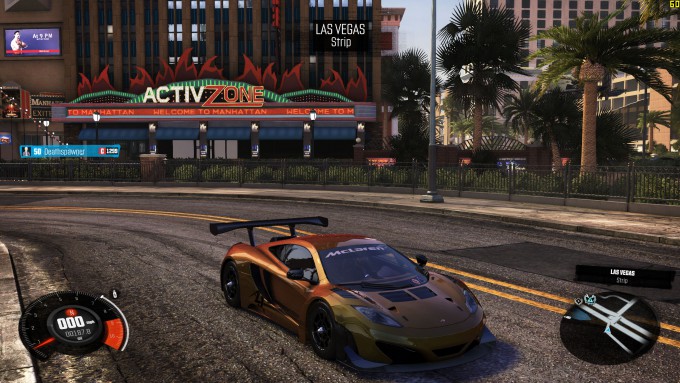 The Crew
Minimum
Average
54
60
The Crew still looks great at 1440p on this notebook, but the shadows, anti-aliasing, as well as the ambient occlusion had to be dropped down a notch.
Tom Clancy's Splinter Cell Blacklist
Tom Clancy's Splinter Cell Blacklist
Minimum
Average
42
60
Blacklist has thrown me a bone here by being completely playable at 1440p using the same settings that 1080p proved to. The only thing to note is that there are additional anti-aliasing settings, but all of them are far too performance-hitting.
System Performance & Final Thoughts
The previous two pages did a great job of highlighting the real-world gaming capability of the G751JY, and on this page, I'd like to tackle the 3DMark and system performance. Following that, we'll wrap things up with some final thoughts.
Ignoring the weaker 3DMark tests, let's single out Fire Strike. On the G751JY, a score of 8,529 is attained, which as can be seen in the shot below, puts it right behind what Futuremark considers to be a high-end gaming PC.
A standalone 3DMark score doesn't matter much, so note this: the last time I benchmarked the GTX 770, it scored about 7,000. The GTX 780? 8,700. Yup – the GTX 980M is one hell of a fast mobile graphics card.

(Click to see the official result.)
Up next is PCMark 8 with another set of results that are hard to gauge the worth of without a basis for comparison. What's worth noting here is that Intel's mainstream CPUs deliver incredible all-around performance, and in tests like PCMark, they can even outperform its enthusiast models. Here's some proof: look back to my look at Intel's Core i7-5960X eight-core processor, and you can see that it's the G751JY's i7-4710HQ that scores a couple of hundred points higher in each test.
ASUS G751JY – Futuremark PCMark 8
Run #1
Run #2
Home
4776
5166
Work
5245
5397
Creative
5378
5625
Storage
5014
5012
One thing that helps the G751JY perform so well in any benchmark that stresses the I/O is its Samsung XP941 M.2 PCIe-based SSD. Using CrystalDiskMark, I clocked this SSD at 1.1GB/s read and 811MB/s write. The results seen in the shot below are about double what we'd see from a regular 2.5-inch enthusiast SSD. If you never put much thought into owning a PCIe SSD in the past, these results should increase the intrigue.
Wrapping-up the test results, we'll turn our attention to yet another Futuremark suite, Powermark. Powermark's goal is to accurately stress a notebook under realistic scenarios to gauge what to expect from its battery-life. For testing, the LAN, Wi-Fi, and Bluetooth are all disabled, and the Balanced power scheme in Windows 8.1 is used. That puts the screen brightness to about 60%, which I considered to be suitable for use when on battery.
ASUS G751JY – Futuremark Powermark
Run #1
Run #2
Balanced
2 hours 46 minutes
2 hours 38 minutes
Productivity
3 hours 11 minutes
3 hours 11 minutes
Entertainment
2 hours 5 minutes
2 hours 18 minutes
Being a true gaming notebook, it'd be crazy to expect impressive battery-life out of the G751, but I admit the results strike me as impressive. For regular use on a seriously powerful gaming notebook to attain over 3 hours of battery-life is definitely suitable. Beyond that, the use is going to be limited, although because of its size, that's basically implied anyway (you're not hauling this out on a plane unless it happens to be a private jet).
Final Thoughts
The G751JY is one of the easiest products I've ever had to write a conclusion for. It helps that it packs a massive punch while managing to not do too much wrong. It's without question an excellent choice for someone who's serious about their games and regularly games on-the-go.
In the 3DMark section above, I mentioned that Futuremark pits the G751JY right underneath a "high-end gaming desktop", and after using the notebook for over a month, I agree with that placement. The G751JY feels faster than my full-blown desktop in many ways thanks to its included PCIe-based SSD. This was my first experience with such an SSD, and I'm now decided that I'll get one in the future. These drives are so fast that it's actually made me think less of standard 2.5-inch SSDs. I am not sure if I should be ashamed or come down off cloud nine, but really – the SSD in this notebook is twice as fast as a standard desktop SSD.
And to think, these M.2 drives get even faster.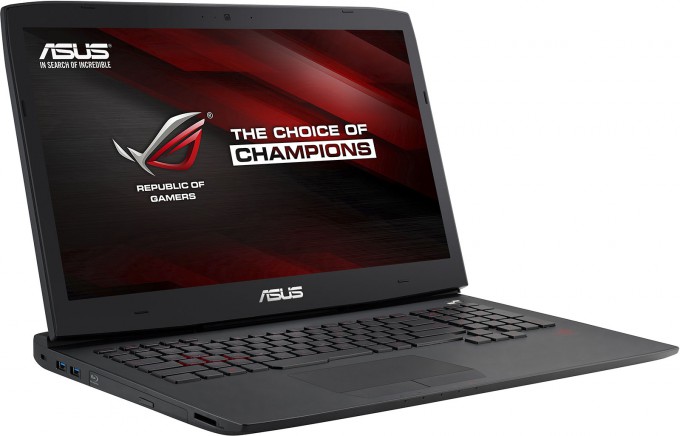 It's not just benchmarking numbers I base all of this off of, it's real-world use. I ran virtual machines on this notebook just as well as I run them on my desktop, and even after a solid month of using the same OS install, it still feels as fast as it did when I first boot it up.
And that's not even talking about the gaming performance. As mentioned in the last section, the GTX 980M, according to 3DMark, is about 3% slower than a desktop GTX 780. AKA: it's fast. It's so fast that it would have done the notebook injustice to refrain from testing on an external monitor. 1080p is truly a cakewalk for the G751JY.
As for the rest of the hardware, the keyboard and touchpad (not so much its buttons) are both great to use, and the macro keys as well as the ShadowPlay record key are nice additions. Beyond that, there's quite a bit of I/O connectivity on the sides, including 4x USB 3.0 ports.
What more needs to be said? This is a monstrous gaming notebook that I can't find a real fault with. You can game for hours without slowdown (or uncomfortable noise at full-tilt), and it's overall a comfortable notebook to use. Of course, $2,250 isn't cheap. If $1,499 is a little more attractive, you can get the G751JT which retains the same CPU but drops the GPU to 970M, RAM to 16GB, and forgoes both the super-fast PCIe SSD and Blu-ray writer (instead including a DVD-RW).
This is one of the easiest Editor's Choice awards I've ever given out.
Pros
It's a notebook that feels as powerful as a gaming desktop.
Native 1080p gaming is no problem for the GTX 980M. Handles external 1440p gaming very well.
NVIDIA technologies (G-SYNC, ShadowPlay, etc) all work great.
Tons of RAM and super-fast SSD.
Game recording button is a nice touch.
Lots of connectivity options.
Cons
Touchpad buttons are mushy and unsatisfying to push.
Some might have preferred to see a 1440p display.
Some may not like the game record button and macros being so close to the Esc and F keys.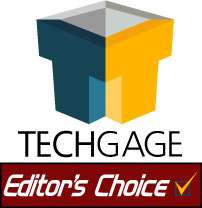 ASUS G751JY Gaming Notebook
Copyright © 2005-2019 Techgage Networks Inc. - All Rights Reserved.