ATI's Eyefinity: 18 Games Benched on 3 and 6 Displays

Date: May 17, 2010
Author(s): Rob Williams

When AMD launched its ATI Eyefinity technology, it helped redefine high-end gaming, and effectively made 2560×1600 look like child's play. In this article, we put the technology to a good test across 18 different games and on both 3×1 (5760×1080) and 3×2 (5760×2160) display configurations to see just how worthy Eyefinity is.
---
Introduction
When AMD launched its ATI Radeon HD 5000 series of graphics cards last fall, we saw stark performance increases, DirectX 11 support, superb power efficiency, and a technology that the company made sure was kept secret up until its launch: Eyefinity. At first, it was difficult to understand what made this new multi-display technology special, but today, the reason is clear.
What Eyefinity brought to the table was an effective way to play your games across multiple displays without the need of having to pony up hard cash for a special device (such as a Matrox TripleHead2Go). Instead, if you purchased an HD 5000 series card, you also bought yourself the ability to game on more than one display, even if you had no intentions of doing so.
If there's one thing I'm sure most people would agree on, it's that free is better than not free. That of course assumes that the technology isn't limiting in some way, and in the case of Eyefinity, it's not. In many cases, it's better.
In the earlier days of Eyefinity, AMD focused primarily on pushing the technology as a way to power a 3×1 display setup, but with the recent launch of its Radeon HD 5870 Eyefinity 6 graphics card, those who pondered topping their desk off with six displays now had a simple solution. For many, six displays sounds ridiculous, but believe it or not, many of today's games support the ultra-high resolution of 5760×2160 just fine, so it's easy to understand why AMD wasted no time in getting the word out there.
In March, AMD sent us its Radeon HD 5870 Eyefinity 6 graphics card along with six Dell P2210H 22-inch displays to allow us to put the technology to a test, and since then, we've done a lot of that. In this article, we're going to touch a little bit on considerations you need to make if you want to dive into Eyefinity, the installation process and other interesting tidbits, along with performance testing across 18 titles in 3×2 and 3×1 display configurations, with and without CrossFireX.
Considerations for Eyefinity
As you might expect, taking the Eyefinity plunge requires a little bit of prep work. Aside from the graphics card, the most important consideration to make is with regards to the displays you plan to use. If you already own 3 or 6 displays, then you will have to work with what you have, but if you don't, then you need to make sure that the displays you purchase are going to be suitable.
It's fairly obvious, but regardless of whether you want to go 3×1 or 3×2, you will want to select a display that's completely flat on the sides and top and bottom – the latter is important only if you are going 3×2, however. Because the bezels literally do split your gameplay into sections, you want to minimize the effect of it as much as possible. If you select a monitor with a slightly round frame, the end result isn't going to look quite as good.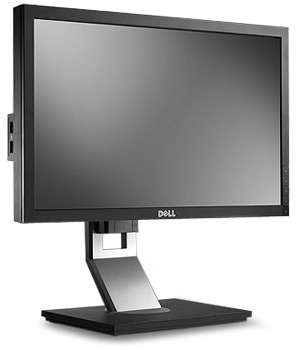 Although many companies produce monitors that fit the bill nicely for Eyefinity, AMD chose to send along a Dell model as the vast majority of that company's displays utilize the same clean edges. If you're able to spot displays that are perfectly rectangle and happen to have thinner bezels, you should heavily consider those.
Thanks to a feature introduced in the Catalyst 10.3 driver, you can now compensate for your bezels with a simple tool that uses a triangle to help you make the entire picture seamless. It's a simple tool, and effective. In order to have compensation work, your resolution has to be increased, so don't expect to stick with 5760×2160 for too long. Chances are your end result will be something closer to 6000×2400.
Because Eyefinity essentially turns a bunch of displays into one monolithic display, the resolution you end up with is going to be massive. To calculate the resolution you'll end up with, you simply need to tally together the widths and heights. For a 3×1 configuration using 1920×1080 displays, the end result is 5760×1080, and for 3×2 configuration using the same displays, the resolution will be 5760×2160.
Seeing as though it's kind of hard to picture such a resolution without actually seeing it, take the fact that the high-end resolution of 2560×1600 equals 4,096,000 pixels, and 5760×2160 equals 12,441,600 pixels. Yeah, that's a lot of real-estate right there. Need an even better example? Take a look at this graphic:
Even by today's standards, the resolution of 2560×1600 is huge, and even a bit overwhelming for a lot of people. But here, it's completely dwarfed by 5760×2160… there's just no comparison. Because of this major difference in overall pixels, it means in the simplest terms that for an equal GPU, you'll only see 33% of the performance at 5760×2160 compared to if you were powering only 2560×1600. That's not even taking into consideration bezel compensation, which could tack on another 2 million pixels!
The next and also very important consideration to make is choosing a good display mount. If you're planning to go with a 3×1 configuration, then chances are good that you don't need any sort of mount at all since you can simply place the displays beside each other (unless you want them on the wall, of course), but for 3×2, special mounts will be required for obvious reasons. I don't recommend substituting proper mounts for duct tape, either.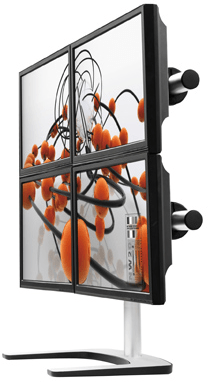 For our use, AMD sent along two different mounts from Atdec, from the company's Visidec line. To kick-start the building process, we used the VFS-Q to prep the first four displays, and then finished things off with the VFS-DV for the final two. I have next-to-no experience with display mounts, so I can't outright recommend these, although they did the job fine. I did end up cracking a piece that secures one of the displays, but I blame that more on my own impatience than anything (it took me about four hours of actual work to get the entire build completed).
The final piece to the Eyefinity puzzle is of course the graphics card. With almost all Radeon HD 5000-series graphics cards, you'll be able to hook up 3 displays just fine for Eyefinity, and unless you have a display model that doesn't offer a wide-range of connectivity ports, you may not even need to spring for an adapter. In a typical 3×1 configuration, two displays could use a DVI port and the last could use either HDMI or DisplayPort, whichever you have available. ¹
The situation gets a bit trickier when moving up to the 3×2 ranks, though, as no common graphics card offers up six display outputs right out of the box. Well, until the Radeon HD Eyefinity 6 came along that is. As you can see from the image above, this unique card features six mini-DisplayPort connections on the back. The reason for AMD's choosing to go with mini-DP over regular DP is that there is simply no room for six full ports, given that the exhaust is absolutely necessary.
Because mini-DP is hardly a common standard, any Eyefinity 6 card you purchase will include a multitude of dongles in order for you to successfully connect all of your displays. Of these, a few may be DP-to-mini-DP, HDMI-to-mini-DP and so forth. The selection will vary, but whatever is included should suffice for your setup unless you are using low-end displays that happen to offer few connectivity options.
Note that if you are planning to take the 3×2 route, Eyefinity 6 cards demand a $100 premium over regular HD 5870's. The price is justified, though, as that price includes all of the dongles that are required, along with the fact that Eyefinity 6 cards come equipped with 2GB of GDDR5. If you are planning to go with a CrossFireX setup, two regular HD 5870's will be suitable as well. You will just need to have the proper dongles/adapters handy. ²
Due to the fact that our room used for testing is quite small, and we had to ghetto-mod two different desks to even handle all six monitors, I've omitted additional real-world photos. If you do want to see an example of the setup with a game in action, you can check out this example of NFS: Shift.
By now I believe we've covered all of the important aspects and considerations for Eyefinity, so let's get right into our testing… right after a quick look at our testing methodology, of course.
¹ We were incorrect on this fact. For 3×1 on a regular Radeon HD 5870, you will need to use 2x DVI and 1x DisplayPort.
² This has proven incorrect. AMD has stated that in CrossFireX mode, the ports on the secondary graphics card are disabled, therefore you are limited to the ports the primary card offers. You can still use six displays off of two graphics cards, but CrossFireX will be disabled. It's one or the other.
Test System & Methodology
At Techgage, we strive to make sure our results are as accurate as possible. Our testing is rigorous and time-consuming, but we feel the effort is worth it. In an attempt to leave no question unanswered, this page contains not only our testbed specifications, but also a fully-detailed look at how we conduct our testing. For an exhaustive look at our methodologies, even down to the Windows Vista installation, please refer to this article.
Test Machine
The below table lists our testing machine's hardware, which remains unchanged throughout all GPU testing, minus the graphics card. Each card used for comparison is also listed here, along with the driver version used. Each one of the URLs in this table can be clicked to view the respective review of that product, or if a review doesn't exist, it will bring you to the product on the manufacturer's website.
When preparing our testbeds for any type of performance testing, we follow these guidelines:
General Guidelines
No power-saving options are enabled in the motherboard's BIOS.
Internet is disabled.
No Virus Scanner or Firewall is installed.
The OS is kept clean; no scrap files are left in between runs.
Hard drives affected are defragged with PerfectDisk 10 prior to a fresh benchmarking run.
Machine has proper airflow and the room temperature is 80°F (27°C) or less.
To aide with the goal of keeping accurate and repeatable results, we alter certain services in Windows Vista from starting up at boot. This is due to the fact that these services have the tendency to start up in the background without notice, potentially causing slightly inaccurate results. Disabling "Windows Search" turns off the OS' indexing which can at times utilize the hard drive and memory more than we'd like.
Services Disabled Prior to Benchmarking
PerfectDisk 10
Windows Defender
Windows Error Reporting Service
Windows Event Log
Windows Firewall
Windows Search
Windows Update
For more robust information on how we tweak Windows, please refer once again to this article.
Game Titles
Due to the special nature of this article, performance results are going to be delivered a little bit differently than usual. Because we already have full-fledged pages prepared for the six games listed below, we have kept them in-tact and also include a single non-Eyefinity graph for the 2560×1600 resolution from cards we've tested previously, so that you can gauge the performance for both configurations.
For this article, we have tested out Eyefinity with 11 games (and also Unigine's Heaven), and for the sake of space and time, we're not going to delve too deep into the in-game configurations we used for each one, but will be more specific for our "Best Playable" tables. Below, the screenshots are representative of the settings we used for our Eyefinity testing in each title, aside from the resolution of course.
In addition to benchmarking our fleet of games at 5760×2160, we've also benched them at 5760×1080, since we believe that to be a much more realistic configuration for most people. As always, we don't utilize timedemos, so all of our results are gained via manual playthroughs. The exception is Unigine's Heaven benchmark, which we've included just for the sake of interest. Futuremark's 3DMark Vantage could not be run, as the application's detected max resolution was 1920×1080, not 5760×2160.
Lastly, for all of the games we've tested, we've included screenshots for both resolutions used so as to provide a real look at just how the games looks at such huge resolutions. Please note that as a result of these resolutions, the images are large, ranging in byte sizes between 1MB – 6MB.
Call of Duty: Modern Warfare 2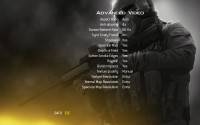 Call of Juarez: Bound in Blood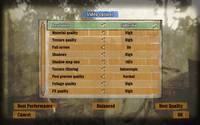 Crysis Warhead
F.E.A.R. 2: Project Origin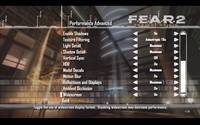 Race Driver: GRID
World in Conflict: Soviet Assault
Call of Duty: Modern Warfare 2
When the original Call of Duty game launched in 2003, Infinity Ward was an unknown. Naturally… it was the company's first title. But since then, the series and company alike have become household names. Not only has the series delivered consistently incredible gameplay, it's pushed the graphics envelope with each successive release, and where Modern Warfare is concerned, it's also had a rich storyline.
The first two titles might have been built on the already-outdated Quake III engine, but since then, the games have been built with improved graphical features, capable of pushing the highest-end PCs out there. Modern Warfare 2 is the first such exception, as it's more of a console port than a true PC title. Therefore, the game doesn't push PC hardware as much as we'd like to see, but despite that, it still looks great, and lacks little in the graphics department. You can read our review of the game here.

I have to admit that it's a bit ironic that we're beginning with this title, because of all we tested with, this one is one of the few that doesn't support Eyefinity well at all. At 5760×2160, the game for the most part is fine, and generally everything looks good. But it wasn't until I tested the game out at 5760×1080 that I realized just how poorly designed the game is.
As you can see in the bottom screenshot above, the game doesn't scale across three monitors well at all, as the entire game is literally squished. On six monitors, the issue really isn't noticeable because it has a far more natural aspect ratio. On three displays, though, there's zero point to loading the game up as the result is ugly, and headache-inducing.
Manual Run-through: The level chosen is the 10th mission in the game, "The Gulag". Our teams fly in helicopters up to an old prison with the intention of getting closer to finding the game's villain, Vladimir Makarov. Our saved game file begins us at the point when the level name comes on the screen, right before we reach the prison, and it ends after one minute of landing, following the normal progression of the level. The entire run takes around two-and-a-half minutes.
All of our configurations worked rather well, even a single GPU at 5760×2160. At 38 FPS on average, the gameplay wasn't silky-smooth, but it was far from being unplayable. With that performance, I had no trouble with the gameplay, so if I had to choose to stick with the graphics settings or lower them, I would stick with them. If you prefer the highest FPS possible and only have a single GPU, disabling the anti-aliasing will make a rather sizable difference.
5760×1080 – Single GPU

Max Detail, 4xAA *

34

65.239

5760×1080 – Dual GPU

Max Detail, 4xAA *

39

91.813

5760×2160 – Single GPU

Max Detail, 4xAA

19

38.249

5760×2160 – Dual GPU

Max Detail, 4xAA

20

54.722

* In a 3×1 configuration, this title's graphics are squished and headache-inducing. We don't recommend running the game this way.
Since the game was completely playable throughout all of our configurations at the game's maxed-out settings, our best playable perfectly equal our results from the graph above.
Call of Juarez: Bound in Blood
When the original Call of Juarez was released, it brought forth something unique… a western-styled first-person shooter. That's simply not something we see too often, so for fans of the genre, its release was a real treat. Although it didn't really offer the best gameplay we've seen from a recent FPS title, its storyline and unique style made it well-worth testing.
After we retired the original title from our suite, we anxiously awaited for the sequel, Bound in Blood, in hopes that the series could be re-introduced into our testing once again. Thankfully, it could, thanks in part to its fantastic graphics, which are based around the Chrome Engine 4, and improved gameplay of the original. It was also well-received by game reviewers, which is always a good sign.

After seeing just how poorly Modern Warfare 2 could handle Eyefinity at 5760×1080, I was relieved to see that Call of Juarez handled it almost perfectly. The menu screens are a little stretched, but the quality of it doesn't degrade (fonts are natural sizes still). The game in both configurations was just fine though, as the screenshots above show.
Manual Run-through: The level chosen here is Chapter I, and our starting point is about 15 minutes into the mission, where we stand atop a hill that overlooks a large river. We make our way across the hill and ultimately through a large trench, and we stop our benchmarking run shortly after we blow up a gas-filled barrel.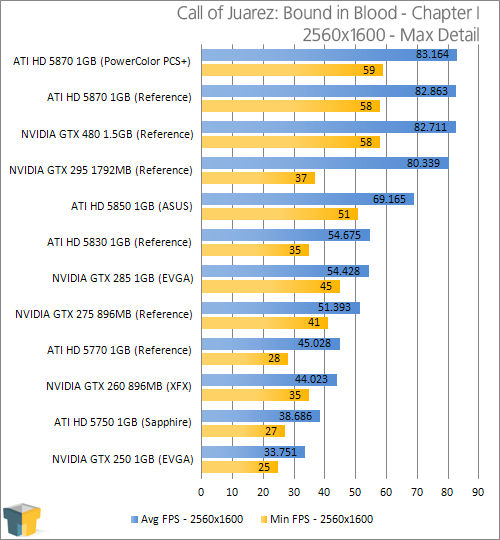 The performance seen here was also very good, and once again, the 32 FPS average with a single GPU on the six monitors was borderline, but it still ran well enough to be considered very playable.
| | | | |
| --- | --- | --- | --- |
| | | | |
| 5760×1080 – Single GPU | Max Detail | 46 | 57.711 |
| 5760×1080 – Dual GPU | Max Detail | 78 | 104.545 |
| 5760×2160 – Single GPU | Max Detail | 22 | 32.081 |
| 5760×2160 – Dual GPU | Max Detail | 42 | 60.352 |
Like Modern Warfare 2, the performance at max detail was acceptable through all of our configurations, so nothing had to be changed here.
Crysis Warhead
Like Call of Duty, Crysis is another series that doesn't need much of an introduction. Thanks to the fact that almost any comments section for a PC performance-related article asks, "Can it run Crysis?", even those who don't play computer games no doubt know what Crysis is. When Crytek first released Far Cry, it delivered an incredible game engine with huge capabilities, and Crysis simply took things to the next level.
Although the sequel, Warhead, has been available for just about a year, it still manages to push the highest-end systems to their breaking-point. It wasn't until this past January that we finally found a graphics solution to handle the game at 2560×1600 at its Enthusiast level, but even that was without AA! Something tells me Crysis will be de facto for GPU benchmarking for the next while.

Regardless of the GPU we're testing, Crysis Warhead is -the- game that brings even today's highest-end graphics cards to a crawl at good detail settings, so I really had no idea of what to expect with Eyefinity. I was quite surprised, though. Not only with performance either, but how good the game looked with both configurations. The menu screen is less-than-ideal, but the in-game UI in my experience has been perfect.
Manual Run-through: Whenever we have a new game in-hand for benchmarking, we make every attempt to explore each level of the game to find out which is the most brutal towards our hardware. Ironically, after spending hours exploring this game's levels, we found the first level in the game, "Ambush", to be the hardest on the GPU, so we stuck with it for our testing. Our run starts from the beginning of the level and stops shortly after we reach the first bridge.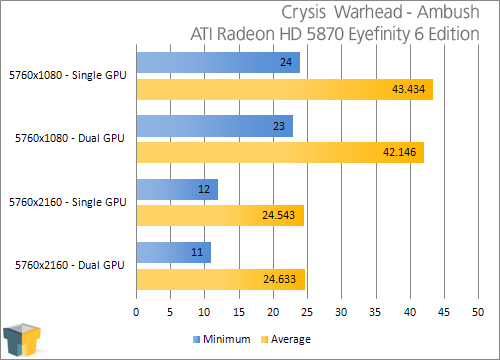 Please note that for our usual GPU reviews, we test this game with the Gamer profile, but because that proved a bit too much to handle here, we dropped all of our base Eyefinity tests to the Mainstream profile.
As you can probably tell by the performance above, CrossFireX proved to be ultimately useless, showing no difference in frame rates whatsoever across our testing. There is an exception, though, seen in the table below. There, CrossFireX did make a difference when we increased the detail level at 5760×1080.
For for whatever reason, Mainstream doesn't seem to require enough GPU brawn to push CrossFireX, but on the other end of the stick, we were only able to increase the detail on that one configuration. Because the GPU driver is still considered a work-in-progress, I'm willing to push the blame there, and hope that a future driver release will patch up the strange issue.
5760×1080 – Single GPU

Mainstream Detail

24

43.434

5760×1080 – Dual GPU

Gamer Detail

18

37.146

5760×2160 – Single GPU

Mainstream textures, objects, shaders, volumetric effects. Minimum detail for the rest.

17

35.735

5760×2160 – Dual GPU

Mainstream textures, objects, shaders, volumetric effects. Minimum detail for the rest.

16

35.168

CrossFireX had no noticeable affect on the framerates in this title due to a driver bug.
Because CrossFireX didn't bode too well for our 5760×2160 testing, we had to mix our detail settings up a bit at 5760×2160 in order to achieve playable frame rates and not have to stick Minimum detail settings across the board. For 5760×1080, two cards allowed us to hit the Gamer profile and see some great performance.
F.E.A.R. 2: Project Origin
Five out of the seven current games we use for testing are either sequels, or titles in an established series. F.E.A.R. 2 is one of the former, following up on the very popular First Encounter Assault Recon, released in fall of 2005. This horror-based first-person shooter brought to the table fantastic graphics, ultra-smooth gameplay, the ability to blow massive chunks out of anything, and also a very fun multi-player mode.
Three-and-a-half years later, we saw the introduction of the game's sequel, Project Origin. As we had hoped, this title improved on the original where gameplay and graphics were concerned, and it was a no-brainer to want to begin including it in our testing. The game is gorgeous, and there's much destruction to be had (who doesn't love blowing expensive vases to pieces?). The game is also rather heavily scripted, which aides in producing repeatable results in our benchmarking.

Out of the 17 games we tested Eyefinity with, only 3 had strange issues. Modern Warfare 2 was one, and this one is another. As you can see by the screenshot above, the gameplay area didn't actually fill the entire screen, but rather only the majority. I'm unsure of what causes this, but FEAR 2 wasn't the only game to do this, as Dark Void was another.
Manual Run-through: The level used for our testing here is the first in the game, about ten minutes in. The scene begins with a travel up an elevator, with a robust city landscape behind us. Our run-through begins with a quick look at this cityscape, and then we proceed through the level until the point when we reach the far door as seen in the above screenshot.
The omission of a 5760×1080 run was due to the game not scaling properly. At that resolution, the game is only confined to the center display, meaning that even though 5760×1080 was the chosen resolution, what we saw was actually 1920×1080… a single display.
Am I the only one who's surprised that a couple of games actually work better on six displays than three? I sure didn't expect that.
5760×1080 – Single GPU

N/A

N/A

N/A

5760×1080 – Dual GPU

N/A

N/A

N/A

5760×2160 – Single GPU

Max Detail

21

41.929

5760×2160 – Dual GPU

Max Detail

41

67.997

Although this title accepts 5760×1080 as a resolution choice, the game will only display in the center display, effectively making it a 1920×1080 resolution.
At maxed-out settings, the game was completely playable, so once again, our best playable graph can relax and merely soak up the results from the graph above.
Race Driver: GRID
If you primarily play games on a console, your choices for quality racing games are plenty. On the PC, that's not so much the case. While there are a good number, there aren't enough for a given type of racing game, from sim, to arcade. So when Race Driver: GRID first saw its release, many gamers were excited, and for good reason. It's not a sim in the truest sense of the word, but it's certainly not arcade, either. It's somewhere in between.
The game happens to be great fun, though, and similar to console games like Project Gotham Racing, you need a lot of skill to succeed at the game's default difficulty level. And like most great racing games, GRID happens to look absolutely stellar, and each of the game's locations look very similar to their real-world counterparts. All in all, no racing fan should ignore this one.

The first genre to come to mind for me when picturing a multi-display setup is racing, and if you're a fan of the genre, then you probably understand why. You simply get so much of the big picture and it feels a lot more realistic. It's also one of the few genres that makes it easy to ignore the bezels. After playing various racing games with all six monitors, I can honestly say I'd hate to go back to anything else. It's an absolute blast.
Despite GRID being released long before Eyefinity, the game looks remarkable at both resolutions. The in-race UI isn't placed ideally (you may disagree), but it doesn't impede gameplay at all. The game scales well, with no stretching aside from the menus (a common issue)… in-game, it looks great. The proof is in the screenshots above.
Manual Run-through: For our testing here, we choose the city where both Snoop Dogg and Sublime hit their fame, the LBC, also known as Long Beach City. We choose this level because it's not overly difficult, and also because it's simply nice to look at. Our run consists of an entire 2-lap race, with the cars behind us for almost the entire race.
As good as GRID looks even by today's standards, the performance was good all-around at maxed-out detail settings, which includes 4xAA (the game doesn't run well with higher AA levels for whatever reason, and it's not Eyefinity-specific).
5760×1080 – Single GPU

Max Detail, 4xAA

66

85.554

5760×1080 – Dual GPU

Max Detail, 4xAA

96

134.099

5760×2160 – Single GPU

Max Detail, 4xAA

38

50.927

5760×2160 – Dual GPU

Max Detail, 4xAA

26

72.232

At 5760×2160, this title experienced regular slowdowns while in CrossFireX mode, so it shouldn't be used. Framerates are kept here for interest's sake.
Unfortunately, the game didn't agree with CrossFireX at 5760×2160, as sporadically during races the game would just slow down, or lock up for a split-second, essentially ruining the gameplay. There was no such issue at 5760×1080, however. Thankfully, a single GPU is all that's needed to deliver very playable framerates, so the lack of CrossFireX is a non-issue.
World in Conflict: Soviet Assault
I admit that I'm not a huge fan of RTS titles, but World in Conflict intrigued me from the get go. After all, so many war-based games continue to follow the same story-lines we already know, and WiC was different. It counteracts the fall of the political and economic situation in the Soviet Union in the late 80's, and instead provides a storyline that follows it as if the USSR had succeeded by proceeding with war in order to remain in power.
Many RTS games, with their advanced AI, tend to favor the CPU in order to deliver smooth gameplay, but WiC favors both the CPU and GPU, and the graphics prove it. Throughout the game's missions, you'll see gorgeous vistas and explore areas from deserts and snow-packed lands, to fields and cities. Overall, it's a real visual treat for the eyes – especially since you're able to zoom to the ground and see the action up-close.


I admit that I'm not an RTS guy, but playing WIC on Eyefinity was fantastic. Aside from the menu (which is again stretched), the in-game UIs are placed perfectly, and there's no stretching that occurs, neither with the UI itself or the game world. As you can see from the images above, it looks good.
Manual Run-through: The level we use for testing is the 7th campaign of the game, called Insurgents. Our saved game plants us towards the beginning of the mission with two squads of five, and two snipers. The run consists of bringing our men to action, and hovering the camera around throughout the duration. The entire run lasts between three and four minutes.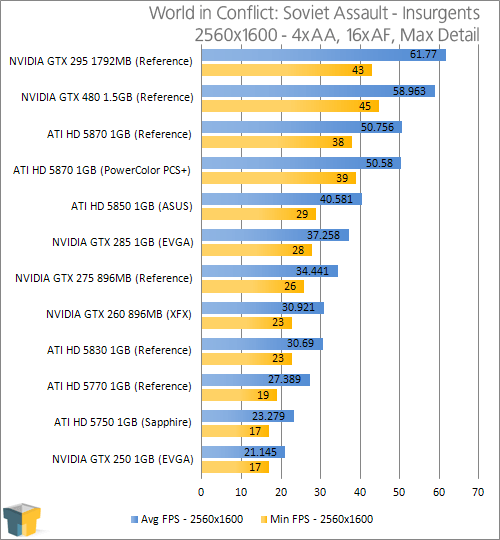 Fortunately, in addition to the game looking good, it runs well too, and that's with Very High details chosen, along with 4xAA. For a single GPU at 5760×2160, 38 FPS is another one of these results that I consider borderline, but it's still acceptable and I believe most gamers would rather the high detail level rather than gaining an extra few FPS. If worse comes to worse, AA can always be disabled, or lowered to 2xAA for a minor performance boost.
| | | | |
| --- | --- | --- | --- |
| | | | |
| 5760×1080 – Single GPU | Very High Detail, 4xAA | 47 | 66.992 |
| 5760×1080 – Dual GPU | Very High Detail, 4xAA | 75 | 111.577 |
| 5760×2160 – Single GPU | Very High Detail, 4xAA | 27 | 38.456 |
| 5760×2160 – Dual GPU | Very High Detail, 4xAA | 46 | 64.613 |
All of the configurations ran just fine with these maxed out details, so no tweaking had to be done. With this, we wrap up our usual collection of titles, so now we'll move onto another 11 along with Unigine's Heaven benchmark. We'll start with a couple popular current FPS titles, including Aliens vs. Predator.
Aliens vs. Predator, Battlefield: Bad Company 2
Aliens vs. Predator
To kick off our special collection of titles used for Eyefinity testing, we start with Aliens vs Predator, one that has earned AMD's "Validated" marking, meaning that all aspects of the game scale to Eyefinity just fine and no abnormalities should be seen. From our experience, that's absolutely true. The game menu is just fine, along with the in-game UI and of course the game world itself.

As gorgeous as the game is, it still surprisingly ran quite well with normal detail settings across all of our configurations… even 5760×2160 with a single GPU! At 38 FPS, the gameplay wasn't as smooth as could be, but it was still very playable. There's a definite trade-off in some cases between performance and detail levels, and when you're playing on such a monstrous display, you generally want the best detail level possible.
| | | | |
| --- | --- | --- | --- |
| | | | |
| 5760×1080 – Single GPU | Max Detail, 1xAA | 35 | 48.360 |
| 5760×1080 – Dual GPU | Max Detail, 1xAA | 41 | 79.776 |
| 5760×2160 – Single GPU | Normal Detail, 1xAA | 21 | 38.184 |
| 5760×2160 – Dual GPU | Max Detail, 1xAA | 19 | 41.508 |
All but our single GPU 5760×2160 configuration required extra tweaking. Fortunately, for those three that were changed, the graphics were bumped up, and when equipped with two cards, max detail settings are just fine even at 5760×2160. The reason for using 1xAA is that the game doesn't allow 0xAA, and even 2xAA caused us issues. The game would run sluggish at first with higher AA, and then iron itself out, but then slow down in points throughout the level. Therefore, 1xAA is really the only option.
Battlefield: Bad Company 2
Like AvP, Bad Company 2 is another Validated title, and throughout all of our trial runs, we can understand why. Everything again scales perfectly, even the main menu. In-game fonts and UI is also fine, and the game world scales just as you would expect it to… it's all very natural. Strangely, though, in-game cut-scenes, despite being shown with in-game graphics (not video), did not fill the entire screen. Rather, it would take up about 70% of the entire resolution on average. Even more interesting is that while all in-game cut-scenes did this, some scaled differently. This is far from being a game-breaker, but it's interesting enough to mention.
One bug I do consider to be somewhat major though is that on occasion, one or more of the displays would become inactive as I logged into the game. This isn't a rarity, happening about once per four times. If it does happen, sometimes an alt-tab will help, but most often we had to restart the game entirely. The last time we experienced this issue, we had to restart the game four times before all six monitors would stay active. I assume this to be a driver bug, and expect it to be fixed in the future. Although BC2 wasn't the only game that had this issue, it had it far worse than any other.


All but our single GPU 5760×2160 configuration handled the game well at Medium detail settings. In order to reach a more playable level at 5760×2160, a second GPU needs to be added, and it makes all the difference.
| | | | |
| --- | --- | --- | --- |
| | | | |
| 5760×1080 – Single GPU | Medium Detail | 37 | 45.794 |
| 5760×1080 – Dual GPU | High Detail | 36 | 49.282 |
| 5760×2160 – Single GPU | Low Detail | 28 | 38.717 |
| 5760×2160 – Dual GPU | Medium Detail | 34 | 45.518 |
For our single GPU configurations, 5760×1080 must stick with the Medium detail setting to remain fully playable, while at 5760×2160, the only real option is to drop down to the Low detail setting (which still happens to look quite good). For dual GPU, our beefier resolution can retain Medium detail settings, while for three monitors, you can boost the details up to High.
BioShock 2, Command and Conquer 4: Tiberian Twilight
BioShock 2
The original BioShock is on AMD's list of Eyefinity "Ready" titles, but the sequel is not. In our experience though, the game runs great at 5760×2160 and good at 5760×1080. The reason for the "good" is evidenced in the screenshot below. Notice that at 5760×2160, you see a lot of the game world? At 5760×1080, your screen is absolutely dominated by your helmet. Admittedly, I didn't even notice this while playing, but it's hard to ignore once you actually clue into it. I can begin to understand why this game is not on AMD's list of supported software, and once again, this is a title that looks far better on six monitors than three.
Like so many of the other games we've tested, this one also suffers from a stretched menu system, and because it's so extreme in this case, I captured a screenshot to show it, which you can view here. It's nuts, huh? Fortunately, we didn't experience similar issues while actually playing the game.

BioShock 2 is one of those rarer titles that don't require super-high framerates to remain fully playable, so while 34 FPS at 5760×2160 seems lackluster, we considered it to be just fine. The gameplay was still fluid, so that's all that counts.
A handful of titles we tested with didn't fare well with CrossFireX testing, and this is one of them. The game locked up at certain points, but only for a split-second, and at both resolutions, texture tearing was very evident. Again though, as the game runs fine at max detail with a single GPU, this isn't a major issue, but will hopefully be fixed in a future driver update.
5760×1080 – Single GPU

Max Detail

29

66.41

5760×1080 – Dual GPU

Max Detail

25

77.323

5760×2160 – Single GPU

Max Detail

16

34.631

5760×2160 – Dual GPU

Max Detail

6

40.961

This title doesn't run well in CrossFireX mode with currently-available driver. Framerates are kept here for interest's sake.
Although our performance for CrossFireX was good, it simply can't be played with today's driver. The performance increases as a result of that seem minimal, due to the locking-up of the game severely lowering the averages. For now, single GPU is the only way to go here.
Command and Conquer 4: Tiberian Twilight
C&C 4 is another title found in AMD's "Ready" category, as overall, it looks fantastic at both resolutions we tested with. We assume that the reason the game lacks a "Validation" tag is that the in-game UI is less-than-ideal from an efficiency standpoint. Both of the main in-game elements you need to click around often are found on the stark opposite sides of the the gameplay screen, which means you have to work your mouse quite a bit to get back and forth. Ideally, these would be movable, but sadly they are not.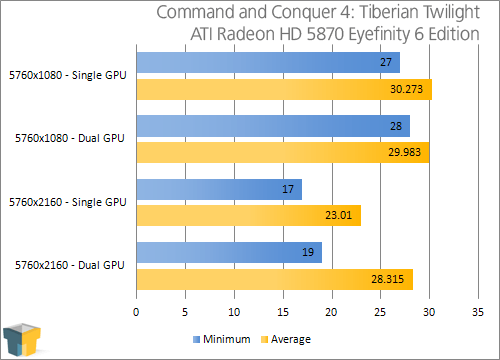 Although this game offers a Vertical Sync option, disabling it does absolutely nothing to the frame rate cap, so at most, you will see no more than 30 FPS at any given time. Whether or not this is a driver bug issue, I'm unsure, but as it is, the game is still silky smooth at 30 FPS. Honestly, even the 23 FPS that a single GPU at 5760×2160 gave us was perfectly acceptable. During gameplay, I didn't even realize we lost 7 FPS off of 30, so that's saying something.
| | | | |
| --- | --- | --- | --- |
| | | | |
| 5760×1080 – Single GPU | Max Detail, 0xAA | 21 | 28.621 |
| 5760×1080 – Dual GPU | Max Detail, 0xAA | 24 | 29.172 |
| 5760×2160 – Single GPU | High Detail, 0xAA | 17 | 23.01 |
| 5760×2160 – Dual GPU | Max Detail, 0xAA | 13 | 25.065 |
Because of the frame rate cap, our only real goal was to retain frame rates as close to 30 as possible while delivering the best graphics possible. For all but our single GPU 5760×2160 configuration, the game could be bumped up to max detail levels, with 0xAA (for some reason, even minimal AA brought the game to a crawl). For 5760×2160 with one GPU, High detail levels remained.
Dark Void, Colin McRae: Dirt 2
Dark Void
This title looks quite good on Eyefinity, and with reasonable menus at 5760×2160, but it suffers the same issue that F.E.A.R. 2 did. Even though 5760×2160 is selected, only a portion of the entire display area is used, as seen in the shot below. Also like F.E.A.R. 2, 5760×1080 didn't work as the game was confined to the center screen. Both of these games use entirely different engines, so it's a bit strange that both suffer the exact same issues with Eyefinity.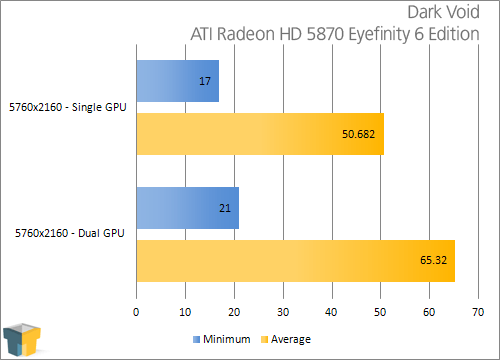 Dark Void as a whole isn't quite as demanding graphically as other select titles that we've used for testing, and we pulled away with very playable framerates even with a single GPU. Interestingly, we gained very little with CrossFireX, as the game simply doesn't seem to be pushing both cards hard enough.
| | | | |
| --- | --- | --- | --- |
| | | | |
| 5760×2160 – Single GPU | Max Detail | 17 | 50.682 |
| 5760×2160 – Dual GPU | Max Detail | 21 | 65.32 |
As you probably expected, as we originally tested the game with maxed-out detail settings, no further tweaking and testing had to be completed.
Colin McRae: Dirt 2
On our page for GRID, I mentioned that racing games are ideal for multi-display setups, and Dirt 2 furthers that fact. Simply put, playing this game on either a 3×1 or 3×2 configuration is fun. It didn't surprise us at all to see this game on AMD's Validated list, as it should be -the- game to show people what Eyefinity is made of. If there is such thing as "perfect" when it comes to an Eyefinity game, Dirt 2 is certainly it.
Oddly, at 5760×1080, the in-game UI is confined to the center screen, unlike 5760×2160 where it's at the edges, but I believe this to be for the best (and it could have been done on purpose). It's much more natural to have it placed as it is, as it's much easier to reference. At 5760×2160, the displays are so big that having the UI elements on each side is acceptable.

Once again we have completely playable framerates at Medium-to-High detail levels (half of the options were Medium, the rest were High… too many different options to list!). Given that this is a racing title, high framerates are preferred, so for single GPU 5760×2160, we left our default settings alone. The rest, though, were all high enough to allow us to do some tweaking, which we did.
| | | | |
| --- | --- | --- | --- |
| | | | |
| 5760×1080 – Single GPU | Ultra High Detail | 42 | 47.952 |
| 5760×1080 – Dual GPU | Ultra High Detail | 52 | 71.338 |
| 5760×2160 – Single GPU | Medium to High Detail | 33 | 38.203 |
| 5760×2160 – Dual GPU | High Detail, Low Particles, Medium Distant Vehicles, Objects, Trees, Vehicle Reflections | 34 | 44.778 |
For both 5760×1080 configurations, the Ultra High detail preset could be chosen. For dual GPU at 5760×2160, some tweaking had to be done, and we found what we show above to be the perfect mix to deliver a still stellar-looking game and very playable framerates.
Half-Life 2: Episode Two, Just Cause 2
Half-Life 2: Episode Two
Sure, this game may be ancient by gaming standards, but guess what? It works well with Eyefinity. That includes the menus as well, although since they don't scale with resolution, they are rather tiny. In-game, everything is perfect, from the UI to the game world itself. It still impresses me just how well some older titles work with Eyefinity, and then we have newer titles like Dark Void, F.E.A.R. 2 and even Modern Warfare 2 that don't.

As Episode Two is aging, it was no surprise to see that it ran well across all of our configurations. At close to 50 FPS at 5760×2160 on a single GPU, CrossFireX shouldn't even be a consideration here. It's nice to have, but even the effect with it isn't as large as we'd hope.
| | | | |
| --- | --- | --- | --- |
| | | | |
| 5760×1080 – Single GPU | Max Detail, 4xAA | 72 | 90.828 |
| 5760×1080 – Dual GPU | Max Detail, 4xAA | 73 | 120.841 |
| 5760×2160 – Single GPU | Max Detail, 4xAA | 40 | 47.738 |
| 5760×2160 – Dual GPU | Max Detail, 4xAA | 50 | 68.658 |
Admittedly, we could have raised the anti-aliasing a bit and ran with that, but honestly, 4xAA is still quite good and at these large resolutions, anti-aliasing at all is generally harder to notice unless you are really looking. As it stands, all of our configurations delivered great framerates, and as the game scales so well with Eyefinity, it's an older title that definitely deserves another run through.
Just Cause 2
Of all of the games we tested with here for Eyefinity, Just Cause 2 has to be one of my favorites from a graphics standpoint. Seriously… this game is amazing to just look at. Ever notice that in most games, details in the distance are usually severely degraded? Not so in Just Cause. If you see a city five miles away, you're not going to see some sprite or texture, but real detail. The same goes for when you look far down mountains… even the foliage remains. It's nice to see a game finally push graphical boundaries like this.
Fortunately, the game also looks very good on Eyefinity, with no stretching or other oddities to be found anywhere. This game surprisingly isn't Validated or even Ready, but I'm sure that will soon change as we found it to be a great title to show off the technology.

Unfortunately, while the game looks great with Eyefinity, this is another one of the titles we tested with that didn't agree with CrossFireX much at all. Like the others that gave us issues, this game slowed down at parts and halted in others. Again, I expect many of these issues to be patched up in a future driver release.
5760×1080 – Single GPU

Max Detail

26

34.270

5760×1080 – Dual GPU

N/A

N/A

N/A

5760×2160 – Single GPU

Normal Detail

29

34.615

5760×2160 – Dual GPU

N/A

N/A

N/A

This title doesn't run well in CrossFireX mode with currently-available driver.
As our framerates were borderline acceptable at 5760×2160 with normal detail levels, we left things as they were. For 5760×1080, however, we were able to completely max out the detail levels and still enjoy playable framerates. Not bad for a game that looks as good as this!
Metro 2033, Need for Speed: SHIFT
Metro 2033
Metro 2033 is a game I like to consider "The Next Crysis", because it's beyond playable at the game's highest settings on most of today's resolutions, regardless of your PC. It's brutal, it's that simple. But unlike Crysis (in my opinion), Metro 2033 actually looks the part, and gives definitive proof about why so much graphics horsepower is required to run it. It's for that reason that this game is likely to become implemented into our regular GPU test suite soon.
This game is yet another to be neither Validated nor Ready, but we saw no reason for the omission. The menus looked great, as did all the fonts, and of course the UI and game world. There were simply no graphical oddities during our time spent with the game, so I suspect AMD will give it props in the near future for its friendliness to Eyefinity.

At the game's Low detail setting, both configurations at 5760×1080 ran just fine, with extremely good framerates. At 5760×2160, the dual GPU configuration allowed us to stay with those detail settings, but with one GPU, things are again a little bit borderline. Unfortunately, we were running with the lowest in-game detail settings, so at that point it was take it or leave it.
| | | | |
| --- | --- | --- | --- |
| | | | |
| 5760×1080 – Single GPU | Normal Detail, 0xAA | 33 | 49.541 |
| 5760×1080 – Dual GPU | High Detail, 0xAA | 21 | 35.906 |
| 5760×2160 – Single GPU | Low Detail, 0xAA | 19 | 28.353 |
| 5760×2160 – Dual GPU | Low Detail, 0xAA | 28 | 44.62 |
Both 5760×2160 configurations stayed put, while we were able to increase the settings for both the single GPU and dual GPU configuration at 5760×1080. With a single GPU, we were able to go to Normal detail, while with two, we were able to use High. At that detail setting, the game looked unbelievably sweet, and as you can see, the framerates dropped quite a bit as well, but it was still completely playable.
Need for Speed: SHIFT
Our third and final racing title used was SHIFT, and thankfully, it didn't disappoint. As an official Validated title, this one delivered exactly what we were hoping for. Menus with no issues, good UI placement (of which there is little to begin with), and a perfectly-rendered game world. As this is a Validated title, you can expect Eyefinity perfection, and from our experience, that's what we got.


Like Just Cause 2, this title looks amazing, but didn't fare well with CrossFireX. These issues seem to be an obvious trend, so I suspect there could be something specific in the driver that needs tweaking, and not just a specific game profile. Again though, even with one GPU the detail settings and performance is fantastic, so at least we have that.
5760×1080 – Single GPU

Max Detail

60

81.826

5760×1080 – Dual GPU

N/A

N/A

N/A

5760×2160 – Single GPU

Normal Detail

50

57.615

5760×2160 – Dual GPU

N/A

N/A

N/A

This title doesn't run well in CrossFireX mode with currently-available driver.
As the game saw 100+ FPS at 5760×1080, it was obvious that we were going to be able to boost the detail settings even more, and we did. At maxed-out detail settings, we still saw an incredible 81 FPS on average… at 5760×1080! For 5760×2160, we kept things as they were.
Tom Clancy's Splinter Cell: Conviction, Unigine Heaven
Tom Clancy's Splinter Cell: Conviction
I mentioned earlier that Just Cause 2 has some of the best graphics out there, but Conviction comes in a close second. It's not quite as refined as Just Cause 2 in some areas, but it's still unbelievably detailed. Aside from that, it also happens to be a very good game (from what I've played so far), and it also runs very well on Eyefinity.
Menus, in-game UI's and game world itself were all rendered with few oddities. One oddity I did face can be seen in the top image. If you look in the distance, the houses are sitting atop nothing, while they are supposed to be sitting atop water. Other oddities like this may exist, but in my limited amount of progress into the game, that's all I noticed.

Why is it that the best-looking games seem to have the most trouble with CrossFireX? Once again, there was absolutely no performance difference with CrossFireX, unless you count that decrease of performance at 5760×1080. If you're an Eyefinity owner, or soon to be one, we can all hope that these driver fixes will be pushed through sooner than later.
| | | | |
| --- | --- | --- | --- |
| | | | |
| 5760×1080 – Single GPU | Medium Detail | 11 | 53.088 |
| 5760×1080 – Dual GPU | Medium Detail | 12 | 49.461 |
| 5760×2160 – Single GPU | Medium Detail | 14 | 35.226 |
| 5760×2160 – Dual GPU | Medium Detail | 14 | 34.504 |
On all of our configurations, the Medium detail preset delivered the best gameplay experience. Raising the detail at 5760×1080 delivered more lag than we could handle, so we stuck with Medium. If the CrossFireX issues get ironed out, I'm sure that at least the 5760×1080 settings could be increased to High.
Unigine Heaven 2.0
Unigine isn't a game, but rather an automatic benchmark. Though we generally dislike timedemos or anything that resemble them, we usually include just one for the sake of it. Normally, that's 3DMark Vantage, but for whatever reason, it was unable to detect our resolution of 5760×2160. Interestingly, it was the only "game" that we loaded up that wouldn't acknowledge that resolution, so that was a bit strange.
Heaven stood up to the plate and delivered the timedemo gooey goodness we wanted, and as you'd expect, the performance was horrendous… even with tessellation disabled!

The best "playable" result was at 5760×1080 with dual GPUs, and that was without tessellation, so it's easy to understand just how hardcore of a test this really is. Scaling across the resolutions and with and without CrossFireX was rather perfect though. If only we saw the near 100% increase with the rest of our games with CrossFireX enabled!
Final Thoughts
When AMD sent us its Radeon HD 5870 Eyefinity 6 graphics card along with six displays to take advantage of it, I didn't quite know what to expect. Aside from what I've seen during various meetings and on trade show floors, I didn't have much experience with any multi-display gaming. Nor did I even truly understand its benefits, such as the increased level of immersion.
Before I even began testing, I assumed that my conclusions were going to be along the lines of "3×1 is fantastic, and 3×2 is limited", but that's a little bit off. I was surprised to realize that I actually enjoyed using the 3×2 configuration quite a bit, and not only in racing games. There are definite downsides, but when I stand back to look at the big picture (no pun), I can't help but feel like I'd hate to go back to a single display, or even 3×1.
The biggest disadvantage to a 3×2 configuration is that the bezels can impede gameplay in certain instances. If you're playing an FPS title, then your crosshair is likely to be smack-dab in the center of the middle bezels, and that's obviously problematic. Even with that issue, I still ended up enjoying FPS titles more with the 3×2 configuration than 3×1, simply because the games felt more alive… my vision wasn't impeded… I saw all around me.
After putting some thought to this, I realized that the reason I prefer 3×2 is because our 3×1 configuration, with its 22″ displays, is just not satisfying enough. It's hard to call a 22″ display small, but in reality, it certainly is when you are pairing three of them together. Personally, I feel that for Eyefinity, or multi-display technology in general, to deliver a truly immersive experience, the displays play a huge role. If you're playing a game and can easily see over the displays and subsequently the rest of the room you're in, that's not immersion. Because a 3×2 configuration of any display size is going to be large, the immersion level goes up.
If I had to choose the "ultimate" Eyefinity configuration, I think I'd have to lean toward 3x 30″ displays. I do say this without actually testing out that configuration, but it's clear as day to me the benefit that would have. You'd essentially have the best of both worlds… huge gameplay area, and still total immersion. With 3x 30″ displays, the total resolution would be 7680×1600, and while the aspect ratio is slightly different, the pixel count is almost identical to 5760×2160 (12.28MP vs. 12.44MP).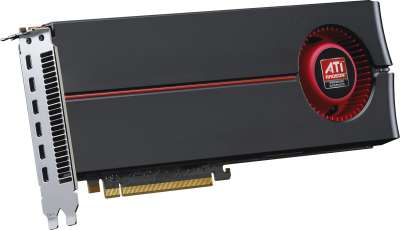 When AMD sent us this Eyefinity kit, it expected a review of the graphics card like most any other we take a look at, but since we'd never delved into the technology before, I felt that a full-fledged article/review was necessary, because during all my testing (estimated about 75 hours of actual playtime and probably 10 hours of raw trouble-shooting), I discovered a lot, and came to appreciate Eyefinity a lot more.
By now, you are probably aware that I'm stoked for Eyefinity, but even though I've provided a ton of screenshots and other bits of information to explain how cool it is, I can understand that it may still be difficult to truly appreciate by my word alone. I stumbled on a cool tool at AMD's "Underground" website that does a better job of explaining it than I can without video.
With that tool, you can essentially see what games look like with and without multiple displays, and as you can flip back and forth between Eyefinity and non-Eyefinity, the differences are clear. I believe the examples are a little exaggerated, but not by much. Having multiple monitors doesn't just take your one screen and turn it into three… you actually do increase the amount of the game world you can see.
That's why the immersion level goes up so high. If you are running through the forest in an FPS, you can see the trees and other brush blur past you in the corner of your eyes from the left and right displays. The same goes for racing games. Even if you don't look at the left and right displays often, the entire experience feels a lot more natural, and fun.
I think I've about covered all I can say about Eyefinity, but to touch on the Eyefinity 6 edition card, if you are looking to actually get hooked up with six displays, this card is a good purchase. It's pricier than regular HD 5870's, but that premium includes the dongles you will need, along with the fact that the card features 2GB of GDDR5. If all you plan to run is a three display setup, a regular HD 5870 will be fine, but I do recommend springing for a 2GB model as you are going to be pushing 50% more pixels than 2560×1600.
As much as I'm a new-found fan of Eyefinity, there are a few blatant issues I've experienced with the technology that should be mentioned. Bear in mind though, a lot of this might be due to the still work-in-progress driver, so it's hard to conclude on any issue being a real problem as it could be wiped out soon. The most frustrating issue I experienced during testing was when a display at random would decide to go inactive when I enter a game. Bad Company 2 was the worst offender for this, and as a Validated title, I found it odd. This in particular I do really believe to be a driver issue, so I have little doubt that it could be patched up in a forth-coming release.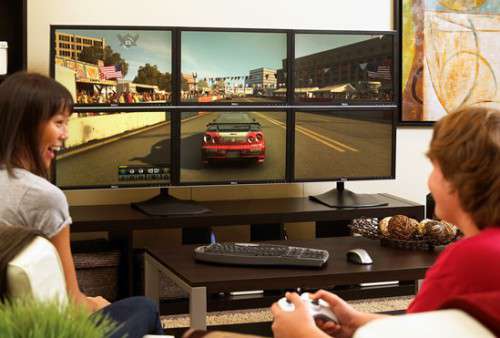 Although this isn't a serious issue, one other thing I found a bit strange is that if you accidentally (or purposefully) turn off a display while your PC is on, the driver will waste no time in reconfiguring itself. This seems fine for the most part, but the fact that it can take the driver about 1 minute or even more to sort itself out is a little rough. Even that by itself is fine, but sometimes you even have to recreate a group to get the proper 3×2 configuration again, because if you turn a display on and off, the driver sometimes treats that newly turned-on display as an extended desktop, rather than part of the bigger display.
The most frustrating part to this bug is that if you turn off a display while in a game, the game is made useless. Your only solution is to exit it, fix the display group and then load it back up. This problem as a whole seems rather minor, since it can be avoided by simply not hitting the display, but I do believe the driver should have an option to ignore a turned-off display, as it would solve the entire issue.
As far as real gripes go, those two are all that spring to mind. Aside from those, setting up Eyefinity was a breeze, including the bezel compensation, and for the most part, my experience with all of the games I tested was great. There was never an issue with screen savers or power management (such as sleep, hibernate), either. There were some games that didn't cooperate as well as others, but that's not the fault of Eyefinity, but rather the fact that the games simply were not built for multi-display gaming. Those games that were simply look amazing.
So where's NVIDIA in all of this? It also offers multi-display gaming, up to three displays, but I haven't had much of an opportunity to put it to good use. One benefit NVIDIA has over AMD is that it can offer 3D Vision support in certain titles, which some may appreciate (I don't have the binocularity for 3D, so I can't tell the difference). Given the market's current offerings, though, unless 3D is important to you, AMD offers the better package right now, as Eyefinity is well supported by many of today's top games. You can also take things like power consumption into play also and AMD still comes ahead (when compared primarily to the GTX 480). I hope to be able to spend time with NVIDIA's multi-display technology in the future to gain a better understanding of what each side offers, and which one excels where.
I didn't expect to walk away from this article so sold on multi-display gaming, but it's happened. If you've never considered it before, I urge you to give it a try if you're able. If you're a diehard gamer, multi-display is where it's at. Once you play with Eyefinity for any length of time, you will have a very, very difficult time going back to anything else.
Pros
Game immersion is starkly increased with multiple displays.
Most of today's games handle ultra-high resolutions fine.
Setting Eyefinity up is a breeze.
Either at 3×2 or 3×1, your desktop real estate is enormous.
Easy-to-use bezel compensation tool.
Eyefinity 6 card is easiest way to power six displays.
Single Eyefinity 6 card can handle most games at 5760×2160 just fine.
Cons
Once you use Eyefinity, you learn to hate going without it.
Certain titles don't quite agree with these ultra-high resolutions.
Issue where some displays may go inactive upon game load.
Turning off a display reconfigures driver immediately, which is time-consuming.
Current driver issues (eg: CrossFireX not working properly in certain titles).
Obvious: Price. 3 or 6 displays, mounts and graphics card/s.
Discuss this article in our forums!
Have a comment you wish to make on this article? Recommendations? Criticism? Feel free to head over to our related thread and put your words to our virtual paper! There is no requirement to register in order to respond to these threads, but it sure doesn't hurt!
Copyright © 2005-2019 Techgage Networks Inc. - All Rights Reserved.