Silence is Golden: Bose QuietComfort 35 II vs. Sony WH-1000XM3 Headphones

Date: August 14, 2019
Author(s): Rob Williams

Sometimes, there's nothing more satisfying than peace and quiet, but the realities of life often roadblock the desire to experience it. Fortunately, active noise-canceling headphones exist to help mend that issue, dramatically dampening the noise level in any environment. We're taking a look at two fierce competitors here: Bose's QuietComfort 35 II and Sony's WH-1000XM3.
---
Silence is Golden: Bose QuietComfort 35 II vs. Sony WH-1000XM3
The older I get, the more I agree with the idea that "silence is golden". I listen to a ton of music, and get work done while doing it, but there are often times when nothing sounds better than peace and quiet. In some cases, it could prove imperative for the sake of retaining good focus. If there's one thing I know too well, it's that I am eaaasily distracted.
Because I listen to so much music, I've settled in the past on the fact that I didn't need active noise-canceling. I no longer feel that way, as I've become pretty much addicted to using ANC headphones as much as possible, because A- "silence is golden", and B- I can't trip over wireless headphone cables.
Shifting from my usual Audio-Technicas, I've been using Bose's QuietComfort 35 II and Sony's WH-1000XM3 headphones for the past month, and have come to know each of them quite well. I have my definite favorite, but that one might still not be the one for you. The upside is that both of these wireless cans are very good at what they do, with that quality extending to their design.
Hidden Benefits of ANC
Until I started using active noise-canceling headphones a lot, I didn't really clue into some of the benefits that didn't stand out to me at first. Just because these ANC devices are headphones, it doesn't mean you need to be listening to music through them. If all you want is a calmer sounding environment, you can turn them on and have fun listening to nothing.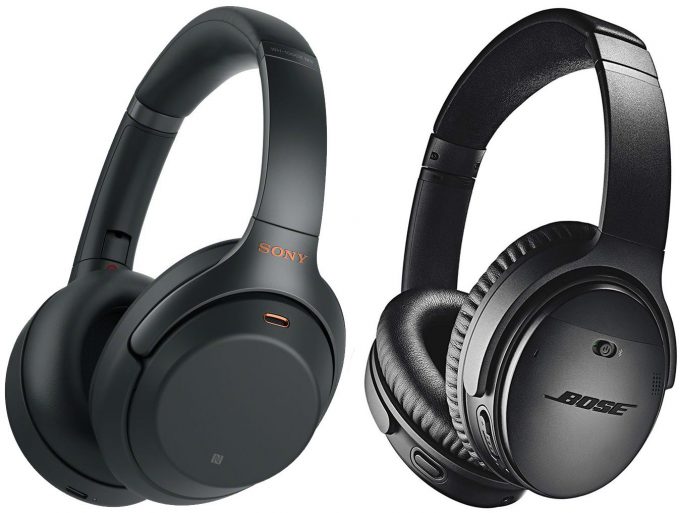 In louder environments, ANC dulls the background noise to let music become more vibrant. You can close your eyes and become oblivious to the fact that there are kids playing around you, or that there's some loudmouth who wants everyone to hear their phone conversation. Instead, you'll be left to your own little world.
ANC isn't like wrapping an anechoic chamber around your head, so there are definitely limitations to what it can do, but what it always does is greatly reduce the sound around you, so whatever you do hear is going to be a fraction of what you'd hear without ANC, or no headphones at all. If you don't sweat like a wildebeest like I do, you may even enjoy using them on walks.
It's important to note the "A" part of ANC, for active. This is what makes these cans different from normal closed-back headphones. Sound is injected into the stream, countering out the frequency of the outside environment, effectively making things quiet. To give an idea of how good the effect can be, I put the Sony's on a family member's head, and they were so freaked out by the silence, that they immediately tore them off their head. "I've never heard silence before." was the response. Even writing it out, it sounds like I'm making that story up, but I assure you I'm not.
Bose QuietComfort 35 II
You can't hear about noise-canceling and not hear about Bose and its QuietComfort series. The 35 II themselves have become a bit legendary. I fly pretty frequently, and I can honestly say that it's impossible to walk through an airport and not see these headphones on someone's head. That's not the case with the Sony's, but despite that, both models are regularly sold side-by-side.
One benefit of the Bose headphones over the Sony's is that they're a bit lighter, at 8.3oz (vs. 8.99oz). For those who like really light headphones, that could be a good draw. The headphones might also offer better aesthetics in general; it's all debatable. I honestly can't say that I prefer one of these pairs over the others from a design standpoint; both have their perks.
On the Bose, physical buttons are used for everything. As someone who appreciates good feedback, I really like this. There's no mistaking whether or not you actually clicked a button, and since Bluetooth often lags when you issue a command after a period of inactivity, it's nice to not have to second-guess whether your command actually went through (only to hit it again, undoing what you meant to do.)
Comfort-wise, the QC 35 II truly are great to wear. The Sony's are comfortable as well, but the Bose's lighter design does seem a bit noticeable. One really nice feature is customization, which Bose offers for a $50 premium. If you opt for that option, you could be bold in blue or pretty in pink. I wish more companies offered customization options like this.
To pair with the QC 35 II, you need to hold the power toggle to the right after it's already powered-on, at which point the pairing mode begins. This toggle is located on the face of right ear cup, while the playback buttons and status LEDs are found at the bottom. The left cup houses the 3.5mm audio jack connector (remember those?) and also the "Action" button, which allows you to cycle through the available noise-canceling modes.
On that note, you don't have to use ANC with these headphones if you happen to be in an environment that doesn't warrant it (and congrats, don't tell anyone about that spot.) That saves battery-life. Likewise, if you only need a pinch of ANC, there's a middle-ground that might work for you.
The app Bose offers isn't nearly as comprehensive as Sony's, but it gets the job done. You can quickly see how much battery-life the cans have left, change the standby timer, activate voice prompts (eg: Amazon Alexa, Google Assistant), and manage connections. There's also a feature called Music Share, which lets you stream the same music (or other content) to two different Bose headphones.
Sony's WH-1000XM3
As much as I've been pleased by the Bose offering, the Sony WH-1000XM3 won me over pretty quickly. Its implementation of ANC is better than the Bose, although that's not to diminish the capabilities of the QC 35 II. Bose has been a reigning ANC champ, but in every setting I've tested it in, the Sony's have done a better job at reaching slightly quieter noise levels.
The WH-1000XM3 has a few other tricks up its sleeve, including a touch-sensitive interface on the right ear cup, used for most of the on-device functions. At the bottom of the left ear cup is the power button, which doubles as the pairing button if it continues to be held after power-on. Next to this is the mode-change option. Unlike the Bose, which has two versions of ANC, the Sony's offer ANC off, ANC, and then another mode which heightens the audio around you, in case you want to hear something better (or just don't want to take your headphones off).
To control the volume while using the WH-1000XM3, you can swipe up or done the right ear cup. As you'd expect, this is a little prone to error, but if your form is good, it will not fail. Skipping to the next track (or beginning from the start of the current one / skipping back) seems a little more natural and accurate, at least for me. To pause, you can double-tap the ear cup.
The Bose QC 35 II feel light as a feather, but at .7oz more, it's not as though these Sony's are "heavy". For the ANC improvements and some other niceties, the extra weight has proven worth it for me personally. That leads to another caveat to mention: battery-life. In all of my testing, the Bose cans had better battery-life, but the Sony's were not poor by any means.
With the Sony's, I listened to music for about ten hours at moderate volume on the plane, and when I got back home, I still had 40% battery left. And speaking of the plane, this is a good time to bring up some of the software advantages these Sony ANCs have over the Bose.
Inside of the Sony Headphones app is a "Noise Canceling Optimizer", which runs a series of quick audible tests to establish the best possible end result. At home, I always see this displayed as "Optimized to 1.0 atmosphere", and tested again the other day during air travel. On the tarmac, I verified a 1.0 reading; five minutes in, I re-ran the optimizer and saw 0.9 reported. At cruising altitude, another test gave me a 0.8 atm reading.
I did personally feel like the changed optimization did improve things further. In addition to optimization tools featured in the app, there's a built-in EQ, a simple addition that I really appreciate. I end up simply using the "Bright" preset because it makes music pop, but there are many options for all tastes (and of course, you can go the manual route if you want.)
Bose QC 35 II vs. Sony WH-1000XM3
I can honestly say that both of these headphones are really good at what they do, although they definitely have their limitations. The limitations are largely related to the fact that these headphones are wireless, which is the price to pay for the sheer convenience of being cable-free.
One thing I found out while testing is that the codec you're using definitely impacts the quality of the audio, and not to mention the stability of the transmission. I didn't really think about codecs until I started using wireless headphones, but in my experience, I have better luck with Qualcomm's aptX than the others. I base that especially on the OnePlus Wireless Bullets, which seem to give me the best Bluetooth connection of any other device I have, and happen to default to aptX.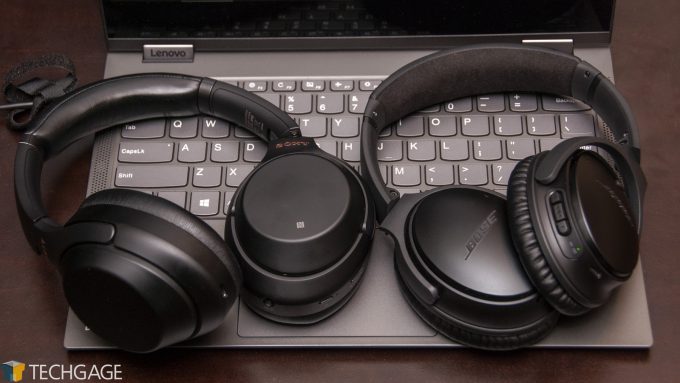 Examples of Bluetooth limitations can easily be seen – ahem, heard – if you're listening to music and decide to have the nerve to walk around your house expecting the music to keep stable. I regularly go to the kitchen while listening to music, and whenever I am using aptX, I have a much more stable connection. Sony's own LDAC is good as well, but every encounter of SBC I've had has been less-than-ideal. Unfortunately, I did catch the Sony's default to that on occasion, something that can be verified inside of the app.
With aptX, I get about five times fewer skips than with SBC, which is still too high of a number, but does highlight the stability of the connection overall. You'll still want to keep your phone in your pocket if you want to guarantee a great connection as you work around your house. As for the quality of the music, I stick to aptX for the best experience, but the default AAC on the Bose and LDAC on the Sony have proven solid as well.
I value audio quality quite a bit, but these ANC headphones have proven to me that I only value it so much, and that if I am offered a slice of silence, I'll take it. When my environment is quieter, my Audio-Technicas unquestionably deliver the better sound, but when I crave a quieter environment to focus in, and not to mention enjoy the perks of wireless (not having to take headphones off every time I leave the desk is great!), it's hard to resist the ANC.
Ultimately, if I had to choose one of these two, I would lean towards the Sony WH-1000XM3. The ANC is more effective, and the added options in the app are really useful. The Bose would still be great for those who value lighter headphones, appreciate physical buttons, or love the ability to add your own flavor by way of color customization.
Typically, both of these headphones sell for $349, but both happen to be on sale right now for $299. The Bose can be had at Amazon here, and the Sony, here.
Bose recently released the $399 Noise Canceling Headphones 700, which based on initial reviews seems to have really good ANC (hopefully matching these Sony's), and also offers unique audio AR features. With a $300 price tag, these current options will be hugely tempting, but if you don't mind splurging, you may want to consider those Bose as well.
Copyright © 2005-2019 Techgage Networks Inc. - All Rights Reserved.