CES 2007: Gregs Favorites

Date: February 3, 2007
Author(s): Greg King

CES might be long over, but it's still fresh in our minds. Greg takes a look back at what he enjoyed seeing the most including CoolITs booth, Dells XPS H2C, Logisys' booth, Novints amazing Falcon haptics controller and high-definition content.
---
For the better part of a week, CES demanded the attention of the tech press as well as anyone involved or interested in consumer electronics. This CES, the 40th overall, was Techgage's first and most certainly will not be the last. While there, we learned a lot, talked a lot and walked even more.
Covering 3 large buildings, one of which had 2 stories to it, CES is not for the faint of heart. Companies the world over made the trip to either show off their new products or at the very least, network with potential buyers. It was estimated that 180,000 attendees drove or flew into Las Vegas for the week of CES. With Techgage contributing 2 to the mess, the crowds were large and the swag was good. Join me and view CES though my eyes.
As we made our way through the crowds, our first stop was the Sands Convention Center. Here, a group of gaming oriented companies were gathered, along with many other companies from various parts of the world. Of these countries, Taiwan and China were the most abundant. Amongst the chaos, we made our way to our first stop, CoolIT.
CoolIT has been a favorite of us here at Techgage for a while. Innovators of PC cooling, they were the first to successfully launch a self contained water cooling kit that makes great use of peltiers. A few months ago, we took a look at their popular Freezone. The unit earned a high score and an editor's choice award because of its performance as well as its incredibly easy setup.
Shortly before CES, they announced their Eliminator cooler and about a week before we left for Las Vegas, we got the cooler in and should be posting our thoughts soon. At their booth, they were showcasing the Freezone, the Eliminator as well a few other new and neat products. They had a RAM cooler and a PCI slot cooler. One keeps your RAM cool while the other allows you to direct airflow towards your CPU or video card.
Another product they had on display was their USB powered beverage chiller. CoolIT was nice enough to give one out to Rob and me and for the most part, they are reasonably effective. That and there is something to be said for a company that allows me to keep my beers cold on long reviewing sessions or a bout or two of gaming.
The first thing we noticed when we approached the booth was a large vertical banner with a long list of awards that the CoolIT Freezone has won. Being incredibly vain, the first thing we saw on that list was the Techgage logo with a small quote from the review. From there however, we moved down to eye level and saw a nice display of what CoolIT had on display. From the Eliminator to the Freezone to their newest cooling devices, everything was on display.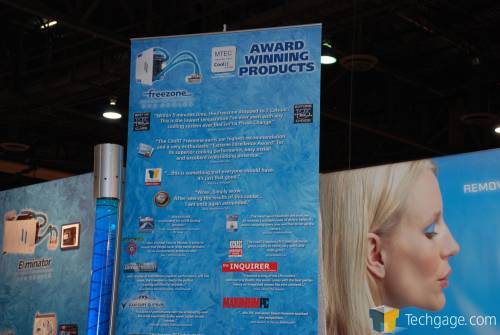 Moving down the row, we noticed a dual CPU server motherboard case on display for the sole purpose of showing off the cooling capabilities that CoolIT can achieve with their devices. The unit on display is not available in retail channels but can be found in OEM system built PCs. The unit is obviously stout, keeping a pair of dual core CPUs as well as a pair of GPUs. While the unit is a custom build for system builders, it certainly showcases CoolIT upward potential when it comes to keeping extreme system's temperatures in check. Also show in the PC was a pair of the CoolIT RAM coolers as well as the PCI slot cooler.
It should also be mentioned that in the weeks leading up to CES, CoolIT was on a spectacular role culminating at CES with the news that CoolIT was involved in designing Dell's new XPS cooler in their 710 H2C extreme gaming PC. More information can be found in Rob's article covering Dell at CES this year. They also have a vested interest in cooling many other system builders. CoolIT is without a doubt a company that you all should watch closely this year. They are on a roll and I am certain that they will have more products that will keep us all happy.
Notice the cooler in the system says "ceramic cooling system." This is an easy way to say that the PC uses peltiers to keep either the hot components or the liquid that flows over them cool.
From here, we made our way around the show floor and the next place we stop is the Logisys booth. While not known for catering to the high end market, they have their meaning in the PC world and in the place, they do quite well. Rob covered the hardware that Logisys brought to CES. The people at Logisys are legitimately good people and we had a tremendous time with them while at CES. Most people overlook them but they make quality modding kits and if you need a cold cathode or LED light for your PC, they are the first place anyone should look. For example, this case if full of almost anything you can think of that one might need for a case mod with lights.
From here, we started to head to the Ageia booth to see how they have been. We spoke extensively back in March at the GDC and we wanted to make contact and see how life has been treating them. That and we wanted to confirm our meeting for the next day. Across from the Ageia booth, in the gaming area was Novint. If you haven't heard of them, they are the makers of the Falcon, a haptics based controller. If you read one of my articles from the GDC, you will know that this is the one product that blew me away more than anything else.
The premise is quite simple. The Falcon is a type of pointing device that allows you to feel whatever you are working on in 3D. With the Falcon, you can feel weight, size, shape, texture, and dimension. They actually have a Half Life 2 mod that actually allows you to feel the different weapons weight and even cooler, to feel the actual kick of the gun when you shoot it. When I say that you can feel the kick, this isn't some cheap force feedback or rumble pack, but rather, your hand gets thrown back. Hard. The ball on the end of the arms is removable and there will be different attachments that can be installed in the original ball's place. A pistol grip would be a blast in Half Life 2 or any FPS games for that matter.
The following picture was taken at the GDC last march but since there have not been any changes to the Falcon; it's still a relevant image.
Available this summer, Novint is now taking pre-orders for their special edition Falcon at a price of $239, or $189 for those of you that pre-order. Is the Falcon worth it? Once we have a review sample in house for testing, we reserve all judgment but it should be stated that this editor is excited to get one to work with. I have been in love with this product since the GDC last March and it's good to see that they are close to launching yet another company that we suggest you keep an eye on.
Could it be a gimmick product? Yes. It most certainly could be one of those products that, while full of potential, just doesn't live up to the hype. However, it could also be one of those items that just have to be had by everyone. It is truly difficult to explain to anyone how real objects feel when you touch them with the Falcon. This is truly an amazing product and I for one, can't wait for June 18th to roll around so I can get my hands on my own personal Falcon. Stay tuned for more information on this, as well as an interview with Novint's CEO, Tom Anderson.
With CES a fond memory, our attention turns to the spring and summer months in the tech world. If I took anything away from CES, it was that the line between consumer electronics and computers is as blurry as it has ever been. High def is here to stay and gaming has finally found a place in the living room. If there was a theme for the 2007 CES, it would most certainly be High Definition. 1080p was the battle cry and it was everywhere. We met with LG, Sony, Samsung, Westinghouse and others and the first thing they wanted to talk to us about was their newest, brightest and biggest 1080p capable displays.
We saw a few familiar faces. Ageia was there and showing off their latest software for their PhysX card. For more information on Ageia, you can either visit their web page or wait a few days for an extensive look into just how much Ageia has progressed since their debut last March. From this editors desk comes my favorite products of CES and of these products, they both are something that we all should seriously keep an eye on in the coming year. We are almost assuredly going to need better cooling and haptics is just so damned cool, it demands our attention. Stay tuned, there will be more articles coming from us in the coming weeks and months relating to these companies. Until then, be safe and enjoy your tech.
Discuss in our forums!
If you have a comment you wish to make on this review, feel free to head on into our forums! There is no need to register in order to reply to such threads.
Copyright © 2005-2019 Techgage Networks Inc. - All Rights Reserved.