CHERRY Cord-Cutting Combo: CHERRY DW 3000 Wireless Keyboard & Mouse Review

Date: March 9, 2015
Author(s): J.D. Kane

Here's a CHERRY-infused product that's a bit different: A wireless mouse and keyboard combo that does not feature CHERRY's mechanical switches that we've come to know and love. Instead, the DW 3000 has two goals: To be wireless, and to be simple. But is it possible that this combo is a bit too simple?
---
CHERRY Cord-Cutting Combo: CHERRY DW 3000 Wireless Keyboard & Mouse Review
Recently,  I wrote that I had received two packages from CHERRY. A bit ironically, perhaps, I wrote first about the contents of the package that came later, the JD-0400EU-2 wireless keyboard and its companion, the JF-04. I was actually quite surprised about the fact that the JD-0400EU-2 keyboard was not equipped with the company's famous mechanical keyboard switches.
Well, what about the first package? I did mention in that news item that the contents of that first package were going to be the subject of the full Techgage review treatment.
And so here they are: CHERRY's JD-0700EU-2 keyboard and the JF-07 mouse; aka: the CHERRY DW 3000 combo.
Both items are wireless USB devices. Dressed in an all-matte black finish, both the JD-0700EU-2 and the JF-07 would look right at home at any business setting.
Here is a look at all that's included in the CHERRY DW 3000 package. Obviously there are the wireless keyboard and mouse units; also included are a USB receiver, a single AA battery for the mouse, a AAA battery for the keyboard, and a multilingual User's Guide.
Let's have a closer look at each of the DW 3000's components.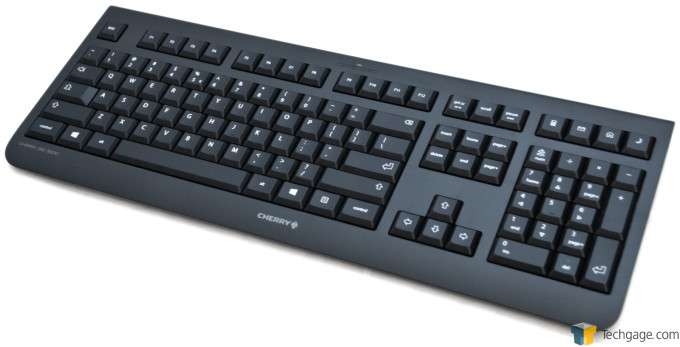 First up is the JD-0700EU-2. As mentioned earlier it is a wireless keyboard. It has a standard 104-key layout; there are, however, four special hotkeys positioned above the 10-keypad, bringing the total key count to 108.
Here is a closeup of the hotkeys. These four keys are shortcuts for the Windows Calculator, email, web browser homepage, and a button that powers the keyboard on and off as desired.
The JD-0700EU-2 is not equipped with CHERRY's MX switches. However, it comes with chiclet-esque low keycaps not unlike those that grace many laptops. The preceding photo shows how low the keycaps are.
This plank really doesn't overwhelm you in terms of aesthetics; even its branding is discrete and understated, even when compared to its cousin, the MX-Board 3.0. If part of the point is to just be there to do a job and not call undue attention to itself, then the JD-0700EU-2 is doing a magnificent job so far.
If there's nothing terribly exciting on the JD-0700EU-2's top side, well, there are just a couple of details I'd like to call attention to on its bottom. Per usual, I've included a close-up of one of this plank's flip-down feet.
(I may be a bit of a keyboard fetishist – why else did I draw this assignment? – but I don't have a foot fetish a la Buffalo Bills head coach Rex Ryan. Just sayin'.)
And here's something I've never seen in a keyboard before: a battery compartment. It holds a single AAA battery.
That pretty much exhausts all the interesting visual details on the JD-0700EU-2.
Now let us switch our attention to its companion, the JF-07 wireless mouse.
As simple as the keyboard unit of this combo is, the JF-07 is even simpler. And it is a simple device, essentially. It's a three-button device clad in a symmetrical physical package. Visually it reminds me of a black stone sitting next to a river, with its contours shaped and smoothed by the running waters. If not for the clickable mouse wheel sitting near the mouse's front edge along its spine, it's the most apt visual comparison I can think of.
It does have a textured surface on it, endowing it with grip that a completely smooth surface could never have.
The grey "Optical High Precision" legend on the left-click button's lower left edge and the CHERRY logo on the JF-07's rump are two rather muted concessions to branding. Staying consistent with the established visual theme, everything is low-key and businesslike.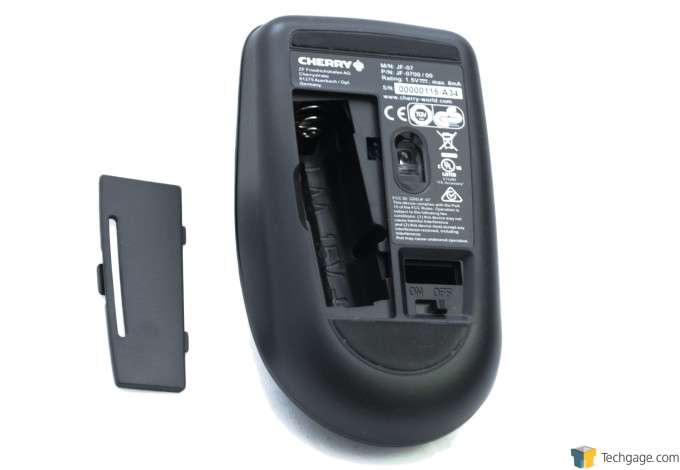 The bottom of the JF-07 is as, um, straightforward and uncomplicated as anything you might see on the topside. The only unusual detail is the battery compartment, which holds a single AA battery. There is also an easy-to-miss sliding on/off switch.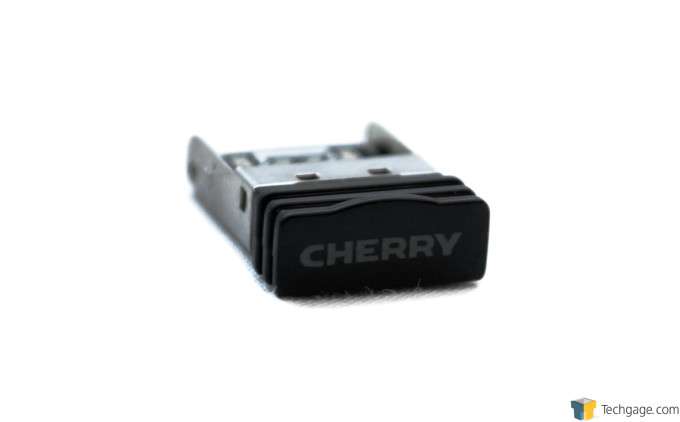 The last stop of our visual tour is a close-up of the USB receiver. It works with both the keyboard and the mouse. Snazzy.
Now that we've had a look at the CHERRY DW 3000's components, let's put them through their paces and see how they perform.
Performance Testing
Reviewing keyboards and mice is really a straightforward, fairly uncomplicated process. The key notes to hit for both types of devices are similar: Ergonomics, functionality, and build quality are what you need to concentrate on when it comes to reviewing user interface devices.
Let's tackle the JD-0700EU-2 first.
Ergonomically, it's a low-riding keyboard compared to most I've used. The low-profile keycaps tend to accentuate this lack of height. That's not to say that the JD-0700EU-2 is uncomfortable to use. It's just a bit unusual, especially when you've got many years of accumulated muscle memory with which to compare the experience. Thankfully acclimating to this low keyboard doesn't take too long.
Helping make the learning curve of adjusting to the JD-0700EU-2 shallower is the standard layout of the keys. Except for the four special hotkeys above the 10-key array, it's a totally normal layout. There's no need to stretch or contort your fingers to reach keys; everything is where you would expect them to be.
On the other hand, actually pressing the keys requires a good amount of adjustment, particularly if you're used to a mechanical keyboard. The keys feel mushy and vague. Maybe I'm just spoiled, or maybe I'm just so used to CHERRY's own MX Blue switches, but the keys on the JD-0700EU-2 can be described as the exact reverse of my favorite mechanical switch type: Imprecise, uncommunicative, and just thoroughly unsatisfying. To be perfectly honest, the keys on the JD-0700EU-2 feel worse to me than most non-mechanical planks that I've used.
But things aren't all bad. The keycaps themselves have a fine textured surface. I don't know about you, but I don't like slippery keycaps. It's not like you need to have super-grippy keys; maybe it's a personal idiosyncrasy, but feeling that slight roughness helps make me feel I'm more connected to the keyboard. The inverse is true for me: Slippery keys disconnect me from the device. So good on CHERRY for giving this keyboard keycaps which have that little bit of texture to them.
Moving on to the JF-07 mouse, I feel that many of the same comments that apply to the JD-0700EU-2's ergonomics can also be applied to it. It's a bit small and low, but you can still use a palm-style grip on it if that's what you're used to. For me, a hybrid palm/claw grip is ideal given the mouse's dimensions and my hand size.
Despite its small size, though, it's not an especially light mouse. The reason for this should be obvious: That AA battery adds a lot of mass. This additional (and counter-intuitive) weight takes some adjustment. I'm tempted to say that the JF-07 feels like the heaviest mouse I've tested for Techgage. I mean, it may not actually be the heaviest; it just feels like it is because you just can't wrap your head around the idea that something that small in your hand could feel that heavy.
At least the JF-07 has a grippy texture on its surface. This goes some way towards enhancing your grip on it. If only it had the magical property of also keeping the weight down…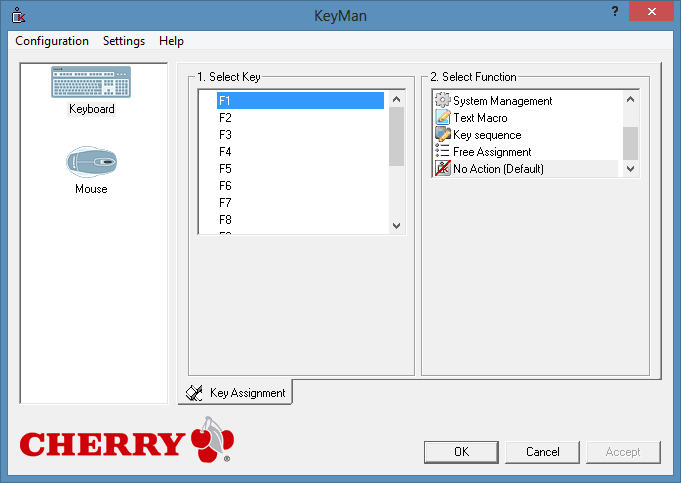 In terms of functionality, these are both very simple devices. Installing the optional KeyMan software (available from CHERRY) does open up the boundaries a bit. Though they'd run fine on just the basic Windows USB drivers, KeyMan unlocks capabilities. With this software, you can assign custom functions to the F keys and three of the hotkeys on the JD-0700EU-2; you can do the same with the JF-07 as well, although I'm not sure how much customization is even desirable with a mouse with just three buttons. Nevertheless, among the functions you can assign are executing programs and creating macro commands. This added functionality lends a brighter shine on such basic devices.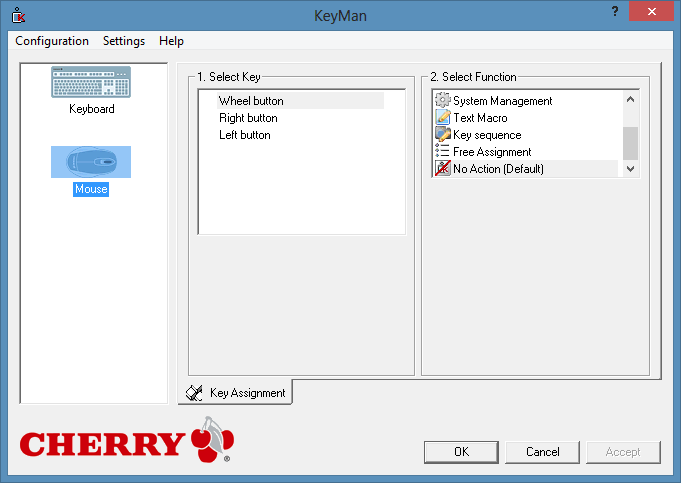 One thing I really like about KeyMan is the fact that it works on both the JD-0700EU-2 and the JF-07. I guess it's a lot like that ring in The Hobbit fantasy epics: One software to rule them all. Well, all of the compatible CHERRY gear, anyway.
I do have a complaint about KeyMan, though. Or maybe it's a limitation of the JF-07. Specifically, I couldn't find a way to tweak the mouse's DPI. Granted, the JF-07 is a very simple mouse, so it's entirely possible that that functionality was simply never baked into the JF-07's sensor's design. I would have wanted to have the ability to increase the DPI, but was disappointed to not have found a way to do it.
Build quality-wise, both components of the DW 3000 wireless combo are robust and well-built. The JD-0700EU-2's chassis exhibits some flex if you really apply torque to it, but it never creaks or squeaks under normal use. The JF-07 is built like a miniature tank. Button presses are also very satisfying, exuding a feeling of very high quality. Honestly, I could say the same about the JD-0700EU-2's keys, as mushy as they felt to use. I mean, just because they feel vague and unresponsive doesn't mean they're low quality switches underneath the keycaps.
Let's wrap things up.
Final Thoughts
I can't really say I'm terribly excited with the CHERRY DW 3000. I mean, neither the mouse nor the keyboard is flashy, and I have some misgivings about wireless peripherals anyway. These misgivings are only exacerbated by the fact that you never really know when the juice is going to run out of the batteries in these things.
The DW 3000 wireless peripherals combo does have its advantages, though. If you want or need wireless peripherals, the DW 3000 will fill that need. Sure, both the keyboard and the mouse are simple and unspectacular, but they are solid performers with good build quality. Dressed in matte black, they work in dark synergy with the similarly simple and unspectacular KeyMan software to augment their functionality somewhat.
And the price is right, too. I found the CHERRY DW 3000 combo on Amazon for a paltry $60.22. In my opinion that is unbeatable for a wireless keyboard + mouse package.
If you need a utilitarian, no-frills, fully-functional wireless peripheral set, you could do a lot worse than giving CHERRY's DW 3000 combo a try.
Pros
Simple.
Solid build quality.
Wireless!
KeyMan software adds some functionality.
Excellent price and value.
Cons
Keys on JD-0700EU-2 feel mushy and vague.
JF-07's DPI cannot be adjusted.
Batteries do run dry.
Copyright © 2005-2018 Techgage Networks Inc. - All Rights Reserved.