Crucial Ballistix 1GB Kit PC3200

Date: June 20, 2005
Author(s): Rob Williams

With so many companies now offering performance memory, it makes it harder to choose which one to buy. We are taking a look at Crucial's offering, the Ballistix PC3200. Is their memory worth a purchase? Let's check it out.
---
Introduction
When people mention performance memory, Crucial is not usually a name that comes up. Actually, after scouring various forums around the web, I only seen Crucial listed once as a good choice for performance memory. Is there a reason for this? After putting the memory through all the benchmarks, we will be able to see. Does it have what it takes to match wits with such others as Mushkin and Corsair?
About Crucial
The Crucial story starts with Micron Technology, Inc., one of the largest dynamic random access memory (DRAM) manufacturers in the world and the only one based in the U.S. Headquartered in Boise, Idaho, Micron manufactures DRAM chips and assembles them into high-quality memory modules for sale to original equipment manufacturers ("OEMs") worldwide.
In 1996, Micron responded to a growing demand for high-quality memory upgrades among end users who wanted the best possible performance from their systems. Micron launched Crucial Technology in November of that year, and for the first time, end users had the opportunity to buy directly from the manufacturer the same memory modules bought by the world's major OEMs for original installation in their systems.
About Ballistix
The Ballistix line is specifically built for performance enthusiasts who want to push the performance envelope without worrying about data loss or corruption, mysterious intermittent errors and display problems, or worse the dreaded BSOD! The Ballistix line of high-performance memory modules features advanced speed grades, low latencies, and integrated aluminum heat spreaders.
Testing System, Overclocks
Here is the system that the memories being tested in. Everything in the table is stock, but a lot of overclocking is done to the CPU and Memory further in the article, and they will be noted.
Processor

AMD

64 3200+ S939 Venice @ 2.00GHz

Motherboard

DFI

LanParty NF4 UT Ultra-D

BIOS is 510-3 Revision

Power Supply

Memory

512MB * 2

Crucial

Ballistix DDR400 (2-2-2-6)

Hard Disks

Sound Card

AC'97 7.1 Built-In

Video Card

BFG

6800 GT OC 256MB

Video drivers are beta 77.50

Etcetera

Windows XP Professional with SP2
So what makes Ballistix qualify for the 'Performance' status in the memory world? The timings on the memory is 2-2-2-6 @ 2.8v, which is pretty standard for performance memory. They also boast that the module bandwidth is 3.2GB/sec, which is also on par with most PC3200 (DDR400) performance memory.
As you can see from the pictures, they have chosen to use pure black PCB for the modules, and it looks fantastic. For the heat spreader, they use a Gold colored aluminum style.
A few notes
There are a few things I must mention before jumping into the benchmarking and testing, basically a few issues I had from the get go. Using the stock settings, 2-2-2-6 @ 2.8v, naturally after getting the memory, I ran MemTest. I was surprised to see errors popping up within the very first test, and many more after the test ran for a while.
After toying around, and getting in contact with Crucial, they recommended that I lower the voltage. After lowering the voltage to 2.7v, amazingly, I was cut down from near 500 errors over a 10 hour period, to 1. With even more help, this time from a friend, I lowered the trc to 8 and the trcf to 10, and ran the test again with no errors.
The DFI UT Ultra-D is known for being picky with memory, so if you own one of these boards, you may have to do some simple tweaking. Crucial has one of these boards in their labs, and never experienced the same issues I have. Also, looking around the web, it seems I am the only person with this combo that encountered the problems. So, regardless of what the problem was, I found the perfectly stable setting was not 2-2-2-6 @ 2.8v, but 2-2-2-6-8-10 @ 2.7v. If you happen to have a similar set up as the one above, and encountered any of the similar problems I have, feel free to e-mail me and let me know, and I can add a quote to the review.
Here is a quick list of the configurations used throughout the review. We will get more into these later.
2-2-2-6 @ 2.5v / 200MHz, DDR400, 2.0GHz
1.5-2-2-6 @ 2.5v / 200MHz, DDR400, 2.0GHz
2-2-2-6 @ 2.8v / 218MHz, DDR436, 2.4GHz
1.5-2-2-6 @ 2.8v / 218MHz, DDR436, 2.4GHz
2.5-3-3-6 @ 2.8v / 229MHz, DDR458, 2.521GHz
2.5-2-3-6 @ 2.9v / 270MHz, DDR540, 2.7GHz
2.5-4-4-10 @ 3.2v / 260MHz, DDR520, 2.85GHz
2.5-4-4-10 @ 3.2v / 280MHz, DDR561, 2.80GHz
Everest, Sandra
One of the best features of the DFI UT Ultra-D motherboard, is obviously the immense overclocking abilities. DFI gives you full control over every aspect of the memory, which makes things very simple for testing.
To find each stable configuration, I ran test #5 in MemTest to see quickly if I could get an error. If the configuration passed ok, then I proceeded to go through 2 full tests. If it gets through those two tests fine, then I proceed into Windows test benchmark using EVEREST and SANDRA. For game benchmarks, I used the stock, medium overclock and maximum overclock settings.
I'll start with two sets of well known benchmark programs, EVEREST and SANDRA.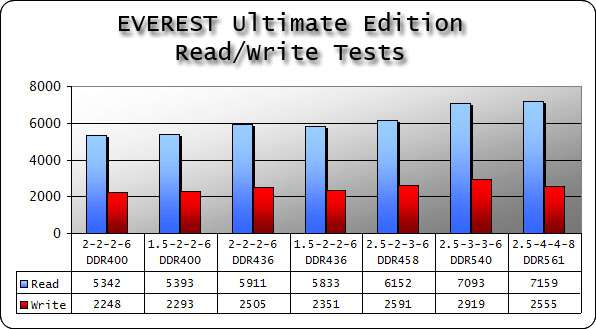 As you can see, I managed to push the memory to DDR561 speeds. While running at these speeds though, the computer worked great, until I tried to do CPU intensive benchmarks. So it seems that the memory can push DDR561 quite well actually, but my CPU was the bottleneck here. This is understandable, however, due to the fact that my CPU was clocked at 2.85GHz, and was still on stock air. Watercooled, I am sure that the computer would be completely stable.
3D Mark, Far Cry
Off for a run of gaming benchmarks. We first run 3D Mark 2001, since it's relies more on the CPU than any other version. We also take runs through Half-Life 2, Far Cry and Doom III. Doom and Half-Life was run at 640*480, and Far Cry was run at 800*600, as it does not support 640*480.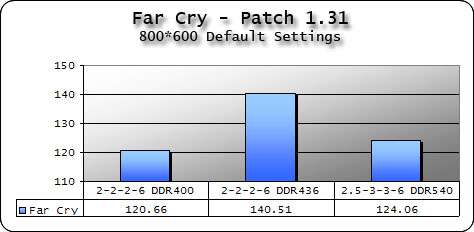 Very impressive results! One oddity though, is that Far Cry performed worse with DDR540 than it did with DDR436. I can't begin to speculate why, as the memory was not overheating in any way. We can also see in 3D Mark, that upping the module and CPU speed, cranked out considerably better results, as expected.
Conclusion
I think it's easily seen that this is a great set of memory, if not outright awesome. We seen that they are completely stable at DDR540 speeds, with 2.5-3-3-6 timings, which is no doubt impressive. If it wasn't for my CPU bottleneck, or lack of cooling maybe, then DDR561 was a definite possibility. At any rate though, DDR540 is an awesome overclock, especially for being rock solid stable.
To use these modules though, I do recommend having some sort of active cooling. When I was not using any sort of cooling, they got HOT. Since I didn't have any immediate way to cool them, I resorted back to my ghetto modding techniques, as you can see in the picture.
Double-sided tape for the win! Tape two 80mm fans together, and then mount that on top of your CPU fan, with yet some more double-sided tape, and you have yourself a Techgage Approved Ghetto Mod! It made all the difference in the world though, because even at overclocked speeds, they are warm to touch, instead of being outrageously hot.
Here is a quick sum up of all the tested and stable speeds I used during the review:
2-2-2-6 @ 2.5v / 200MHz, DDR400, 2.0GHz
1.5-2-2-6 @ 2.5v / 200MHz, DDR400, 2.0GHz
2-2-2-6 @ 2.8v / 218MHz, DDR436, 2.4GHz
1.5-2-2-6 @ 2.8v / 218MHz, DDR436, 2.4GHz
2.5-3-3-6 @ 2.8v / 229MHz, DDR458, 2.521GHz
2.5-2-3-6 @ 2.9v / 270MHz, DDR540, 2.7GHz
2.5-4-4-10 @ 3.2v / 260MHz, DDR520, 2.85GHz (CPU Bottleneck)
2.5-4-4-10 @ 3.2v / 280MHz, DDR561, 2.80GHz (Possibly not-so-stable, CPU Bottleneck)
A few things to note before we finish off as well. As mentioned earlier, Crucial recommends 2.8v for the stock 2-2-2-6 timings but after a little bit of testing, I found that 2.5v was completely stable and gave me an error-free MemTest run. For the overclocked DDR540 speed, it only required 2.9v.. very impressive.
Without a doubt, I highly recommend Ballistix memory if you are looking to upgrade or build a new PC. It goes to show that not only such names as Mushkin and Corsair make great performance memory. We will be taking a look at Mushkin and Corsair memory in the future, but in the nearer future, you can expect another review of Ballistix memory, but this time of their PC4000 (DDR500) version, so stay tuned for that.
I want to give a big thanks to (cf)Eclipse from the HardForum, as he knows so much about Memory, especially Crucial memory. I would be stuck in last week if it wasn't for him. Rumors are, that he knows more about Crucial than Crucial themselves :P
Pros
2-2-2 timings
Stock speeds worked great at 2.5v
Overclocked quite easily to DDR540 speeds
Cons
Can get very hot without active cooling
Required a lot of tweaking with the DFI Ultra-D
Have something to say? Got some more questions that need answered? Feel free to post in our related review thread here. Registration is not required, but is free if you choose to do so.

Copyright © 2005-2019 Techgage Networks Inc. - All Rights Reserved.