Establishing a Golden Standard? ASUS Z87-EXPERT Motherboard Review

Date: August 30, 2013
Author(s): Rob Williams

ASUS' golden Z87 mainstream lineup suggests that the company means to set the standard for motherboards, and we aim to find out how close it gets to doing so with a look at its Z87-EXPERT. It features a robust configuration – even including Thunderbolt – and of course, has seen a number of EFI and AiSuite III enhancements.
---
Introduction, Specifications & Board Comparison
ASUS is going for the gold with its mainstream Z87 lineup… quite literally. As we detailed prior to the official Z87 chipset launch, ASUS has retired its long-standing blue-ish color scheme for its mainstream line and is instead opting for a gold-colored one. The reason? Well, gold represents an ultra-high standard, one that ASUS believes it meets with this lineup.
As usual, ASUS' collection of current-gen motherboards is a bit overwhelming, and I'm sure we'll be taking a look at some of the non-mainstream models in the future. What do I mean by "mainstream"? That's ASUS denotation to a lineup that caters to virtually everyone. This differs from its more targeted series, like Republic of Gamers, WS (workstation), or Sabertooth (stable, long-lasting). You can't go wrong with a mainstream series board if you're simply looking to build a Z87-based PC.
Among its Z87 mainstream lineup, the EXPERT board sits closer to the top than the bottom, offering a bevy of connectivity options, including Thunderbolt. As we'll soon see, that addition adds a fair price premium to the board, so if you couldn't care less about the connector, then the similarly-spec'd Z87-PRO is the next-best thing.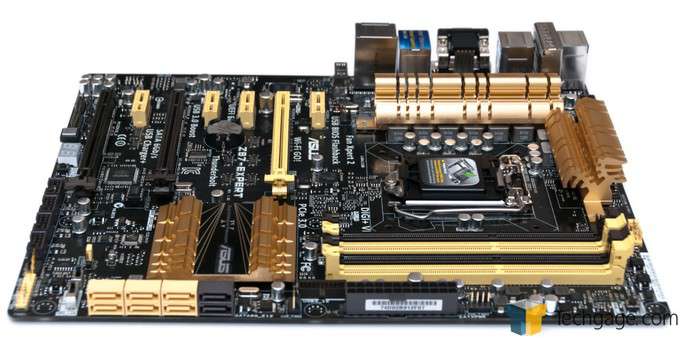 We'll be taking a tour around the board shortly, but to gain a quicker understanding of what the Z87-EXPERT is all about, let's take a look at its specs table:
 
ASUS Z87-EXPERT
Architecture
Intel Z87 (LGA1150)
Form-Factor
ATX (12″ x 9.6″)
Memory
Up to 4x8GB DDR3-3000
Multi-GPU
3-way NVIDIA SLI
3-way AMD CrossFireX
Expansion
3x PCIe 3.0 x16 (x16 or x8+x8 or x8+x4+x4)
4x PCIe 3.0 x1
Storage
6x SATA 6Gbps (Intel)
2x SATA 6Gbps (ASMedia)
Network
1x Intel I217V Gigabit
Wireless
Wi-Fi 802.11 a/b/g/n
Bluetooth 4.0
Bluetooth V3.0+HS
Audio
Realtek ALC1150 8-channel
Output S/PDIF
USB / Thunderbolt
Back-panel: 2x USB 3.0 (Intel), 4x USB 3.0 (ASMedia), 1x Thunderbolt 10Gbps
Internal: 8x USB 2.0 (Intel)
Back I/O
1x 1Gbps LAN, 6x USB 3.0/2.0, 1x Optical S/PDIF, 5x Audio Jacks, VGA, DVI, HDMI, Thunderbolt, Wi-Fi, PS/2
Features
DIGI+ Power Control, EPU, Ai Suite III, USB 3.0 Boost, Q-Design, Wi-Fi GO!, EZ DIY, Ai Charger+, MemOK!, USB BIOS Flashback
Given where we were with RAM speed just a couple of years ago, I have to say it's rather impressive to see that this board supports running up to 32GB of memory at DDR3-3000 speeds – it's almost mind-blowing. I'm still not quite over the fact that I'm running 32GB at DDR3-2133 in one of our other test machines!
A quick synopsis shows us that the Z87-EXPERT supports multi-GPU just fine, though it's recommended to stick to 2 cards in total (even then, bandwidth will be degraded vs. an X79 platform). All internal SATA ports are spec'd at 6Gbps, and thanks to the new Z87 chipset, six out of the eight are driven by Intel. The board also includes a single Intel NIC, along with an n-based wireless solution for those who might want it, and also Bluetooth, something that has only recently become a little more common on the desktop side.
ASUS Z87 Mainstream Boards Comparison
One of the most challenging things consumers can encounter when choosing parts for a new build is deciding between one motherboard and another, even of the same brand. This isn't helped when a vendor might sell 10+ boards from the same series. In ASUS' Z87 mainstream line, there are 12 boards to choose from, and another 15 or so among its other series.
To help understand the differences between the mid-to-high tier options in ASUS' Z87 mainstream line, I've compiled a table that takes a look at four boards in sequential order, ranging from $160 straight up to $290 (as of the time of writing).
Price
Multi-GPU
Expansion
SATA
USB
Thunderbolt
Network
Bluetooth
Audio
Power
Back Ports
Compared to the $200 Z87-PRO, the Z87-EXPERT offers a single added perk: support for Thunderbolt. The board also integrates a third 3.0 PCIe x16 slot, in lieu of the 2.0 one on the PRO board, but its uses are going to be limited, and exclusive to those wanting to configure a 3x GPU setup – and even then, that will result in a lane configuration of x8+x4+x4… that's not too attractive.
So, if you don't mind losing out on Thunderbolt, the Z87-PRO is the board to consider.
The Z87-DELUXE comes in for those who still don't care about Thunderbolt, but might want even more connectivity options. Versrus the EXPERT, the DELUXE adds 4 more USB ports (2.0) at the back, a second NIC (Realtek), and a much more robust power configuration (16+2 phase). Not listed above but also worth consideration is the DELUXE/DUAL, which is for those who want the best of everything, including Thunderbolt (2 ports, no less). That board is currently priced at about $350.
Let's get to that hardware tour, shall we?
A Hardware Tour of ASUS' Z87-EXPERT
Since ASUS has availed us a nice high-res top-down view shot of its Z87-EXPERT, I thought we'd start out taking a look at it to gain an easier understanding of what we're dealing with – especially with regards to where all of the notable connectors are located.
The first thing I scan a motherboard for once I tear it out of the box is the number of fan headers made available, and their locations. There's been a recent trend where vendors have begun putting at least five headers on their mainstream and above boards, and that's great to see.
In the case of this EXPERT board, there are six fan headers at the ready: Two can be found to the top-right of the socket, while another can be seen to the bottom-left. This takes care of your CPU and back chassis fans. For the rest, two more headers are made available to the right of the DIMM slots (one is center, and one just below), and lastly, one is situated next to the USB headers and chassis connectors.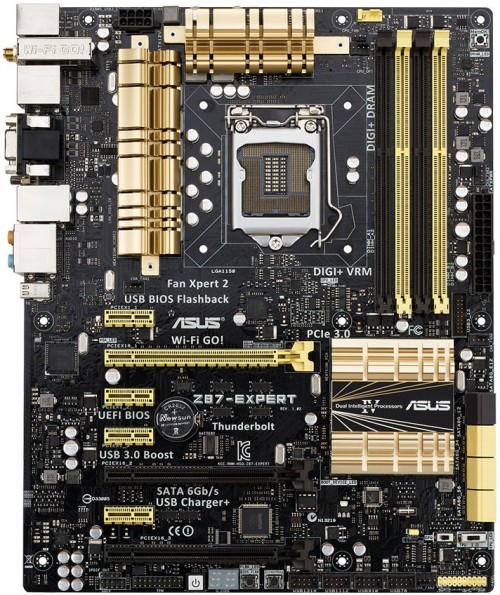 Also seen in this image is the single USB 3.0 header to the bottom-right of the DIMM slots, the chassis connectors at the absolute bottom-right of the board (a preference of mine), four internal USB 2.0 headers, an onboard power switch at the bottom, an LED error code screen (another big plus), and the 8-pin power connector situated horizontally at the top – yet another preference, given it tends to be easier to route your cable in behind the motherboard tray when it's in this position and not too far into the board.
Continuing on, let's take a brief look at all of the areas of the board.
First up, the top-right of the board, where the 4x DIMM slots can be found (again, supporting up to 32GB of RAM @ DDR3-3000 speeds), the two fan headers, the single USB 3.0 internal header, and also the MemOK! button (helps with booting if incompatible memory is installed – a rarer case nowadays).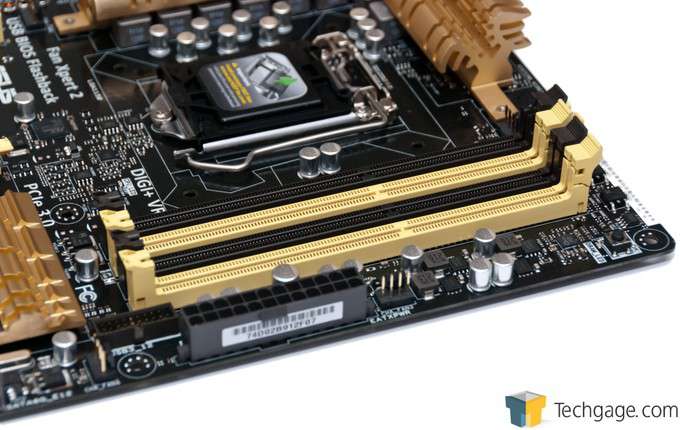 At the bottom-right corner, from left-to-right, we have a power button, EFI error code readout, BIOS Flashback button, DirectKey button, 4x USB 2.0 headers, the lone bottom fan header, the chassis connectors, and above that, TPU and EPU modifier switches.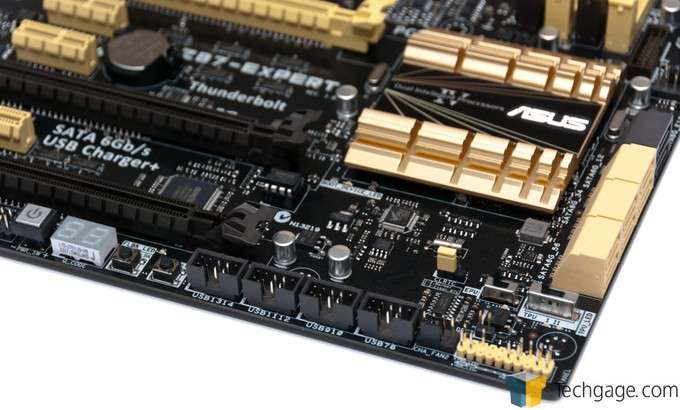 I mentioned a "DirectKey" button – but what is it? Pushing it will immediately reset your PC and boot straight into the EFI, saving a bit of time. The use here for overclockers is obvious, though it can also have use for the regular folk, too. Should you want your reset button to always result in a quick boot-to-EFI, you're able to apply a jumper to the "DRCT" header directly above the chassis connectors to take care of that. This is one of the more hidden – but neatest – new features to ASUS' Z87 lineup.
Moving along to the bottom-left, we find 3x PCIe x16 slots (usable as x8+x8 in dual-GPU or x8+x4+x4 in tri-GPU), and four PCIe x1 slots. I do wish the CMOS battery was located a bit lower on the board so that you wouldn't have to remove a GPU in order to get at it, but nowadays, chances of you needing to remove that is rather rare. And if you do have to, another option is to apply a jumper to the CLRTC header towards the bottom-right of the board.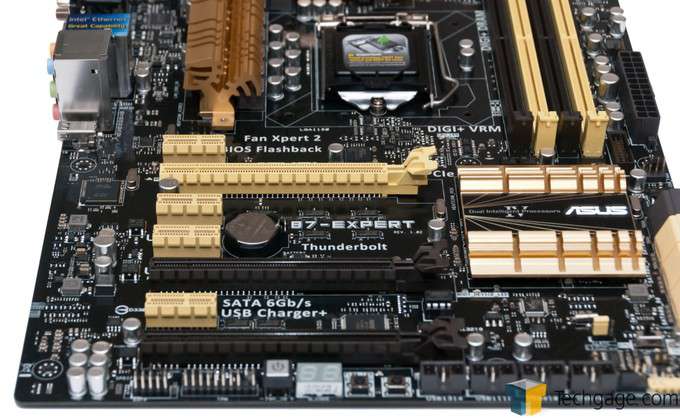 There's not too much to see in this corner of the board except for the socket – and we're all quite aware of what those look like. Whether or not you like the gold PWM heatsink will really depend on your tastes, but its style is certainly suitable. Just below the left section of that heatsink is a fan header for the back chassis fan, and to the right side of the top are two headers for the CPU cooler; the top-most one can't be seen in this photo…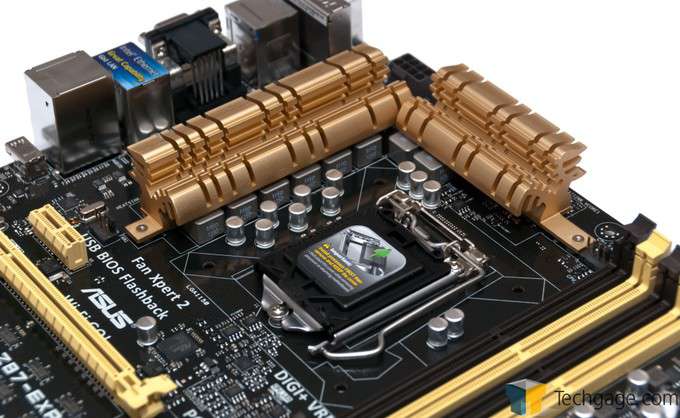 … but it can be seen in this photo:
The above angle doesn't reveal anything we haven't already seen, but it does give a clearer idea of what you'll be working with once the board is in your chassis.
At the back, we find 6x USB 3.0 ports (the left-most four are ASMedia; the two beside the audio connectors are Intel), the built-in Wi-Fi / Bluetooth module, HDMI, DVI, VGA, LAN and the full fleet of audio connectors. To the absolute right of these ports, the lone Thunderbolt connector. Quite small given the massive premium it tacks onto a board, isn't it?
It's worth noting that for this board, ASUS worked with ASMedia to provide a solution that would assure all back USB 3.0 ports perform just the same. This is important, because to date, no third-party has been able to match the performance of these ports by either Intel or AMD (the same goes for SATA). In our testing, we found the result to be good. In order to achieve this, performance of the Intel ports is degraded to a level not even worth noting (or more accurately, one that's not going to be noticeable in the real world).
With the Z87-EXPERT, ASUS includes 4x SATA cables, the Wi-Fi dock, I/O back panel insert, a 2-way SLI bridge, Q-Connector (to make connecting the small chassis wires a bit easier) and also some documentation and driver DVD-ROM (stashed inside the manual).

The Z87-EXPERT is a rather feature-packed board on the hardware-level, but like before, ASUS doesn't stop its work there, instead opting to provide the market's best EFI solution – or at least attempting to. Let's take a look at that next.
A Look at the EFI
An archive including all of these screenshots can be snatched here (.ZIP, 6.3MB).
It's always been the case that with a new processor generation, we see improved BIOSes come out from the likes of ASUS, GIGABYTE, MSI and so forth. But when EFI hit the scene, things really got interesting. No longer were these vendors simply adding options to the low-level environment, but now they had to worry about aesthetics and ease-of-use, too.
Out of the gate, it's hard to deny that ASUS had the best EFI solution going – nothing could touch it. Compared to solutions from other vendors, it was easier-to-use, behaved smarter, and looked good. It felt like all of the other companies got a different memo than ASUS – theirs apparently said that the intent of the EFI was to just look cool.
With the Z87 generation in particular, a lot of vendors have begun to catch up to ASUS in this regard, especially GIGABYTE (I'll be covering one of its boards shortly). ASUS wasn't ignorant of the fact that its EFI implementations were well-liked, so it's no surprise that the company decided to keep it simple with Z87 and simply enhance, rather than rewrite.
For this review, we're not going to exhaust everything ASUS' EFI offers, as we'd rather focus on what's new. If you're interested in delving into the EFI as a whole, almost the entirety of what we covered in our P9X79 PRO review can be applied to ASUS' current fleet of boards as well. If anything, certain functions have likely only been improved.
Before diving into what's new, though, I'd like to take a moment to tackle ease-of-use, which is an area where ASUS has excelled with its EFI. Simply put, the entire EFI interface can be navigated using only a keyboard, which is hugely appreciated. GIGABYTE's last-gen EFIs encouraged mouse-use, but the feeling of a mouse inside of an EFI is much different to how it feels inside of your native OS, so really, the keyboard should remain the ultimate focus. Just because you can use the mouse doesn't mean you should base an EFI design around it.
Other little perks exist with ASUS' EFIs that I enjoy as well, such as shortcuts that allow you to reach a common part of the EFI quickly; and then there's a start screen of sorts that very well may not force you to go into the advanced portion of the EFI at all. On Z87, EZ Mode has been improved, and if you're familiar with ASUS' previous offerings, you may notice the differences right away: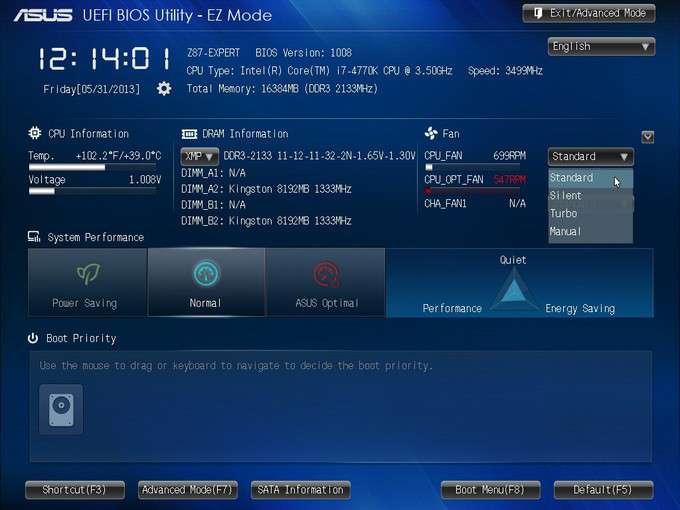 EZ Mode Screen: Quick access to some key options
(Note: These screenshots were captured using the pre-launch EFI version, but all testing was done with the most recent EFI on ASUS' website.)
The most noticeable change here has to be the addition of DRAM information, which quickly shows you the frequency, timings and voltage of each stick of installed RAM, and allows you to apply an XMP profile if that happens to be your goal. This saves you the time of having to go into the advanced mode to seek out the tweaking section to deal with the same thing.
Also new is the ability to select a fan profile for your CPU fan(s) and the back chassis fan. You'll note red text for one of my fans in the above shot – this is because the fans are capable of running at very low RPM, lower than the pre-defined minimum ASUS specified in the EFI (this is not a problem; you just need to lower the monitored RPM value inside the EFI).
Finally, the "SATA Information" option at the bottom gives you a quick overview of which storage devices you have installed, and in which port each is plugged into. This is a great shortcut for those who run into storage detection issues (eg: it's easy to see if the PC is actually detecting it, or if the OS is just being douchey).
Moving on, the "Main" screen, which hasn't changed for Z87, but does look cleaner.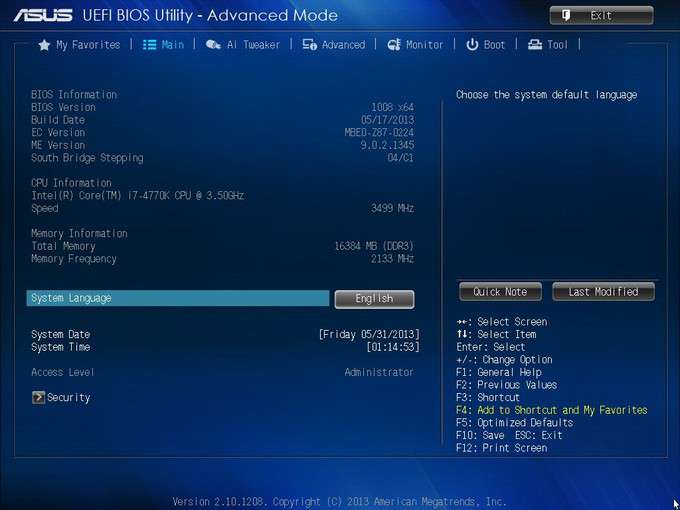 Main Screen: Overview of your PC's configuration
The "My Favorites" screen is brand-new to Z87 though, and it's certainly one of the more convenient features offered. Regardless of an option the EFI offers, if it happens to be one you use often, you can select it and then hit F4 to add it to this screen. That way, as soon as you boot up and go into the advanced mode, you'll be able to get back to it right away. My screenshot simply shows fan speeds and temperatures, but a more realistic options would be overclocking-related.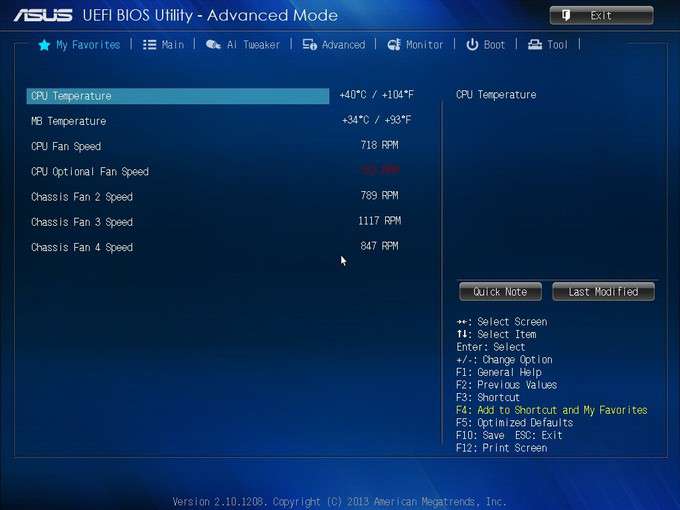 My Favorites Screen: Store your favorite EFI functions here
"Quick Note" is a pop-up feature that's been added to aide those who want to – you guessed it – keep quick notes on things. If a certain overclock didn't go too well for you, for example, you could make a note of it here so that you know not to try that configuration again. Unfortunately, both the Quick Note and My Favorites features reset themselves after an EFI upgrade. While ASUS could technically negate that issue, there's a fine line when it comes to deciding how to optimally using the available EFI space that's available.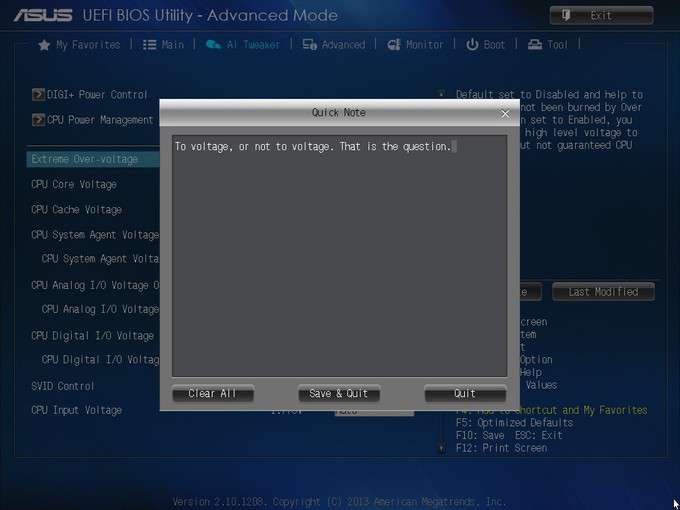 Quick Note: Write thoughts on life, or keep track notes on that overclock
One of the cooler features added to ASUS' Z87 lineup is the change log. Regardless of what option you change while in the EFI, as soon as you save and exit, you'll be greeted with a screen like the one seen below. In this particular example, what I did was enable my XMP profile (this in effect allows me to see what that changed exactly), and I also enabled hotplugging for each SATA port. There's a bit of an obvious text bleedthrough here, but I believe that to be due to the pre-launch EFI, as I haven't had it occur with recent EFI releases.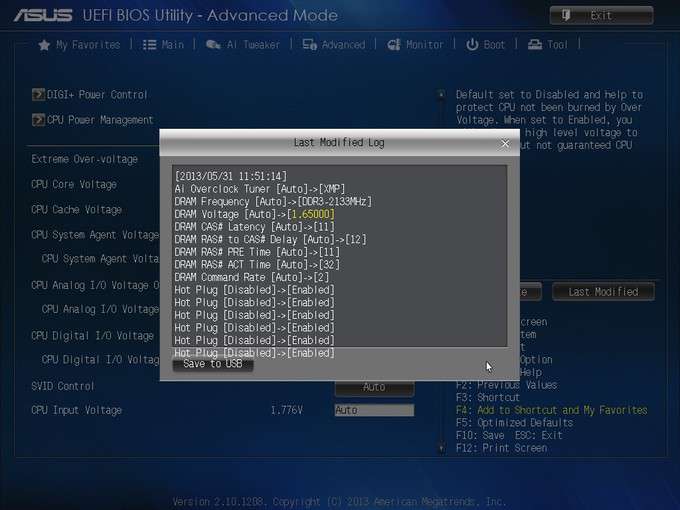 Change Log: A summary of all the changes you made
Earlier, I mentioned that while in the EZ Mode screen, you'd be able to quickly get SATA information with the shortcut at the bottom. Well, you can see much of the same now inside the "Advanced" setting of the EFI. The example below is a horrible one since I didn't have storage plugged into any of the drives listed, but trust me, the names will be there when something is plugged in (eg: OCZ-VECTOR (240.0GB)).

SATA Configuration: See which drives are plugged, and where
It's also worth noting that the OC Tuner has been updated for this release, primarily allowing you to tell it to focus on adjusting the BCLK first, or the ratio.
Overall, the EFI here is what we've come to expect from ASUS, which is a very good thing. While the company is beginning to get some real competition now, I feel its EFI implementation looks better than the rest, and it's little features like those mentioned on this page that makes the overall experience even better.
We've covered hardware and EFI… what's next? Oh, right: software.
A Look at the Software: AiSuite III
As I did with the EFI on the previous page, I'm not going to exhaust a look at ASUS' AiSuite III, but will talk about a couple of new features while showing-off the brand-new interface. I went into great detail about AiSuite II in our P9X79 PRO review, so I highly recommend checking that out if you wish to learn more.
ASUS' AiSuite is essentially a virtual toolbox that includes everything you need to tweak the motherboard's overclocking, power, fan settings and more without having to go into the EFI.
Here's the screen to greet you after opening AiSuite III: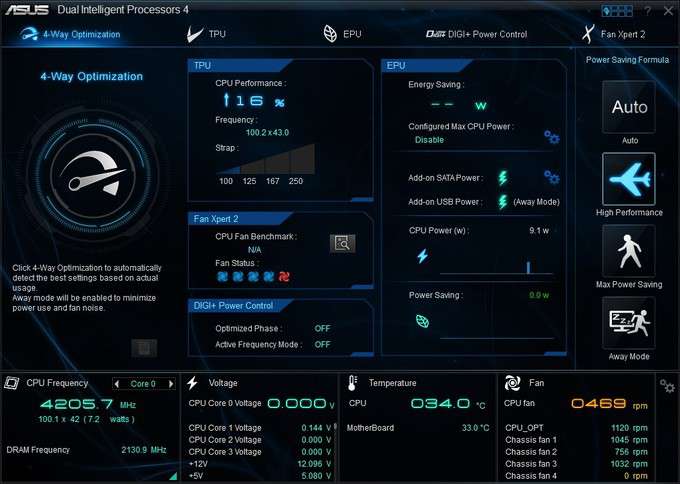 AiSuite III Start Screen: Dual Intelligent Processors 4
You can't get much more detailed than that. The first thing a lot of people might want to do is click on the "4-way Optimization" option, which automatically overclocks your PC, creates a personalized fan profile, optimizes your power profiles and enables full VRM power management. This is a great solution to give your PC a little performance boost while making sure that your power configuration is as efficient as can be. It could be that even with an overclocked system, running this automatic tuning will result in less power being drawn over time.
After I ran this tuning mechanism, the board overclocked the CPU (Core i7-4770K) to a very respectable 4.3GHz. Because of the adjusted power profiles, however, the CPU still ramped up and down as it would at stock, saving power when nothing intensive is taking place.
Seen on almost every screen of AiSuite III, a the bottom portion will give you quick display access to your CPU and DRAM frequencies, voltages, temperatures and fan speeds. As we saw with our look at the EFI, our primary CPU fan can run at a lower RPM than ASUS' predefined default value, so the software is erroneously telling us that there's an issue (this is fixed by lowering the minimum value).
As mentioned before, you can control almost everything that the EFI offers in this all-inclusive app, so I won't exhaust a look here for the sake of it coming off as boring. The screen below can give you a good idea of what to expect from the software, however. TPU is ASUS' onboard performance chip that helps optimize efficiency when overclocking, so it's appropriate that things like the CPU ratio, BCLK and voltages can be adjusted here.
Another example of a powerful screen is DIGI+ Power Control, where things like the CPU loadline, voltage frequency and thermal control can all be adjusted. It goes without saying that some of this might not be of interest to every owner of an ASUS Z87 board, but it's nice to have such rich configuration available for those that do.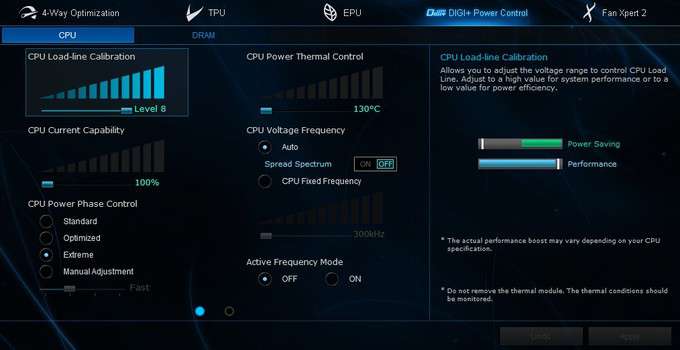 AiSuite III: DIGI+ Power Control
One of the best features of ASUS' recent motherboards (in my opinion, of course) is Fan Xpert. With the help of the automatic tuning tool, Fan Xpert 2 will individually ramp each fan up and down, finding its RPM at a given amount of voltage. This is to allow you to use different profiles that will adjust fan speeds creatively to make for the most efficiency. If you don't like something about the configuration, you're able to manually adjust it, but ASUS hopes that won't need to happen since it's produced its algorithms based on testing hundreds, if not thousands of fans in-house.
Other notable features included in AiSuite III include Ai Charger+ (yes, it needs to be enabled since it in effect increases the power to the port), and USB 3.0 Boost (enables UASP transfer speeds for reduced compatibility but increased performance); an example of its effects can be seen here. There's a lot more to AiSuite III than just what's mentioned on this page, however, so I'd recommend checking out the P9X79 PRO review linked-to above if you wish to delve in a lot deeper (all of the features from AiSuite II have carried-on over to III).
With AiSuite III, ASUS makes sure that it continues to lead the market on the software side of things. The level of control is simply unparalleled, as is the ease-of-use. Some companies have caught on to the things that make ASUS' EFI so good, so maybe we'll see the same thing happen with software from other vendors as well. ASUS has quite literally been the only company to offer software with its boards that I've actually wanted to use, although I admit I'm still behind on delving into other vendor's software options for this generation, so I'll reserve judgement on those until I can dive in.
Performance Testing
From a performance perspective, we feel that motherboard benchmarking is useless. It's the motherboard's job to allow all of the installed hardware to operate at its full potential, so in theory, a $100 option shouldn't be much (or any) slower than a $300 one. The differences in price instead comes down to the quality of the onboard components and other features.
So why do it at all? It's because it's important to make sure that the board we're dealing with doesn't lack in one particular area versus the rest. If board A performs 2% slower than board B in PCMark, for example, that's of no concern to us – random benchmark variance is a fact of life. However, if one board consistently performs weaker than the rest, that's worthy of note – it could suggest that weaker components have been used which do not allow the hardware to operate at its full potential.
Please bear this in mind when perusing our results. Just because a board under-performs in a single test, it doesn't mean anything in regards to its quality as a whole. Our ultimate goal here is to make sure that each board we test performs as we'd expect across the gamut of scenarios we pit them against.
Because some motherboards auto-OC the CPU when certain options are chosen (XMP, for example), we force the Turbo ratios for our Core i7-4770K to reference settings: 39x/39x/38x/37x (1/2/3/4 cores).
 
Intel LGA1150 Test System
Processor
Intel Core i7-4770K – Quad-Core, 3.50GHz
Motherboard
ASUS Z87-EXPERT (BIOS: '1206' 07/19/2013)
GIGABYTE Z87X-UD3H (BIOS: 'F7' 08/05/2013)
Memory
Kingston HyperX Beast 2x8GB – DDR3-2133 11-12-11-31 @ 1.65v
Graphics
NVIDIA GeForce GTX 660 Ti (GeForce 326.41 Driver)
Audio
Onboard
Storage
Kingston HyperX 240GB SSD
Power Supply
Corsair HX850W
Chassis
Corsair Obsidian 700D Full-Tower
Cooling
Noctua NH-U14S Air Cooler
Et cetera
Windows 7 Professional 64-bit
Let's get on with it!
| | |
| --- | --- |
| BCLK Values | Result |
| ASUS Z87-EXPERT | 100.0 MHz |
| GIGABYTE Z87X-UD3H | 100.0 MHz |
The BCLK matchup is as perfectly even as it could get.
General System Performance
To take a look at the "overall" performance of our PC configuration, we rely on dual Futuremark suites: PCMark 8 and 3DMark (2013).
PCMark 8 Suite Scores
Home
Work
Creative
ASUS Z87-EXPERT
5525
5386
4333
GIGABYTE Z87X-UD3H
5389
5403
4341
3DMark (2013)
Ice Storm
Cloud Gate
Fire Storm
ASUS Z87-EXPERT
4723
19834
139827
GIGABYTE Z87X-UD3H
4391
19747
137622
Both boards perform just about evenly in the PCMark and 3DMark tests, as we'd expect, with a slight nod going to ASUS in the gaming test.
I/O Performance
To properly give the internal SATA 6Gbps a good workout, we turn to HD Tune and CrystalDiskMark.
HD Tune Pro 5
Minimum
Average
Maximum
Latency
ASUS Z87-EXPERT
308.5
465.2
438.1
0.038ms
GIGABYTE Z87X-UD3H
183.5
363.3
294.7
0.070ms
CrystalDiskMark 3.0.2
Read Seq.
Read 4K
Write Seq.
Write 4K
ASUS Z87-EXPERT
514.3
41.83
317.5
160.2
GIGABYTE Z87X-UD3H
506.8
30.92
314.2
58.66
Despite using the same Intel SATA chipset, ASUS' board managed to give GIGABYTE's a relative pummeling here. Write 4K speeds are worthy of note in the CDM test, and in each one of the HD Tune results, the ASUS clearly comes out ahead. Somehow, it even managed to shave a chunk off of the random access time.
Both sets of results proved to be so different that I ended up hooking up the GIGABYTE board again to make sure that I actually was using Intel's port and not Marvell's. Sure enough, things were fine – it's just the performance that's not.
Admittedly, the speeds are still good enough where real-world experiences are not going to be affected, but it's still a little disconcerting to see the speeds fall so far back. Maybe this is the difference between a $160 and $240 motherboard?
Rendering & Image Manipulation
Writing files to disk or reading a website doesn't do much to exercise our CPU, so for that, we turn to a few common scenarios – image editing, video rendering and 3D rendering – using a combination of Adobe, CyberLink and Autodesk products.
Adobe Lightroom 5.0
Result
ASUS Z87-EXPERT
255 s
GIGABYTE Z87X-UD3H
255 s
CyberLink MediaEspresso
Result
ASUS Z87-EXPERT
3754 s
GIGABYTE Z87X-UD3H
3656 s
Autodesk 3ds Max 2011
Result
ASUS Z87-EXPERT
1082 s
GIGABYTE Z87X-UD3H
1077 s
Cinebench R11.5
OpenGL
CPU
ASUS Z87-EXPERT
80.03
8.14
GIGABYTE Z87X-UD3H
82.08
8.16
Interestingly, while GIGABYTE's board fell quite a bit behind in the synthetic storage tests, its storage limitations held nothing back in these real-world tests. In these gruelling tests, it came ahead.
Sub-system Performance
For memory and CPU testing, we utilize SiSoftware's Sandra 2013 (SP3a), and for Ethernet testing, we use iperf (or more appropriately, the Java-based jperf which utilizes it).
Sandra 2013 SP3a
Integer
Float
Mem Latency
ASUS Z87-EXPERT
27.447 GB/s
27.660 GB/s
22.2 ns
GIGABYTE Z87X-UD3H
27.491 GB/s
27.556 GB/s
22.0 ns
Sandra 2013 SP3a
Arithmetic (Agg.)
Multi-media (Agg.)
ASUS Z87-EXPERT
111 GOPS
400 MPix/s
GIGABYTE Z87X-UD3H
112 GOPS
400 MPix/s
Ethernet (iperf)
50 Jobs (64KB)
50 Jobs (1518KB)
ASUS Z87-EXPERT (Intel I217V)
938
942
GIGABYTE Z87X-UD3H (Intel I217V)
936
941
All checks out here – great results overall.
Other ASUS Z87 Features & Final Thoughts
Before I tackle the 'Final Thoughts', I wanted to cover a couple of other features that the Z87-EXPERT and ASUS' other mainstream boards bring to the table that I haven't been able to up to this point.
First, there's '5X Protection', consisting of 1) Enhanced DRAM Overcurrent Protection, 2) Precise Power Control, 3) Enhanced ESD Protection, D) Stainless Steel Back I/O and E) 5K-Hour solid caps. All of this comes together sharing the same goal: to protect your hardware, and make sure it lasts as long as possible.
ASUS touts being the only motherboard vendor to implement the DRAM overcurrent protection, which uses an onboard polyswitch fuse that prevents damage from a short-circuit. The ESD guards come in the form of small ICs laced around commonly-touched areas that could be subject to a little shock; they help negate the effects of a quick zap. The company's use of 5K solid caps should also be noted, since some companies tend to skimp there and stick to 2K (10K is typically the max, but they're only seen on the highest-end motherboards).
One feature I never expected to see on the desktop is NFC support, but ASUS has that here with Z87. This wireless tech is enabled with a stand-alone product called NFC Express (bundled with the Z87-DELUXE/DUAL), and with it, you can access remote desktop via your mobile, transfer files, quick launch apps, and even log into your PC automatically, simply by placing your NFC-equipped device near the NFC Express. Don't have an NFC device? An included yellow card can be used instead.

ASUS' NFC Express: Pretend you're making a purchase at your PC
On the boards that include a wireless card, the updated Wi-Fi GO! software could prove to be of use. With it, you can share Internet connections, use mobile devices as remote controls or gamepads (using a tablet, for example, you could technically play a game on your PC), manage your digital content, turn your mobile into a PC microphone, and, like the NFC Express, transfer files. It's worth noting that some of ASUS' Z87 motherboards include 802.11ac wireless, although the EXPERT does not. In the mainstream line, that can be had with the DELUXE and DELUXE/DUAL board.
While it's a feature that's not talked about too much, Network iControl deserves a bit of a mention. It's an all-in-one network solution that allows you to keep all net traffic flowing comfortably. You can prioritize games for online purposes, or your browser, varying their priorities between Normal and High. And, if you wish to have a certain app gain a higher priority at a certain time of day, that can be done, along with the ability to keep track of your overall bandwidth use.
Finally, while we've talked about USB BIOS Flashback before, it's worth mentioning again. With it, you can flash the EFI without powering up the PC – you don't even need to install a CPU first. You simply download the latest version of the EFI from ASUS' support site (on another machine, of course), copy it over to a thumb drive, and plug that into the appropriate USB port on the motherboard. Then, you hold the USB BIOS Flashback button on the motherboard for 3 seconds, and once it stops blinking, the EFI has been updated. Granted, this feature is going to see more use in PC building shops than at the home, but it's a cool feature nonetheless. It'd probably have more use if Intel could stick to the same socket for more than one generation…
Final Thoughts
With a board this feature-rich, reliable and easy-to-use, it's not too hard to sum-up. Overall, the Z87-EXPERT delivers on all fronts, and it's a continuation of what I've come to expect from ASUS. The hardware itself is great, from the component choices to the layout of the board, and the EFI remains hard to beat. Those two factors alone make this a well-designed and well-thought-out product, but when you bring the AiSuite III and its collection of tools into things, this becomes a really difficult board to beat.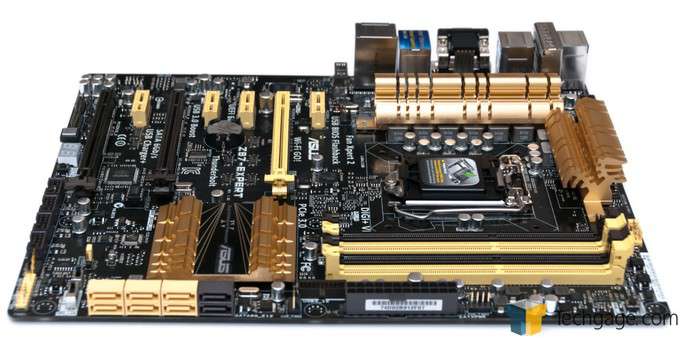 Although Z87 launched in June, this is our first in-depth look at an Z87 board. In the time since then, I've put some good time in with an Intel and GIGABYTE board as well (expect a review of GIGABYTE's Z87X-UD3H soon), and in the end, I still get impressed with what ASUS has continued to do with its motherboards. I vividly remember thinking to myself during the Z77 launch, "What on earth can ASUS possibly add?" Well, as seen in this review, a bunch of things have been, including many EFI features that simply make the overall experience an even better one.
If you're looking to build a new Z87-based PC and are willing to part with $240, the Z87-EXPERT is a fantastic board – I simply can't say anything bad about it at this point, and I've put many hours into testing it (it'll also become our Z87 testbed for when we test CPUs or other things). That said, because this board is very similar to the Z87-PRO, I'd highly recommend that board if you don't care about Thunderbolt – it'll save you $40. There may be some other differences between the two boards that I'm just not seeing (apart from the slight PCIe lane configuration change), but they'd have to be awfully minor.
Once again, I feel that ASUS has delivered an outstanding offering with its Z87-EXPERT.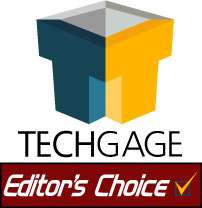 ASUS Z87-EXPERT
Copyright © 2005-2019 Techgage Networks Inc. - All Rights Reserved.