GAMDIAS ARES Essential Combo Review – ARES Keyboard & OUREA Mouse

Date: March 17, 2016
Author(s): Jamie Fletcher

Not everyone can afford high-end peripherals for their PCs, so today we take a look at a more budget offering from GAMDIAS with its ARES combo. The ARES keyboard and OUREA mouse bring essential gaming features at a low starting price. With full backlighting and macro support, we see what this $25 pair can do.
---
GAMDIAS ARES Essential Combo Review – ARES Keyboard & OUREA Mouse
While we spend a lot of our time reviewing the more premium peripherals; the high-end laser mice with 17 buttons and a wide selection of mechanical keyboards – not everyone can afford such luxuries. So in today's review, we are going to look at a more budget offering from little-known manufacturer GAMDIAS.
The ARES combo is a keyboard and mouse bundle that's meant to provide some of the typical gaming features of mid-range products, but at a more affordable price. When I say affordable, I really mean it; ranging from $20-$25 on Amazon for both the ARES keyboard and OUREA mouse combined, it's quite the deal.
First, some expectations. The keyboard is membrane-based and the mouse is optical, so it's not high-end at a too good to be true price point. What you do get is surprising. We'll take a look at the ARES keyboard first, as it makes up the bulk of the price.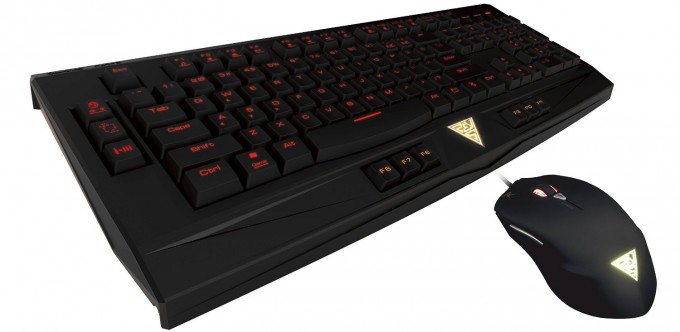 ARES Keyboard
The GAMDIAS ARES keyboard is a fully backlit membrane keyboard with macro capabilities and a number of 'advanced' features such as a turbo repeat rate, swappable WASD and arrow keys (we'll explain that a little later), multimedia keys, and a row of additional F keys below the space bar. The unified software stack (called HERA) is optional, too, and not horrific to use (which is quite surprising for an unknown manufacturer).
The ARES is rather bulky, but a bit on the light side; it doesn't have the weight of a more premium (or even fake premium) keyboard. The keys are expectedly mushy for a membrane keyboard, although they are reasonably sensitive with certain amount of tactile feedback as the dome reverses. They are not horrific, but after using mechanicals for such a long time, they do take a bit to get used to again.
In terms of key layout, the space bar is rather large, making it easy to hit. The bottom row F keys are a bit strange in that they are just duplicates of the standard F6-F11 keys – they are not dedicated macro keys, but will act as macros if F6-F11 have macros assigned to them. I will point out that these extra F keys are in a 'good' position, in that at no point did I ever hit them accidentally. They are well positioned just outside the typical palm-rest position.
One irregularity I will point out is that there are only two rubber pads on the underside while the keyboard is flat. At the back, there are no rubber supports unless you use the elevation feet. As such, the keyboard does slide around if you don't use those feet. However, the feet don't elevate the keyboard too much, and in fact, they are probably meant to be used as it sets the keys at the right angle for typing.
The three keys on the left side control the backlight, WASD swap, and turbo. The backlight will cycle through red, green and yellow. I will note that this is not an RGB lighting system, they are separate LEDs and can not be combined or changed. Backlight brightness can be adjusted holding the FN key and pressing – and + keys. The WASD swap is peculiar as it will alternate the arrow and WASD keys, so that pressing WASD becomes the arrow keys and vice versa. This might be useful with games that prevent remapping of the keys. The turbo is just an increased type-rate that's useful when you need to spam a certain key (you hold the key down and it will act as if you are pressing the key repeatedly).
OUREA Mouse
The accompanied mouse that comes with the ARES Combo is the OUREA, a 2500 DPI 6-button optical mouse. It's an ambidextrous design with a single button on either side of the mouse. The 6th button is used as a DPI selector. The scroll wheel has an RGB backlight that's adjustable with the HERA software stack.
On the underside is a large cavity with four 5g weights that can be removed. I should note that this was extremely difficult to unscrew at first, requiring a flat-head screwdriver to rotate the lock. The plastics used were of a too tight a tolerance. The optical light is permanently on as well, with a bright red glow coming from the underside. Lifting the mouse off the surface doesn't stop the light either.
In the software, there is no independent X/Y axis adjustment for sensitivity, which is a shame, but in all honesty, at 2500 DPI as the max sensitivity, the axis adjustment is hardly required. However, by enabling the advanced options in the software, you can enable things such as precision mode (sniper mode), which toggles the DPI to a low level for aiming.
The button sensitivity is very light, which is surprising for such a cheap mouse. This lightness might be an issue though with the two side buttons. These two buttons are quite large and easy to hit, even accidentally. The have no sponginess to them either, resulting in a confirmed click when pushed off-center. I personally don't mind these ultra-sensitive buttons, but others may find them too easy to click.
Tracking is what you expect from an optical mouse. On most surfaces and mouse mats, you will have no issues; however, if you use your desk surface without a mat, your mileage will vary. Glossy and shiny surfaces will track poorly – as long as you have some kind of matte surface or a mouse mat, the OUREA will track fine.
Both the ARES keyboard and OUREA mouse use an unbraided cable, so it's not as sturdy as a more premium cable, but they are very soft and flexible as a result. They are unlikely to catch or even get in the way – just be careful where your route them.
Software
Well, here was the big surprise. Past experiences with little-known peripheral software has been… less than ideal. When I found out that GAMDIAS made the software not only optional, but portable, I was colored impressed. First off, the HERA software is a driver and software stack for all of the GAMDIAS products. While this is common with bigger companies, it's quite rare everywhere else. What made things even more surprising was the lack of invasiveness. The software does not need installing, and can be extracted and ran from anywhere accessible on the computer (portable application).
The styling however is… very Asian. It seems a bit stereotypical, but it has a very 'ín your face' presentation to it. Big color graphics, stylized buttons and sliders everywhere, and very sharp fonts. Needlessly complex looking macro management and lots of options presented that would be better put into drop-down menus.
This is not to say that the software is unusable, far from it, it's quite accessible once you get past the gaudy graphics, at least, except for the macro manager which is a little confusing. There are common features between each peripheral, such as the macro manager, sound file editor and timers – yes, there is a section for setting up audio alerts for when macros trigger and timers stop.
The mouse menu has an extra menu dubbed 'muscle memory' and works as one of those click counters that tally up the number of times each button is pressed, how fast, distance moved, and other statistics. ROCCAT and others have done similar things before.
One thing that needs to be mentioned is that while the mouse will remember certain features like the precision mode, the keyboard requires the HERA software in the background to trigger macros. This is slightly disappointing, but not entirely surprising either (peripheral flash memory is notoriously twitchy).
HERA also provides a launcher for the other GAMDIAS products. Clicking on the icons in the bottom for other product listings will bring up graphics showing the other peripherals. These will then take you to their respective webpages for you to read up on if you wish.
Final Thoughts
GAMDIAS contacted us as many companies do and asked if we'd like to look at a number of its products. Tom recently review one of its headsets and came away very impressed (gaming headsets are often notoriously bad). You can tell a lot about a company based on what it offers in its budget products.
When the ARES Combo arrived, I wasn't sure what to expect – I mean, what can you expect for $25? The keyboard may be membrane based, but it's solid, reliable, comes with three different backlight colors, macros and editor, and some extra media keys. The mouse is simple, with few frills, but it works reliably too (with a little bling on the side).

The real surprise was the software. It's not perfect, and it could do with being toned back a bit on the graphics for the western market, but it's very reliable. The fact they went with a unified driver stack that was also portable to boot, is just the icing on the cake.
If you are cash strapped and have a need for macros, as well as a little bling on the side with some backlighting, I can not fault the ARES Combo from GAMDIAS. If you can get it for $20-$25, then you will have a very competent pair of peripherals. Obviously, it's not going to match the more premium products for comfort and overall features, but it gets the basics spot on. We look forward to seeing what GAMDIAS offers in the future and will be keeping an eye on it from now on.
Pros
Very affordable.
Full keyboard backlight.
Portable and unified software stack.
Common gaming features at a low price.
Mouse is very twitch-reflex friendly.
Cons
Mouse side buttons might be too sensitive for some.
The extra F keys might have been better served as dedicated gaming keys rather than duplicates.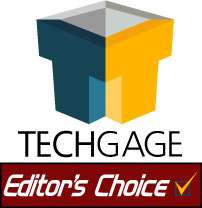 GAMDIAS ARES & OUREA Combo
Copyright © 2005-2019 Techgage Networks Inc. - All Rights Reserved.