Gateway T-6836 14.1″ Notebook

Date: September 15, 2008
Author(s): Rob Williams

Notebooks are more popular than ever, and the vast selection is incredible. There's a notebook for everyone, and in the case of Gateway's T-6836, if you are looking for something in between a netbook and a $1,000 model – you are covered. It carries certain downsides, but still packs enough performance and features to make the $800 retail price feel well-worth it.
---
Introduction
It's been quite a while since we last took a look at a notebook that didn't have an ASUS badge on it, and that's not for good reason. ASUS keeps sending us notebooks, so we keep reviewing 'em, but going forward, we are starting to evaluate other company's offerings as well, beginning with this Gateway. We'll also be taking a look at others in the months to come, so stay tuned.
Gateway offers a wide-range of notebooks to fit all budgets, from the MT series, which begins out at $649, to the P series which scales up to $1,999. Unlike some other notebook vendors, Gateway doesn't allow configuration of their machines prior to a purchase, but they make up for it by offering a large variety of different notebooks under each series.
The company also recently dropped online sales in lieu of selling through their selected partners, which results in certain models only being available with select stores. This is an obvious downside, but luckily, all of the notebooks can be ordered online via the respective store's website.
I had to take this route earlier this year when I purchased their XHD3000 monitor. This also led me to experience their customer service, which I can admit was rather good. The model I received at first was faulty, but within two weeks of getting the order in, I received a brand-new monitor, then was able to send the faulty model back. Being in Canada, I found the quick replacement to be impressive. It's likely to be even quicker if you live in the USA.
Closer Look at Gateway's T-6863
The model we're looking at here is the T-6836. Gateway's T-series is one that targets the mobile multimedia hound on a budget, and given its $799 price tag, it should appeal to a wide audience. The notebook features Intel's 65nm T5750 Core 2 Duo at 2.00GHz (2MB L2, 667MHz FSB), 4GB of DDR2-667 memory, a 250GB 5400RPM hard drive, 8x DVD-RW with LabelFlash and Intel's X3100 integrated graphics solution.
At the $799 price point, we can already get an idea of what to expect from this notebook. It's not going to deliver performance that power-hungry users are going to be looking for, but rather is designed for those who want a solid notebook at a great price. Given that netbooks nowadays don't cost much less than this, it makes a model like this look even more attractive.
Apologies in advance for some of the bad color in the photographs here. I didn't notice the lighting was so bad while they were being taken. The T-6836 features a glossy 'pacific blue' finish that is simple, but clean. The hood is etched with Gateway's logo in the direct center, and will never peel off as it's actually part of the cover.
The notebook features a full-sized keyboard, brushed-metal finish around the trim, cleanly-implemented buttons along the top and a pure-black finish around the display. A 1.3megapixel webcam is also included, along with a small microphone.
In front of the touchpad are the audio jacks, one for a mic, the other for speakers/headphones. On the left side you can find the memory card slot and also the wireless enable/disable. The right-side of the notebook doesn't feature anything except the ROM drive.
Above the keyboard is a slew of buttons, including the power, media control and the volume. The two-channel sound is taken care of by a speaker on each side of this top portion.
If you've read my notebook reviews in the past, you probably know that I'm a bit fussy when it comes to the touchpad. It's rare when I find one that I truly like, and this one is no different. It works, but I didn't find it to be that enjoyable to use for any amount of time.
It's easy on the fingers, but the buttons aren't placed in such a way that they're easily pushed whenever you need them. I found my thumb had to strain more than it should have. Your experience may vary.
In the pictures below, please ignore the rough top of the notebook, as I took these pictures out-of-order. The rough top is the protective plastic.
On the left side of the notebook, we find the wired network port, two USB, the main air vent, an Express Card slot, memory card slot and also the WiFi enable/disable.
There is not too much to be found on the right-side, except the DVD-RW drive and another USB port. There are three USB ports in total, which I'm sure many will appreciate.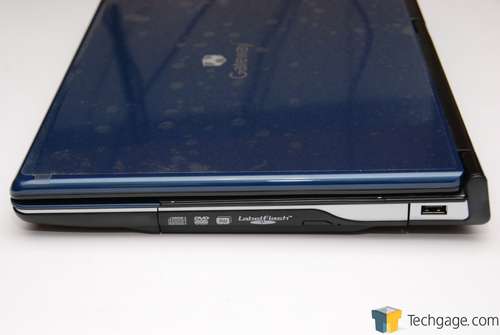 Like the right-side, there is not much to see on the back except a modem port, Kensington lock, VGA output and the power port.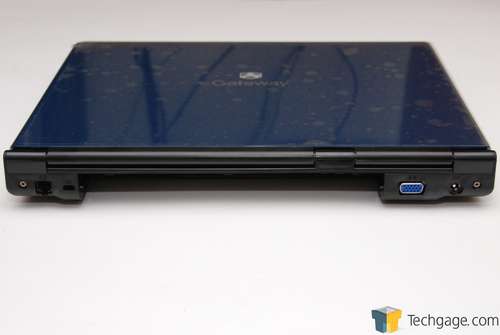 Underneath the notebook we can see all the various air vents and removable panels. The panel on the bottom left-hand side can be removed to replace the hard drive and Mini-PCI card (which is where the wireless is), while the much larger panel can be "removed" to swap out the RAM.
I say "removed", because with the lone screw removed, there was something else holding on, which could have been glue – so leaving it alone is a good idea. There's little worry in that, however, as there's already 4GB of RAM installed, which means there's virtually no reason to upgrade even further, especially on a lower-end model.
Included with the notebook are quick-setup guides, the battery, power adapter and Windows Vista Home Premium CD. There are virtually no extras found here, but that's to be expected of a budget notebook.
With our exhaustive tour out of the way, let's jump into my thoughts on the setup.
Setup, Usage, Final Thoughts
Though most of our notebook reviews go into some depth regarding the included software and the setup process, this one will be a bit lacking due to a few complications we had arise. I'll tackle all of that here, but please be aware that my complications are not representative of what a regular consumer should expect, although I do hope Gateway takes my criticism to heart.
The setup process itself was simple – no different than any other notebook. Boot up, type in your credentials, wait a few minutes, and boom… desktop. Normally at this point, I note all of the applications installed, take screenshots, et cetera. However, at the time I was testing out the notebook, I was also preparing for IDF and NVISION. So, I took the screenshots I needed, packed up the notebook and took it with me.
When I returned, I decided to wipe the notebook clean, using the included restore disc. Little did I know, this restore disc does nothing but install the OS. Unlike true restore discs supplied by other notebook vendors, Gateway's does not follow a typical Out-Of-Box Experience (OOBE) methodology, so no pre-installed applications are returned, nor are the system drivers.
When I arrived at the desktop to see even the video driver wasn't installed, I was a bit perturbed, to say the least. I was left with a barebone notebook, and Gateway doesn't even include an actual driver disc, so all the drivers had to be downloaded from Windows Update. Luckily, since the notebook includes incredibly common components, Windows Update took care of everything.
So, the obvious step next would be to check for a recovery partition, which the system did have. This partition is about 15GB with 8GB used, so I felt confident that a true restore could take place – but I was wrong. Booting up and pushing F8 is supposed to open up a restore menu, but not here. This was due to the fact that I reinstalled Windows, which essentially wiped out the chance of that ever happening.
Gateway was unable to help me from this point, and booting into the recovery partition was deemed impossible. I'm confident it is possible, but I just haven't figured out how.
Though no restore disc is included (the disc included is just a general Windows Vista install DVD), what you are supposed to do is create your own, with the help of an included tool. It will capture all the drivers and whatever else, then create a disc that's supposed to be used during the actual restore process. That might retain all settings and applications to their original state, but I was unable to test it for myself.
It goes without saying that Gateway should have a better solution than this. They've been in the notebook business for a while, and I cannot comprehend why a restore disc is not included. Even if someone does create a restore disc with their tool, what happens if the MBR becomes corrupt? They'll wind up in the exact same situation I found myself in. For the price of the notebook, the lack of a restore disc might be warranted, but since they are pushing out non-configurable machines, it wouldn't be hard for them to make the restore discs themselves.
Testing and Benchmarking
That insane rant out of the way, let's review the SYSmark 2007 Preview results, compared to other recently-reviewed notebooks. Please note that these notebooks are not in the same class, and the Gateway is our lowest-end (least-expensive) offering.
The T-6836 compares nicely to the ASUS M51S, which retails for closer to $999. As far as battery-life goes, the notebook lasted 1h 52m when playing back our DVD movie, which is on par with most other notebooks we've tested at this price-range. It will be able to make it through a short movie, but your lengthy movies will have to stay at home.
Final Thoughts
Despite the fact that this notebook frustrated me with the lack of a proper restore disc, I still enjoyed the time I spent with it and didn't find anything truly horrible to note that would be a good reason to stay away. The T-6863 is inexpensive, packs lots of RAM and a fair amount of storage, has a nice design and is a great size for a notebook you need to carry around.
I already explained my gripe with the restore disc, so there's no sense in mentioning it again, and I won't. What this notebook does deliver is a solid solution built for a good price. At no point during use did I find it entirely slow, nor did I find the machine to have a real "cheap" feeling. At $800, it's actually quite hard to go wrong.
One thing I do appreciate is that Gateway pre-installs Windows Vista 64-bit, which means you can actually use your 4GB of RAM. Most other manufacturers have stuck with 32-bit OS' despite installing 4GB of RAM, so it's nice to see someone breaking the mold. In personal experience, I have found the 64-bit to be far more reliable than the 32-bit, so it makes all the sense in the world to go with 64-bit Vista nowadays.
If on an $800 budget (minus taxes, of course), then the T-6836 would be a good buy. It doesn't pack a whack of extras as I'd like to see, but it's hard to complain at the given price point. Spending even $200 more would avail you a more capable notebook (like the ASUS M51S for example), but only you know what your budget is like. For the price paid, this notebook won't disappoint.
This will certainly not be the last Gateway notebook we take a look at, and now that I know of the certain restore caveat, I know what mistake not to make. Follow-up reviews will be far more in-depth, and I look forward to seeing what their other notebooks are made of.
Discuss in our forums!
If you have a comment you wish to make on this review, feel free to head on into our forums! There is no need to register in order to reply to such threads.
Copyright © 2005-2020 Techgage Networks Inc. - All Rights Reserved.