GIGABYTE G1.Assassin 2 Review
Date: May 21, 2012
Author(s): Rob Williams

If you're a gamer looking to build a high-end multi-GPU PC, GIGABYTE's X79 G1.Assassin 2 deserves a look. Built from the ground up for gamers, it features onboard Creative X-Fi audio and Killer NIC solutions, supports three GPUs, has a proper EFI and sports aesthetics that perfectly complement the goals of the board.
---
Introduction
Are you a serious gamer? If so, GIGABYTE's G1 series of motherboards is sure to pique your interest. Designed from the ground up to act as the perfect base to an enthusiast gaming PC, G1 motherboards pack in better-than-average audio and LAN chipsets, and has the looks to boot.
First available as high-end X58 boards, GIGABYTE has since spread the G1 love around to mid-range gamers with a couple of Z77 releases, while still retaining a top-tier model, this time based on X79. As the title of this article suggests, that's the board we're taking a look at here.
Being a gamer-focused board, GIGABYTE had some clear rules and goals with its Assassin 2. At the forefront, it offers support for tri-SLI and tri-CrossFireX and makes it happen with PCIe Gen. 3 slots. A common issue with 3-way GPU setups is that it prevents a discrete audio and network card from being used, but with the onboard Creative X-Fi and Killer LAN, that problem is made nonexistent. We'll tackle those features later.
I should note right off the top that this is not going to be a usual motherboard review. We've adopted this board as the base to our updated GPU testing rig and wanted to produce a "hands-on" look at it, explaining what makes it cool, and also give our thoughts on some of its features. As a result, this review will be lighter than most of our other upcoming X79 and Z77 ones.
Any motherboard can be called a "gamer motherboard", but the G1. Assassin 2 looks the part, as can be seen in the shot below. Like all of the G1 boards to date, it features a black PCB and a mixture of green and black components, such as with the PCIe and DIMM slots. Taking things a step further, the southbridge features a pistol heatsink. This is something that a lot of people seem to be divided on, as it can either look cool or tacky depending on your view, but again, it definitely suits the goals of the board (unless you loathe shooters, perhaps).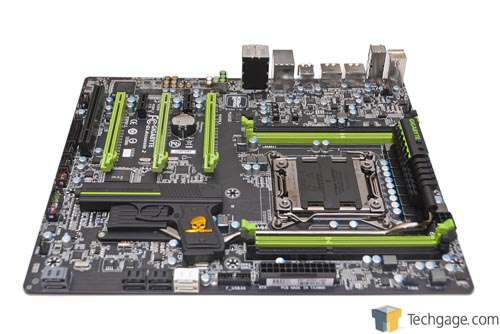 If the pistol heatsink wasn't enough, how about a cartridge heatsink for the PWM area? As much as I'd love a bullet to come flying out in the event of a failed overclock, I can understand why GIGABYTE skipped over that idea.
To leave sufficient room for other board components, GIGABYTE opted to include only 4 DIMM slots. It supports up to 32GB in a 4x8GB configuration, but I'd have to imagine the most common configuration would be 4x4GB – which we happen to be using. Supported speeds range from 1066MHz to 2400MHz.
The Assassin 2 supports up to 8 internal SATA connections; four SATA 6Gbit/s and four SATA 3Gbit/s. The white connectors are 6Gbit/s and run from the X79 chipset, while the black are all 3Gbit/s. The bottom gray ports are 6Gbit/s running from a Marvell chipset. As we've discussed in a previous article, these should not be used for 6Gbit/s purposes unless the Intel-run ones are occupied.
Also present in this area is an internal USB 3.0 header, along with the usual slew of other internal connectors lacing the bottom of the board.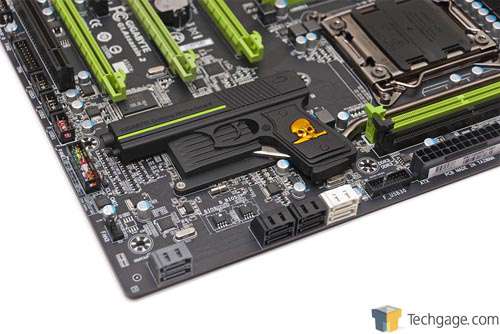 As mentioned at the outset, the Assassin 2 supports tri-GPU configurations. If that configuration is used, there will be no remaining accessible ports unless one or more of the cards are single-slot. This is unfortunate, and I do wish GIGABYTE could have put one extra PCIe 1x or 4x slot above the top PCIe 16x.
To the left of the shot below, you can get a glimpse at the on-board X-Fi chip, and directly above the top PCIe slot, you can see the Killer E2100 chipset. Proud of the company's origin, we can see a "Designed in Taipei" label to the left (this might stand out to me as Computex is right around the corner and I am not going!).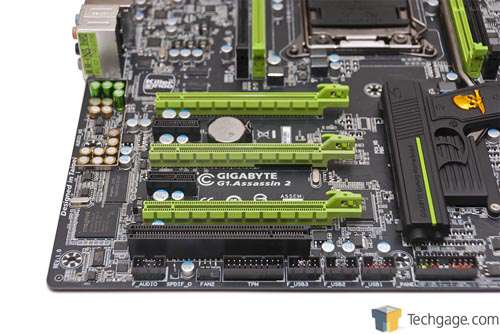 Here's a closer look at the CPU socket area. I find the design of this area to be rather impressive as there's nothing missing, but it's super-clean. The area is wide-open around the socket, so even the largest CPU coolers will be able to be used. With the PWM located right at the top of the board, heat should have no problem escaping with effective airflow.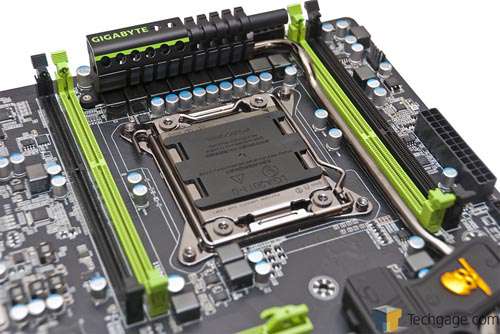 In addition to the USB 3.0 header to the right of the board, there are 3x USB 2.0 headers at the bottom, along with the internal ATX chassis connectors and a connection for a TPM module.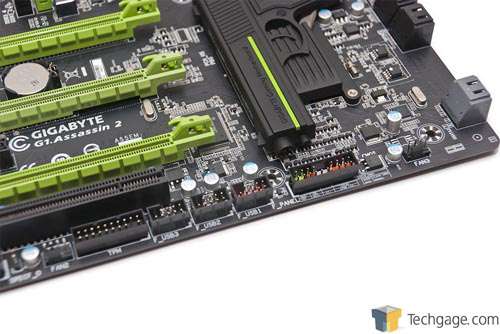 Turning to the back panel, we see 8x USB connectors, two of which are 3.0, 2x eSATA connectors, a LAN, full audio, a PS/2 keyboard or mouse port and two more buttons related to overclocking. The "OC" button overclocks the CPU, while the blue/green button will allow the board to boot into the backup BIOS in the event your OC settings don't fare well. The bottom and difficult-to-see button clears the CMOS.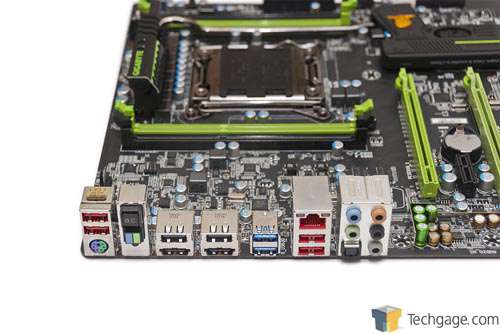 For those who want to geek up their room or computer, GIGABYTE includes a poster and a set of stickers with the Assassin 2.
To assure that you will have the right connector for your multi-GPU setup, GIGABYTE includes both a dual-GPU SLI and CrossFireX bridge and also a 3-way SLI bridge. Next to those in the shot is a WiFi add-in card. Given this is a gamer-focused board, the inclusion of WiFi strikes me as a bit odd (few gamers are going to prefer wireless for the sake of online gaming), but GIGABYTE aimed to make this board as well-rounded as possible, and the inclusion of this makes that happen.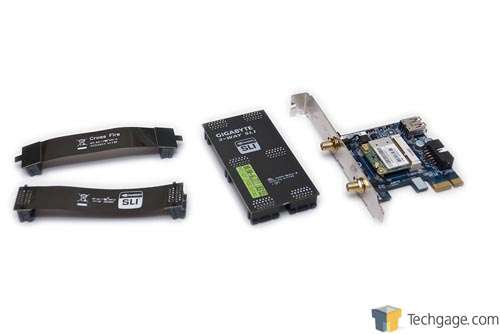 Two antennas are included for the wireless card. These should be located on your chassis or desk, or wherever they can stretch that will give them a clearer signal to the router. Also included for good measure is a 2.5″ USB 3.0 bay, which takes advantage of the USB 3.0 internal header.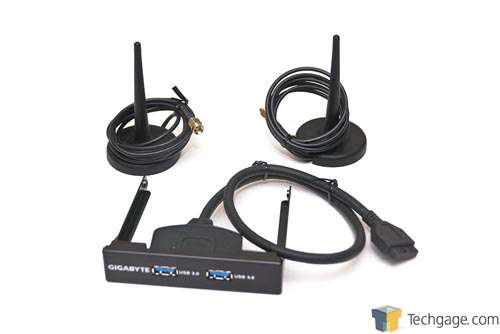 To say that I am impressed with this board on the surface would be an understatement. It looks great, has a solid layout, and is thoughtful with the placement of the four fan headers. Despite being packed with features, the board still offers a lot of room for a huge CPU cooler. These are just some of the reasons we decided to use this board as the base to our GPU testing rig. Next up, a look at the board's EFI.
Assassin 2's EFI
With the X79 chipset launch, GIGABYTE released its first EFI-equipped motherboards, including this one. This was a big move for the company, as it had been lagging behind, delivering only "Hybrid EFI" solutions beforehand which is just a marketing name for "standard BIOS with software that can interact with it". Given ASUS' EFI solutions have been so robust for so long, I looked forward to seeing what GIGABYTE pulled out of its hat here.
Similar to ASUS' EFI implementation, GIGABYTE's starts up with a splash screen. Here, you can use your mouse or keyboard to navigate different areas around the board for quick access to certain functions, or go to the sub-sections listed at the bottom.
There are two minor flaws with this EFI right from the get-go. First, there is no way to disable this start-screen (dubbed "3D BIOS"), so whenever you enter it, this is what you will be seeing. The reason this is a problem is that using the mouse or keyboard to get to one of the bottom options requires multiple keystrokes; if overclocking, that can become a little frustrating after a while. Second, the transitions from the 3D BIOS to the regular layout we've come to expect is a little choppy – something I don't recall ever seeing on ASUS' EFIs.
Apologies in advance for some horrible photographs here. This EFI was complicated to photograph due to its black background. As always, I'll let the photos speak for themselves.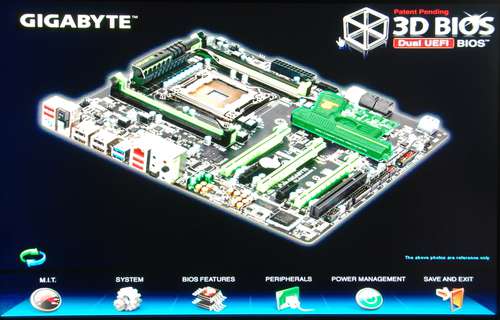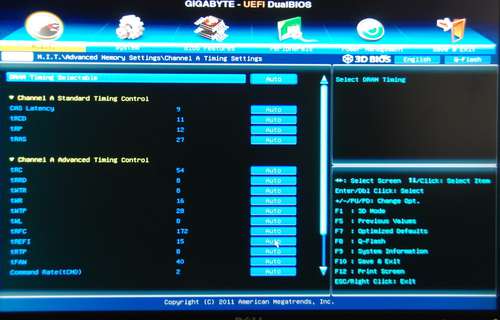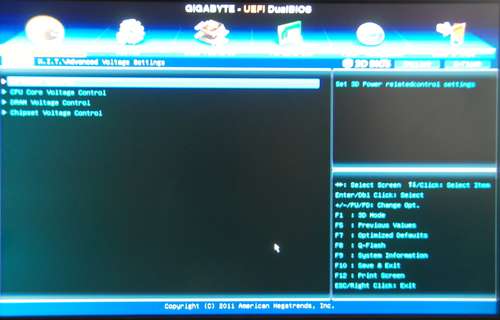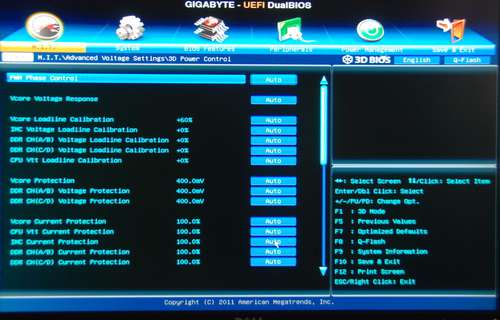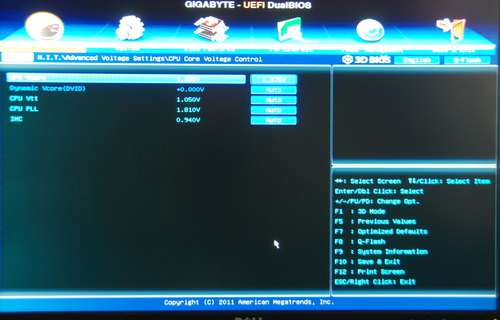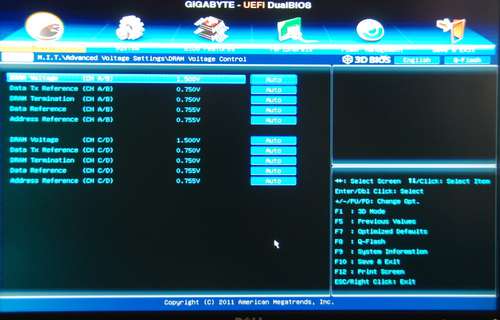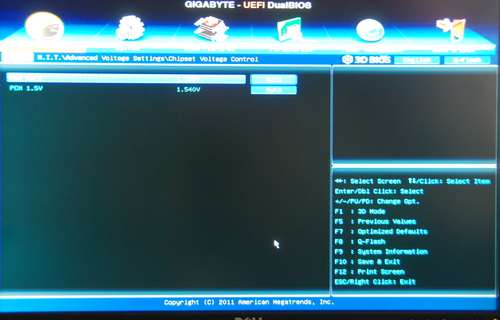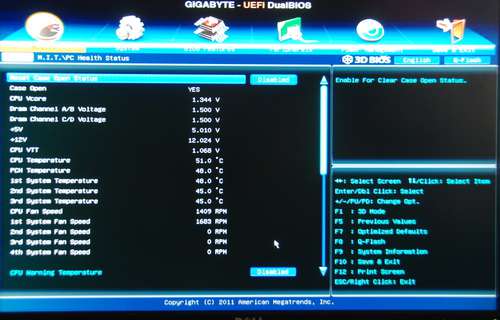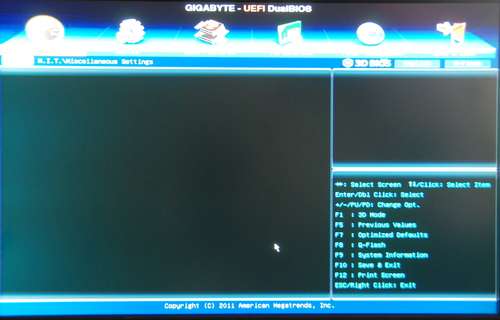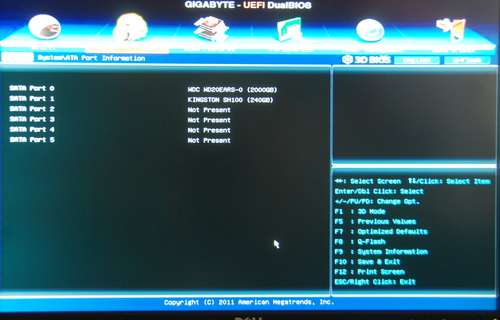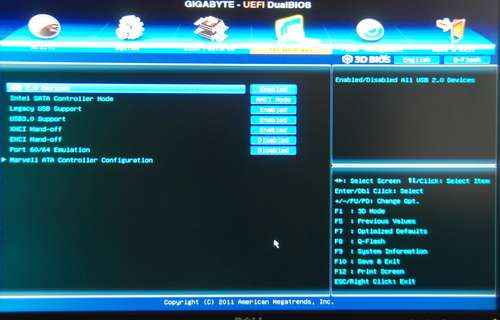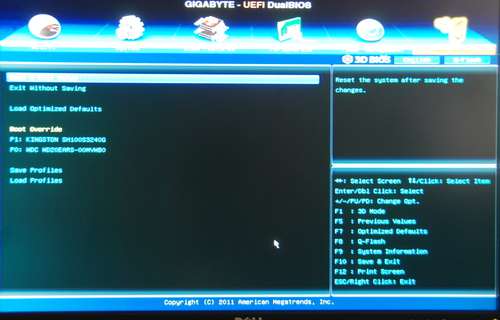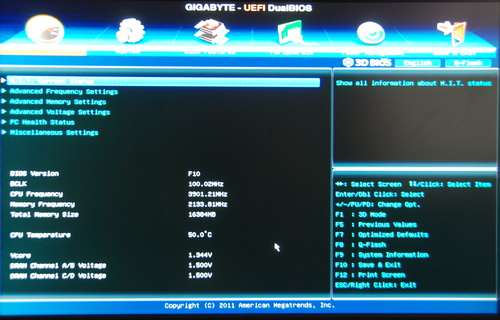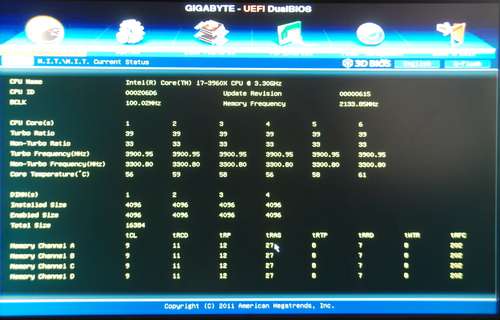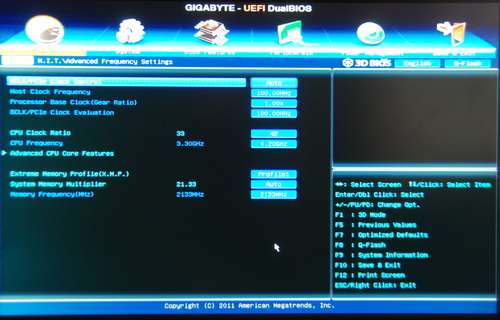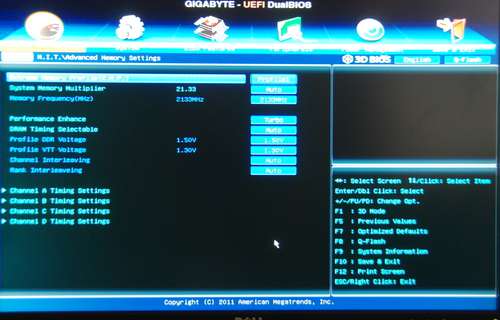 For the most part, I like this EFI implementation. It's not the smoothest out there, and I hate the fact that I can't disable the "3D BIOS" which I'll never use, but once in, it's easy to use. There's also a ton of functionality here, and while it's not touted as being an overclocking motherboard, GIGABYTE sure doesn't hold things back. It's a good first attempt, but I hope to see some refinement with future GIGABYTE EFIs.
Killer LAN, Creative Audio & Software
Two of the biggest highlights of the Assassin 2, which happen to be two big reasons why I chose this board to power our GPU test rig, is the Killer LAN and Creative X-Fi audio. Both of these are suited for gamers right out of the gate, so it's obvious to see why GIGABYTE chose both to use for its G1 series.
I've been an ASUS Xonar user for years, and have gradually become very spoiled by it. Anytime I use some on-board solution, or worse – notebook audio, I can't wait to get back to the Xonar. For that reason, I expected that my X-Fi experience wouldn't be that stellar, but I can honestly say this is not ordinary on-board audio – it's discrete audio that just happens to be built into the motherboard.
I'm not an audiophile, but I appreciate quality audio. From games to music, the X-Fi here delivered the closest quality to my Xonar Essence STX that I've ever seen from an onboard solution. This impressed me, because I didn't feel like I was being held back when listening to music or gaming; it was superb. One downside to speak of is that you can hear dead air at a certain volume, which just shouldn't be the case.
Creative's software / drivers have a reputation of being pretty horrible, and there's no exception to be made here. Both the driver install and the software are a bit clunky, but at the end of the day, you shouldn't have to deal with it all too much. Depending on your goals of the moment, you can choose between three different modes; Entertainment, Game and Audio Creation. Each mode changes necessary variables to deliver the best possible experience for whatever you need. While listening to either game audio or music, I did find the proper modes to deliver a better experience, though the differences were minimal.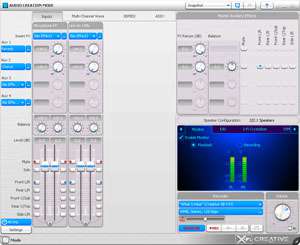 One annoying thing with this software is that when a mode is changed, sometimes the app just completely disappears, requiring you to double-click the system tray icon again. That aside though, I've never had the driver crash or cause me any issue.
While Creative's software was a pain to work with, Killer's network manager was for the most part fine. After the install and a reboot, it will prompt you to run an Internet speed test (using SpeedTest.net), and once done, it'll automatically fill in the bandwidth values. This helps the driver tweak the card to the best of its ability to make sure your online gameplay performance is at its best. A lot of people will just leave the software at this point, but there are various functions worth looking at, such as a system monitor and application control.
In addition to the software above, GIGABYTE includes its own suite to add just a bit more value to the board. To control the EFI from within Windows, you can use the "TouchBIOS" software, and to access special BIOS-related features, you can use the Smart6 utility. For fine-tuning of the board's "3D Power" engine, you can also use a utility to adjust many different values (this is without question a serious user's tool). Here's a quick look at a couple of different pieces of software included with the board (CPU-Z is the exception):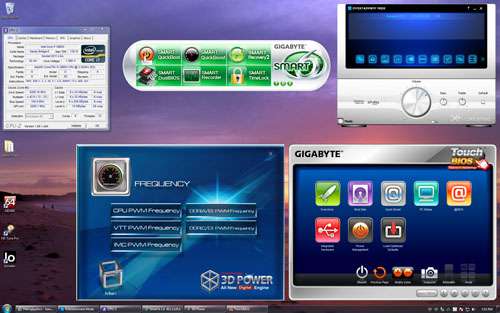 For the most part, GIGABYTE's software works well, but some of it is a little clunky (TouchBIOS, namely). One oddity I discovered is that when audio is in use, launching any of these BIOS-related programs will distort the sound. This is a minor issue overall, but a strange and unneeded one.
Final Thoughts
As mentioned in the intro, this review is much shorter than our usual, as the board was destined to go right into our GPU test rig (and we don't have performance comparisons at the current time). Instead, this was meant to be a quick look so that we could talk about the board and what we like about it.
We've been using this board in our GPU test rig for just a couple of weeks, but it's been on-the-go for most of that time. It's not just being used for our graphics card content, but also our hard drive content (we love killing two birds with one stone, where able), and in all of the testing done so far, our experiences have been excellent.
After all of the usage so far, there's just one issue I encountered. A couple of days after the rig was built, I booted the machine up and saw a BIOS error; somehow the main BIOS corrupted itself (if it even really did), so it had to restore itself from the backup. This required me to re-configure all of the settings in the EFI, as this corruption also purged the profile I created. Since this occurrence, the problem has not crept up again, so I believe it to be a one-off issue.
Something I am not personally super-keen on is overclocking, but this board does seem to have what it takes to get your Core i7 to the level you want it. I've successfully OCed the CPU stable to 4.5GHz, though I am confident it can go higher. For the sake of ultimate stability, we've stuck to 4.2GHz, which it has been running at this entire time. To achieve this we simply increased the ratio to 42 and then the CPU voltage to 1.350v. We also used our memory's XMP profile which clocks it to DDR3-2133.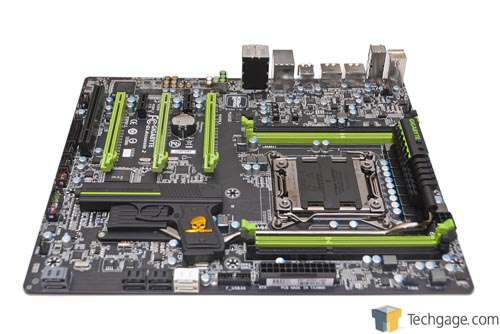 Regarding the Creative X-Fi audio, I admit that I am a lot more impressed with it than I expected to be. It's without question the best "onboard" audio solution I've encountered, and I am sure most gamers would be thrilled with what it offers. The downside is the clunky software, but that's an issue outside of GIGABYTE's control.
The Killer NIC is also a nice touch. I wasn't able to do specific tests with that, but with the online gaming I did indulge in, it performed just as I hoped. I'm not sure I'd vouch for it being much better than a regular add-in card, but it's certainly better than most onboard solutions (especially Realtek, which I've had issues with on two previous motherboards). For gamers, the real highlight here is that the NIC is tuned specifically for you, so you don't need to worry about fiddling with settings yourself. Just do a bandwidth test and let the Killer software take over.
All-in-all, the Assassin 2 is a fantastic motherboard for high-end gamers – especially those who are interested in multi-GPU setups.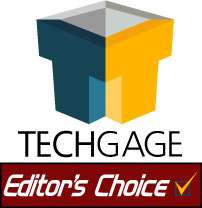 GIGABYTE G1.Assassin 2
Discuss this article in our forums!
Have a comment you wish to make on this article? Recommendations? Criticism? Feel free to head over to our related thread and put your words to our virtual paper! There is no requirement to register in order to respond to these threads, but it sure doesn't hurt!
Copyright © 2005-2019 Techgage Networks Inc. - All Rights Reserved.