Good as Gold: Thermaltake Toughpower 1500W Gold Quick Look

Date: November 24, 2014
Author(s): J.D. Kane

Bigger is better, right? That's what people always say. On that basis, Thermaltake's monstrous Toughpower 1500W Gold is the biggest, baddest PSU the company sells. Although Techgage can't really test it (we don't have the equipment to do so), we can show you this monster and tell you what makes it tick. Read on for our quick look!
---
Good as Gold: Thermaltake Toughpower 1500W Gold Quick Look
"Holy smokes, look at the size of that thing!"
"So. Much. Power!"
Now I know what you guys are thinking.  These are the kind of things we've all either heard (because of that monstrous 2 mile per gallon Escalade or Ram truck you drive; what were you thinking, hmm?) or long to hear.  And, gals who love their guys – there are ladies who read and love Techgage, right?  Right? – understand just what kind of thrill it is for their guys to hear these kinds of things.
Well, I've got to confess that these were the same kind of thoughts that sizzled through my brain the first time I laid my eyes on Thermaltake's Toughpower 1500W Gold power supply unit.  As the name suggests, it's a monster PSU capable of a max output capacity of 1500W.  Thermaltake, though, says in its spec sheets that it is actually capable of delivering a peak output capacity of 1550W!
There is no doubt that this is a true top-of-the-line model.  If its power output specs aren't enough to convince you, then its typical price of circa $300.00 should be.  This is obviously a serious power supply meant for nothing but the most endowed PCs you can build.
Let's have a look at it, shall we?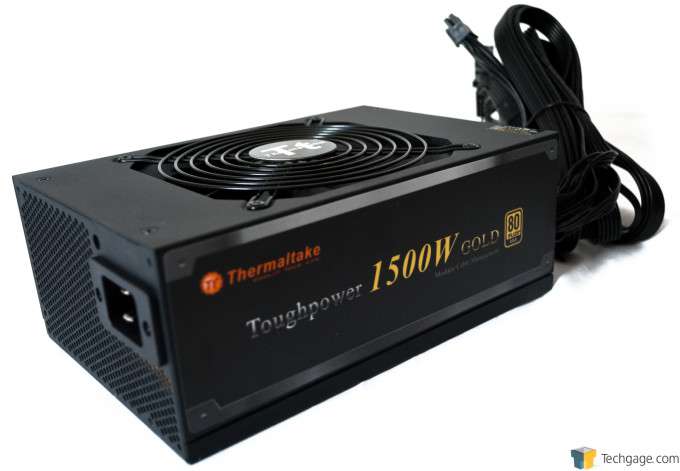 It's a big boy, for sure.  With dimensions of 86mm x 150mm x 220mm (H x W x L), it's longer than most PSUs.  This angle shows that the Toughpower 1500W Gold is a semi-modular unit.  Quite logically, the 24-pin motherboard power cable and the 8-pin and 4+4 pin EPS CPU power cables are permanently attached to the unit.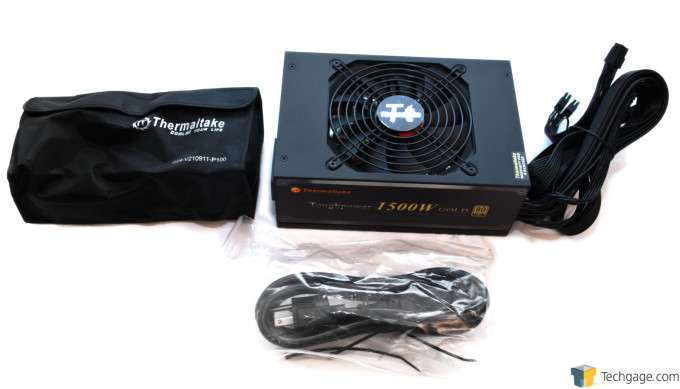 Right now, though, let's backtrack a bit and show the contents of the Thermaltake Toughpower 1500W Gold package.  Here you can see the PSU itself.  On the bottom of the photo is a baggie containing the three-prong AC power cable, some cable ties, and a small baggie with four screws.  Finally, to the left of the PSU is the nylon bag where all of the Toughpower 1500W Gold's modular cables reside prior to use, including, surprisingly an adapter cable for a floppy drive.  Not pictured here is a quick-start guide/user's manual.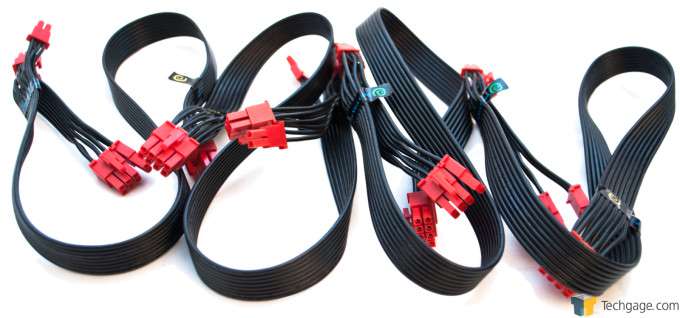 Here's a look at the GPU power cables.  As you can see, the cables are the flat ribbon-type.  Also notice the red connectors; there's a reason for this, as you'll see soon.  Thermaltake has provided four of these cables.  One connected cable can accommodate a pair of power connectors, so even if your system has four video cards which require two power connectors apiece, you'd be sitting pretty.  Actually, Thermaltake says that this PSU can handle up to FIVE pairs of GPU power connectors; I'm a bit mystified, though, about 1) where one would plug in that fifth modular cable, 2) why Thermaltake only provided four GPU power cables, and 3) what motherboard out there supports five PCIe GPUs.  Future-proofing on Thermaltake's part, perhaps?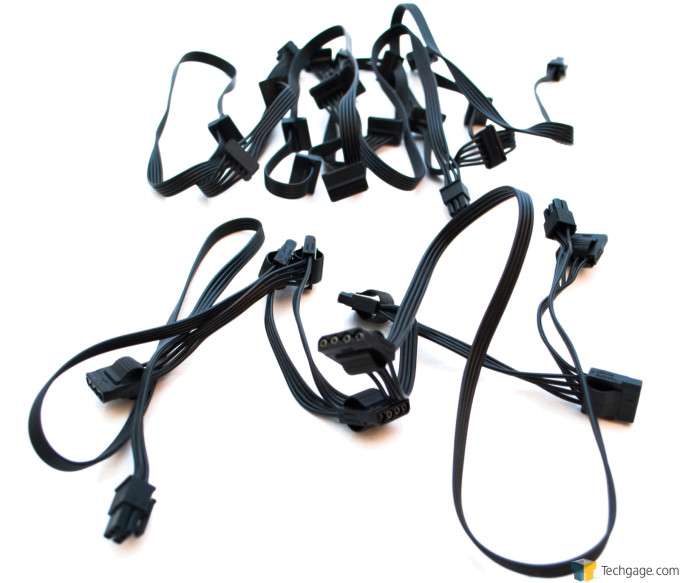 And here are the SATA and Molex power cables.  Like the GPU power cables, the cables are the flat ribbon-style.  Thermaltake says that the Toughpower 1500W Gold can power up to sixteen devices with the SATA connectors; it also provides enough cable connections for up to eight devices with Molex connectors.  Unlike the GPU cables, the connectors for these cables are black.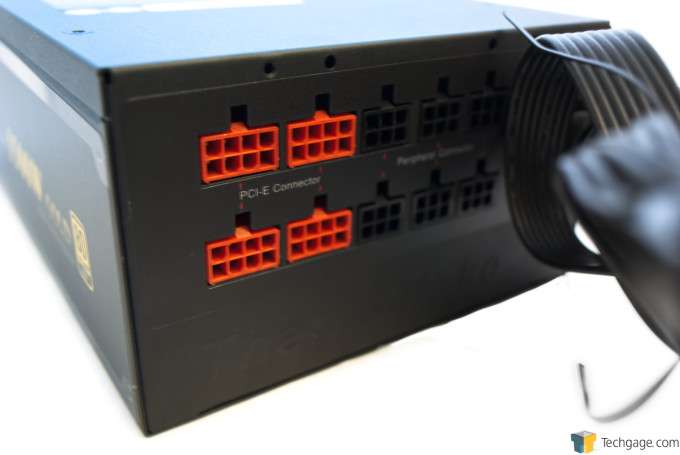 Now let's take a look at the modular connectors for the Toughpower 1500W Gold.  In red are the four GPU 8-pin power connectors.  The black 6-pin connectors can be used for either SATA power cables or for the 4-pin Molex power cables for various peripherals (fan controllers, fans, etc.).  Color-coded connectors with matching pin-count numbers make hooking up the modular connectors foolproof.
This shot shows the 135mm cooling fan.  It features intelligent RPM management, which should ensure the PSU's cool and quiet operation.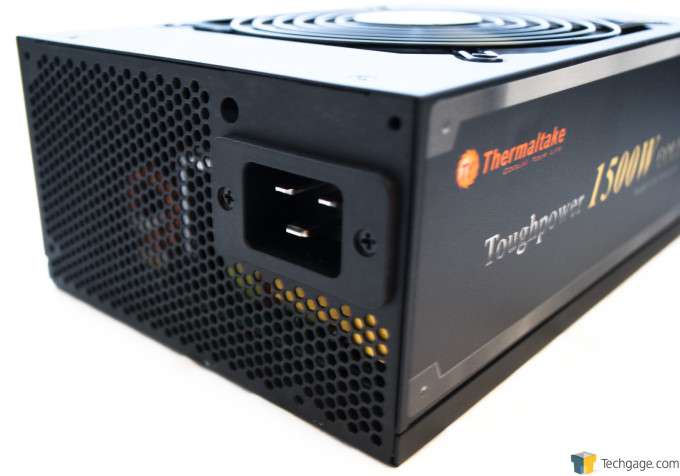 And here's a look at the rear of the Toughpower 1500W Gold.  The outstanding detail here for me is the complete absence of a power switch for the PSU.  It used to be that only PSUs from cheap and nasty retail PCs came sans a power switch.  I guess that "feature" is making a comeback these days.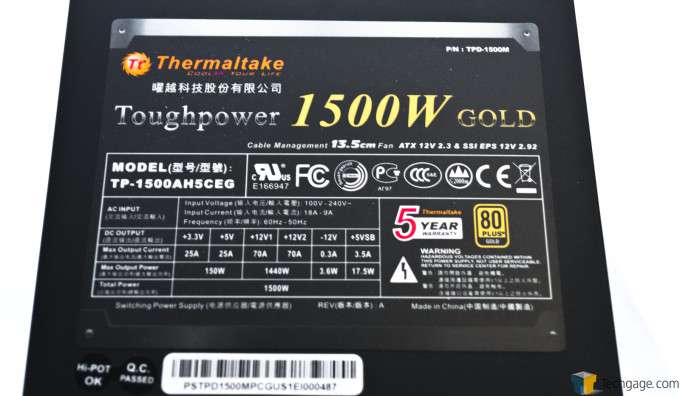 This final shot is a photo of the PSU's label showing the breakdown of output Amperes and voltages.  Its most salient details:  70A apiece for both the +12V1 and +12V2 rails, and a max output of 1400W just from the 12V rail (Thermaltake says this is a single 12V rail design).  Clearly this PSU is intended for multiple-GPU and even dual CPU socket setups.
As amazing as this PSU's sheer grunt is, perhaps even more amazing is the fact that it is 80 PLUS Gold certified.  What this means is it can operate at up to 90 percent efficiency at peak power output.  This translates to decreased power draw from the socket, less energy wasted in the form of heat (and, therefore, cooler and quieter operation), and a reduced power bill for the consumer.  Also, the PSU's design as well as the use of high-quality Japanese capacitors also contribute to excellent performance and reliability.
Thermaltake provides this spec sheet of all of the Toughpower 1500W Gold's vital statistics:
| | |
| --- | --- |
| | Thermaltake Toughpower 1500W Gold |
| Part Number | PS-TPD-1500MPCG-1 |
| Short P/N | TPD-1500M |
| Model | TP-1500AH5CEG |
| Type | Intel ATX 12V V2.3 & EPS 12V standards |
| Max. Output Capacity | 1500W |
| Peak Output Capacity | 1550W |
| Color | Black |
| Dimension (H x W x D) | 86mm x 150mm x 220mm |
| Power Factor Correction | Active PFC |
| Power Good Signal | 100-500 msec |
| Hold Up Time | 17msec (Min) @ 75% of maximum load at 100V – 240V AC |
| Input current | 18A – 9A |
| Input Frequency Range | 60 Hz – 50 Hz |
| Input Voltage | 100 Vac- 240 Vac |
| Operating Temperature | 0°C to +40°C |
| Operating Humidity | 10% to 90%,non-condensing |
| Storage Temperature | -10 °C to +50 °C |
| Storage Humidity | 5% to 95%, non-condensing |
| Cooling System | 135mm double ball-bearing fan, 1700±10%R.P.M. |
| Efficiency | 87-92% efficiency @ 20-100% load |
| MTBF | 120,000 hrs minimum |
| Safety Approval | UL/ CB+Baurt mark/ CE/ FCC/ CCC/ GOST certification |
| PCI-E Connector | PCI-E 6+2pin x 10 |
Because Techgage lacks the expertise and equipment to test power supply units properly, that is it for now for the Thermaltake Toughpower 1500W Gold.  It is certainly a hugely impressive unit.  But we'll be seeing it again real soon, as it will power our test rig which will be housed in one of the company's mid-tower chassis.
Stay tuned!
Copyright © 2005-2019 Techgage Networks Inc. - All Rights Reserved.