Hitman: Absolution Review

Date: December 12, 2012
Author(s): Brandon Mietzner

Much has changed with the Hitman series since it took a hiatus six years ago, both in and out of game. Hitman: Absolution has been released through a new publisher, and has been developed with a new direction in the story. Do these changes bring us closer to hitting the mark of excellence, or should the series have stayed in purgatory?
---
Introduction
Hitman: Absolution brings us back to the continuing story of the mysterious assassin "Agent 47" and his service with the International Contract Agency, or "Agency" for short. Diana Burnwood is the only person Agent 47 has ever trusted, but she betrayed the Agency by taking from it a valuable asset: a teenage girl named Victoria. Benjamin Travis, the new head of the Agency, quickly puts out a contract to have Diana killed and to have the girl safely returned. No surprise: the contract is given to the Agency's most resourceful and successful asset, Agent 47.
Agent 47 is obviously torn between his professional loyalty to the Agency and the bond of trust he has with Diana. There is no room for sentiment as an assassin; however he wonders who this girl is and why Diana would be willing to incur the wrath of the very Agency she had worked for, for so many years. Agent 47 follows through on the first part of his assignment and assassinates Diana, but with her dying breath, she asks him to keep Victoria away from the Agency and anyone else who might want her for their own personal gain.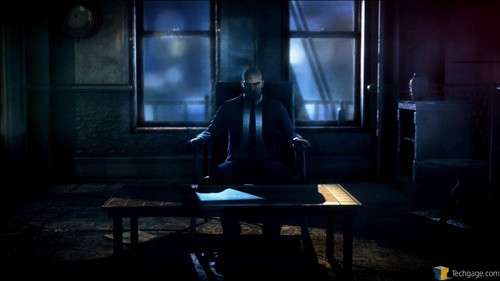 Upon reaching Victoria's room, he quickly realizes he was expected by her; he questions whether or not Diana planned this all along and if he is the only one who could keep her safe. Agent 47 has never felt a kinship with anyone before, but this time he sees something in Victoria that only he could recognize and understand. This revelation changes the path he will take from this point froward. For the first time in his life he is now driven by a personal agenda and will ensure that he gives Victoria a chance at a normal life, like Diana had wanted. All because she had shown him what it was to care for something beyond the contract.
This is just the beginning of the journey for Agent 47 in Hitman: Absolution, which takes place during and shortly after the training area. The way in which you approach objectives in the game is entirely up to you. The game doesn't require you to be stealthy nor does it require you shoot everyone on sight. It is a stealth game at its core, however, and at the end of each level you will be given a score based of your actions and challenges completed for that level. This score is important because the more you earn, the more passive skills you unlock, such as steady aim, overall health, melee damage and etc.
Those who choose to be stealthy and leave no trace of their presence will be earn the most points, eg: not hurting anyone, not being seen and not killing anyone beyond your primary target(s) – even if you think they deserve it. The challenges are simple tasks such as finding outfits, weapons, evidence and etc hidden throughout the level. You're able to look up the progress of these challenges at anytime in your game menu and see what is left for you to do.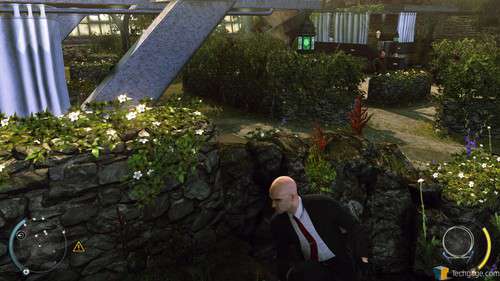 (View image at 5760×1080)
The game tells its story through chapters, and these chapters have a certain number of levels attached to them. At the end of each level you will receive points and be told what items you have found, while at the end of each chapter you will be given an overall score; an accumulation of all of the points from all of the levels played within the chapter. 
You'll be able to compare your scores against your friends and take on a contract to earn contract dollars. These are given when you complete a particular level in certain ways – such as using a specific weapon to eliminate your target. Contract dollars can be used to purchase upgrades for your arsenal, disguises or techniques that you might have otherwise missed during regular gameplay.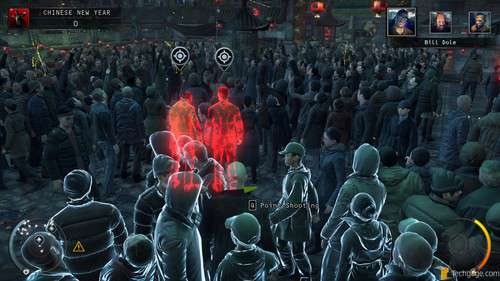 (View image at 5760×1080)
The culmination of all these unlocks can lead you to make your own contract. These can be used to compete against friends and possibly have it featured on the leaderboards for a week (only the top 5 will be chosen per). Contracts are not the only new feature in the game; there is now an instinct ability. This is to aide players in tracking the movements of enemies, find their targets in a crowd, see where a target is headed and to find out which person might consider Agent 47 a threat in a restricted area. This helps take the monotony out of keeping track and forcing you to guess. The only flaw with this feature is that it doesn't carry over from one level to the next.
Technical Details, Final Thoughts
The entirety of my review was played stealthily, taking my time to kill a target by either lying and waiting for them to come to me or by following them to an area to deal the execution. The AI can be a little unforgiving when it comes to a restricted area, because there are times you can't tell where it begins or ends. The only other issue I had with the AI was when I would draw an enemy away from a door or some other object and then watch them go right back to where they were standing.
This meant I had to get past certain AI in one of two ways. I'd either A) kill them or B) go in disguise and try to slip by. I at least expected them to move on to peruse other objectives, but it never happened no matter how many times I tried it. The rest of the time the AI is practically perfect, such as if you are following a target and don't break off into a crowd or try to be inconspicuous, they will notice you and become alerted to your presence.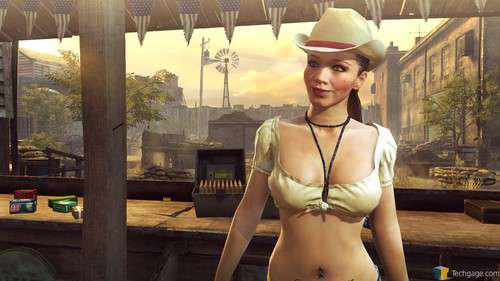 (View image at 5760×1080)
The biggest limitation of the game had to do with the layout of the levels. I mentioned before the problem with the AI guards but I also feel that there should have been other routes to take to reach an area. In some levels this isn't a problem whatsoever, but in others it's the designer's way or the highway. I have been a stealth player since the original Thief came out, so I might be a little spoiled due to that game's incredible openness. That said, even though this is somewhat restrictive in Hitman: Absolution, it certainly isn't the worst in the series.
The graphics in the Hitman franchise have always been top notch, and Hitman: Absolution is definitely pushing things with a few of its features. The only limitation I could see was the draw distance for the crowds; when in a crowded area I would see the face of NPCs pop-in only two or three people away. Unlike many other blockbuster games that have been released recently, I was very relieved to find out this one supports multi-monitor just fine.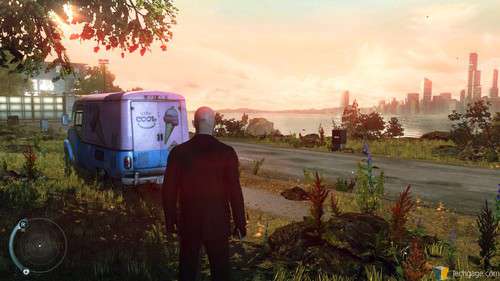 (View image at 5760×1080)
Voice acting for all of the characters is well done. There were a few people I felt sounded out-of-place but they were all brought to life through a great voice cast. The cutscenes were a little off on the lip sync, but it wasn't noticeable most of the time. The music kept me feeling like a man on the run and frantic when it kicked up when things got messy.
During the course of the review, I did run into a couple of bugs. The most noticeable was when I crashed to the desktop, while a random but massive FPS hit comes in at a close second. A minor issue is that some achievements that should have been ticked off, weren't.
The one mechanic I still dislike in Hitman or any other stealth game for that matter is the checkpoint system. I don't mind having to go back to do something over, but when I lose 20 minutes of progress because the save points are so scattered, it does make the game frustrating.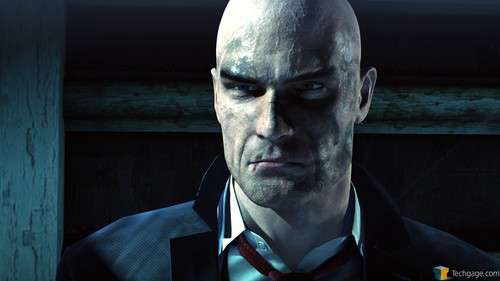 (View image at 5760×1080)
The only real let-down in the game is the story. The levels are crafted around certain events that need to take place in the levels for the whole story to fall into play. Thus, if you don't do something out of that chain of events, such as not getting seen by a cop in a previous level, you still have to avoid them with no explanation – it's all an assumption on the players part. The game had the potential to be a dynamic story, but it took the linear route, and for that I was disappointed.
In the end, Hitman: Absolution is a fine addition to the franchise. However, it's a game I can only recommend to those who enjoy being sneaky and don't mind being patient – if you prefer to run and gun, this will not appeal to you at all. The game does offer many new features, but many of these we have seen in games before, so it would have been nice to see something more original. 
Pros
Interesting story, even if it plays out weirdly at times
Great graphics and multi-monitor support
AI is generally smart
Voice active is superb overall
Cons
Linear gameplay of the story
Spaced-out checkpoints
Minor bugs
Run-and-gun players, this is not made for you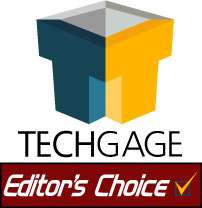 Hitman: Absolution
Extra Screenshots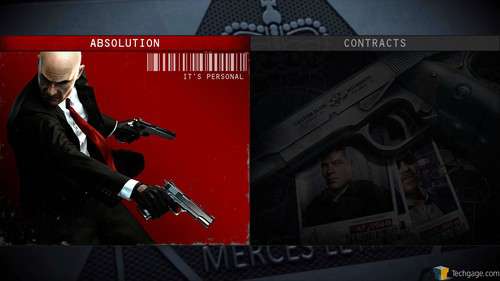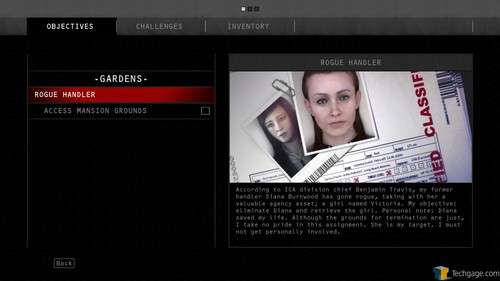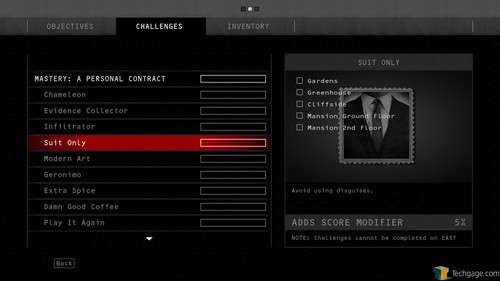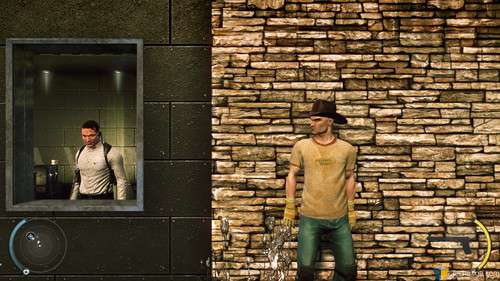 (View image at 5760×1080)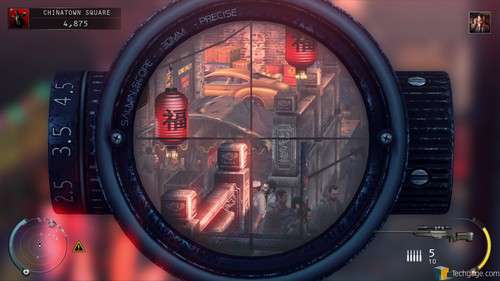 (View image at 5760×1080)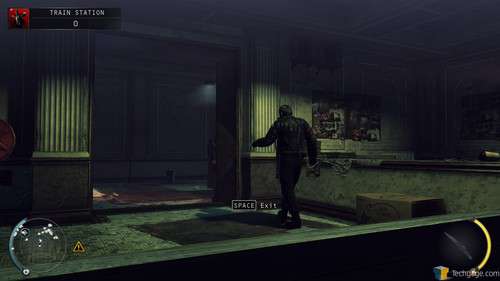 (View image at 5760×1080)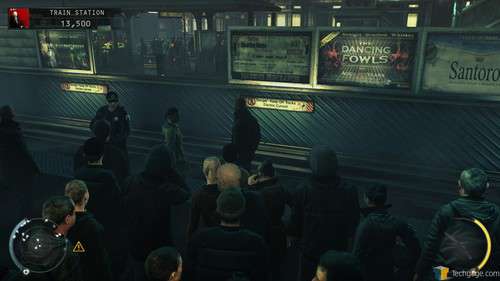 (View image at 5760×1080)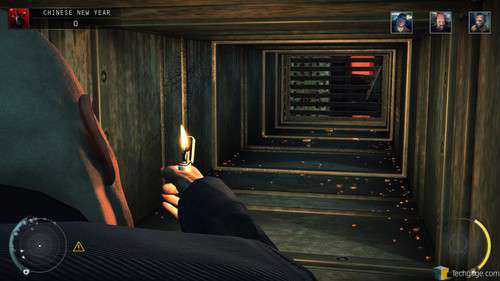 (View image at 5760×1080)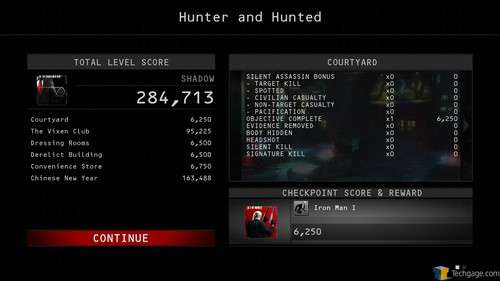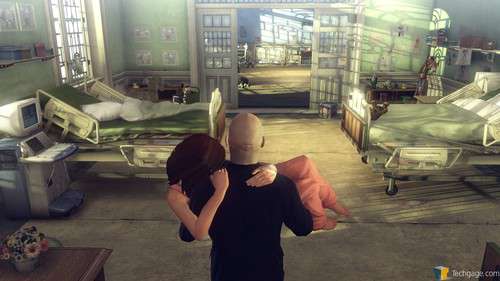 (View image at 5760×1080)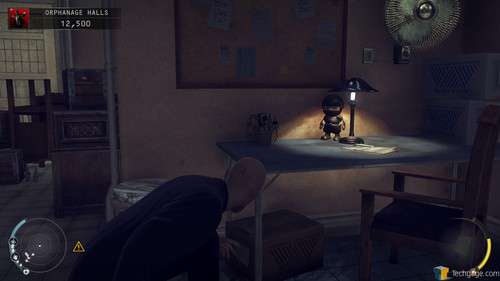 (View image at 5760×1080)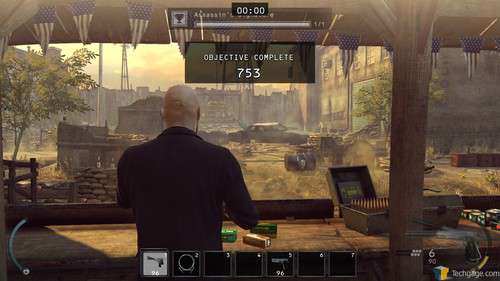 (View image at 5760×1080)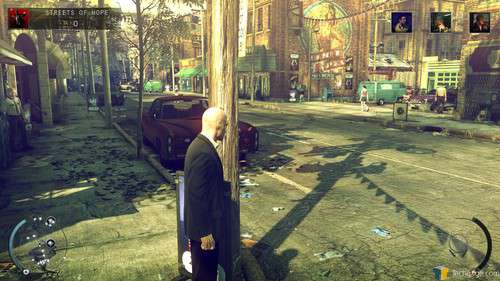 (View image at 5760×1080)
Copyright © 2005-2019 Techgage Networks Inc. - All Rights Reserved.