Ideazon MERC Stealth Gaming Keyboard

Date: November 6, 2007
Author(s): K. Samwell

Gamers love using peripherals that give them an edge, but is Ideazon's MERC Stealth one of those products? That's what we were set to find out. One thing is clear… this is a feature-packed keyboard, though it might not be for everyone.
---
Introduction
Before we dive into this review, I just want to let you know that while I belong to the church of ergo keyboards, and this is not an ergo keyboard, I will give it a fair chance for this reviews' sake. And right now, I'm so frustrated with the loss of signal experienced with the Microsoft 7000 wireless keyboard that I reviewed earlier, that I'm willing to use just about anything else but that keyboard.
Ok upon first inspection – I love the USB ports on the keyboard, perfect for the HUE webcam, if you don't mind it hitting your keyboard every ten minutes, but otherwise, cheers! You can never have too many USB ports! Sadly however, these are underpowered USB ports (up to 100mA). I've read some issues with these USB ports not being able to support certain devices, though I had no problem with my camera, my tiny USB device or my bendy webcam.
Before plugging it in, I sat here and toyed with it a little and immediately noticed the position of delete, insert, home, pgup pgdown, etc keys and those are very important keys for one of the games that I play. They're there, they're just actually integrated into the numpad, which will not work with my game, as the numpad controls the camera, while the delete, insert, home etc control your target and what you want to do with it. Thankfully there are a plethora of programmable buttons on the far left, but that's going to really take some getting used to.
Let's look at the features listed on the box.
Features
Astounding Three Colour Illumination
Dedicated Gaming Terrain with Rubberized Keys
34 Labelled Gaming Keys
Multimedia Controls & Hot Keys
Easy to program with drag-and-drop editing
USB 2.0 Ports and Audio In/Out Jacks
The illumination is perfect for gaming in the dark, there are three colour options, red, blue and purple (which is more pink than purple) as well as different levels of brightness, Subtle, Ambient, Intense and Off. Every single key is illuminated, which helps for those who need to look at their keyboard to type.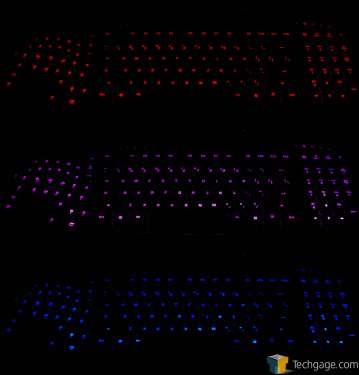 The ambient glow is quite nice in a darkened room, however every time you reboot your machine, you have to reset your colour and intensity preferences. This is quite easy to do with the two soft touch buttons at the top of the keyboard, however this is something that could have been defaulted in the software as well. For me, I prefer blue on Ambient intensity.
The "Dedicated Gaming Terrain" is completely soft touch for both superior response and quiet interaction. It's tilted 11 degrees, which, according to the box, matches natural wrist position. That being said, that does imply that you're using your left hand to move, shoot, jump, etc and your right hand to mouse, leaving the 15-25% of the population who are left handed, out of luck.
Now there are several types of gamers. Six considering both right handed and left handed players use their keyboards differently, or at least in different positions. There are those who use the mouse almost exclusively, those who navigate their games with the arrow keys and those who navigate with WADS. Pure mouse users, you aren't going to need this keyboard much.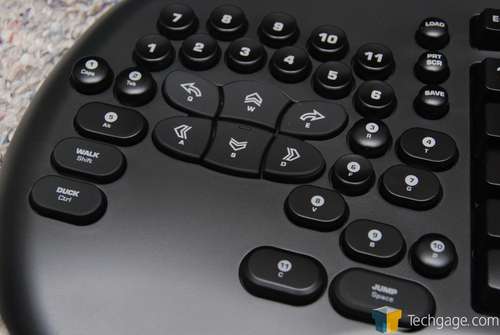 Arrow key people, you're going to have the harder of the transitions. The arrow keys are below the numpad on this keyboard, and at least have turn keys integrated, but if you're going to insist on using the arrow keys, you don't need this keyboard either. WADS users, you're golden. If you're used to using WADS and other keypad shortcuts, this is the keyboard for you.
Lefties may or may not be able to use this keyboard. If you left hand mouse and right hand key, this is not the keyboard for you. The orientation of the keys are tilted to accommodate a right handed person using their left hand on the keys, and you'd have to rotate your keyboard about 45 degrees counter clockwise for it to even start to become comfortable. However if you right hand mouse and left hand key, you'll be fine using this keyboard.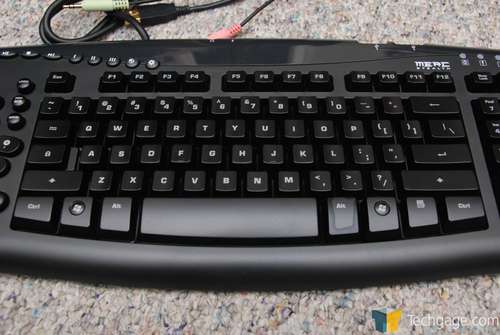 And of course, this does not appear to be available in a flipped version.
The Dedicated Gaming Terrain also has 34 gaming keys labelled and positioned for ultimate precision and control. Jump is in a good location, as are duck and printscreen (though it took me quite some time to find printscreen so I could capture onscreen images of the application!).
The 1 through 11 shortcuts are at a very good distance though I would have preferred to see a third row of directional buttons below the other two, to include strafe left and right (normally Z and C) for turn buttons (in this case Q and E) are less used, since many games make you turn your camera and therefore your character, with your mouse.
Keyboard Overview
Moving over to the other side, let's look at the numpad. What have you done to my zero? Because the numbers, the actions and the arrow keys are all integrated into one 4×5 grid, the zero that we are so accustomed to being centred under the middle row of numbers, is moved one slot to the left, replaced with the up arrow, making any type of daily use awkward.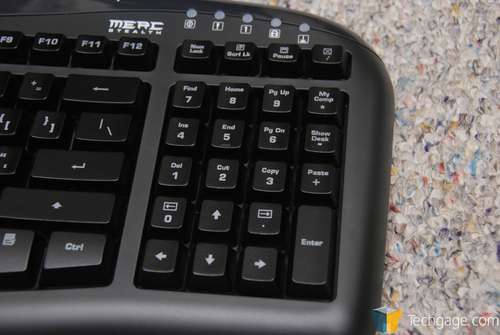 This configuration also makes daily use a definite chore, using this keyboard to type this review has me constantly switching my numlock on and off and while thankfully there are indicator lights on this keyboard to tell you when it is on or off, it's still an annoyance to be constantly switching back and forth between delete and the number 1, End and the number 5, Pg Up and the number 9, etc. This will not be an issue for those who use the 1 through 0 at the top of their keyboard field.
Z Engine Software
"The Z Engine Software is programmable with easy-to-use drag-and-drop macro editing allowing you to use one of the over 125 pre-defined key mapping layouts, or easily create your own."
Hurray for letting me specify where to install this engine! Unlike other hardware, they request that you plug in the item BEFORE you install the software. After installing the software, I noticed a new icon in my tray, opened it up and wow, I'm surprised!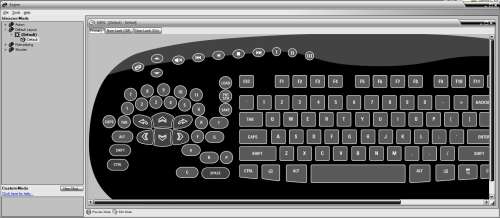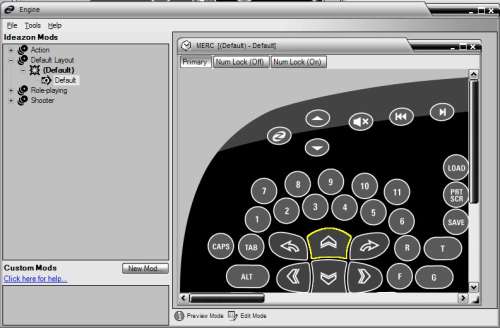 Under Action there are 59 games listed. Under Role-Playing there are 25, and this could greatly be expanded on, not only are there games on this list that are no longer online or available, but many, many are missing, including the ones I play. Under Shooter, there are 55 games.
Thankfully you can create your own custom layout, and it looks like I'm going to have to do that.
Creating your own custom mod seems to be rather straightforward. The drag and drop functionality makes it a great deal more visual and idiot-resistant (note resistant, not proof, like bullet resistant vs bullet proof).
In the 'Ideazon Mods' tree, double-click on the Mod located under the game you wish to create a Custom Mod for (i.e. Shooter > Call of Duty 2 > Default).
Click on 'Edit Mode' button (located on the bottom of the Z Engine window). Once you are in Edit Mode you can edit your Mod in three different ways:
Drag & drop the game commands from the Command Toolbar (initially located on the right side of the Z Engine window) on to the key you wish to change (Note: The commands are sorted by type: Movements, Actions, Weapons, Communications, Camera, and Other).
Drag & drop the game commands on the existing Mod from one key to another.
Manually edit the key using the various controls located on the bottom of your Z Engine window.
Once you are done creating your Mod click on 'Save As', name your new Mod layout and press save to save your newly created Mod to your Custom Mods. YOU'RE DONE!
NOTE 1: If there is no Ideazon Mod for your game, choose the Default Layout Mod as the basis for your custom Mod to start from (Default Layout > Default > Default).
NOTE 2: If your Mod won't 'Enable' try adding the game trigger (application file name) by right-clicking on the Mod and selecting 'Edit Game Triggers'.
Here are the games it supports by default:
25 to Life
America's Army
Area 51
Armed Assault
Auto Assault
Battlefield 1942 (incld. Expansions)
Battlefield 2 (incld. Expansions)
Battlefield 2142
Battlefield Vietnam
Bet on Soldier: Blood Sport
Boiling Point
Brothers in Arms: Earned in Blood
Brothers In Arms: Road To Hill 30
Call of Duty
Call of Duty 2
Call of Duty: United Offensive
Call of Juarez
City of Heroes
City of Villains
Close Combat: First to Fight
Cold War
Commandos Strike Force
Condemned: Criminal Origins
Conflict: Global Terror
Counter-Strike (All)
Dark Messiah of Might and Magic
Darkstar One
Day of Defeat: Source
Delta Force: Black Hawk Down (incld. Expansions)
Deus Ex: Invisible War
DOOM III
Dungeon Siege II
Dungeons & Dragons Online: Stormreach
El Matador
EverQuest II
F.E.A.R.
Fable: The Lost Chapters
Far Cry
Final Fantasy XI
Full Spectrum Warrior
Full Spectrum Warriors: Ten Hammers
Ghost Recon: Advanced Warfighter 2
Grand Theft Auto III
Grand Theft Auto: San Andreas
Grand Theft Auto: Vice City
Guild Wars
Guild Wars Factions
Gun
Half-Life
Half-Life 2
Halo 2
Halo: Combat Evolved
Hitman 2: Silent Assassin
Hitman: Blood Money
Hitman: Contracts
Infernal
Jade Empire
Joint Operations: Typhoon Rising
Just Cause
King Kong: The Official Game of the Movie
Lego Star Wars II: The Original Trilogy
Leisure Suit Larry: Magna Cum Laude
Lost Planet
Mafia
Marvel: Ultimate Alliance
Max Payne 2: The Fall Of Max Payne
Medal Of Honor: Allied Assault (incld. Expansions)
Medal of Honor: Pacific Assault
Men of Valor
Neverwinter Nights II
Painkiller
Painkiller: Battle out of Hell
Pariah
Prey
Prince of Persia: The Two Thrones
Prince of Persia: Warrior Within
Quake 4
Red Orchestra: Ostfront 41-45
Return To Castle Wolfenstein
Return To Castle Wolfenstein: Enemy Territory
S.T.A.L.K.E.R. Shadow of Chernobyl
Scarface: The World is Yours
Serious Sam II
Shadowrun
Shellshock Nam '67
SiN Episodes: Emergence
Sniper Elite
Spider-Man 2
Star Trek: Elite Force II
Star Wars Jedi Knight: Jedi Academy (MP)
Star Wars Jedi Knight: Jedi Academy (SP)
Star Wars: Battlefront
Star Wars: Battlefront II
Star Wars: Knights of the Old Republic
Star Wars: Knights Of The Old Republic II: The Sith Lords
Star Wars: Republic Commando
Starship Troopers
SWAT 4
SWAT 4: The Stetchkov Syndicate
The Chronicles Of Riddick: Escape From Butcher Bay
The Elder Scrolls IV: Oblivion
The Godfather
The Lord of the Rings Online
The Lord of The Rings: The Return of The King
The Matrix Online
The Matrix: Path of Neo
The Punisher
Thief: Deadly Shadows
TimeShift
Titan Quest
Tom Clancy's Ghost Recon
Tom Clancy's Ghost Recon: Advanced War Fighter
Tom Clancy's Rainbow Six 3 (MP) (incld. Expansions)
Tom Clancy's Rainbow Six 3 (SP) (incld. Expansions)
Tom Clancy's Rainbow Six: Lockdown
Tom Clancy's Rainbow Six: Vegas
Tom Clancy's Splinter Cell
Tom Clancy's Splinter Cell: Chaos Theory (MP)
Tom Clancy's Splinter Cell: Chaos Theory (SP)
Tom Clancy's Splinter Cell: Double Agent
Tom Clancy's Splinter Cell: Pandora Tomorrow
Tomb Raider: Anniversary
Tomb Raider: Legend
Tribes: Vengeance
True Crime: Streets Of LA
UberSoldier
Unreal Tournament 2003
Unreal Tournament 2004
Vampire: The Masquerade – Bloodlines
Vanguard: Saga of Heroes
Warpath
World of Warcraft
XIII
Whew quite the list! Before we do some experimentation, lets look at some of the other buttons and features.
Show Desktop! The boss button! This is awesome, in one quick stroke I'm at my desktop and can quickly open a work-approved application! This is also handy for alt tabbing out of a game to look up a map or check your email.
The roman numerals 1 through 3 open three different browser windows, however they do not open my default browser. I realize this can be reprogrammed, however it's my default browser for a reason, yanno, to default to…
On that note, I found this online:
"The Roman numeral key I, II, and III are hot keys.
Hot keys can be program for pre-selected destination such as a file, folder, program, or web page.
1. Open Z Engine.
2. Tools
3. Hot Keys
4. Select the hot key you want to program
5. Browse for the application
6. Press the apply button"
The multimedia buttons are nice, particularly if you listen to your own music in game as many of us do. Please note: "Yes, there is a bug with re-assigning the multi-media keys. The development team is currently looking into fixing this issue."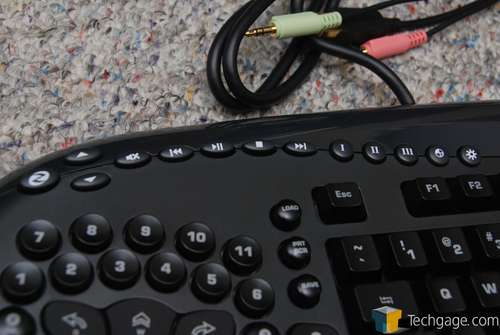 The Z button (not the keyboard letter Z, the Ideazon 'Z' in the upper left of the keyboard) opens the Engine to allow you to quickly change your keyboard layout configuration. Smart, I guess, if you are someone who changes it a lot.
Two buttons I didn't expect, but however make sense are the Load and Save. I'm sure these can also be applied to any application you are working with. Oh speaking of which, when you have chosen a game layout and are focused on that game, there's an indicator light to let you know your keyboard is configured for the game you are playing.
Testing
Alphanumeric key sounds are a little on the loud side, I would have preferred to see more of a soft-touch integration that would not constantly clack in your ear as you're trying to type HEAL HEAL HEAL! Thankfully the gaming pad is soft touch, and much quieter.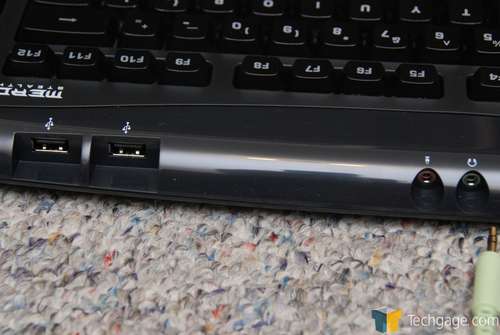 This keyboard is corded*, and has optional ports for your headphones. This would be good if you use a bluetooth wireless set, however I think that having the headphone cord drape from the back of your keyboard to your head would be annoying, and draping it under the keyboard would be restrictive.
*According to the Ideazon website, "We are looking into the technology [of wireless products] and recently surveyed gamers at QuakeCon, BlizzCon, Comic Con and Sony Fan Faire about the use of wireless products while gaming."
Personally, I would not use this keyboard for my everyday tasks. I'm also reluctant to use it for the games I currently play because the keyboard layout while adaptable, means reteaching your tried and true muscle memory movements. If you've been playing a game for many years, you're not likely to be able to change your habits with it. I'd use this keyboard on a new game definitely, particularly one on the list, since I'd be teaching my fingers to use this keyboard and not a standard layout keyboard.
Do you want to play a game?
Quoting Joshua may seem obscure to some. If you don't know what that is, go watch a movie.
Tossing out the idea of teaching these fingers how to play my old games with new moves, I decided to pull something from the list I haven't played in ages, but still have kicking around, and give it a try.
After locating some disks and giving this keyboard a try with a few different games, I'm impressed but not overwhelmingly so. For me, the lack of strafe keys under the existing 6 movement keys is a definite detriment. (normally these would be the Z and C keys, and while C is represented as a thumb accessible button, Z is not, so I guess I can only strafe in one direction…)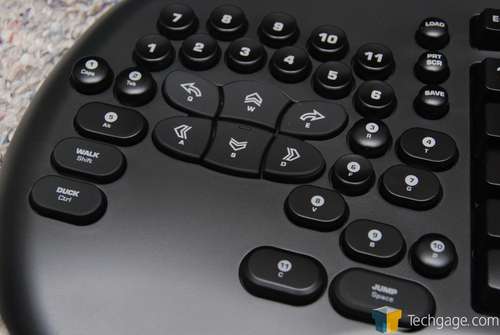 I spent a lot of time 'finding' the keys I was trying to use on the dedicated gaming terrain, but I also realize that with time and muscle memory, this would not be an issue. I like that the keys are set up at different heights on the terrain, so that they can be 'felt' once you're used to the layout.
Most keys you use with your left hand normally are represented on the terrain, WADS, QE, RFV, C, TGB, and they're in a relatively close position as to what they are on the normal keyboard, if not just a little further than you're used to. With your hand on the regular keyboard, G is in a specific position relative to the normal position of your hands on the keyboard.
On the gaming terrain, G is close to this spot with regards to vertical positioning, though a little further away with regards to horizontal positioning. The P key is tossed over there as well and that one threw me off. P is a key you would normally access with your right hand since it is clear across the keyboard. I kept telling my left hand it had access to the P key as well, but it wasn't listening.
Overall, I understand the appeal of the dedicated gaming terrain, however my recommendation would be to set this keyboard aside and use it purely for gaming, and not for everyday use. Be prepared to die in your games quite often while your muscles adjust to the placement of the keys on the dedicated gaming terrain. Games that rely on both the numpad and the find/home/end etc keys are not going to work well with this keyboard unless you're really good at teaching your fingers new things.
Maybe this old dog isn't as good at learning new tricks, but I found trying to switch from a game I've been playing for 8 years on a regular keyboard, to this keyboard, was more frustration than it was worth and I found myself just defaulting over to the original keyboard, in hopes I wouldn't die before I could figure out how to execute a command. Now new games were not as much of an issue, since you're teaching yourself the game along with the new keyboard, even so, I still found it somewhat easier to just pop over to the keyboard once in a while.
Other Opinions, Final Thoughts
There's a small amount of grumbling online about Ideazon products, defective keyboards, misbehaving keyboards, lost keymaps, stalled and stuttered typing etc, however everything I've seen indicates they have better than average customer service.
Things happen, products are shipped that are damaged. This company, from all appearances, seems to stand by their product and will work with you to get it working or replace it completely. So far this keyboard has performed excellently. Even though I've had some adjustment from an ergo to this non-ergo keyboard, it has been surprisingly forgiving.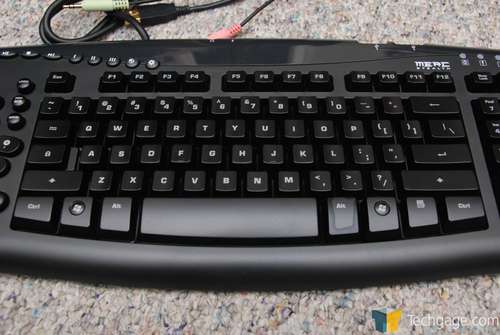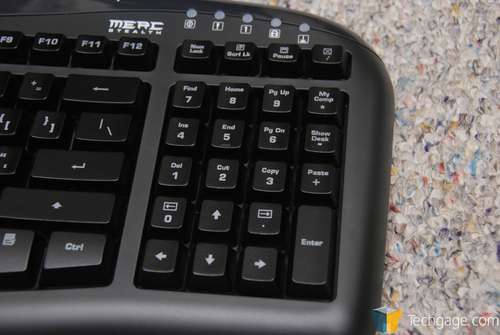 Caveat emptor. Do your research and make sure you know what you are buying, and why.
Read reviews and toss out the highest and lowest scoring reviews, go with the middle and you'll get the best representation of the overall quality and reliability of these products.
Final Thoughts
So is this a $90 keyboard? Maybe. It has quite a few amazing features, some bells and whistles and some overlooked possibilities, but my overall impression of this keyboard warrants an 8.5 out of 10 – which if you're used to my reviews is quite a high mark for me to give out. It lost marks for having underpowered USB ports, missing strafe keys on the terrain, doubling up the usage of the numpad and the find/home/pgup etc keys.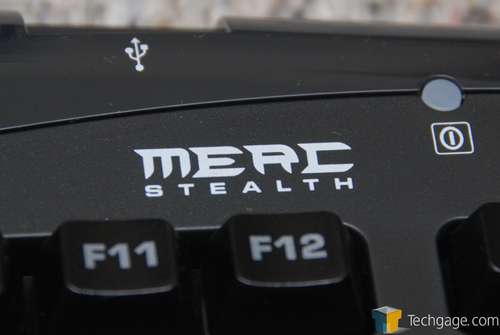 Tiny marks were lost for the illumination not being defaulted to last setting and positioning of the headphone and mic jacks. No marks were deducted for this being a wired keyboard as wireless keyboards have a habit of dying on you, either by signal loss or battery drain, at the least opportune moment in your fast paced game.
I understand that a corded version is most desired by a hardcore gamer simply because you know it's not going to die on you (hopefully). And even though my hands and wrists are killing me, I didn't deduct any points for this being a non-ergonomic keyboard because I realize I'm in the minority of users with regards to ergo keyboards, and the gaming terrain is ergonomic enough for most people to be comfortable on this device.
Discuss in our forums!
If you have a comment you wish to make on this review, feel free to head on into our forums! There is no need to register in order to reply to such threads.

Copyright © 2005-2019 Techgage Networks Inc. - All Rights Reserved.