IDF 07 SF: Skulltrail – High-End Has New Meaning

Date: September 19, 2007
Author(s): Rob Williams

Intel believes high-end gamers will be in a state of euphoria once their Skulltrail platform hits the market later this year. How does dual Quad-Cores, SLI 8800 Ultra's and 4GB+ of RAM sound?
---
Introduction
If you are keen on high-end computing, look elsewhere. Skulltrail, as we are quickly learning, is ultra-high-end computing. Being showcased at IDF, Skulltrail is not for the faint of heart. It will be powerful. It will be expensive. Up until now, we've only known relatively simple facts about the Skulltrail platform, but we will be evaluating what we've known from the past and also what we've learned at the conference.
First and foremost, Skulltrail is a platform being developed for gamers who want the absolute best hardware that money can buy. We are talking dual Quad-Core processors, 8800 Ultras in SLI, 4GB of RAM and other beefy components.
Although Skulltrail's chipset is based on X38, there are some immediate differences. Skulltrail offers support for two CPUs and also SLI, something that X38 is not capable of. SLI capabilities are achieved with an on-board NVIDIA MCP100 switch, without the use of an actual NVIDIA-designed chipset.
Once released, Skulltrail will be extreme high-end, offering up to 8-Cores of computing power. As we've learned, Socket J 771 processors will be used, and at this time, only one model will be offered. It will be an Extreme Edition processor, but will not be sold in packs of two, such as AMD's "Quad-Father" was when first released. Also unlike Quad-Father, Skulltrail can function without dual CPUs. If you are unable (or don't want to) empty your wallet all at once, you can purchase one processor and another down the road.
As mentioned, this product will not be for those looking for a high-performance machine on a budget. The processors will be priced in-line with current Extreme Edition offerings, and the motherboard is of the eATX form-factor, so a huge case will be required.
Like Intel server offerings, Skulltrail will require FB-DIMM memory. The downside of this is that the modules are not considered performance parts and are only currently offered with speeds up to 800MHz. By the time that Skulltrail launches however, faster modules might be available. The upside is that the memory will be the least expensive part of the system. Currently, 4 x 1024MB DDR2-667 modules will set you back only $300. I say only, because in relation to the rest of the setup, it's quite inexpensive.
As far as memory configuration is concerned, it won't matter much if you choose to use 2x1GB or 4x1GB, but Intel stresses that using four modules will offer the best performance. It would leave a lot of bandwidth available to share between each CPUs. Considering there could potentially be 8-Cores in the system, 4GB of ram seems like a bare minimum, depending on your tasks at hand.
Intel's reference board has a unique layout, with the ram slots in the direct center of the board, with the two sockets at the very top. Various small heatsinks cover up all of the chipsets.
As you would expect, a healthy power-supply would be required for smooth operation. Paired with two Quad-Cores and dual 8800 Ultra's and other components, 800W would be a minimum, while 1000W would be a solid choice if you have many hard-drives and optical disk-drives. You will also require a PSU that offers two 8-Pin motherboard connectors, of which many higher-end PSUs already offer.
From what we've seen and learned, Skulltrail is looking to be a drool-worthy offering, but one that many will not be willing to shell cash over for. Although a price for the motherboard was not released or even estimated, it would not be surprising to see it and two Quad-Cores to retail for close to $2,500 – $3,000, or more. Add 8800 Ultra's to that rig, and you will have something that obliterates the competition.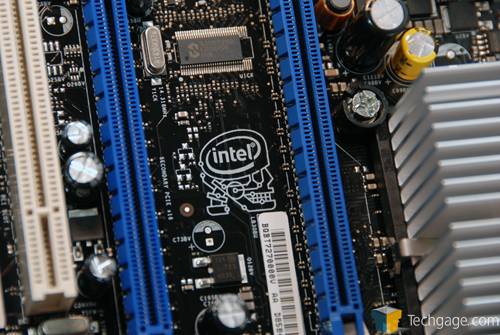 The Skulltrail platform should be available later this year, and we will keep you up to date with it's progress.
Discuss in our forums!
If you have a comment you wish to make on this review, feel free to head on into our forums! There is no need to register in order to reply to such threads.
Copyright © 2005-2019 Techgage Networks Inc. - All Rights Reserved.