IDF 07 SF: Skulltrail, QX9650, 45nm Performance Preview

Date: September 20, 2007
Author(s): Rob Williams

During a closed-door session demonstration of Skulltrail and 45nm processors, we saw first-hand what 45nm offerings will deliver when compared to current products. We walk away with assurance that Skulltrail is extreme and also that SSE4 can make a huge impact in multi-media tasks.
---
Introduction
IDF has been the showcase of some cool upcoming products from Intel, some of which we had hands-on experiences with yesterday afternoon. During a closed-door session, we learned more about Skulltrail and also Penryn/Yorkfield/Harpertown. If you are interested in reading about the high-end platform, Skulltrail, please check out our article here.
On hand were some 45nm Dual-Core mobile processors and also 45nm Quad-Core desktop processors. Although Intel still doesn't "recommend" overclocking their processors, it didn't stop them from having a dual Quad-Core 4.0GHz on hand.
First and foremost, what we wanted to gain from this preview was what to expect overall from 45nm processors, and we will have Intel-gathered results in this article.
The first comparison systems we took a look at was an overclocked Skulltrail dual Quad-Core setup at 3.4GHz against another stock-speed Quad-Core (QX9650) at 3.0GHz. The Skulltrail platform was beefed up to the nines, but for the sake of the comparison, Intel was trying to show the intense difference between a standard high-end gaming rig and then show what their new platform can achieve.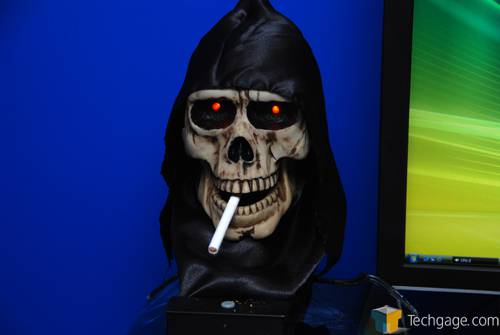 The complete system specs are listed below. The motherboard for Skulltrail is a reference model and could go through tweaking prior to the final release. X38 is very close to launch, so a final production board was used. Note also that Skulltrail, being based off of a server platform (and using Harpertown Xeons), uses FB-DIMM modules, at a lower frequency.
System Config

System A

System B

Processor

2x 45nm Hi-k Quad-Core
3.40GHz, 12MB L2, 1600MHz FSB
45nm Hi-k Quad-Core
3.00GHz, 12MB L2, 1333MHz FSB

Motherboard

Skulltrail Reference

Pre-Production Intel X38

BIOS

Pre-Production BIOS

Pre-Production BIOS

Graphics Card

2x nVIDIA GeForce 8800GTX

1x nVIDIA GeForce 8800GTX

Graphics Driver

nVIDIA Pre-Production Driver

nVIDIA ForceWare 162.22

Memory

2x2GB Pre-Production
DDR2-800 CL5 FB-DIMMS
2x1GB Corsair
CM3X1024-1333C9DHX

Hard-Drive

Seagate Barracuda 320GB 7200.10

Seagate Barracuda 320GB 7200.10

Operating System

Windows Vista Ultimate 32-Bit

Windows Vista Ultimate 32-Bit
Benchmarks used included 3D Mark 06, Cinebench R10 (which we will begin using in future performance previews) and also TMPGEnc 4.0. 3D Mark obviously benefits from faster clock speeds, but wouldn't take advantage of what Penryn/Yorkfield would offer. Cinebench and TMPGEnc on the other hand will both take full advantage of the SSE4 instruction-set, so performance differences should easily be seen there, even clock to clock.
System Config

System A

System B

3D Mark 06
CPU Score

6359

4569

3D Mark 06
Overall Score

17006

11899

Cinebench R10

21521

11810

TMPGEnc 4.0

53

72
3D Mark results as usual, are quite useless. The performance differences on Skulltrail are not close to being doubled, despite the fact that it has more than double the power. Cinebench however, shows close to a performance increase of double the single processor system. The fact that there are two physical Quad-Cores in the Skulltrail, as well as a higher overall frequency, plays a part in almost hitting the 2x mark.
Not to leave out the mobile side, Intel had on display two Dell Latitude D830s. One included the current T7800 2.60GHz model CPU, while the other included a pre-production 45nm 2.80GHz. Dell specifically modified the BIOS in short time to add the 45nm support, so performance may vary by the time you can purchase one yourself. The mobile system configurations can be found below.
System Config

System C

System D

Processor

Pre-Production 45nm Dual-Core
2.80GHz, 6MB L2, 800MHz FSB
Core 2 Duo T7800 Dual-Core
2.60GHz, 4MB L2, 800MHz FSB

Motherboard

Dell Latitude D830

Dell Latitude D830

BIOS

Pre-Production BIOS

Pre-Production BIOS

Graphics Card

Intel GMA X3100

Intel GMA X3100

Graphics Driver

Intel Graphics Driver 7.14.10.12.53

Intel Graphics Driver 7.14.10.12.53

Memory

2x1GB Hynix DDR2-667 SODIMMS

2x1GB Hynix DDR2-667 SODIMMS

Hard-Drive

Fujitsu MHW2080BH 80GB 5400RPM

Fujitsu MHW2080BH 80GB 5400RPM

Operating System

Windows Vista Ultimate 32-Bit

Windows Vista Ultimate 32-Bit
To prove how useful the SSE4 instruction set could be in multi-media use, Intel demonstrated two popular applications that recently added the support. VirtualDub is a program I use quite often, so I was very interested to see performance gains. Results are below, in overall seconds.
System Config

System C

System D

TMPGEnc 4.0 Express 4.3.3.9999 Beta

151

239

DiVX 6.6.1
VirtualDub 1.7.2

20.5

38.9
These results are nothing short of spectacular. The 45nm model has a slightly faster clock speed (8.33%), but the performance differences are far greater than that. In the VirtualDub tests, the 45nm performed the same video encoding process in 52.7% of the time it took for the T7800. Likewise, the TMPGEnc performed the conversion in 63.2% of the time the T7800 took.
As mentioned earlier, Intel doesn't recommend overclocking, despite knowing full-well that their processors can handle a good beating. They proved this with their 4.0GHz dual Quad-Core (8-Cores) on display, being cooled with cascade cooling. It was unstable for the most-part, but they were very confident that better chips will be surfacing soon.
There you have it. Penryn/Yorkfield/Harpertown is fast, both on the Desktop and Mobile platforms. Although 45nm is exciting in itself, my interest has been piqued for SSE4, now that the differences in encoding times were proven to us personally. Clock for clock, the differences are almost 2x… that is impressive.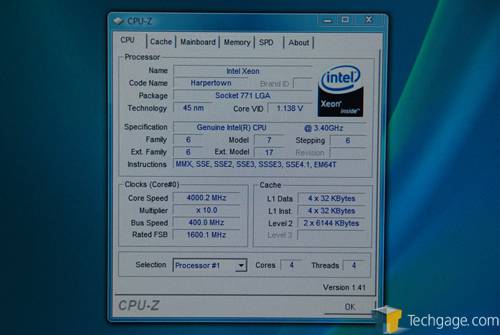 All results were gathered from early production samples, but we will be taking a much more in-depth look at all of the products showcased here in the future. In our upcoming review of the QX6950 processor, we will compare in many tests with the QX6850 of the same clock speed. These tests will show direct benefits of the new microarchitectures.
I think it goes without saying that Intel had quite a showing at this fall's IDF. Stay tuned as we take a better look at these products in the months to come.
Discuss in our forums!
If you have a comment you wish to make on this review, feel free to head on into our forums! There is no need to register in order to reply to such threads.
Copyright © 2005-2019 Techgage Networks Inc. - All Rights Reserved.