IDF 09 SF: Day 1 Coverage

Date: September 22, 2009
Author(s): Rob Williams

There was much discussed during the first day of IDF, including Atom, mobile and lightweight computing, Atom, more Atom, updates regarding industry trends, discussion of the company's continuing innovation with building smaller, yet faster chips, and much more. Oh, and there was some talk of Atom, as well.
---
Introduction
Whew, day one at Intel's Developer Forum is a wrap, and I'd have to say it went quite well overall. I admit that when I left the hotel this morning, I couldn't have predicted the blend of products and technologies that would be discussed, but I can say I didn't expect much in the way of high-end/enthusiast product to be shown off… and I wasn't too far off the mark.
The focus this year, more than any other, was definitely on mobile and integration. Sure, there might not have been much high-end stuff to discuss (even in NDA meetings, truthfully), and really, there isn't a need to discuss anything. Lynnfield launched just a few weeks ago, and it's going to be some time before we get our hands on Gulftown or Clarkdale. So, we'll just have to wait a bit longer for those.
Mobile, Atom, mobile, Atom, mobile, Atom, et cetera. That was the overall theme of the entire first day, and I don't see much changing for the rest of the event. Intel sees major potential in both the mobile market and their Atom processor (and ultimately, SoCs), and it's no wonder… it's something everyone cares about. How many people today own one PC? How many people own more than one mobile device? Exactly.
To go through the day's events, I'm going to opt for a pictorial view of things. To kick things off, and to give you an idea of what it's like to be at an IDF, you can see in the pictures below what the auditorium looks like. There are many, many people in this main room (a few thousand, not sure of exact numbers), all ready to take in the opening keynote. If you look hard enough, you might just see a certain Anand Shimpi.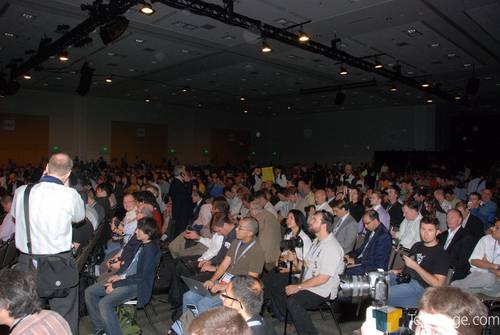 All throughout IDF, Intel made it clear that they are way ahead of the competition. Not just in performance, but also in transistor technology and size. As discussed in our news posting, the company states that they are on track to see 22nm silicon launch in 2011.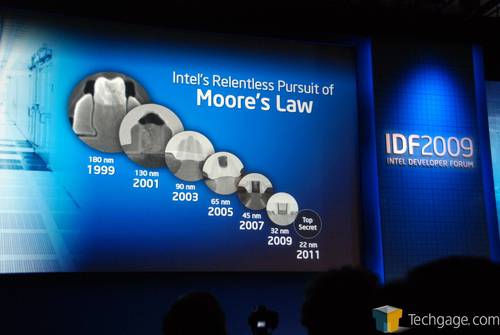 What do these improvements mean? More robust chips, and especially more robust system-on-a-chip's. As you can see in the below slide, Intel shows that as they've decreased the overall size of the die, power leakage has also decreased by a very large amount. This is to be expected, but with 32nm almost here and 22nm and beyond on the horizon, things are exciting.
Having some great hardware is one thing, but what good is it without robust software? During Paul Otellini's opening keynote, he made no claim that software wasn't important. In fact, the importance of software developers was made pretty obvious throughout the entire opening day. Not too surprising for a "developer's" conference.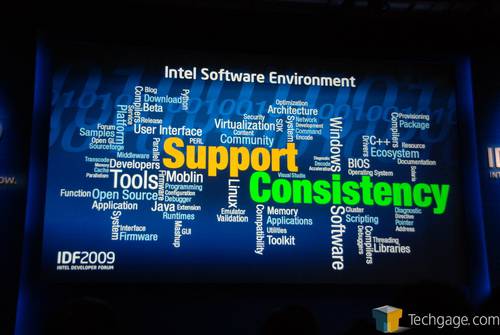 It's no secret that the economy is rough right now, with many people altering their lives to accommodate the lack of extra money, but Intel states that PC sales haven't at all slowed down. They may have flat-lined at one point, but looking to 2010, shipments should only be on the up, with about 320 million units sold between now and September 2010.
Of course, Intel believes that this wouldn't be too possible without the help of Atom, and they might be right about that. They say that since the chip's launch in 2006, they've decreased power consumption by 60%, decreased the overall die size by 85%, while also decreasing the cost. With this trend continuing, the company expects to see Atom everywhere.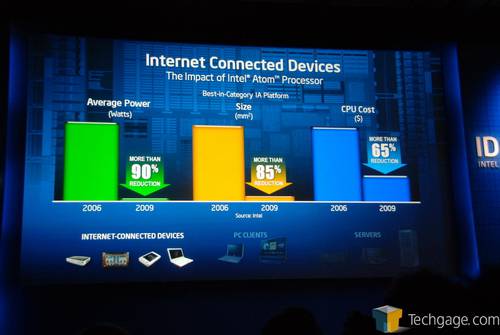 Netbooks might not be for everyone, but the demand cannot be denied. According to research done by the company, when netbooks first launched, they outsold Nintendo's Wii and Apple's iPhone during each respective product's first six months of being available. That's impressive, especially given how no one out there is left clueless about what either a Wii or iPhone is.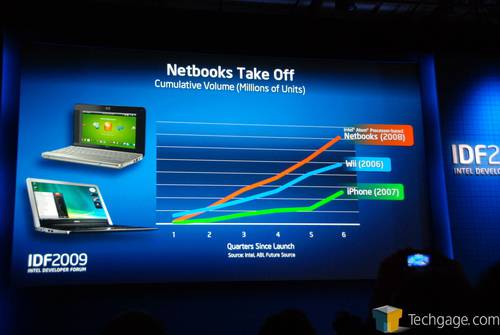 With Atom such a main focus of Intel's, it's no surprise that their sponsored Linux distro, Moblin, is also of a huge focus. After all, if Moblin proves successful, so will Atom. They kind of go hand-in-hand. Moblin isn't limited to only netbooks, but can be expanded onto MIDs, phones and in the future, possibly small desktops, so the potential is definitely there.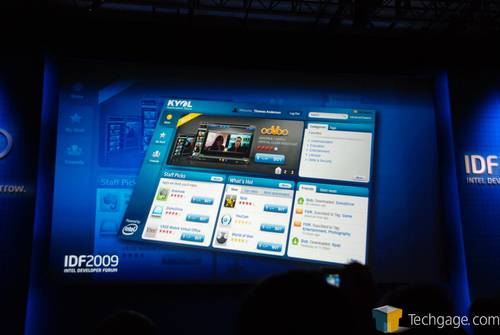 Past the desktop and notebooks, where else can we see Atom? The list in the slide below is only partial, but still exhaustive.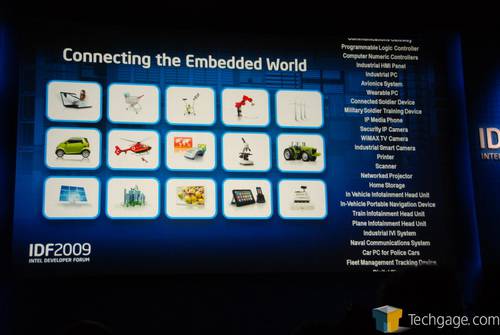 Tired of hearing about Atom? We're not quite done. Here's the projected outlook for infotainment usage in autos going forward: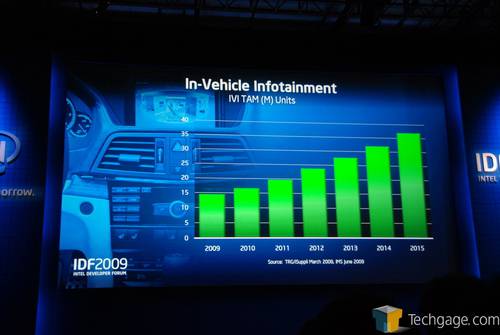 Intel isn't banking on mobile technology just for fun… there's not just potential, but a future reality. Mobile is in, and it's only going to grow. Because of this, the need for advanced technology is required… how to build a lot of power into a smaller form. We can watch videos and check our e-mail on our handhelds today, but just imagine what robust solution will exist in the coming few years.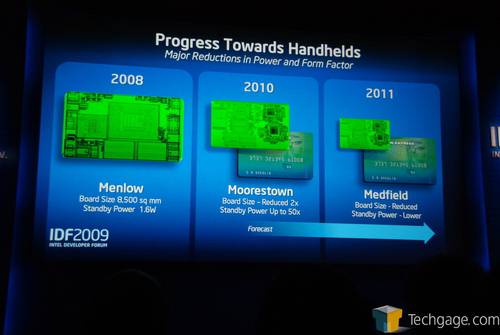 If you haven't heard of Moblin until now, you're bound to hear a lot more about it in the near-future. It's not so much a side project of Intel's now, but a main focus, because as mentioned earlier, where there's success with Moblin, there's success with Atom. On the show floor, the company showed off version 2.1, which is currently pre-release, and the interface looks quite good. Not all aspects are incredibly unique, but this is a mobile platform, and it's going to be difficult to differentiate things in this space. The interface is clean, and seemingly intuitive.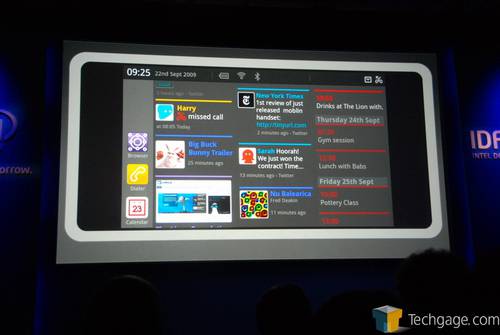 With AES acceleration to launch with the upcoming Westmere, Intel decided to show off how their on-die instructions growth has occurred over time. As you can see below, the company has taken many things into consideration over the years, and implemented new instructions where they make sense. AES, especially with hard disk encryption, is looking to be very important now and in the future, so it should be a welcomed addition. Thanks to 32nm, no sacrifices have to be made as a result of adding such a feature.
During Sean Maloney's afternoon keynote, he described how things used to be done and developed, and touched on the overall size of the computers and its components being used. Just how large would Core i7 be today if no further fabrication improvements had been made since a few dozen years ago? Something like this: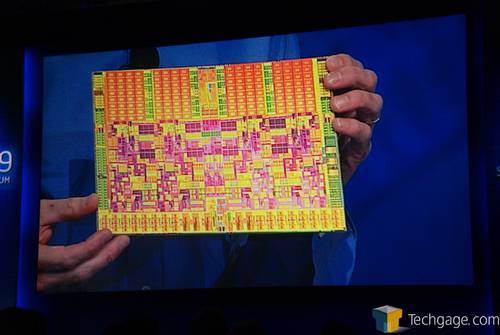 If that were a real product today, you could expect it to draw more power than the rest of your house.
Although we don't cover server stuff per se, there was a fair amount of talk during that day, and for good reason. Itanium's back in action, and with various improvements that came to Nehalem and recent Xeon's, such as the QPI bus, DDR3 and an integrated memory controller and also much increased RAS (remote access) capabilities.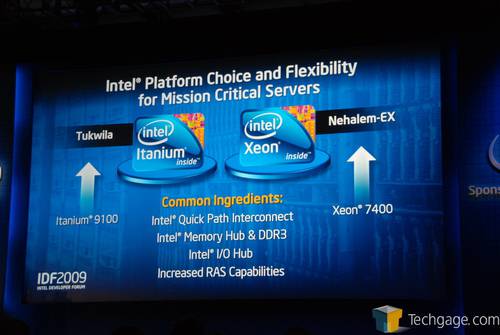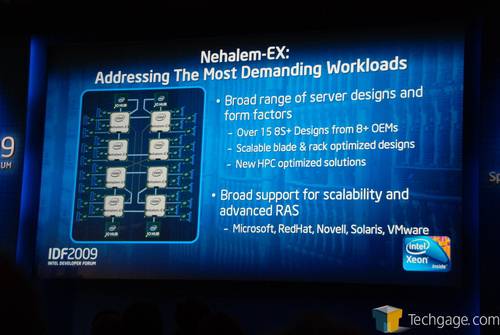 How can things be improved in the server space? Well, Jasper Forest looks to bring along some improvements, such as RAID 5 and 6 native support, on-die PCI-E lanes and also the condensing of the Southbridge and Northbridge into one, a la Lynnfield.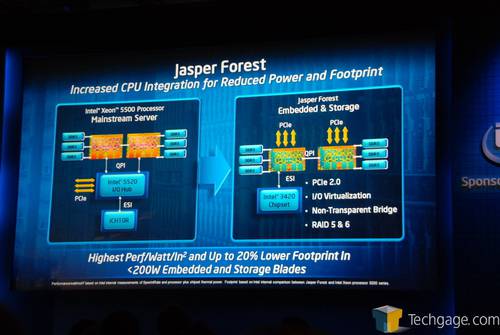 With Lynnfield's launch just a few weeks ago, there was really no reason to talk too much about it at the show, but Intel did show off a couple of quotes about what the media had to say. You might just recognize one…
Hmm… what else? Oh, how about Larrabee? The company showed off the first real-world example of Larrabee in action, and so far, so good. If it were to launch tomorrow, I'd be a bit worried, but given it's still a little ways off, I'm hoping Intel will continue to refine the architecture in all the right ways.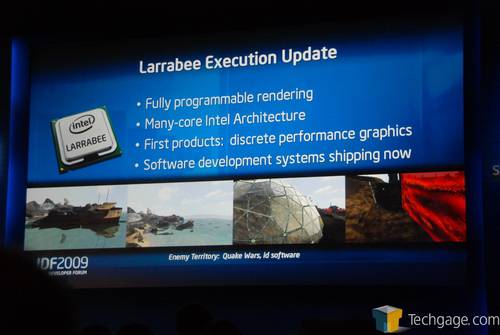 The demo shown featured Enemy Territory: Quake Wars, but altered with ray-tracing. The shadows were spot-on, as was the water reflections. But, the frame rate wasn't ideal (I'd estimate around 15FPS), so although it was cool to see ray-tracing in real-time, I'm not completely confident that such a thing will be a reality with today's games upon launch. I wouldn't complain if I were wrong, however.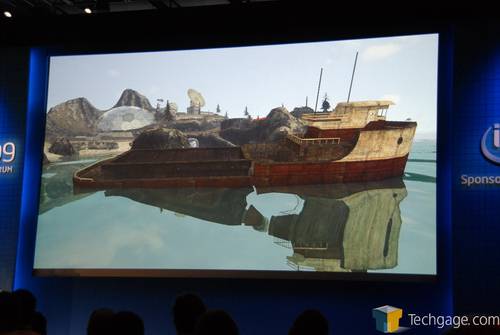 I'll wrap up our day one coverage with a very geeky shot. Below, you can see the improvements made to the transistors Intel has used since 2001, along with the die shots from each corresponding series. During a second afternoon keynote, Bob Baker stressed that the company was testing out new materials, likely to result in a follow-up to the hi-k metal gate method of building transistors. As we keep going smaller and smaller… it's no doubt that these materials and solutions will continue improving over time.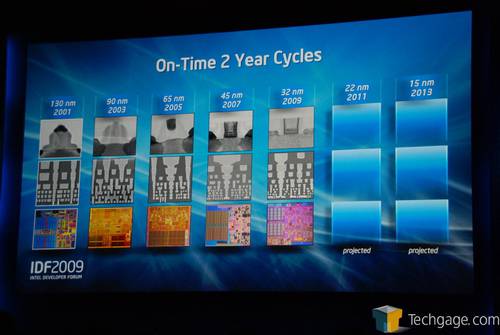 With day one all over and done with, I'm looking forward to day two, to see what else might be unveiled either at the show, or during our few meetings with companies unrelated to Intel. It's late as I write this, so if you have any questions or want me to elaborate on something, please post in the thread and I'll tackle it as soon as possible!
Discuss this article in our forums!
Have a comment you wish to make on this article? Recommendations? Criticism? Feel free to head over to our related thread and put your words to our virtual paper! There is no requirement to register in order to respond to these threads, but it sure doesn't hurt!
Copyright © 2005-2019 Techgage Networks Inc. - All Rights Reserved.