Intel Reveals 10th-gen Core Series Ice Lake Platform & Deep-dives Project Athena

Date: May 28, 2019
Author(s): Rob Williams

Intel has lots to talk about at this year's Computex. This summer ushers in the first 10nm "Ice Lake" processors, dubbed the 10th-gen Core series, with its first models bound for notebooks. Intel also divulged lots about its upcoming Project Athena, which aims to see notebooks offer the very best responsiveness, "always-on" capabilities, and all-day battery-life.
---
Intel Reveals 10nm Ice Lake Platform & Deep-dives Project Athena
Just a couple of months ago, Intel unveiled its second-generation Xeon Scalable processors, delivering noticeable iterative upgrades across the stack, as well as some of the biggest CPUs on the planet, including a 56-core beast that's going to eat apart corporate wallets. On the opposite end of the spectrum, we're now learning about the 10th-gen Core series, bearing the code name Ice Lake.
Since the 9th-gen series debuted an 8-core mainstream chip, we had hoped that the 10th-gen would usher in a 10-core monster at launch, but Intel's 10nm story is pretty well-known. The company should have been delivering 10nm already by now, but things happened (to put it simply), so the 10th-gen Core debuts with a top-end part with 4 cores and 8 threads.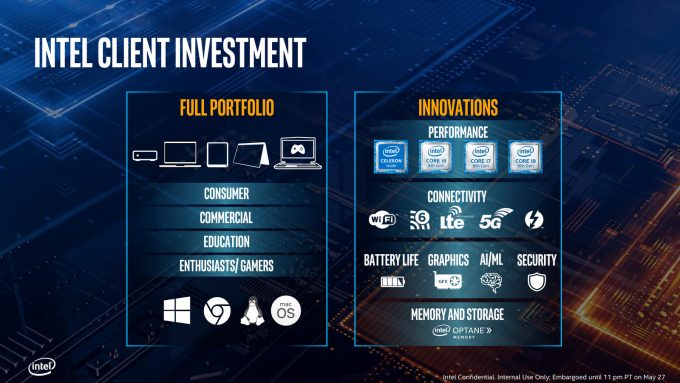 At a recent editor's day, Intel talked lots about these 10th-gen chips, as well as Project Athena, which aims to make future notebooks a whole lot better in simple ways. Think instant-on, instant-online, and all-day battery-life.
10th-gen Intel Core Processors: Ice Lake
Before introducing the 10th-gen processors, Intel talked about its annual release cadence, although it's no secret that the company has struggled quite substantially with its 10nm process. We have reason to be excited for the 10th-gen series for the reason it will be Intel's first wide-reaching 10nm part. That said, for those who were hoping for a new monster, that's not here quite yet.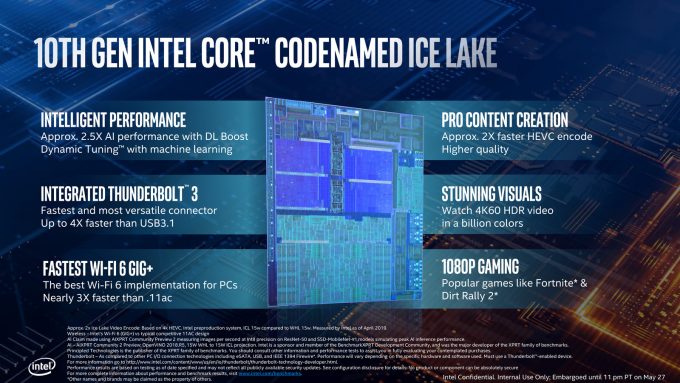 As of the time of writing, we have not been given the full lineup of new SKUs, but we do know that it's going to cap at 4-core and 8-thread. Despite that, some accelerators in place could help such a chip out-pace higher-end chips of last-gen. DL Boost (Deep-Learning) is introduced to deliver a 2.5x improvement to AI, while HEVC encode sees a 2x improvement.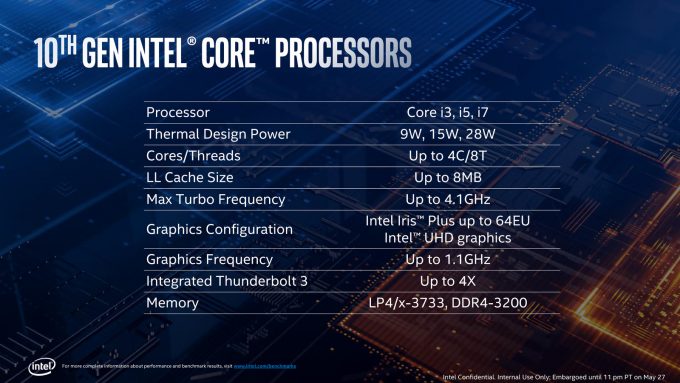 Intel has long talked about 1080p gaming being possible on its GPUs, but sacrifices have usually had to be made to the visual fidelity. With the Iris Plus IGP running at 1.1GHz, we should see performance massively improved, allowing you to play fast-action games like Fortnite and Dirt Rally 2 without feeling like you're leaving a ton of performance or IQ behind. For laptops, where you can't simply drop a discrete GPU in, giving us top performance from the get-go is important.
The new graphics will of course utilize Intel's newest graphics control center, which in my opinion looks better than the rest on the market (with skins applied), though its functionality will still need to grow (and will more so once the company's discrete GPUs arrive). Like the CPU itself, the GPU will fully support Linux, although an application interface to manage settings is still in the mulling stages (let Intel's @IntelGraphics Twitter account know if you want it).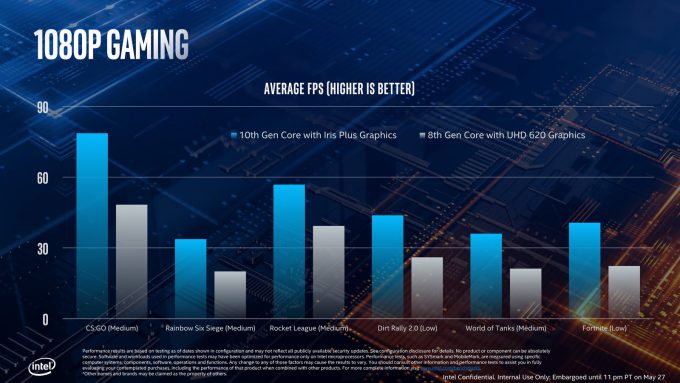 New media encoders support 4K/60 at 10-bit 4:4:4, and 8K/30 at 10-bit 4:2:0. There is also support for up to three displays, with 5K/60 and 4K/120 on tap, along with DisplayPort 1.4 and BT.2020 color-space. The first integrated Thunderbolt 3 makes an appearance here as well, which should hopefully help the peripheral market pick up pace a bit. As with full desktop TB3, this solution delivers 40Gbps bi-directional bandwidth per port.
Getting into the nitty-gritty a little bit, Intel's top debut Ice Lake chip will peak its Sunnycove cores at 4.1GHz, and deliver a massive boost to the supported memory speeds. With LP4, you could scale up to 3733MHz with 32GB of memory, or use DDR4-3200 at up to 64GB. Finally, we're seeing beyond that 2666MHz limit we've seen for ages (though that will still stick around in some places, surely.)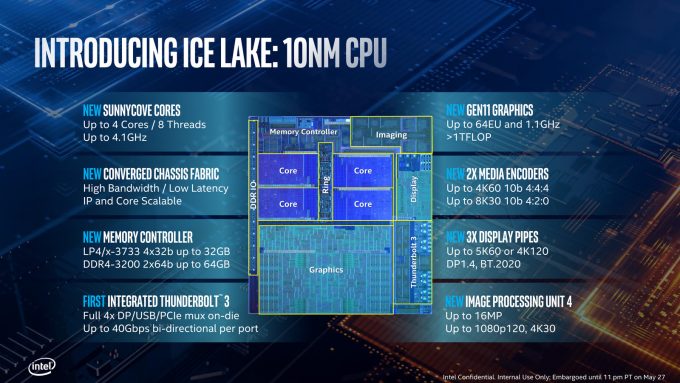 As you would expect, the Sunnycove cores found in Ice Lake are better than the predecessors, improving cache all over, not just in density, but efficiency. There are also a number of new instructions for crypto, including vector AES, vector carryless multiply, and one some might call a bit overdue: SHA. This all comes in addition to DL Boost instructions to accelerate inference. From the IPC front, Intel says that Ice Lake delivers an 18% boost. That's hardly minor, so we look forward to seeing the benchmarks.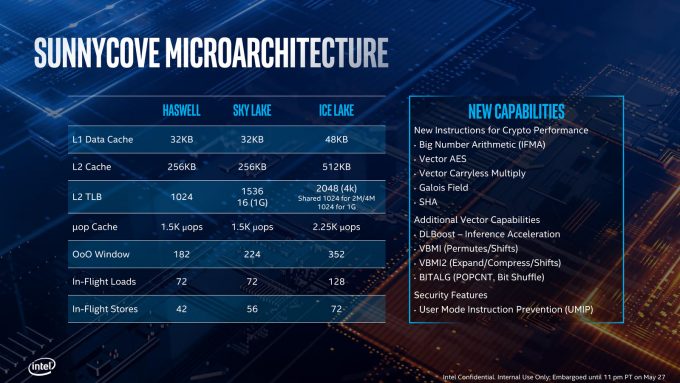 There's more than just the CPU that's involved with Ice Lake; there's also the PCH, which will remain at 14nm. This is partly due to 10nm process shortages, but also simply that the chipset doesn't need the advantages gained from a smaller process. This new PCH includes a quad-core audio DSP supporting low-power wake-on-voice, integrated Wi-Fi 6 (802.11ax), fully integrated voltage regulators for both the PCH and CPU, and finally, a ton of I/O: 6x USB 3.1, 10x USB 2, as well as x16 PCIe 3.0 and 3x SATA 6Gbps.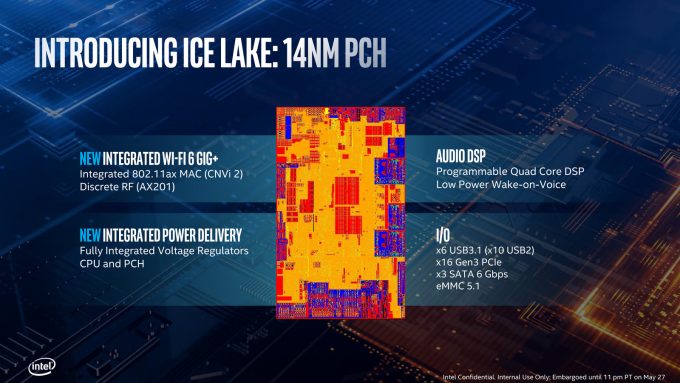 Wi-Fi 6 deserves a bit of an extended mention, since it's the next standard that's supposed to make us realize the last one wasn't as cool as we thought it was. Intel calls Wi-Fi 6 the biggest update in a decade, with its polish aiming to improve responsiveness and reliability.
Intel says that not all Wi-Fi 6 is built alike. A "standard" 2×2 Wi-Fi 6 at 80MHz delivers just a 40% improvement over previous gen, whereas Intel's use of 160MHz can triple it. Obviously, we'll need to see real proof of this. Promises of better Wi-Fi are great, but it seems so rare when consumers exclaim at just how much better the new generation is. This is the first update in a while that could make an actually notable difference in reliability and stability. However, all of this will depend on the wireless access points supporting these speeds too.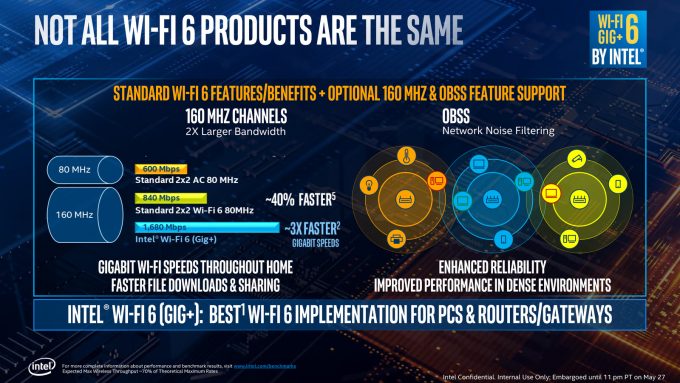 Intel is delivering two different packages for its new Ice Lake chips. One is 15W Type 3 measuring at 50x25x1.3mm, with the other being a smaller 9W Type 4, measuring at 26.5×18.5×1.0mm. Both of these are BGA, with 1,526 balls in the 15W part, and 1,377 in the 9W part.
Ice Lake is a new major architecture release for Intel, marking the most notable Core improvements since Skylake came out in 2015, which itself replaced Haswell, released in 2013. Despite the 10nm hassles Intel has endured, this is a series worth looking forward to. Any uptick in performance on notebooks is easily noticed by those who use them. And now we wait for the desktop counterparts!
Project Athena
During our briefing in Milpitas, Intel's Chris Walker (VP & GM of Mobility Client Platforms) told us that the company has changed its focus on benchmarking a little bit, highlighting the fact that pure numbers don't always tell you the full story. A simple example here would be a user of a low-end and high-end rig – both are going to deal with similar niggles, whether it's slow boots, unoptimized software causing performance issues, and generally slow responsiveness in general.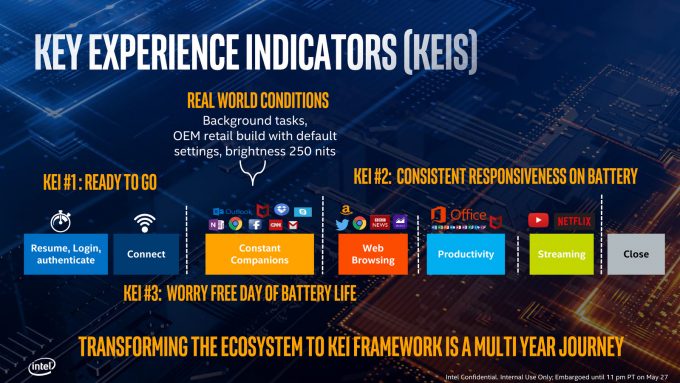 Take, for example, our smartphones. We're used to them lighting up immediately after we unlock them, and we likewise expect to be able to multi-task and get things done with minimal lag. Intel wants to bring that experience to the PC, and by doing so, it's promising similar things as Qualcomm with its All-Day PC. Intel's talking points revolve around all-day "worry-free" battery-life, always-connected, responsive, and form-factors that people won't mind toting around all day.
A video was shown highlighting how we use our PCs today, especially in the business world. Many are willing to get quick work done on-the-go when time allows, but if a laptop takes ages to boot, and there's no LTE, it's a little hard to get in the mood. For some, a smartphone might be enough for their day-to-day, but to get real work done efficiently, it's still hard to beat a PC.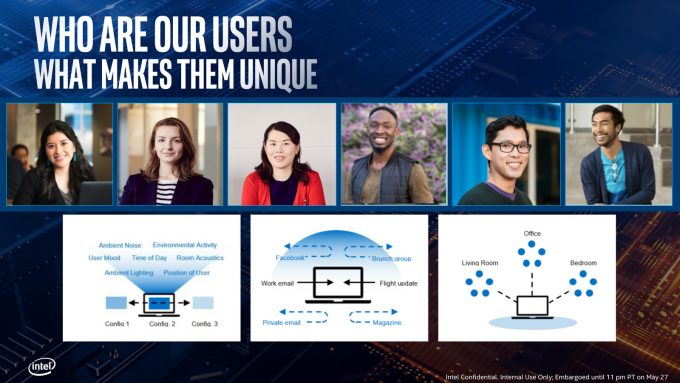 Intel has done tons of research that to most people might seem pretty basic: just seeing how people use their computers. But this is important, because not everyone is wondering how long it will take to render an image. They want to know how quickly they will be able to jump into work, and how responsive their applications are going to be.
This focus is good to see, and probably overdue – even on our behalf. The problem, of course, is that it's difficult to tell people about an experience. Numbers definitely help with total performance, whereas talking about experiences and real usage will sometimes make it a little difficult to compare one notebook to another. Obviously, there will still be notebooks that are faster, that those with heavier workloads should be targeting. But Athena is more about regular folk who are on-the-go all of the time and need a light notebook that still offers decent performance to get everything important done during the day, efficiently.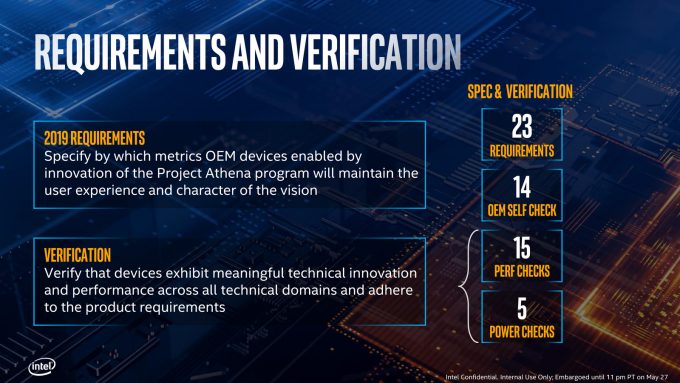 Project Athena is a multi-year project, and we're not quite sure when the first notebooks will come to market. Intel noted that not all vendors will necessarily opt for the Project Athena platform, but it seems highly likely most would, unless there were some sticking points one of them didn't agree with, or if the targets simply couldn't be hit. This is a good kind of aggressive direction, because it will at least let those who pick up an official Project Athena notebook know that it's built to spec. Intel will be making sure of it.
Final Thoughts
As someone who regularly benchmarks big CPUs, I admit that I wish there were an Ice Lake chip available with more than four cores right now, but that will come, when Intel can get its 10nm process in tip-top shape. Beyond craving higher core counts, Intel impresses here, with a ton of polish being found all over the place, as well as enhancements, such as with integrated Thunderbolt 3.0 and Wi-Fi 6.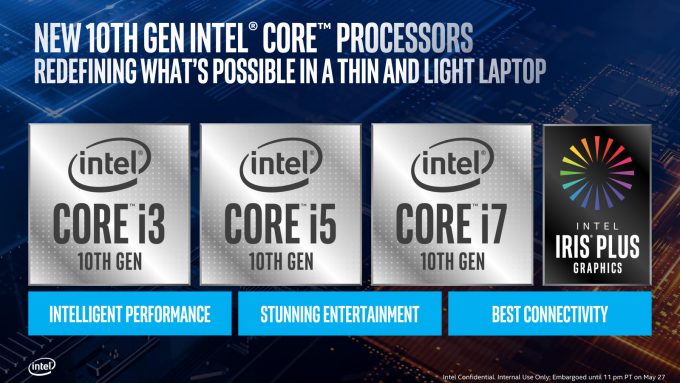 It's hard to ignore internal graphics that are about twice as fast as the previous generation. If you're keen on seeing a comparison between it and last gen, as well as against AMD's integrated Radeon on Intel CPUs, you are not alone. Beyond that, seeing many instructions sets added, as well as encoders greatly upgraded, there's a lot to be intrigued by with this new series. AMD has offered SHA acceleration on its chips since the Zen launch, so it will be interesting to see how Intel's new instruction set delivers against those.
Project Athena is one project well worth watching, because if we can get the same promises Qualcomm has been giving us for a few years with its ACPCs, but with x86 Intel processors with market-leading IPC… it's going to fare well for the market. Developing the platform isn't easy, but it's good to finally see it being done.
Intel will have other information to disclose at Computex that we were not provided ahead of time, so if more juicy details rise to the surface, you'll hear about it from us in our news section.
Copyright © 2005-2019 Techgage Networks Inc. - All Rights Reserved.