Internet Anonymity – Anonymizer vs Steganos

Date: August 8, 2005
Author(s): Rob Williams

Last week, we took a look at what Internet Anonymity is, and how it works. Today, we will be taking a hard look at two of the most popular Anonymity tools out there.
---
Introduction
When grading these tools, I am judging them based on numerous things. Obviously, it has to do an awesome job at keeping people anonymous, and the speed is the next factor. The additional features will come into play as well, depending on how many extras they include and how good they are. Let's start off with a look at Steganos Internet Anonym.
Steganos Internet Anonym Professional 7.1
Steganos has a slew of products, but Internet Anonym is arguably their most successful and popular. As far I can remember, Steganos was the first commercial Anonymity tool I was introduced to a few years ago.
Steganos Internet Anonym Pro 7 is the convenient package for surfing anonymously and destroying traces completely. Every time you use the Internet, your IP address is revealed Texts, images and films that you view online are stored on your PC. Your computer takes note of the most recently viewed documents, your activities on online exchanges and saves search queries. Steganos Internet Anonym Pro 7 offers you triple protection: Anonymous surfing on the Net at the click of a mouse. The integrated Steganos Internet Trace Destructor automatically removes 150 surf and work traces. The integrated danger filters protect you from dangerous web content such as ActiveX and JavaScript files and deactivate interfering web sites. With an optimizing function for ProxyServer to always ensure the highest possible connection speed.
Internet Anonym is a very easy program to install, with very little input needed from the user. After installation, you will see two icons on your desktop, the program and a one step destruction, which we will get into shortly. Opening the program for the first time, you will see the GUI that made Steganos so popular. You will see an overlay of the entire world, which tells you, when connected to a proxy server, where in the world it is located. This screen will also tell you what your real IP address is, as well which IP address you appear to be on the internet.
While activated, a lit circle will highlight exactly where you are connected to, so you can have a better idea of the speed you should expect. Most times than not, the closer the server is to you, the faster your internet will be with the program activated. In order to keep their users completely safe, Steganos will automatically change servers every 1 – 60 seconds, depending on whatever the user prefers. I found this to be good and bad. If a webpage does not load in the allotted 60 seconds, it will cut out and you may have to reload the page, unless you are lucky enough for the page to continue downloading.
Steganos uses 100 different servers for their service, which are scattered all around the world, as you will quickly see when the programs activated. For the best speed, they allow and highly recommend that upon first startup, you run the server check. This will attempt to connect to all 100 servers, and ones with slow responses are removed. Also, ones that do not pass their Anonymity test are also removed. Out of the 100 available servers, after running the check, only 68 remained for me.
Internet Anonym
Internet Anonym includes very notable security features that should be mentioned. You are able to block some information that you may not consider to be a real threat, such as Browser Identification, Cookies, ActiveX scripts, Referrer information, and regular site scripts. Another cool feature is the ability to save favorites within the program, but more importantly, protect them. If you add an encrypted favorite, you need to provide a password which they will grade for quality.
If you input an easy word, they notify you that the password could likely be guessed. If you use a combination of numbers and letters, they let you know that special software could easily crack it. The password I use for things I want to keep secure, is ~20 characters long with many special characters. Using this password, the program let me know that the password could not be identified by the secret services. Sounds good to me.
As I mentioned in last weeks article, you are not completely protected unless you take care of the information that remains on your computer, after being online. Their Internet Trace Destructor targets near 150 areas of information that you may want to look for. You can go through the list and select which traces you want deleted, and it will do it for you. That's where the One Click Destruction mentioned above comes in to play. If what you want is not in the list, which would be rare, you can add it to the list, if it's something that should be targeted each time.
They give you three levels of destruction for both the files to remove, and for your free space. You can use the overwrite mode, which simply overwrites the target once. The DoD selection will overwrite three times, and then the brutal Guttman method which overwrites the target 35 times. All in all, I love the extra features that Steganos includes in their package, it doesn't seem anything else is missing.
Now onto the performance. Sadly, I have never had success with Steganos to be used in conjunction with either Firefox or Opera. It does however, work seamlessly with Internet Explorer, and I had no issues there. Even with Internet Explorer, I found the program to be slow, especially when the server was overseas, like Sweden and Spain. For the most part though, I could reliably surf the internet, but I would have loved better browser support, and a faster download of the web pages.
I did notice though, that the internet was the fastest while connected to servers in the US and Canada. I think it would be great if they allowed you to pick and choose which countries to use servers from, as that could really kick the speed up a notch. Before I jumped into Anonymizer, I hit up IP Chicken to test the blocked information. Sure enough, the site was unable to tell me what browser I was using.. nice!
Anonymizer Total Privacy Suite 2005
Anonymizer is an extremely well known Anonymization program, that's been trusted by many people for years. They recently released their Total Privacy Suite with support for Mozilla Firefox, which instantly excited me.
Anonymizer, Inc. is a leading provider of Internet privacy and security solutions for consumers, corporations, organizations and government agencies. The company is the market leader for Web privacy, providing a safe and secure Web experience for over one million Internet users around the globe. The company's Web site is home to the world's most popular Internet privacy service, Anonymizer Private Surfing, which defends users from the most prevalent Internet privacy and security threats, from online tracking using "Cookies" to malicious code, identity theft and e-mail spammers. Anonymizer Private Surfing has been used to privacy-protect over four billion Web pages for millions of users since the company's inception in 1996. The company is privately held and headquartered in San Diego, California.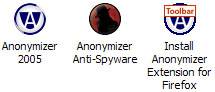 Anonymizer right off, does not have some sophisticated features as Steganos had, but we will get into these other features in a moment. One thing that needs to be made clear, is that this version of Anonymizer is meant for use with Firefox, and that's it. It will not protect your IM conversations, or even protect you if you use another browser. It's interesting to note, because with Anonymizer activated, IP Chicken in Firefox displayed my 'fake' IP address, while through IE it displayed my real one. So don't consider this exact version if you wish to use another browser. Anonymizer has many different versions though, that work quite well.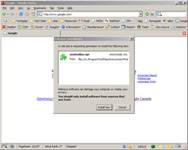 Installation of the program was very quick and easy, with a few simple questions along the way, such as user name and serial key. Once installed, you will see a "Install Anonymizer Extension for Firefox", which is technically all the product revolves around. It's nice to see that one company is fully taking advantage of Firefox by creating such an Extension, and this one seamlessly integrates into the browser as you can see.
They could not have made the program any easier to use. Upon opening Firefox, you will see a few new icons for your use. You will see the Anonymizer icon, followed by the Spyware application, and then the digital shredder. Let's first check out the first icon, which enables the protection.
Once enabled, it will connect to the Anonymizer server, and will notify you that you are currently protected. I believe that most, if not all of their servers are based in the US. At least, of the 6 IP addresses Anonymizer assigned me, they were all US IP's. Unlike Steganos, Anonymizer will grab you an IP address and keep it for the duration of your computer use. If you need a different IP, I found that the only way is to reboot, and then let it reconnect. If you turn off the protection after already being connected once, it will use the last IP that it used.
That part is extremely easy.. just enable the option and you are good to go. That's the bulk of the security though, and you don't have the option to block certain information as Steganos would allow you to do. Hitting up IP Chicken displayed my Browser information without a problem. This is not a big problem really, but it would have been nice.
The next icon is the Anonymizer Spyware remover. It allows you to scan for spyware and remove it very, very quickly. I would not expect this to replace your Ad-Aware or the like, because it doesn't seem very complete. It took about 5 seconds for it to do a complete scan, so I'm not exactly sure what they are looking for, but I can see primarily it will scan the registry and select files on the computer.
Anonymizer vs Steganos
The last and final icon is the Digital Shredder. This is also a no brainer to use, and it will completely shred your Cookies, Cache, History and other info with one swift click. Whereas Steganos allowed a varying degree of file deletion, from what I can tell, Anonymizer only overwrites the files once, which should be enough, but not always. There are no options to choose any other methods, so we must stick with what they give us.
One benefit that Anonymizer does have over the Steganos though, is the speed. Surfing the internet was very quick, and I would estimate it to be around 20% slower than if I did not have it enabled. This is partly due to two reasons. Firstly, the servers were all directly in the US, which are closer to me than the Steganos overseas ones. Since it sticks to one server for the duration of your surfing, it cuts down on the cutouts. You should not have a problem downloading and grabbing any information off the web with this program.
Anonymizer vs. Steganos
Now comes the part where I decided which of these two I liked more. This is not an easy decision, because it's like comparing a Car to a Boat.. both are used for different main purposes. Let's discuss what the highlights are of each program.
Steganos.. I had two problems with this program. The fact that I could not easily use it with Firefox was not a welcomed one. The other main complaint I have is that it is a lot slower than Anonymizer. The thing with Internet Anonym though, is that the more you use the program, the better it will optimize your surfing. It will discover over time, which servers are best for you, which means your surfing time will increase. This optimization process could take a few days or a few weeks.
Now the things I do like about Steganos, are all the extras they include. You can encrypt your internet favorites, remove information off your computer like a brute and you can block browser information and cookies from sites you visit. These are great features, and every anonymity program should have them.
Anonymizer.. My main problem with this program was the lack of immediate features. They give you a very basic tool to use, and that's great for most people, however I would have been much happier to see more advanced options. I was very impressed however, with how well it worked with Firefox. Since that's been my primary browser for a long time, I hated the fact that I was forced to Internet Explorer with Steganos. The integration with Anonymizer is perfect if you already use the browser. Chances are, if you care this much about your security, you are using Firefox to begin with.
This program was also a lot faster than Steganos. If you live in the US, chances are that Anonymizer will be much faster than Steganos, and the opposite may be if you live overseas from North America. The program works awesome.. I just yearn for more features to be available.
The Verdict
Because these programs are so different from each other, it's hard to compare them directly. If you insist on using Firefox, you should definitely choose Anonymizer. On the other hand, if you want a lot of kick ass features and higher security, you may wish to use Steganos. If Steganos was faster and worked with Firefox, it would be my first choice. If Anonymizer added some of the kick ass extra security features that Steganos had, then I'd choose it.
Have something to say about this article? Feel free to post your comments or questions in our RELATED THREAD. I'm also interested in taking a look at other programs in the future, so feel free to recommend me any that you think I should be mentioning!

Official Site – SRP: $49.95
Pros:
Super easy installation
Surfing the net is fast!
Easy to use and understand
Works *perfect* with Firefox
Cons:
Does not protect you "out of browser"
Would have welcomed more advanced features


Official Site – SRP: $59.95
Pros:
Super easy installation
GUI is innovative
Ability to hide Browser Info
Rotates servers for more security
Cons:
Slow surfing compared to Anonymizer
Does not work reliably with Firefox

Copyright © 2005-2019 Techgage Networks Inc. - All Rights Reserved.