ioSafe Solo Disaster-Proof External HDD

Date: December 25, 2009
Author(s): Brett Thomas

It goes without saying that data security is important, because let's face it… it's not unusual for a hard drive to crash. But what about taking measures to prevent a drive from dying from things other than a simple crash, such as a fire, flood, or receiving a good beating? After tackling those exact scenarios, we can say that this product is a winner.
---
Introduction
In the world of information technology, nobody will argue that protecting your data is important. All too often we hear terms about data security, encryption, network design and other methods to protect your personal or professional livelihood. But what about preserving your data through a disaster? Today, we are looking at a product designed to fit just that – the ioSafe Solo external hard drive.
Before we get too far into the features of the ioSafe, we need to look at what exactly it saves you from. We're not talking your run-of-the-mill backup or even off-site solution. This isn't RAID (though RAID versions are available… and remember, RAID IS NOT A BACKUP!) and it isn't portable. It's designed to sit right next to your computer or server, and sit there… forever, if need be. It's metal, it's insulated, it's water-sealed and it's heavy (15lbs!). It even comes with a hole to bolt it to a structural joist or into your concrete floor of your server room. Yeah, it's that permanent.
What the ioSafe is made for is the oft-overlooked data security section known as disaster recovery. Sure, you could have a hardware malfunction and lose data, or a crash, or a hacker. There are systems designed to protect from those things that get a lot of attention. But there's not much you can expect to recover if your building gets set on fire or ends up under six feet of water. The expectation is that you will lose everything on-site, and that you'll (hopefully) rescue your data (with some loss) from your most recent off-site backups.
This niche is filled by ioSafe's group of products – external hard drives that can stand fire, flood, physical shock, the four horsemen and the apocalypse. In a nuclear holocaust, we can add one more thing to the list of survivors – cockroaches, twinkies and your data. Of course, that assumes that it really stands up to these things, but we'll get into that shortly.
First, let's look at the product we have in front of us, as well as its kin. The ioSafe Solo (which we have here) comes in sizes from 500GB to 1.5TB and uses a USB2.0 interface. It is stated as usable on Windows or Mac, but those of us who are penguin heads will be glad to know that I had absolutely no problem on Linux, either. I'm not sure why this is not listed, as UNIX/Linux is often used in the server configurations which would find this device most useful.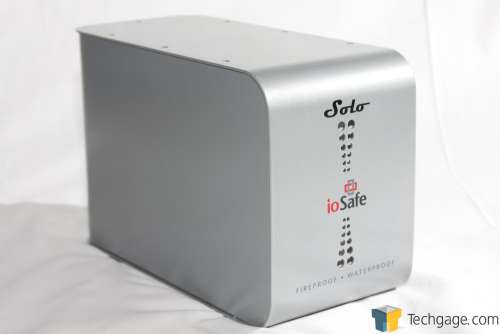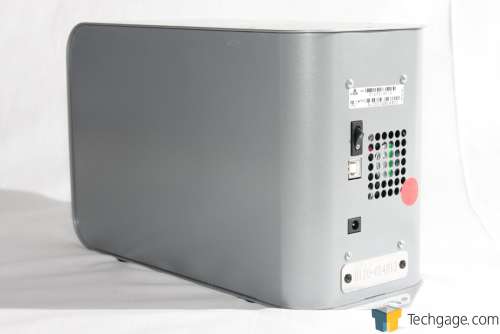 It stands a little over 7 inches high, almost a foot long and is 5 inches wide. If that sounds big for just an external hard drive, well, it is – and it also weighs a whopping 15 pounds. Because the hard drive is 3.5″ (5400 and 7200RPM models are available), a separate power adapter is required (and included). The Solo is rated for temperatures up to 1550°F (think the middle of a building fire) sustained for 30 minutes, or being able to be submerged in up to 10 feet of water for three days.
These levels of protection don't come cheap, mind you – for just the 500GB version (which we have here) and the lowest warranty of 3 years, the product starts at $149.95 prior to (15 pounds of) shipping. That includes one year of Disaster Recovery Service, in case the unit is damaged to the point that you actually can't get it rolling again. You can increase that DRS to three years for another $50, or bump both the warranty AND the disaster service to 5 years for $100.
Given the target market and expected use of the product, this price is beyond reasonable and it shows that ioSafe has a lot of faith in its own product. That being said, it would also be expected that anyone serious enough to buy this drive will probably not skimp on the warranty, either. When you consider the peace of mind of a fireproof, waterproof and crush-proof data storage, $250 just doesn't seem out of line. The NAS versions are a little more pricey, going up to $10,000 for the 4x1TB. Granted, you get more with it, but it's a pretty steep price curve.
Along with the Solo, ioSafe has several NAS versions. The largest of the list is a 4x1TB NAS box that would keep most small businesses comfortable with all of their valuable on-site data. We'll hope to see a 4x2TB version soon (maybe CES 2010?) to keep up with the increase in hard drive technologies. These have a higher fire rating (1700°F for one hour), flood rating (30 feet for 30 days) and enterprise-level warranty. Of course, the price takes quite a spike as well – the 4x1TB costs a whopping $10,000. Finally, the company also offers a couple different internal 3.5″ drives that boast some of the same disaster-proofing concepts (though in much smaller sizes and without nearly the same level of protection).
All of this hinges on one thing – whether the ioSafe can do what it's really designed to do. And we here at Techgage don't like to skimp on our tests, either. As such, I had the oh-so-horrible duty of actually setting a piece of computer equipment on fire. I wish I'd saved this for one of the days my HTPC was acting up! Of course, it's not a Techgage test if we stopped there – it did say flood-proof, after all.
So, after the unit was burned in a fire that peaked at about 1200°F, it was cooled with a hose and soaked for two days in a 5-gallon bucket of water. Unfortunately, I wasn't quite hardcore enough to toss it in my lake and go fetch – I'm sure the test is quite complete without this. Just to make sure we really put the poor burned, soggy drive through its paces, I gave it a whack with a sledgehammer on its top-left edge.
Why all these beatings in a row? ioSafe asked the same question, as the representative was actually a little concerned about the shock of going straight from the fire into the flood (I was explained that the device is designed to handle either/or, not necessarily both). Though this gave me a little worry, I stand behind the idea that my test is the most accurate simulation of a likely building fire that we can produce.
Assuming your server room was in the basement (like many are), a building fire will be put out with either sprinklers or hoses – all of which likely to collect in the basement. As well, any building collapses will likely resolve there, so it's not really far-fetched for all three of the disasters that this product is designed for to happen in tandem. Fires cause structural damage and are put out with water – so the idea that a unit could theoretically encounter all three is more of a likelihood in my book than an anomaly.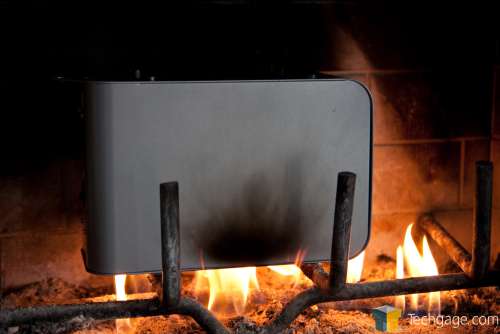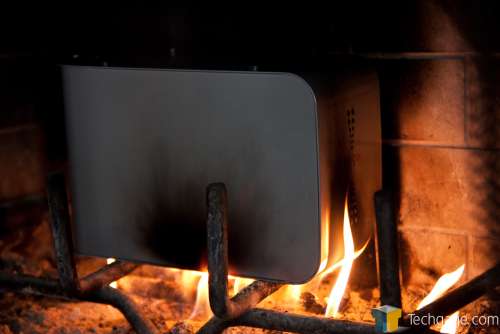 The device was loaded up with 85GB of data in varied sizes. The variety of data should match the scattered data from a longer-running database or webserver as well as a large backup file cache. In reality, I copied over two Adobe Lightroom catalogs, one Blu-ray movie and a slew of music files. The disk was then imaged at the physical level using the Linux program "dd." After the tests (and a couple days to dry, just to be safe), the device was plugged in and re-imaged, and the images compared. Any issues, even a bad sector, would show up on this test.
There's really not much to say as far as results except that it survived. The images matched perfectly and it was as if nothing had happened at all (though the drive looked a little worse for the wear). It would probably be wise to replace a unit after such an event, but you could do so with the safety and peace of mind that it was perfectly usable afterwards – it even powered up with no problems. This may be in how I chose to burn the unit (the front was in the fire, the back was not – this way I did not melt the USB or power plugs), but the overall survival was beyond impressive.
As such, it's hard not to give the ioSafe Solo a Techgage Editor's Choice award. It's not for everyone, and it probably isn't even for most of our readers. But if you're an IT professional or small business owner who is concerned about disaster recovery (and we all should be), it's hard to beat. Just $250 buys you a 5-year guarantee that your data won't go bye-bye under some pretty high standards, and that the company will try to get it back even if the unit exceeds those tolerances. A 15lb. brick may not be your next drive of choice for a LAN rig, but it would be foolish to ignore the option for your important data.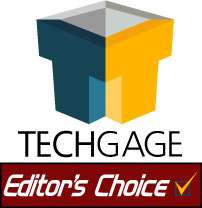 ioSafe Solo Disaster-Proof External HDD
Discuss this article in our forums!
Have a comment you wish to make on this article? Recommendations? Criticism? Feel free to head over to our related thread and put your words to our virtual paper! There is no requirement to register in order to respond to these threads, but it sure doesn't hurt!
Copyright © 2005-2019 Techgage Networks Inc. - All Rights Reserved.