Lazy Gaming In Style – Sumo Omni Plus Bean Bag Review
Date: December 31, 2016
Author(s): Greg King

Office chairs are just not inviting for gaming, or even that comfy for long periods. Sometimes you just want to laze around in the living room in front of a giant TV – maybe with friends. That's when a giant bean bag from Sumo comes in with its Omni Plus. Plop yourself down and vegetate for hours at a time, in glorious squishy comfort.
---
Sumo Omni Bean Bag Review
Sigh. Just over ten years ago we took a look at the Sumo Omni bean bag chair. Where has the time gone?

A lot has happened over the last ten years but one constant at Techgage has been our focus on the gaming community and all the various products that make up the industry that we love.

That Omni was given to a friend about 8 years ago and I'm happy to say that it's still being used. That says a lot about the quality of a daily used product, that it's still in working order after a decade. I've owned cars for less time than that.

I looked up Sumo about three months ago after spending some time in the local Lovesac store and was pleased to see that they were still in business and had expanded their lineup, now offering many different products including more bean bags, large and small.

Today we're taking a look at the Omni Plus, an updated version of the bag we discussed back in 2006. Quite a lot has changed from the original to the Plus edition but the one thing to remain constant is the comfort.

The new Omni Plus is slightly larger than the original, measuring five and a half feet in length as opposed to the original five. Width remains the same at four feet. Beyond dimensions, the Omni Plus has quite a few more features to separate it from its older sibling. Most notably, Sumo has changed the filling from the beads we've all come to expect from bean bags to shredded foam, adding about 20 pounds to the overall weight and bringing it up to ~35 pounds.

The new foam does give the Omni Plus a bit different feel compared to more traditional bean bags filled with the beads, but in every way it's an improvement. One advantage of the foam is that unlike the beads that can compress over time, the foam is said to come right back to form shortly after climbing out of the Omni Plus. The other major change to the Plus is that Sumo now includes a suede cover that can be swapped out for different colors (sold separately) and removed for laundering.

The Omni Plus shipped compressed and with a considerable amount of shrink-wrap. Once the wrap is removed and out-of-the-way, the bag can be removed from the zippered back it ships in. The suede cover can then be placed around the bag and left to expand on its own. I helped it along the way by walking on it for a few minutes but it still took around 48 hours to completely enlarge to the point where it could then be used at maximum comfort.

Once the foam has taken shape and filled out the suede cover, using the Omni Plus is a pretty straight forward affair. You set it up how you want and let gravity do the rest. There are a multitude of ways that the Omni Plus can be setup but I personally prefer setting it on its edge and sitting down into it with my rear about a third of the way from the front. That leaves the majority of the bag behind me to leave back into while I'm either playing XBOX or watching a movie.

Another favorite of mine when I want to get a little more horizontal is to lean the back foot or so against the couch and sit on the front edge, pushing back toward the couch as I settle in. This again gets a majority of the filling behind me to lean against and also serves to tighten the back up a bit as well. That said, those are my favorite but there isn't a right or wrong way to enjoy a bean bag. You just move around until you get comfortable and you stay that way until you climb out.

The Omni Plus is even large enough to share with someone else should the mood and situation present itself. Another place a product like the Omni Plus would be well suited is at LAN parties. Instead of sleeping in my car, line up half a dozen bean bags like the Omni Plus and you have a great napping station.

A lot has changed over the last decade. While the house is a bit larger and the number of empty beer bottles a bit less, I have to think that every house is made better with a bean bag somewhere on the floor. While Sumo does have quality competition, one thing they do very well beyond comfort is pricing.

The Lovesac Pillowsac, the closest competitor to the Omni Plus, retails close to two and a half times the price at $900 USD. But Greg, only suckers pay retail! Yeah, you're right. Whatever. The Omni Plus retails for $349, it can be purchased directly from Sumo for $199 at the time of writing, making it a considerable amount less than the Pillowsac that's also on sale for $720. Additional suede covers can be purchased directly from Sumo as well for $79 and with 15 colors to choose from, having an extra one around isn't a bad idea.

Everything ships at no charge and while that might not mean a lot for a cover, a 35 pound bag of compressed foam is something that would cost quite a bit to ship on your own dime so appreciate Sumo picking up the bill on shipping. I've already gotten a lot of use out of this Omni Plus and have no intentions of giving this one away. It'll remain in front of my TV for as long as possible.

The Sumo Omni Plus earns an Editor's Choice award for usability and price.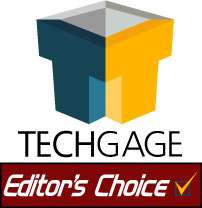 Sumo Omni Plus
Copyright © 2005-2018 Techgage Networks Inc. - All Rights Reserved.