Making Your Speakers Mobile: Logitech Bluetooth Audio Adapter Review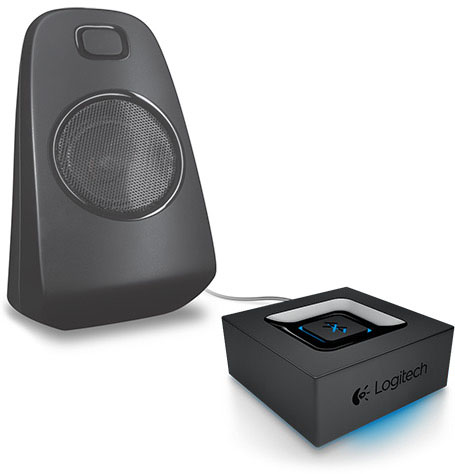 Date: April 12, 2014
Author(s): Greg King

Have a pair of speakers kicking around, not being used? Want to kick back and stream audio from your phone, rather than sit in front of the PC? Both of these scenarios can be aided with Logitech's new Bluetooth audio adapter. Connect it to a set of speakers, pair up, and listen. As we find out, it truly is that simple.
---
Logitech Bluetooth Audio Adapter Review
I listen to a lot of music at home, and I would wager that a lot of you do as well. Our living room television has the Pandora app built right into it, and when we aren't watching something on XBMC, we are listening to music. When not in or around the television, I leverage the pair of Logitech Squeezeboxes, reviewed here and here, to listen to music. These are nice because they allow me to keep my music library in one central location and share those files with the networked Squeezeboxes with relative ease. Finally, when I'm on the go, I stream audio from my iPhone to my Mazda's stereo via Bluetooth. My point in all of this is, I like music, and being able to leverage my devices is an important part of my daily routine.
For this review, we are looking at the Logitech Bluetooth Audio Adapter. What it lacks in a creative name, it more than makes up for in ease-of-use. The concept is simple: It's a small adapter, only 2″x2″x1″, that connects to a Bluetooth-enabled smart device. Once paired, it allows the user to stream audio to whatever powered receiver or speaker that they might have. This can be done via a 3.5mm or RCA cables.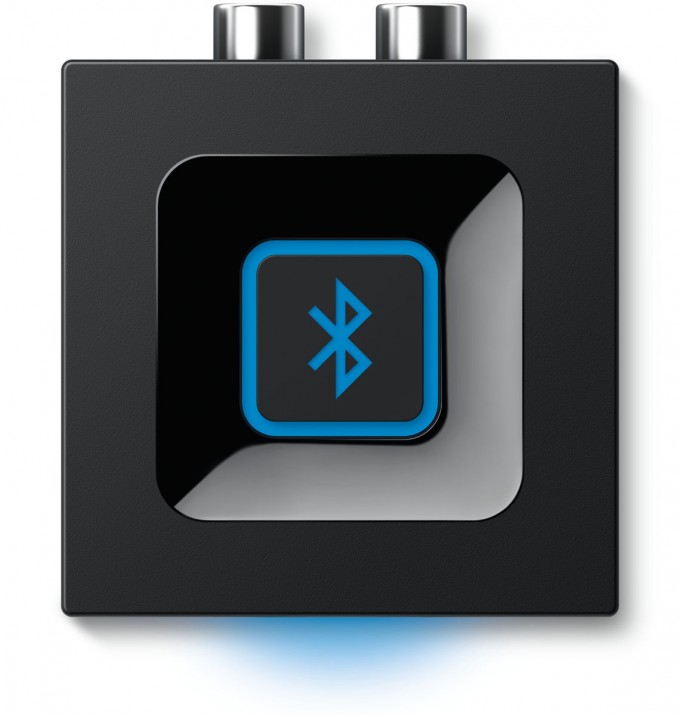 To pair the Logitech Bluetooth audio adapter with your smart device, simply browse to your phone or tablet's Bluetooth settings (in my case my iPhone) and have it search for a discoverable device. While doing this, simply press the button on the top of the Logitech adapter. You can't miss it… it's literally the only button on the entire thing. When you press it, it will send out it's pairing signal and your smart device should recognize it.
You can also pair multiple devices with the Logitech adapter. This allows you to stream audio from whatever device you want to stream from, without having to re-pair each time you want to use a different audio source. After a device has been paired, it will automatically connect when it's within range of the adapter.
Speaking of range, Logitech states that it will remain connected at a line of sight range of 15m (50ft). I got to 47 feet before signal started to consistently drop and at this distance, the signal was going through 3 interior walls. With line of sight, I am willing to make the statement that the 50ft stated by Logitech is conservative. But, with any device, your mileage may vary.
Once paired, you can begin streaming your audio to whatever device you have the Logitech adapter connected to. In my case, an Onkyo surround sound receiver built and purchased just before Bluetooth was offered as a feature on home audio receivers. First world problems, amirite?
There is zero knowledge needed to work this adapter. All it does it add Bluetooth capabilities to audio devices that don't have that capability baked into their design. Have a set of powered computer speakers? Throw them on a shelf and connect them to this adapter. Are you like me and have a receiver that costs just enough to make it difficult to discard and replace? This adapter will give you a little more flexibility in ways you can use it.
I listen to a lot of audiobooks. I have been a member of Audible.com for years and absolutely love all that it has to offer. I haven't listened to anything but audiobook when driving for quite some time. The problem is, while I might have the ability to play my Audible books on other devices, the option to pick up where I last left the book is not available unless I continue to play it on my phone. I find myself dragging my phone around with me to continue listening to my book when outside of my car. If I am driving my truck, I just put my phone on the dash and turn the volume up as high as it will go. This way I can listen to my book instead of whatever might be on the abhorrent radio. When I am in the kitchen and want to listen, I simply put my phone in a small cup. If that sounds a little ghetto to you, it's because it is. But… it works very well.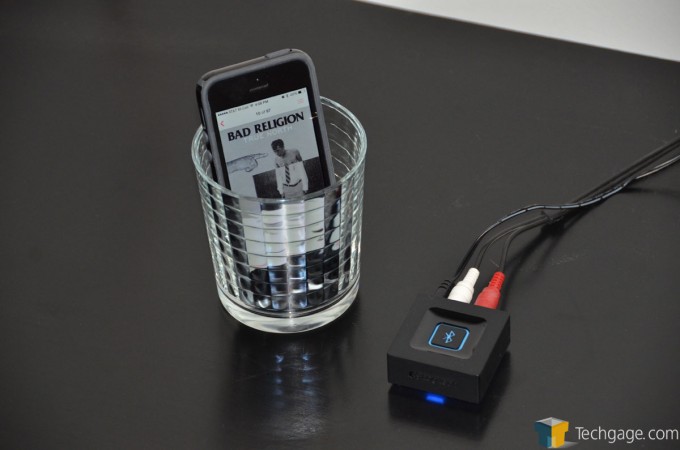 Now, with this device, you have the option to pair the Logitech Bluetooth audio adapter with a set of powered speakers and listen to whatever you have on your smart device without having to dirty up a cup to hear it.
With its rather uncreative name, the Logitech Bluetooth audio adapter is a simple little device, so the name is somewhat fitting. The concept is simple. The setup is simple. Using it is simple. All aspects of this device are simple and in our testing, it never failed to function as advertised. There isn't much to it so there should be little to break on it, and with an MSRP of $39.99, it's affordable for most anyone's budget.
This adapter is not going to change the world, but it will change the way you use your Bluetooth-enabled devices at home and on-the-go. At the very least, it should prevent those of you like myself from using a cup for audio amplification. After my time with Logitech's Bluetooth audio adapter, it's easy to recommend it for those in search of Bluetooth capabilities for devices that lack it. The functionality is nice, reliability great, range more than acceptable, and the price is affordable.
Copyright © 2005-2017 Techgage Networks Inc. - All Rights Reserved.