Nero Linux 4 – Still the Best Burning Tool for Linux?

Date: October 12, 2009
Author(s): Rob Williams

One of the best features of Linux is its sheer number of free available applications. But once in a while, certain commercial offerings deliver enough features and an ease-of-use that makes it worthy of consideration. Nero Linux is one of those. Now in its third iteration, Nero Linux remains the definitive optical-burning tool for the OS.
---
Introduction, Nero Linux 4 Features
As the most popular non-commercial desktop OS, Linux and its users have a lot worth boasting about. One of the biggest points raised when Linux is questioned boils down to security, and I think few would argue that as far as certain operating systems being targeted goes, Linux is rather safe. That's also helped by the fact that the entire OS is open-sourced, so if there is a hole somewhere, it's bound to be caught by somebody.
If not for security, then maybe you simply like how Linux as a whole operates… how the system works. Or, you might just prefer the available desktop environments, such as KDE or GNOME, over the commercial alternatives. Or how about the fact that Linux is a 100% free operating system? Even the vast majority of available applications for Linux are created by passionate developers for free.
Admittedly, some free software can't hold a candle to some of the more robust commercial alternatives, but that's again not much of a surprise. Most software on Linux costs nothing to use, and it's built by passionate developers who love what they do, and who usually get very little in return.
I dual-boot my personal PC with both Windows and Linux, and while I admit I have quite a bit of commercial software inside of my Windows installation, out of all the software packages I have installed inside of my Linux, only one happens to be a commercial application. Can you guess what it is? Of course, it's Nero Linux. When I laid my hands on the first version of the application well over four years ago, I was sold. While there are many free CD burning applications for Linux, none were quite as refined as Nero Linux, at least in my opinion.
Aside from the overall application reliability, one of the reasons I came to like Nero Linux so much is simply because it followed many of the design cues from the Windows version. This isn't exactly something most would care about, but for me, it was familiar territory, since I used Nero for Windows many times. With the launch of Nero Linux 3, which I also took a look at, Nero improved upon things even further. The UI was refined, and overall, it was even easier to use.
When the first version of Nero Linux (2.0, for some reason) came out in the spring of 2005, it took only two years until Nero Linux 3 saw its release. With Nero Linux 4, released just last month, there was a two-and-a-half year gap in between releases. With so much time in between, can we expect some major changes, and maybe even a UI refresh? Well, not exactly. I have to admit that when I first took a look at the press release, I was a little underwhelmed, and I actually had to dig deep to see what was new. According to the company, these are the newest features:
Nero Linux Express
More advanced options for burning all types of media
ISOLINUX Bootable CD/DVD/BD Support
BD Defect Management
Enhanced Audio Format Support – AIFF and MusePack
"That's it?" See what I mean? It's been two-and-a-half years since Nero Linux 3, and this is what's updated? Nero Linux Express is admittedly a nice update, but the rest are going to appeal to a rather slim audience – especially the Blu-ray defect feature (essentially a more robust verification process). Well, the new features might be slim, but let's take a look at the application as it stands today and see if it's worth your $20.
Installing Nero Linux 4
Like many other Linux applications, Nero Linux officially supports only a handful of distributions. These include Red Hat Enterprise Linux 5, SUSE Linux 10.3, Fedora 7, Debian 4.0 and Ubuntu 7.04. Use a newer version? Don't worry… these are the minimum versions, so if you are using the latest version of any of those, you're fine. One thing you might notice is that any of those distros support either RPM or DEB, and it's for that reason that Nero offers downloadable versions of either of those.
Due to some recent discussion in our forums, I was interested to see just how easy (or difficult) it was to install Nero Linux 4 under a couple of the supported distros, so I loaded up both Ubuntu 9.04 x64 and Fedora 11 x86 and gave it a whirl. As Ubuntu is Debian-based, it'll be the .deb installer you'll be using. After double-clicking the file, clicking "Install Package" and inserting my password, Nero Linux was installed within 4 seconds. No, that's not a typo. On Fedora, the install took a little bit longer while using the .RPM file, and I had to click through a few additional screens, but the entire process still didn't take too long, at 14 seconds.
For users of distros that don't support RPM or DEB, you have two primary options. Your first is to see if your distro's repository lists it, and install it that way. My preferred distro, Gentoo, actually did have the latest version ready for download, so it was made rather easy, but neither Ubuntu or Fedora had it listed in theirs. If your repository doesn't, you're not out of luck, but getting it installed is a bit more technical.
What I personally recommend is using the command-line program "rpm2tar", which is likely in your distro's repository. If it's not, I have it hosted here for quick downloading. There is an official website for the tool, but the download link hasn't worked for months, at least for me. With the RPM installer in the same folder as your rpm2tar file, you can type in "./rpm2tar nerolinux*.rpm" and it will convert it to a .tar file. Then from there, you'll have to enter sudo or su, and type in, "tar -xfv nerolinux*.tar -C /", which will extract the files to the root folder on the hard drive, putting files exactly where they need to be.
Alright, that's enough of the installation. Let's get right into our look at the actual application, starting off with the first screens you'll see after starting it up:
If you didn't purchase a code to activate the application as a full version, a trial code will be automatically inserted. I have no idea how long the trial period lasts, and I can't find information on Nero's website about it, but given the information in the above screenshot, I'd guess about three weeks. After you put in your credentials and code, you'll be greeted with the main application screen: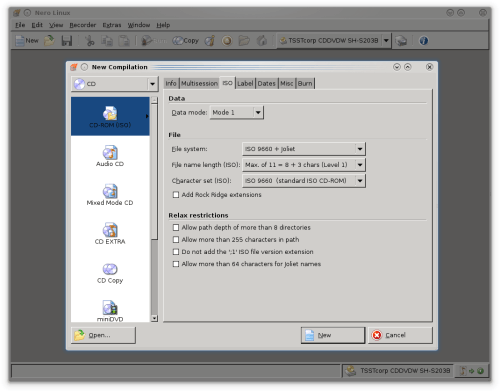 This screen will come as absolutely no surprise if you've used Nero Linux 3, and it's for good reason… I can't spot a single change. Even the options on the left-hand and right-hand side are identical. As mentioned earlier though, some options deeper in are in fact different, but most will appeal to power users… those who understand the technical aspects of burning (I am not one of these people).
For those interested, here are the exact options available on both the CD and DVD sub-menus:
CD
CD-ROM (ISO)
Audio CD
Mixed Mode CD
CD EXTRA
CD Copy
miniDVD
CD-ROM (Boot)
CD-ROM (UDF)
CD-ROM (UDF/ISO)

DVD
DVD-ROM (ISO)
DVD Copy
DVD-Video
DVD-ROM (Boot)
DVD-ROM (UDF)
DVD-ROM (UDF/ISO)
As you can probably tell, Nero Linux isn't exactly a lightweight burning application… there are many possibilities here. This is one of the advantages Nero has over such solutions as K3b… the sheer number of options available. The thing to bear in mind, though, is that the majority of users will likely rarely ever take advantage of all these additional options, but for those who burn often, and take it seriously, there's no competition where the sheer flexibility of Nero is concerned.
Features Continued
One of the more interesting parts of these menus is where one of the latest features lay, the boot section. When you look here now, you'll notice that the "Profile selection" option now offers you the ability to burn a disc as an ISOLINUX format, which is important for either creating your own Linux distro, or burning a distro when all you have are the files themselves, and not the original ISO. This is where things get technical, and Nero offers absolutely no documentation on this feature. So, if you plan on using it, it's best that you already understand the basics of creating an ISOLINUX disc that will boot the way you want it to.
There are other options here as well, such as the ability to create a Windows XP/Vista bootable disc, which would be used for the same purpose as building a bootable Linux disc. You can also choose which type of emulation to use if you are feeling ambitious, with the options being Floppy (1.20MB – 2.88MB), hard drive and also no emulation at all. To use the "User defined" option, you'll have to understand which options to insert for the load segment and loaded sectors sections.
I admit that most of the time when I use Nero Linux, it's to either burn an ISO or regular data, but there are many other aspects of the application I don't pay much attention to due to lack of need, or because it doesn't offer a feature I'm looking for. Here's a good example, the audio CD ripping feature:
By default, Nero will not automatically find the track names for your audio CD until you hit Internet DB. I had a major issue with this in Nero Linux 3 (the process of grabbing the names would never end, so I was forced to manually kill the entire application), but this time around, I had no such issue. In fact, the song names were grabbed incredibly fast… I was impressed. While that's all fine and good, one thing you'll notice on the "Output" section is that even though MusePack support is boasted, it's actually only available as a decoder, not an encoder. This is something Nero conveniently forgot to mention on their product page.
To be fair, I am doubtful many people are going to be too concerned over the loss of that feature, but what I don't get is why the option isn't there at all. Musepack is a completely free and open-sourced codec, so there's no need to not include the support for encoding. This could very well be something Nero accidentally overlooked, but I'm really not sure how one of the very few new features in Nero Linux 4 could be overlooked like this. Plus, from an audiophile perspective, who on earth wants to recode an already very lossy format? You'd imagine converting from a lossless source to MusePack would make more sense than the vice versa.
Looking at the product page for Nero Linux on the company's website, you'll notice that they put "Audio Features" on its own tab, which would lead me to believe that the audio features is one area where they find the application excels. Sadly though, there's one lacking feature that keeps me from using Nero Linux to rip my audio… secure ripping. K3b offers cdparanoia support, so why not Nero? Nero Linux already uses some completely free solutions, so I can't see it being too difficult to implement support for secure ripping.
Whether it's obvious or not, if you have a large music collection, chances are good that at least one or two discs has scratches that result in audible skips when listened to. That in turn will result in a skip or crackle when ripped to a digital format. Support for secure ripping would greatly lessen the chance of your music ever being ripped with skips in it, so I really hope to the feature added in some future version. I should note that at last check, the Windows version of Nero lacked this feature also.
Nero Linux Express
I've left the best new feature for last, Nero Linux Express: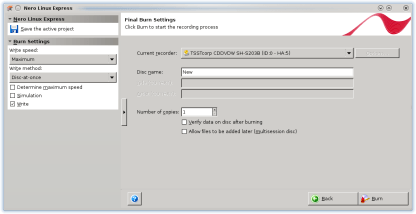 Looks familiar, huh? If you've used the Windows version of Nero at any point in history, you probably recognize the "wizard-style" of burning, and to be honest, I quite like it. I don't tend to look for the easy way out of things (who am I kidding?), but Nero Linux Express is so straight-forward, that when all you need to do is burn some data, then it's easily the best way to get it done. It's so straight-forward, that even someone not familiar with Linux or Nero in general could figure it out with ease. You choose your project, add the files, then click burn. Simple.
The options that are included in Nero Linux Express are as follows:
Video/Pictures
miniDVD Files
DVD-Video Files

Image, Project, Copy
Copy Entire CD
Copy Entire DVD
Disc Image or Saved Project
Since Nero Linux supports Blu-ray burning, an option relative to that might appear here if you have a writer, but I couldn't find any evidence of that anywhere… so it might possibly be left to the full-blown application only. Overall, Nero Linux Express is a great addition, because it makes the entire burning process even easier, for when you just want to get something done, and get it done fast.
Final Thoughts
When I first saw the press release in my inbox for Nero Linux 4, I was excited. I've been using Nero Linux ever since it first came out four years ago, so I couldn't wait to see what was new in the latest version. Well, I don't think anyone is going to claim that Nero Linux 4 ships with a slew of new features, because it absolutely doesn't. Aside from Nero Linux Express, I can't see myself personally making use of the other new features, and I have a feeling the situation will be similar for a lot of people.
The truth is, Nero Linux 4 could almost be Nero Linux 3.9, because although Express is a nice feature, I don't think it's so monumental that it deserves to bump the application up to the next major version. After all, Express is simply another UI for getting the same thing done… there's no truly new functionality here.
That all said, I'd really like to see some major additions made to Nero Linux in the future. For as long as the application has existed, I've seen people request over and over again for video-related features, such as Nero Recode. I'm with everyone there… it's something I'd like to see as well. I can understand to a degree why it's not here, but if people are willing to purchase the product, and I assume they are if Nero found it worthwhile to put out three versions so far, then additional features like that would be worth it.
Then there's also the feature I'd like to see regarding secure audio CD ripping. That to me shouldn't be a luxury, as even free ripping applications, such as K3b and RubyRipper, offer it. Or, how about a Linux version of the company's MediaHome feature? Or Nero Showtime? It's not as though Linux is incapable of handling these tasks. In fact, I've heard many times in the past that it'd be even easier to develop such features under Linux. It of course comes down to the fact that Linux is a much smaller market, but Nero might be surprised… the extra development time required for such functionality might pay off in the long run.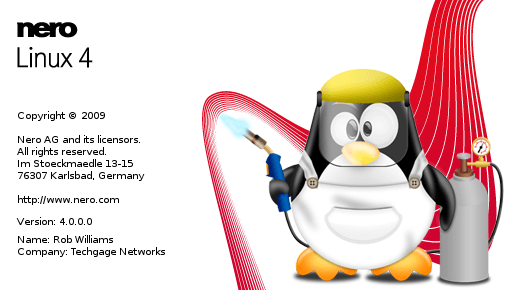 If there's one thing I can say, it's that I appreciate Nero for releasing a Linux version of its burning application at all. There's a countless number of developers out there who ignore Linux, and sometimes even Mac OS X, like the plague, but Nero has been supporting the OS in a great way ever since the original Nero Linux. Big kudos to them.
Before I wrap up, I do have to mention two issues I experienced when using the application, both of which are rather hard to ignore. The first is with the Nero Linux Express application. Sometimes, when clicking to create a new data CD or DVD, the application would crash with a segmentation fault. Other times, it would work fine. I don't get it. The other issue is with creation of multi-session discs. As far as I can tell, the feature is broken. On two different computers, I'd get an error whenever I'd try to continue a multi-session disc, so bear this in mind if you regularly create those. I'll be raising both these issues to Nero shortly, although I'd assume they are already aware of them.
So, the end question is this… would I recommend a purchase of Nero Linux? Yes, without question. It costs $20, and that's well worth it for such a robust burning application as far as I'm concerned. Free alternatives work fine also, but I've always found Nero Linux to be more reliable overall, and more of a pleasure to use. Your opinion may vary, and if so, then free options might be better suited for you.
Nero Linux doesn't offer a slew of features above the competition, but the entire application is designed in such a way that it's easy to use, for both novices and power users alike, and it's one application I personally wouldn't want to go without. If the question is shifted to, "Should I pay $12 to upgrade from Nero Linux 3?", then it's harder to answer. If you like the idea of Nero Linux Express, and can take advantage of the other new features (which are few), then sure… $12 isn't exactly a lot of money. If you're happy with Nero Linux 3, then 4 isn't going to wow you to the degree that you'd hope.
Pros
Still the best optical-burning application for Linux.
Overall flexibility and number of options is overwhelming (a good thing).
Nero Linux Express is a nice addition… makes burning an even easier task.
Supports Blu-ray reading and burning.
Added support for ISOLINUX bootloaders, AIFF and MusePack audio codecs.
Supports ripping CD/DVD to ISO (not only NRG).
Easy to install (if using a supported distro).
Only $20 ($12 for upgrade).
Cons
Issue with multi-session discs (I'd expect that to be fixed in a patch).
Occasional segmentation faults with Nero Linux Express' data CD or data DVD options.
Considering this is a major version increase, more new major features would have been nice.
Discuss this article in our forums!
Have a comment you wish to make on this article? Recommendations? Criticism? Feel free to head over to our related thread and put your words to our virtual paper! There is no requirement to register in order to respond to these threads, but it sure doesn't hurt!
Copyright © 2005-2020 Techgage Networks Inc. - All Rights Reserved.