NZXT Avatar Gaming Mouse

Date: December 9, 2008
Author(s): Zach Brown

In the world of gaming mice, there are a few names that we see often, such as Logitech and Razer. But, a new entrant is here, and they're hoping to make a splash with their first-ever gaming peripheral. The Avatar from NZXT has both the style and design we're looking for, so let's see if it lives up to the rest of our expectations.
---
Introduction
When you think of NZXT, what's the first thing to come to mind? If you're like me, you would say computer cases. We aren't just talking about any cases though, but the kind of awe-inspiring work-of-art cases you would see most people trot in with at your standard LAN party.
So, you might be surprised to hear that the company has a keen interest in diving into the peripheral market, and we can see proof of this with their first product, the Avatar gaming mouse. This mouse offers gaming flexibility as well as great comfort, all in one package. With all of the great first-person shooters recently released, the Avatar is definitely worth looking into, especially if you're thinking about a replacement for your current mouse.
One of the first things you might notice when you first see the Avatar is how much it resembles something from the product line of Razer. In fact, I actually thought it was a new Razer gaming mouse when I first opened up the package they shipped it in.
From the sleek shape and lettering on the box, you know this mouse was inspired by the competition, but that's not a bad thing. If you're going to break into the gaming peripheral business, why not examine the design and style of one of the more notable companies out there?
The mouse comes neatly-packaged inside of a slim black box which contains the mouse, instruction book and install CD. The book and CD are hidden inside of a small flap that opens up on the information side of the box, so don't accidentally throw it away! Inside the box, everything was secure, and the mouse arrived with no scratches.
Simply put, the Avatar is a great-looking product. The mouse features a solid black design with silver accent side-buttons, along with neon blue trim lights. It's equipped with a total of seven programmable buttons which include the left and right buttons, left and right side silver buttons and a scroll wheel with two programmable buttons underneath it. This sleek mouse fits nicely into the cup of your hand, which as well which reminds me a lot of the Death Adder mouse by Razer.
This ergonomic ambidextrous design allows both right and left-handed people to use the mouse comfortably, although just how comfortable it is for lefties is something always up for debate. Rubber coating also helps keep the mouse firmly gripped in your hand. It also has Teflon pads for feet underneath the mouse which allows for air hockey like gliding on a smooth surface.
NZXT's first foray into the peripheral market is impressive. The Avatar features a sharp and stylish design, and is somewhat affordable, at around $59.99. This could be considered inexpensive, though, considering the features built into the mouse.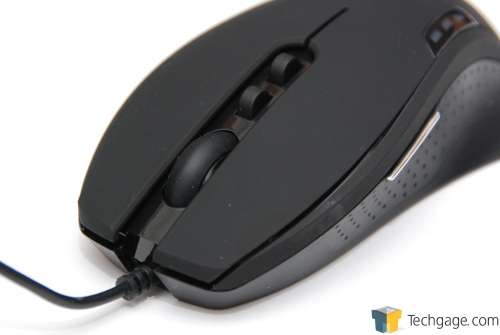 One of the more impressive features for the price is the 2600 DPI the Avatar is capable of running at. I have used a 2000 DPI mouse for a few years and couldn't believe how much more responsive this mouse was compared to that one (Razer Copperhead). What's more, NZXT's mouse is currently less-expensive than the Copperhead.
The Avatar is capable of functioning in one of four different DPI settings, which can be changed on the fly. By pressing and holding the left side button on the mouse you can move the scroll wheel to change the settings from 600, 1200, 1800, or 2600 DPI. There are three blue lights on the side of the mouse which light up to indicate what resolution you are running on your mouse. This quick-adjust feature is really nice for adjusting while in a game. It really does make it much easier to steady that sniper shot.
With the software you can program and tweak the mouse to your heart's content. Once the program is installed, you can then create up to five different gaming profiles with your finely-tuned adjustments for all the various games you might play. Other options included Y and X axis sensitivity, Windows pointer speed, acceleration, scrolling and double-clicking speed, as well as the option to make the mouse work with your left hand.
Final Thoughts
Overall, I think this is a good mouse, but I did have a few setbacks that I think should be pointed out. The first one, and by far the most major, was the fact that I couldn't get the mouse to work in my 64-bit Windows Vista install. Initially it would work when first plugged in, but with the software installed and configuration set, it would completely lock the mouse up to the point of it not functioning.
Luckily, there is a recent download for an updated version of the software on NZXT's website that promises to fix the issue. As frustrating as the issue was, it is something that is easily fixable, so props to NZXT for taking care of it. The software is trouble-free to install overall, and is straightforward to use.
The other minor complaint I have is with the overall weight of the mouse. As it is, the Avatar is very lightweight, and is too lightweight for my personal taste. As I have stated earlier, I've used the Copperhead for some time, and instantly noticed how light the Avatar was when I first picked it up.
Some might say this is a good thing, because it allows you to move it around much more rapidly. I personally don't care for this though, because while it might create less resistance on the hand, it does have a slightly cheaper feel to it. I have literally beat and bagged other mice in the past in a fight of gaming rage and would be slightly worried to attempt anything of the sort with this one.
Overall, this is a good-quality mouse, and I was surprised by how impressed I was with NZXT's first attempt at a gaming peripheral. Offering flexibility, speed and style, you can now affordably frag your friends with silky smoothness. The ability to switch on the fly easily without having to flip the mouse over makes the 2600 DPI Avatar a worthy choice for a gaming enthusiast… as long as you don't mind a lightweight offering.
Discuss this article in our forums!
Have a comment you wish to make on this article? Recommendations? Criticism? Feel free to head over to our related thread and put your words to our virtual paper! There is no requirement to register in order to respond to these threads, but it sure doesn't hurt!
Copyright © 2005-2019 Techgage Networks Inc. - All Rights Reserved.