NZXT Switch 810 Full-Tower Chassis Review

Date: May 16, 2012
Author(s): Ryan Perry

From cases to cooling, NZXT has something for everyone – and for every budget. With this review, we're taking a look at the company's Switch 810 full-tower chassis, designed for those who want solid design, big space, effective cooling, and can appreciate other smaller features not often seen on the competition's products.
---
Introduction
I hate couriers. I hate them. They're late, they don't leave slips if you're not home and they seem to abuse just about everything they deliver. This isn't the first time I've complained about the state of our review samples when they're dropped off and I'm sure it won't be the last, but it's a wonder that any of the samples we receive actually make it to us intact. If the courier is Bobby, then our review sample is Whitney. What? Too soon?
Before I'm given my pink slip for that intro, let me introduce you to what arrived in a beaten and battered box all the way from California; the Switch 810 from NZXT.
In January, NZXT launched this monster of a case after some entry-level and mid-range offerings to close out 2011. The Switch 810 is a steel, "hybrid full tower" case aimed at the enthusiast crowd. It can house mini-ITX, micro-ATX, ATX, E-ATX and XL-ATX motherboards and comes in black or white inside and out.
So with my hatred for all things courier set aside, let's dive right in.
The majority of the front panel is made up of high gloss plastic while the edges are capped with a rubberized "soft touch" coating that seems to be used more and more on a variety of products. This change in texture offers a bit of contrast and serves to somewhat offset the shininess, which was a nightmare to keep clean of my grubby finger prints.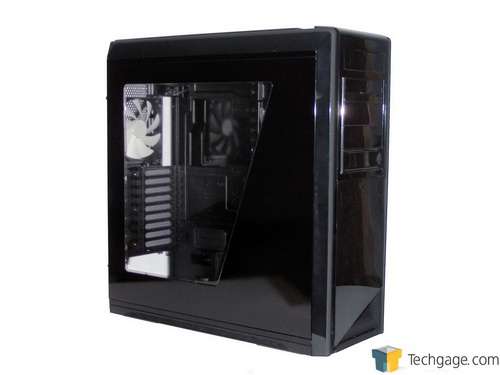 At the top is a flip-up cover that hides the front panel I/O area, which has also been given the soft touch treatment. From left to right are two USB 2.0 ports, a pair of USB 3.0 ports, an SD card reader, 3.5mm headset and microphone ports, the back panel LED on/off button and the reset button.
Below the front I/O area are four drive bays. The top bay can hide a 5.25″ optical drive behind a flip down bezel for a clean exterior look, while the next two bays can hold typical 5.25″ devices out in the open. Finishing things off is the bottom bay that hides a hot swap drive tray capable of holding 2.5″ or 3.5″ SATA drives behind the shiny cover.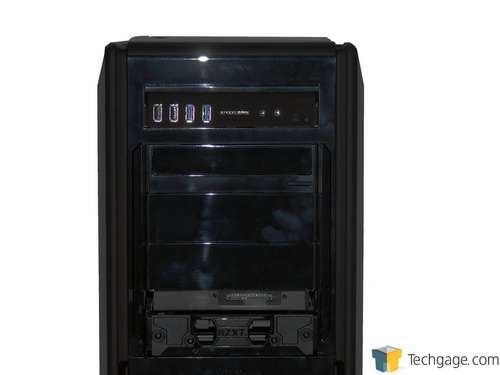 Heading down to the lower half of the front panel finds a quick release cover that allows access to the 140mm intake fan with a simple press at the top. A second optional 140mm fan can be installed here or the stock fan can be swapped out for up to two 120mm fans. Rounding out the front at very bottom is a removable filter that's accessed by pushing in to release the latches so that it can be pulled free.
Over on the left side is a very large window for those who like to show off the guts of their system. Along the bottom of each side panel is a mesh area that adds a bit of style while allowing for extra air flow. The same high gloss finish found on the plastic accents is also carried over to the metal surfaces, which again is very pretty, but very tough to keep finger print free.
The rear of the case has the motherboard I/O opening in the top left and a very large mesh opening to the right for the included 140mm exhaust fan. NZXT has decided to try something different by using slots instead of static mounting holes for the fan. This allows users to direct internal airflow to where it will be most effective such as over hot VRMs by positioning them vertically. This is only possible when using the included 140mm fan or a single optional 120mm fan. There's room for up to two 120mm fans, but at the expense of this flexibility. Further down are the 9 mesh PCI slot covers and four grommet-lined pass-through holes for water cooling along the right edge.
Now for my favorite new feature: white LEDs that light the motherboard I/O and PCI slot areas! This may not seem like a big selling-point for many, but some users routinely have to pull their cases out of its hiding spot to plug in peripherals or switch connections because there's not enough light to see behind the case. For them this may become a godsend.
At the bottom of the back panel is the power supply opening and another removable fan filter that slides out in the same manner as the filter found at the front of the case.
Down both sides of the back panel are three thumbscrews that keep the side panels secured – but there's a twist. To allow for easy access to the interior, the top and bottom thumbscrews on each side can be removed and the middle ones, which are spring-loaded, can be left loosened. When the time comes, they can be pushed down to allow the side panels to swing out and be removed.
The right panel is completely solid so we'll move on to the top where the power button is found towards the front left and the white hard drive activity and power LEDs tucked under the edge of the removable top cover. Flanked by narrow strips of metal mesh, this cover sports slats which can be opened or closed to suit the user's needs by pulling forward or pushing back on the bar towards the rear. The entire cover can be removed by pushing down on the back edge to release the latches. Hidden under the cover is another 140mm exhaust fan with room for two more or up to three optional 120mm fans. Users who want to slap in some water cooling are in luck as well since the Switch 810 can support radiators up to 360mm long in this location.
Flipped up, the rubber case feet are visible that serve to allow for proper airflow while dampening any vibrations. There's also a better view of the two removable filters that cover the entire bottom area, which means less dust bunnies to clean out down the road.
Luckily, the couriers didn't do any major damage aside from punching out the side window and knocking the drive covers loose, because there's a lot more to check out when the panels come off as we take a look at the interior next.
Interior
I'll start off with an overall shot so that you can see there's a ton of features to cover. I wish this accounted for the tardiness of my review, but sadly it doesn't.
Starting at the bottom towards the front are two removable drive cages that can each support three 2.5″ or 3.5″ drives. These cages are different in that they can slide out of the case from the left side once four thumbscrews are removed, or the individual drive trays can be accessed from the right side, as you'll see shortly.
The top drive cage features a 140mm fan that can be tilted upward to direct airflow to where it's needed most such as a hot-running GPU. There is a similar moveable bracket on the bottom drive cage where an extra 120mm or 140mm fan can be installed.
Further up are the power and data connections for the hot swap drive bay.
At the top are the release mechanisms for the 5.25″ drive bays along with a ton of thumbscrews for those who want a little bit of added insurance that their drives won't move if the case is being transported.
The bottom of the Switch 810 allows for another 120mm or 140mm fan to be installed in front of the power supply with both drive cages installed or double the amount with the bottom cage removed. If mounting a radiator at the top of the case won't work there is also room to mount radiators up to 240mm long in this location, but again the bottom drive cage needs to be taken out. With longer, higher wattage power supplies becoming more popular, NZXT has provided two sets of rubber-topped risers that the unit can rest on while absorbing any vibrations.
If cable management is your thing you're more than covered thanks to a ton of grommet-lined openings in the motherboard tray. The Switch 810 should allow for a clean build regardless of the motherboard or power supply being used. There is also a large cut-out around the CPU area and another opening in the top left for the 12v power cable.
On the backside of the motherboard tray are the pre-routed cables for the front panel connections and the hard drive trays that can be individually accessed from this side.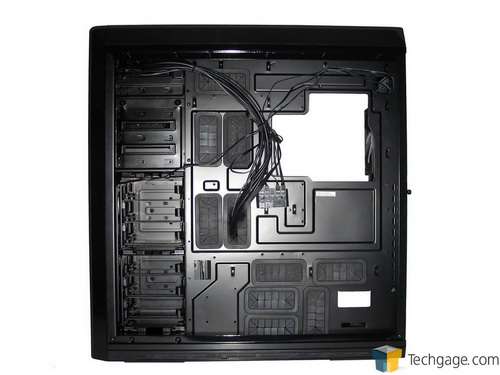 At about the midway point is the PCB for the fan controller with the four included fans already wired up. It is held in place with a piece of Velcro meaning it can be repositioned or removed all together. There's open connections for three more fans so there should be more than enough cooling available for most users, but the controller requires a spare 4-pin Molex power connection.
Included with the case are various screws to secure all of your devices along with a socket to help with installing the motherboard standoffs. There is also a 12v extension to ensure this cable can be routed behind the motherboard tray in order to keep your build looking as clean as possible. One obvious omission is a SATA cable for the hot swap bay.
This review is well past late so let's get right to the build and testing sections to see if it was worth the wait.
Installation & Testing
As far as I'm concerned, NZXT has the interior design of a case down to a science. All of the NZXT cases that I have either used personally or tested here at Techgage have resulted in flawless builds, but here's a few of the finer points.
The first is the amount of room allotted for the power supply. Our test power supply is hardly a beast but it's not one of those cheap-o, mini-PSUs either. Those who want to use a longer power supply for hungrier systems will have tons of room while the unit will be well supported by the second set of risers, although I could see the power connections possibly interfering with a fan or radiator if one is mounted on the bottom of the case.
A picture is worth a thousand words and I probably could've used that many to describe the rear fan area and how it allows users a bit of extra flexibility. Our test cooler uses a 120mm fan meaning it could be positioned all the way up or left a little bit lower depending on what is needed once the stock fan is removed. Being able to position fans in this area means extra air can be pulled over any hot components around the socket area or help avoid any clearance problems.
Here's a quick look at the different drives installed in the trays with the drive cage showing the open, moveable fan bracket.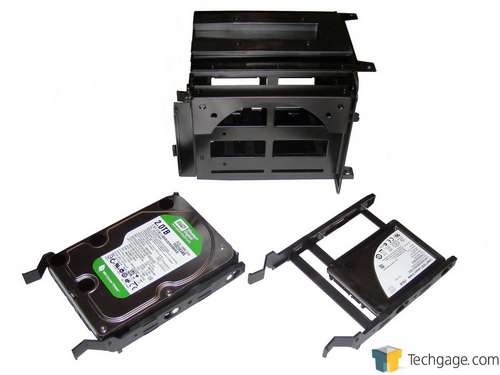 Finally, here's our test drive installed in the hot swap drive tray. This tray can be secured with thumbscrews but there is a fair bit of resistance once it is fully inserted, so with the cover in place I can't see the drive moving unless your case wants to throw down some cardboard and do some head spins.
With all that said and done here's our completed build with all of our test components installed to perfection. Everything went smoothly and cleanly and luckily resulted in another super-quick build. This means I can run our usual battery of tests and get this review over to our Editor-in-Chief before he breaks my knees.
The back of the motherboard tray is pretty messy and as usual it could have been cleaned up if more time was taken, however with our test system being a bit on the light side there was no problem putting on the side panel. I did notice that there wasn't much room left meaning those with more robust systems may have to get creative with their cable management.
Testing
All of our testing is performed in a near steady 20°C ambient environment with readings taken before and after with a standard room thermometer. AIDA64 Extreme Engineer is used for monitoring and recording all system temperatures throughout the testing process.
Windows is allowed to sit idle for 10 minutes after startup to ensure all services are loaded before recording the idle CPU and GPU temperatures. CPU load temperatures are generated by performing a 20 minute run of OCCT LINPACK using 90% of the available memory, while GPU load temperatures are generated by OCCT's built in test, also for 20 minutes.
Stock CPU settings were obtained by setting the AI Tweaker option with the BIOS to Auto and the maximum stable overclock frequency of 4.0GHz was obtained after extensive testing to ensure stability. The final clocks for the GPU are 760MHz on the core and 1000MHz QDR (4000MHz relative) for the memory with the voltage increased to 1.087V using MSI's Afterburner overclocking utility. As with the CPU overclock, testing was done prior to ensure full stability.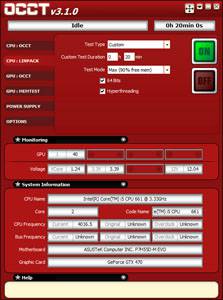 The components used for testing are:
Processor

Intel Core i5-661 – Dual-Core (3.33GHz)

Motherboard

ASUS P7H55D-M EVO mATX – H55-based

Memory

Corsair Dominator 2x2GB DDR3-1600 7-8-7-20-2T

Graphics

EVGA GeForce GTX 470

Audio

On-Board Audio

Storage

Western Digital 2TB Green

Power Supply

Antec TP-750 Blue

Chassis

Cooler Master Cosmos II
Cooler Master HAF 932 Advanced
Corsair Carbide 400R
Corsair Obsidian 650D
Corsair SE White 600T
NZXT H2
NZXT Switch 810
NZXT Tempest 410 Elite
Silverstone Raven RV03
Thermaltake Chaser MK-1
Thermaltake Level 10 GT

CPU Cooling

Corsair H60 (Exhaust Configuration)

Et cetera

Windows 7 Ultimate 64-bit
Whether the system was left running at stock frequencies or overclocked, the Switch 810 performed very well and was nearly at the head of the class all across the board.
Under full load while overclocked the CPU was only a couple of degrees above our current champion, the Thermaltake Level 10 GT. This means you get roughly the same performance but at a much lower price with the ability to really crank things up by installing a ton of extra fans.
What impressed me the most was how cool our blazing hot GTX 470 was kept. It may not seem like much but a 4 degree difference at idle and a single degree difference under full load while overclocked is a nice bonus knowing full well how hot these GPUs can get. This score could have likely been built upon if a second fan was installed on the side of the bottom drive cage.
From a noise perspective the Switch 810 isn't exactly quiet but it's not a screamer either. This all stems from the number of fans installed. Thankfully all of the included fans are 140mm meaning more air is moved at lower speeds. For those looking to keep things as quiet as possible the slats on the top cover can be closed at the expense of heat being trapped inside the case, so it's a catch-22.
Now that we know what it is, what if offers and what it can do it's time to wrap this up.
Final Thoughts
The Switch 810 is a winner from start to finish although I'm not completely sold on the looks. The mesh and soft touch accents look great alongside the high gloss finish, but the amount of plastic tends to give it a bit of a cheap look, but it's hard to use anything else due to the gigantic removable covers. With that said, the plastic is very strong and at no time did I feel as if it would snap. Overall the build quality is typical NZXT with no flexing observed while installing our test system.
If you want features you've come to the right place too. Nearly any cooling configuration is supported whether using air or water, there's lots of room for components, many options for storage and the LED lighting on the back panel is probably the coolest thing I have seen in a long time. Some might be wondering why I'm getting so worked up about it, but it's a little feature that would go a long way based on my day to day usage.
From storage options to cooling performance you simply can't go wrong. I wasn't able to find the Switch 810 available on any of the larger online retailers but NZXT has it listed on its site for a penny shy of $170 USD. It certainly isn't a cheap case but you get more than what you pay for…almost. It seems silly that a case in this price point doesn't come with a SATA cable for the hot swap bay although most users will have a spare kicking around.
If that's all I have to complain about then I'd say this case is worthy of a shiny Editor's Choice award, so with a poorly-timed joke, a late review and busted knees still pending, this review of the Switch 810 is in the bag.
Pros
Air or water, there are a ton of cooling configuration options
Included 140mm fans ensure good airflow right out of the box
Supports a triple-sized radiator for water cooling (360mm)
Tiltable 140mm internal fan for directing airflow where it's needed most
Lots of space – you'll have a hard time filling this beast up
Build quality is solid; what we've come to expect from NZXT
LED lighting on back panel is a nice touch
Holds up well when a courier wants to bully it before it gets to you
Cons
Given how much plastic is used, some might find this case to look cheap
Not an ideal case if silence is your concern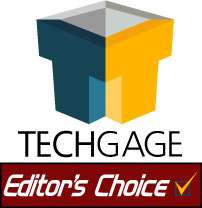 NZXT Switch 810 Full-Tower Chassis
Discuss this article in our forums!
Have a comment you wish to make on this article? Recommendations? Criticism? Feel free to head over to our related thread and put your words to our virtual paper! There is no requirement to register in order to respond to these threads, but it sure doesn't hurt!
Copyright © 2005-2019 Techgage Networks Inc. - All Rights Reserved.