OCZ EvoStream 600W
Date: November 13, 2006
Author(s): Matt Serrano

OCZ recently added a new model to their PSU line-up, the 600W EvoStream. It's a completely modular unit that offers great reliability and looks great while doing so.
---
Introduction
Power supplies are not created equal. Many budget models will be under powered to cut on costs while other, more expensive units may carry extra features like modular cables or a fanless design. The truth is power supplies are one of the most important pieces of hardware in computers, and are often overlooked. Today, we'll be looking at OCZ's EvoStream 600 watt PSU.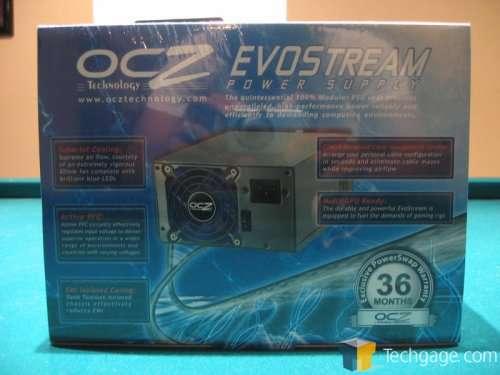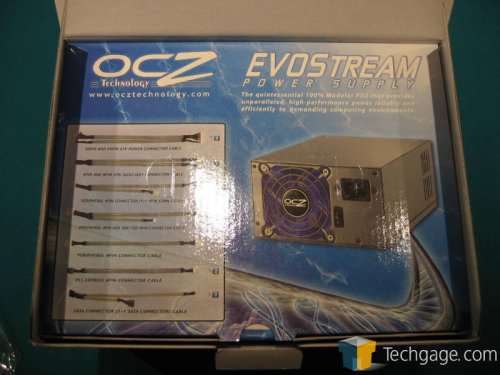 Like most of OCZ's products, the EvoStream arrived in an attractive shrink-wrapped box that displayed the products features, as well as its specifications and included cables.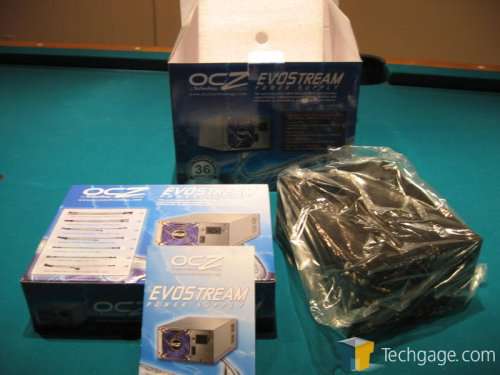 Opening the packaging, you'll find another cardboard box that houses the cables and manual, with actual the power supply resting below in foam blocks inside a plastic bag.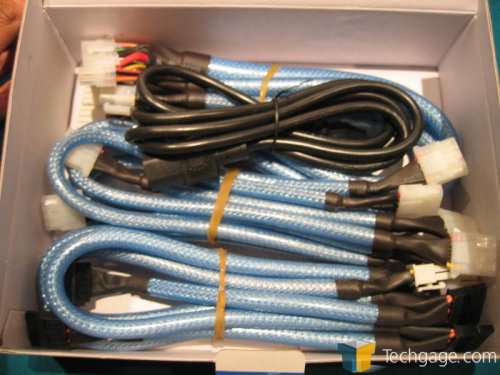 All of the modular cables are shielded, and glow blue with UV lights. We've seen this before with OCZ's other power supplies, and it's a nice touch if you have a system with a window that you want to show off. The only other thing worth noting is the fact that the PSU does not come with screws for mounting, so you'll have to use any you have left over or supply them yourself.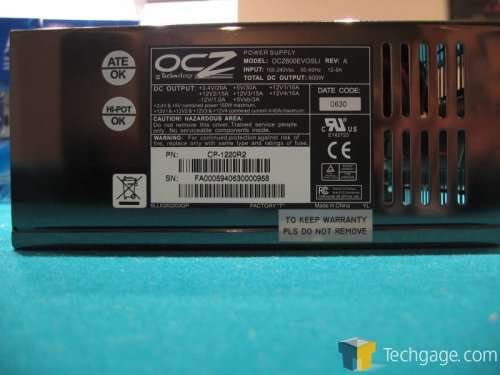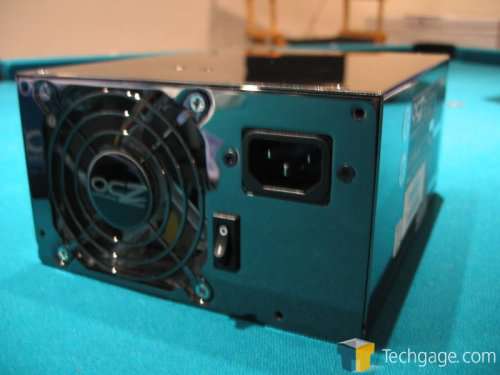 The PSU itself has a black mirror finish. Even though it's a fingerprint magnet and will get scratched easily, it shouldn't bother most people when it's sitting in a case. The 80mm fan is equipped with a blue LED that illuminates when the computer is turned on.
Technical Specifications and a Closer Look
ATX12V v2.2 and EPS12V

OCZ ConnectAll universal connectors
1 x 20+4Pin ATX
1 x 4-pin/8-pin CPU
2 x PCI-E
2 x 4-pin peripheral (1+1 4-pin Conn.)
1 x 4-pin peripheral & 4-pin floppy
1 x 4-pin peripheral
2 x S-ATA (1+1 SATA)

High efficiency
75% @ Full load
Overvoltage/Overcurrent/Short-Circuit protection
Active PFC
115Vac 60Hz / full range 240Vac 50Hz
+3.3V(20A), +5V(30A), +12V1(15A), +12V2(15A), +12V3(15A), +12V4(15A)
Even though the 12 volt rails only provide 15 amps, power is distributed across each of the rails, giving components clean power to work with. The only alarming description here is the 75% efficiency, which OZC claims to be under full load.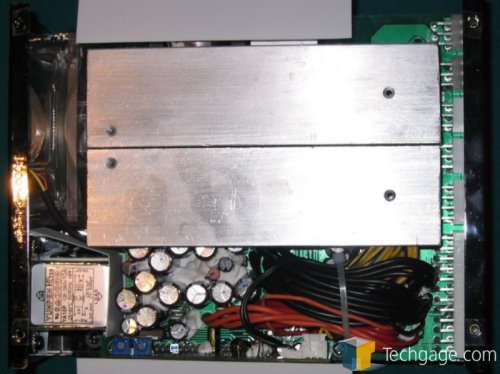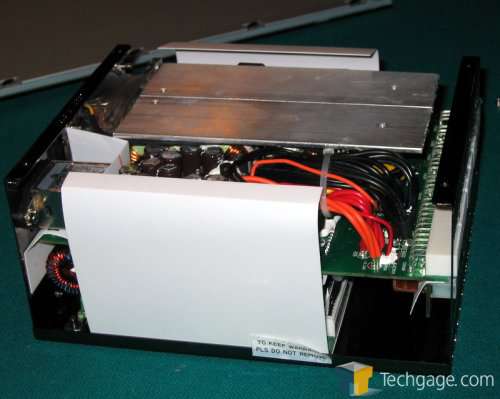 Having a look inside, we find the heat spreaders, and the fan mentioned earlier. There are no other vents in the EvoStream, so what you see is what you get. When I installed the power supply and booted the machine up, I noticed the fan was noticeably louder than what I had been using before. The fan grill seems to provide enough air, but a 120mm fan would have been better suited to produce less sound.
Testing
This setup was used to test the PSU:
AMD 3700+ (939)
DFI Ultra-D
1GB RAM
eVGA 7800GT
320GB SATA HDD
250 SATA HDD
80GB HDD
DVD +/- R-RW
I used Everest was used to record the results on the 3.3v and 5v rails, and the 12v rails were tested using a multimeter. The power supply was tested under an idle state, and running an instance of Prime95, playing music and movie files, and transferring data between the hard drives in the system under full load.
As you can see, the rails kept within the ATX specifications, and there wasn't much fluctuation. Overall, the power supply preformed well. There isn't much doubt that the EvoStream would be able to power most mid range systems without much trouble. However, at the time of writing, the unit can be found at around $190 from a few retailers, but better alternatives can be found for the price (including other products from OCZ's own lineup).
Pros
600 watts, provides a lot of power
Good looking design
Modular cables
Cons
Only one 80mm fan
Loud
Expensive, limited availability
Discuss in our forums!
If you have a comment you wish to make on this review, feel free to head on into our forums! There is no need to register in order to reply to such threads.

Copyright © 2005-2019 Techgage Networks Inc. - All Rights Reserved.