Quick-Gage: Arctic Sound E361-BM Earbuds

Date: March 15, 2010
Author(s): William Kelley

It's not uncommon for a company which focuses on one thing to branch out into another, but I am not sure many people would have predicted a company such as Arctic Cooling would begin producing audio equipment. Fortunately though, the company has obviously done its research, as the audio quality is very good (with great bass!).
---
Introduction
It isn't often that a PC peripheral company produces something so different that I end up with a loss for words. That rare day has come today. Arctic Cooling, which has had a long line of successful CPU cooling and chassis products, has decided to venture out into the world of sound reproduction in the form of high-performance earbuds. The company does this under the name "Arctic Sound".
Portability is very important to users that are constantly on the go. You could be on the commuter train, flying on a jet or even mowing your lawn… making it impossible to lug around bulky high-quality headphones. What is even worse is that the earbuds that come with most MP3 players are just base level, and are not going to give anything more than a mediocre performance.
Arctic Sound is set to take that task on and deliver you from that mediocrity. With high-performance specifications as well as considerable attention to detail, the company is aiming for the moon with this new product line. While I am no audiophile, I do appreciate high-end sound gear and quality sound reproduction. I have well over 100 GB of lossless FLAC-based music on my PC, so I am well up to the task of putting these earbuds through their paces.
Today we are taking a closer look at the Arctic Sound E361-BM in particular. With a suggested retail price of $60US (ArcticCooling.com) they are seemingly poised to enter a new market with a good price-point. This particular model is compatible with PC, Phone and other mobile phones and packs a microphone to boot.
Here's a quick run-down of the features:
Arctic Sound E361-BM Features
Large driver coil leads to ultimate bass performance
The precisely milled aluminum chassis transmits a perfect balance of high and low frequencies
3 sets of silicone caps (S, M, L) minimize ambient noise and enrich bass response
Ultra-soft material fits gently in your ears providing hours of wearing comfort
Gold-plated stereo plug for uncompromised signal transmission
Frequency response of 18Hz – 26kHz
32 ohm impedance
Sensitivity 105 dB/mW
Output power 15 mW
I personally found the medium-sized caps to fit me perfectly, and after many 4+ hour sessions of use they remained very comfortable and caused me no discomfort. They delivered on the promise of keeping out nearly all unwanted background noise as well. They were easy enough to place into the ear, and with minimal effort I was able to consistently get them to stay where I wanted them to regardless of what activity I was doing.
Sound quality was excellent as well. Lows are surprisingly strong and the highs were crisp and clear. I was honestly taken back by the amount of bass they were able to reproduce. I use a set of Technics tower speakers sporting 12″ woofers, 5″ mids and 3″ tweeters with my PC pushed by a 300W Technics amplifier, so I am used to a high level of thump when listening to my music. Blow for blow the E361's were able to either match or beat the performance of my sound system until the decibel levels approached uncomfortable (meaning loud) levels.
I used a variety of artists as well to get a full feel of just how they perform. From Everlast to AC/DC to Led Zeppelin to Rush and Tool I was able to enjoy everything I heard. I did find myself adjusting the equalizer to ease up on the lowest bass notes occasionally as the bass could get slightly boomy, but it didn't break up until the volume was pushed harder than needed. No matter what you listen to, you will enjoy these earbuds.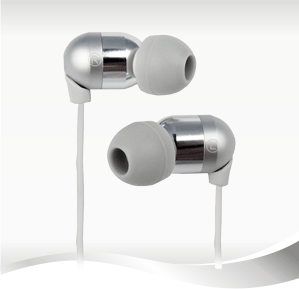 I was also able to make good use of the microphone while using Skype on my laptop and PC. Sound quality was excellent here as well and all the people I talked to noted that there was little noise or interference of any kind. I did not have to specifically arrange the microphone in any one position to get great results. Whether I was at my desk or outside on my deck, background noise was kept nearly mute.
Taking into consideration that I have not had a the chance to listen to many other good quality earbuds, I still have no problem recommending these. Given the quality, and the fact that these include a microphone, the price seems more than fair to me. Arctic Cooling makes some pretty great products and this venture into a completely new field is looking very promising. As I have recently acquired a laptop for use when I travel, I quickly realized I needed some headphones to take along. With the small hard shell case that fits easily into your pocket, these do a superb job of it. Give these guys a really hard look if you are in the market for such a device; I know you won't be disappointed.
Discuss this article in our forums!
Have a comment you wish to make on this article? Recommendations? Criticism? Feel free to head over to our related thread and put your words to our virtual paper! There is no requirement to register in order to respond to these threads, but it sure doesn't hurt!
Copyright © 2005-2019 Techgage Networks Inc. - All Rights Reserved.