Quick-Gage: Kingston 16GB DataTraveler Locker+

Date: December 2, 2009
Author(s): Rob Williams

It may seem like a given that personal data should be kept secure, and for the most part, achieving that goal on a home PC isn't too difficult. But, what about a thumb drive? Kingston's DataTraveler Locker+ is designed in such a way that if someone ever finds your thumb drive, they'll never be able to access the data. Ever.
---
Introduction
Not long ago, flash-based thumb drives weren't all too common. Thanks to their price, they were considered to be a luxury item, for those who really needed mobile data, but didn't want to carry about the burden that is the CD or DVD-ROM. Things have sure changed between then and now, though, because no longer are thumb drives a luxury, but rather a given. I can't think of a single person I know who doesn't own one, and I'm sure many of our readers are in a similar position.
The reason behind the mass adoption of thumb drives of course has to do with pricing, which is ironically the problem that caused slow sales in the beginning. Today, thumb drives are considered to be a dime a dozen, and as a result, the market is truly saturated with various models and densities from a wide-range of vendors. For most consumers, the choice comes down to a combination of price and density, and maybe durability.
With such mobile storage, though, a major issue arises. We hear in the news all the time of stolen business notebooks that just happened to have been loaded to the brim with confidential data, and really, thumb drives wouldn't be exempt from such an event. In fact, you'd imagine it'd be easier to lose a thumb drive than a notebook. Just look at how many people lose their cell phones each year… a thumb drive is even smaller than that.
The issue is obvious… data security. You have your thumb drive for a reason… to store your data. At the least, your thumb drive could include pictures, but at the worst, it could include personal documents with likewise personal information… information you do not want to wind up in the hands of just anyone. It's with this issue that the benefits of thumb drive security come into play, and for those who truly care about the security of their data, Kingston has developed its DataTraveler Locker+ just for them.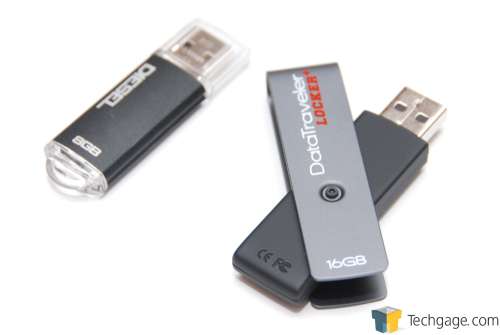 As you can see in the above photo, the Locker+ is a bit larger than OCZ's Diesel, but it's far from being large, and is certainly not as large as some other models on the market (just take a look at the 128GB models!). As is common of many other thumb drive models on the market, this one has a swivel cap for opening and closing. The benefit of this style is that you don't have to worry about losing the USB's cap… an issue I've dealt with a few times over the years.
The Locker+ is similar to the original Locker in that all data stored on the encrypted partition cannot be accessed without a password, but unlike the Locker, the Locker+ uses the entire device. This means that absolutely no data can be accessed without first typing in the required password. This design is ideal for those who never want to take chances with their data, and prefer a single partition, rather than dealing with two. If you prefer being able to quickly store some non-important data on a second non-encrypted partition, the original Locker would be a better choice.
The DT Locker+ is designed for use on both Mac OS X and Windows, but as I don't own a Mac, I have tested it on both a Windows Vista and Windows 7 machine. After plugging in the drive, this is what you'll see in your "Computer":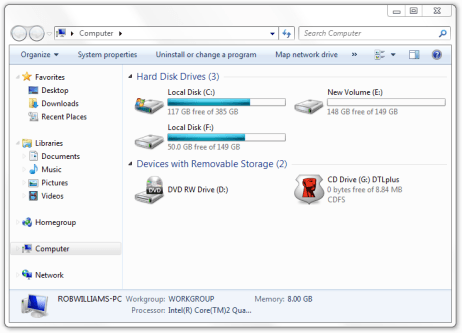 As you might have noticed, the Kingston drive is showing up as 9MB, which seems a bit strange until you realize that the drive actually has two partitions, one that's read-only (and uses a CD/DVD filesystem to prevent that from changing), and the other that's hidden. Once the drive is configured, two drives will be listed here. On some machines, an autoplay feature will run after plugging in the drive, but if not, you'll have to go into the drive yourself and execute the launcher.
After doing so, the setup process begins, and it couldn't be much simpler. You choose a language (English, French, Italian, Dutch, Spanish & Chinese), put in a password, accept the agreement, and also personal information, and it's done.
After this point, each time the drive is plugged in, you will have to insert a password to access the data. Once that's done, an icon will sit in the system tray which allows you a few functions. You can alter the settings (nothing different from the initial setup), have quick access to the folder, format the drive and access the other self-explained options. Rather than unmounting the drive through Vista's clunky "Removable Devices" pop-up, you can shut it down through this same tool, which is a bit quicker.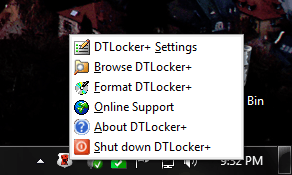 The most important thing to realize about this drive is that the data remains secure through a hardware-based algorithm, in this case, AES 256-bit. Other thumb drives on the market offer similar security, but most are software-based, which means the encryption happens on the PC itself, not the thumb drive. Because of Kingston's implementation, the drive should prove faster than software-based solutions, which has an obvious upside.
There's no such thing as "learning" how to use the DT Locker+, because as soon as a password is entered, using it is no different from any other storage device. The difference here, is that as soon as the drive is removed, the data is safe, until the password is entered again. The AES 256-bit algorithm is the strongest consumer cipher on the market, and it's unreasonable to believe that it can be penetrated. No one is going to get the data by circumventing the encryption, plain and simple.
Of course, the strongest ciphers don't have much on brute force attacks (the process of "spamming" a login with every possible password in order to gain access), but it's a possibility that hasn't escaped Kingston. To make sure that some unauthorized being doesn't end up accessing your data, if a password is inputted incorrectly ten times in a row, the drive erases the password, formats the drive, and essentially starts anew. It seems hardcore, sure, but there's a reason this is an "Enterprise" drive, not a consumer one.
As far as I'm concerned, performance isn't near as important on a security drive as security itself is, but the DT Locker+ is no chump. Running a benchmark with HD Tune 3.5 gave us an average read of 30.5MB/s, with an access time of just 1.4 ms. It's clear that the algorithm doesn't slow the drive down much at all, as its average read speed comes close to topping out the overall bandwidth of a USB 2.0 port.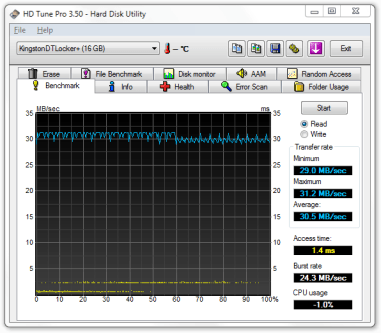 Because I couldn't remove the partition from the drive, I couldn't run a synthetic write test, but I did run a couple of real-world tests to give a general idea of performance. Since this is just one drive I'm looking at, I don't have comparison data, but for the most part, it's not needed. When I copied over a 4GB folder that contained close to 5,000 files, it took 10 minutes and 52 seconds, which averages out to 6.45MB/s. Copying over a 4GB file took 5 minutes and 8 seconds, and averaged out to 12.95 MB/s. This don't seem all too impressive, but given how much data we were copying over in one swoop, it is.
Overall, I love the Kingston's DataTraveler Locker+. Thumb drives might seem all alike, but I have an inherent nature that cares a lot about data security, and security in general, so to see a thumb drive take things so seriously is something that I find exciting. There are a few downsides to this drive, but most are understandable. One, the password has to be entered each time you plug the drive in. That's an inconvenience, but this is a drive that takes things seriously.
Second, due to the nature of the drive, and the lack of official Linux support, the drive cannot be used under the OS at all. It'll be recognized, but that's as far as it goes. I can understand the lack of support, but since there is Mac OS X support, it would have been great to see. For regular Linux users who care about security, there are other roll-your-own solutions available, such as TrueCrypt.
The last potential downside is the price. At $80 for a 16GB drive, the Locker+ is at least twice as expensive as competing drives with the same density. But, Kingston makes things unbelievably easy here, and it's much easier than using something like TrueCrypt, as mentioned above, which makes this a far better option for enterprise environments, or for those consumers who simply want easy-to-use, yet exceptionally effective security.
As a reminder, although the DT Locker+ encrypts the entire drive 100%, the original Locker is far more lenient, and allows you to specify how much of the drive you want to be secure, and how much should be public (aka, readily accessible without a password). If that idea seems to be more in line with your style, I'd recommend picking up that over the Locker+. This particular thumb drive is far better suited for business environments, where it's imperative that all data written to the drive remains secure.
Pros
Top-rate security (AES 256-bit).
Quick and easy setup. Works both on Windows and Mac.
Great performance.
Piece of mind knowing your data is safe? Priceless.
Cons
Bullet-proof security doesn't come cheap (~$80.00 for 16GB).
The drive doesn't work under Linux, at all.
Discuss this article in our forums!
Have a comment you wish to make on this article? Recommendations? Criticism? Feel free to head over to our related thread and put your words to our virtual paper! There is no requirement to register in order to respond to these threads, but it sure doesn't hurt!
Copyright © 2005-2019 Techgage Networks Inc. - All Rights Reserved.