Quick Gage: Apple iPod classic 120GB

Date: May 25, 2009
Author(s): Rob Williams

The iPod isn't an unknown product, but I happen to be a new owner of the 120GB classic, so I thought it'd be a good idea to take a look at things from a fresh perspective, since I've spent next-to-no time ever with an iPod before. The classic lacks a few features of other iPod models, but if storage is your primary concern, this one should be right up your alley.
---
Introduction
I did something this past weekend I never expected to do… purchase an Apple product. I have nothing against Apple or their products, but at no point recently have I been so impressed with one of their designs that I felt their price premium to be warranted. Then there's minimalist design, which I ordinarily don't mind, but I find Apple takes things a little too far. That's of course a matter of opinion though. One thing I do know, is that functionality should rank above aesthetics, and that's why I chose to pick up an iPod classic over another audio player.
Modeled after the design of earlier iPods, the classic caters to those who prefer storage over physical size or screen size. For those looking for a modest-sized iPod, the nano is ideal, and for larger screen size (and many other capabilities), the touch is really the only option. From a physical and storage standpoint, the classic is Apple's largest iPod, but it's still hardly "large". I've actually come to find it to be pretty ideal. It's small enough to fit in your pocket without it feeling like it's weighing you down, but it's also large enough to feel sturdy and well-built. I added an acrylic case to mine and it made things even better.
What matters most to me though, is the 120GB of storage space. For mobile music-listening, that's a lot. I don't have any desire to watch video or view photos on the go, but I do want to be able to copy over my entire music collection and have a fair amount of breathing room left over, and the 120GB model allows me to do that. Originally, I had also considered a Microsoft Zune, but there were a few key reasons why I decided to hop over to the Apple side instead.
The main issue for me with the Zune is that there's no real Linux support, and while the same could be said for the iPod, as long as you have a model supported by libgpod, you should be good to go. Past that, I use iTunes a fair amount, and since the Zune Marketplace is not available in Canada, Microsoft pretty much made my decision for me. The iPod still has a few drawbacks, but the upsides overshadow those for my personal tastes.
The biggest issue with any iPod is its reliance on iTunes. Of course it's easy to understand why that's the case, but all previous audio players I've owned have been far easier to deal with. If I wanted an album on the player, I'd simply copy over the folder. Because the iPod (and presumably others) utilize a real database, it's not that simple. It must go through a proper handler, and the most popular for the iPod is of course iTunes.
I admit it took me a little while to figure iTunes+iPod interoperability out, but after an hour or two, I finally began to understand what you could and couldn't do. I ran into a few roadblocks, primarily because I didn't know how the iPod worked, but I came to the conclusion that to avoid potential issues, it just makes life easier to stick with iTunes and nothing else. Amarok (Linux audio player) can handle most iPods, but for whatever reason, 1.4.10 doesn't list this particular model (the 80GB and 160GB are there) as being supported, but it could be that Amarok 2.x does. Either way, I found out first-hand that using such an application with an "unsupported" iPod is a bad idea. Let's just say I know how the "Restore iPod" process works, quite well.
While using iTunes to copy over some music, I did run into a few hitches, but none that couldn't be fixed rather swiftly. The main issue was copying over iTunes-purchased music that I had bought with another installation of iTunes (on a separate install of Windows). In order to get them on there, I had to remove them again from iTunes, and add in the folder where I keep all such files (this is separate from the iTunes folder under My Documents). Once done, iTunes was happy to add in the entire folder, and I was good to go. Given that these files were purchased with the very application I'm being forced to use for transfer, I find a roadblock like this to be a little ridiculous.
One area where I have to give Apple kudos, though, is with their album art feature, which scans your collection for music not purchased off of iTunes and aims to find the proper cover art. I was blown away when I saw how well this feature worked, and also how fast. As soon as I added a whack of folders, iTunes would scan through and start filling in the art, and for all the art it did find, it was quite accurate. There were a few areas where I would have preferred alternate covers, but I have no real complaints. Out of the some 500 albums I added, 18 were left up to me to manually find. That's quite impressive.
When the time came to transfer the music over, it took just one minute under three hours, and for 7,863 tracks, that's about 44 tracks per minute. Again, that's not too bad at all, and as you incrementally add music, the time for the process to complete is hardly an issue. It's fast, and before you know it, you can unhook the iPod and get on with your day.
The main issue I had with the transfers is inaccurate album cover art when on the iPod. Some of this was due to the fact that I added art later on, and the fix was simply to remove the album off of the iPod, then use the "Autofill" feature to allow it to copy back over. Then, the album would have the proper art. I really wish there was an "Update Album Art" feature for the music on the iPod itself, but there doesn't seem to be.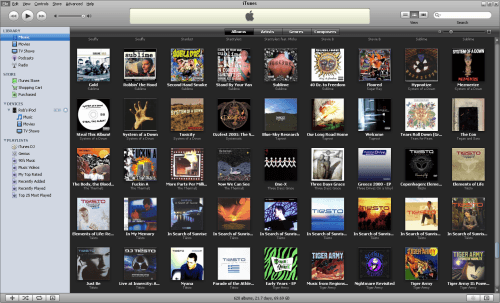 I've been focusing on iTunes more than the iPod itself, but there's really not much to say. The classic handles audio, video and photos, and also some games, but I've only touched the audio portion since I have little interest in the rest. I do like the fact that it's easy to use, though, and the cover flow option is rather nice. It's not as fast as I'd like it to be, but I assume that's thanks to the fact that the classic doesn't contain a robust graphics processor like the touch or iPhone. Another oddity is that sometimes when choosing to listen to a track, it will take between 1 and 5 seconds for the cover art to load. Not a huge issue by any stretch, but certainly noticeable.
One major caveat of the iPod, at least to me, is the omission of FM radio. I will never for the life of me understand the reason to leave such a feature out, given that the Zune, Sansa and many other players out there offer it. All I can assume is that because Apple has nothing to do with radio, it's not included. After all, Podcasts are pushed heavily, and many of those are presented like radio programmes, so it makes no sense to not include an actual tuner. It adds virtually nothing to the price, and even budget players offer the ability.
There's actually potential for Apple to make more money if the iPod did have such a tuner. Picture listening to the radio with your iPod, and catching a song that really strikes your interest. If the station supports it, the name of the song could appear on the iPod itself, and then you could add it to your purchase queue. Once you get home, you could hook up to iTunes and it would see that you wanted to purchase one or more tracks, and then you could get on with the rest of the process. And if the radio doesn't support track naming, then you could simply record as much of the song as possible, and then have some service analyze the track later in order to find out the source. In the end, this would result in even more revenue for Apple, and from what I understand, Apple doesn't make anything from Podcasts, so an omission like this seems a little bizarre.
This Quick Gage is getting a little long, so I'll wrap it up here. When I first got home with my new iPod, I was quite frustrated, I'll admit. But once I learned how iTunes worked, I began to enjoy using it a lot more. The player isn't perfect, but it's certainly one of the best I've used. Plus, while iTunes isn't always intuitive, it does a good job of syncing up to the iPod and keeping things up to date. That includes TV programs, Podcasts and whatever else you download off of iTunes as well, not only your music.
So, do I recommend the iPod classic 120GB? If you need this kind of space, then I definitely do. I sometimes find that Apple's products carry a rather noticeable price premium, but the classic doesn't (the Microsoft Zune 120GB is also $249 USD), so while it's still somewhat expensive, it works well and has enough storage to suit most people's needs. It's also easy-to-use, has a clean design and features 36 hours worth of battery-life for audio (6 for video), so aside from the occasional clunky nature of iTunes, I'm having a hard time finding a real downside.
Pros
Lots of storage (enough for 15,000 songs at a modest bitrate).
36 hours battery-life.
Easy-to-use.
iTunes cover art feature works well.
Well-built… feels like it could handle a little abuse.
Price ($249).
Cons
No support for FM radio.
No support for FLAC (Apple Lossless is, however).
iTunes is almost forced for song transfers.
Discuss this article in our forums!
Have a comment you wish to make on this article? Recommendations? Criticism? Feel free to head over to our related thread and put your words to our virtual paper! There is no requirement to register in order to respond to these threads, but it sure doesn't hurt!
Copyright © 2005-2019 Techgage Networks Inc. - All Rights Reserved.