Sapphire Radeon HD 4850 X2 2GB

Date: January 7, 2009
Author(s): Rob Williams

If you game at ultra-high resolutions and want to know where the best bang for the buck can be found in graphics cards, look no further than Sapphire's dual-GPU HD 4850 X2. At $300, it's priced-right and offers incredible performance regardless of whether you prefer high anti-aliasing settings or resolutions.
---
Introduction, Closer Look
When ATI released their stellar HD 4000 series this past summer, the first question we had to ask was, "Where's the duals?" Indeed, their launch cards took everyone by surprise, including NVIDIA, so to imagine two such GPUs on one card sounded very drool-worthy. Luckily, we didn't have to wait too long to be treated to the first X2 of the 4000 series.
In August, when the HD 4870 X2 was released, we didn't know much about the HD 4850 X2 and it's no surprise. The HD 4870 X2 offered incredible performance and became a popular choice for high-end gamers, so it's easy to see why ATI didn't want to follow-up with a lesser-performing and lesser-expensive card too quickly.
But, that wait lasted only a few months, and we were greeted by the first HD 4850 X2 on the market this past November, courtesy of Sapphire. I'm unsure of the reasoning behind it, but Sapphire is the only manufacturer to offer such a model. I assume this was thanks to an exclusive partnership with ATI, and partially because not too many other companies were keen on releasing the model themselves. This is what I have gathered from talking to certain vendors in the past few months.
So was the wait worth it? As we'll see today, it definitely was. Though we are posting this two months after the initial release, the card proves to be just as relevant today as it was in November. As it stands, the HD 4850 X2 retails for around $300, and at that price-point, it's only a bit more expensive than NVIDIA's GTX 260/216. ATI themselves don't have another card of their own priced in the same range. The next-step downward would be the HD 4870 1GB, at around $250, followed by the HD 4870 512MB at $200.
Closer Look
There's not too much to touch on regarding this card, as nothing is truly new in way of its inner-workings. Like the HD 4870 X2, this is a single-PCB offering with two 55nm GPUs placed down. This is dissimilar to NVIDIA's dual-GPU offerings which use dual-PCB, even with their upcoming GTX 295. ATI's build solution seems more sensible than NVIDIA's. The resulting card is lighter, and likely draws less power, GPUs themselves aside.
Like its little brother, the HD 4850 X2 features a 625MHz clock per GPU, and 2GB worth of GDDR3 running at 993MHz. The HD 4870 runs faster GDDR5, so aside from general clock boosts, the HD 4870 X2 has other performance improvements as well. But given the HD 4850 is a monster card to begin with, we might see that sticking with GDDR3 isn't going to effect much.
| | | | | | |
| --- | --- | --- | --- | --- | --- |
| | | | | | |
| HD 4870 X2 | 750 | 900 | 2x1024MB | 256-bit | 800 |
| HD 4850 X2 | 625 | 993 | 2x1024MB | 256-bit | 800 |
| HD 4870 | 750 | 900 | 512MB | 256-bit | 800 |
| HD 4850 | 625 | 993 | 512MB | 256-bit | 800 |
| HD 4670 | 750 | 900 | 512MB | 128-bit | 320 |
| HD 4650 | 600 | 500 | 512MB | 128-bit | 320 |
| HD 3870 X2 | 825 | 900 | 2x512MB | 256-bit | 320 |
| HD 3850 X2 | 666 | 828 | 2x512MB | 256-bit | 320 |
| HD 3870 | 775 | 900 | 512MB | 256-bit | 320 |
| HD 3850 | 666 | 828 | 512MB | 256-bit | 320 |
| HD 3650 | 725 | 800 | 256,512MB | 128-bit | 120 |
| HD 3450 | 600 | 500 | 256MB | 64-bit | 40 |
Given that Sapphire is the only producer of these cards, it's no surprise that they wanted to go the extra mile to deliver a card that was actually worthwhile. Their offering features a unique-looking cooler that maximizes airflow. The black shroud is light and lifts off with the removal of eight small screws.
The included fans are both quiet and good-looking. The general design is somewhat similar to Palit's dual-fan HD 4870 Sonic Edition that we took a look at back in October. That card impressed us with its great cooling-ability, so we're hoping this card will deliver similar results.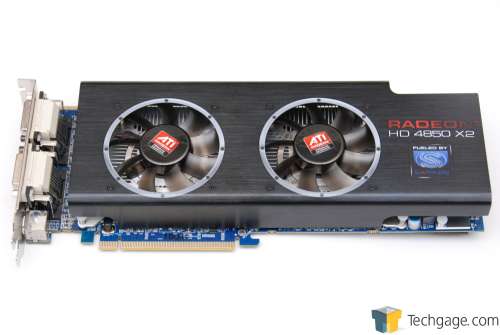 Like the rest of the current ultra-high-end GPU offerings, this one also requires a PSU with two PCI-E power connectors, one of which must be 8-pin. Given the power draw of the card, you'll want to make sure you have a competent power supply, and that point is even stronger if you plan on going Quad-GPU.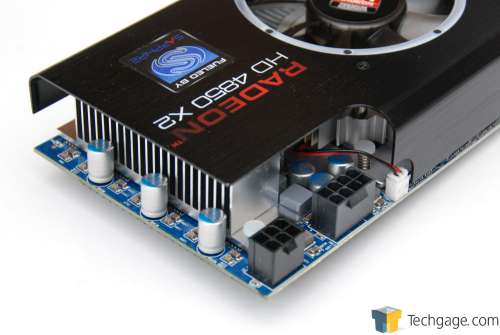 Aside from the cooler, what else sets this card apart? Looking at the below image, chances are you won't have to ask. Although the scenario where someone has four monitors is going to be rare, the option is at least here for those who need it. I do wish that instead of four DVIs, that we'd see two DVI's and then an HDMI and DisplayPort, though. I'd imagine that the situation where someone would need either one of those special ports would come long before someone would need four DVIs.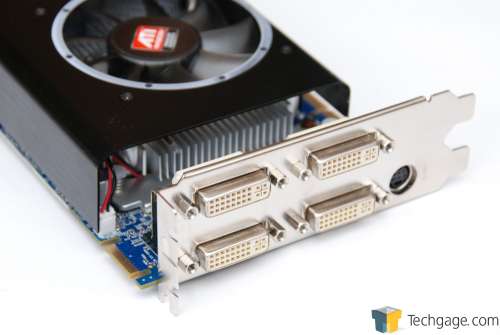 Below, you can see the inner-workings of the card. As mentioned before, the cooler is optimized for airflow, and that much is evident when taking off the shroud. The unique heatsink design allows efficient heat-dissipation and overall, the card is physically much lighter than the reference-designed HD 4870 X2.
With that look out of the way, let's take care of our testing methodology, and then we'll get right into our results with Crysis Warhead.
Test System & Methodology
At Techgage, we strive to make sure our results are as accurate as possible. Our testing is rigorous and time-consuming, but we feel the effort is worth it. In an attempt to leave no question unanswered, this page contains not only our testbed specifications, but also a fully-detailed look at how we conduct our testing.
If there is a bit of information that we've omitted, or you wish to offer thoughts or suggest changes, please feel free to shoot us an e-mail or post in our forums.
Test System
The below table lists our testing machine's hardware, which remains unchanged throughout all GPU testing, minus the graphics card. Each card used for comparison is also listed here, along with the driver version used. Each one of the URLs in this table can be clicked to view the respective review of that product, or if a review doesn't exist, it will bring you to the product on the manufacturer's website.
When preparing our testbeds for any type of performance testing, we follow these guidelines:
General Guidelines
No power-saving options are enabled in the motherboard's BIOS.
Internet is disabled.
No Virus Scanner or Firewall is installed.
The OS is kept clean; no scrap files are left in between runs.
Hard drives affected are defragged with Diskeeper 2008 prior to a fresh benchmarking run.
Machine has proper airflow and the room temperature is 80°F (27°C) or less.
Windows Vista Optimizations
User Account Control (UAC) and screen saver are disabled.
Windows Defender, Firewall, Security Center, Search, Sidebar and Updates are disabled.
To aide with the goal of keeping accurate and repeatable results, we alter certain services in Windows Vista from starting up at boot. This is due to the fact that these services have the tendency to start up in the background without notice, potentially causing slightly inaccurate results. Disabling "Windows Search" turns off the OS' indexing which can at times utilize the hard drive and memory more than we'd like.
Game Benchmarks
For graphic card reviews that pit us with a mid-range card or higher, we test at three popular resolutions that span the mid-range to high-end ground, consisting of monitor sizes of 20″ (1680×1050), 24″ (1920×1200) and 30″ (2560×1600).
In an attempt to offer "real-world" results, we do not utilize timedemos in our graphic card reviews, with the exception of Futuremark's automated 3DMark Vantage. Each game in our test suite is benchmarked manually, with the minimum and average frames-per-second (FPS) captured with the help of FRAPS 2.9.5.
To deliver the best overall results, each title we use is exhaustively explored in order to find the best possible level in terms of intensiveness and replayability. Once a level is chosen, we play through repeatedly to find the best possible route and then in our official benchmarking, we stick to that route as close as possible. Since we are not robots and the game can throw in minor twists with each run, no run can be identical to the pixel.
Each game and setting combination is tested twice, and if there is a discrepancy between the initial results, the testing is repeated until we see results we are confident with.
The four games we currently use for our GPU reviews are listed below, with direct screenshots of the game's setting screens and explanations of why we chose what we did.
Crysis Warhead
Crysis and its Warhead successor are two of the most demanding games on the PC today, and as a result, Anti-Aliasing is not our focus in testing. The noticeable differences come when the advanced options are increased, and to keep things simple, Crytek offers four profiles to choose from: Entry, Mainstream, Gamer and Enthusiast.
We run all three of our resolutions at the "Gamer" setting as it's playable enough on all current mid-range (and higher) GPUs to complete a full run-through. The game unquestionably runs better on "Mainstream", but "Gamer" helps push even the highest-end GPUs to their breaking-point.
Call of Duty 4
The Call of Duty series of war-shooters are without question some of the most gorgeous on the PC (and consoles), but what's great is the fact that the games are also highly optimized, so no one has to max out their machine's specs in order to play it. Since that's the case, the in-game options are maxed out in all regards, except the Anisotropic Filtering, which is set to the center of the slider bar.
Half-Life 2: Episode Two
It might have been four-years-ago that we were able to play the first installment of the Half-Life 2 series, but it's held up well with its new releases and engine upgrades. This is one title that thrives on both a fast CPU and GPU, and though it's demanding at times, most any recent computer should be able to play the game with close to maxed-out detail settings, aside from the Anti-Aliasing.
In the case of very-recent mid-range cards, the game will run fine all the way up to 2560×1600 with maxed-out detail, minus Anti-Aliasing. All of our tested resolutions use identical settings, with 4xAA and 8xAF.
Unreal Tournament III
For as long as the Unreal Tournament series has been around, people have been benchmarking it. So it's a little strange that UT III offers some of the most simplistic in-game graphics settings ever, with the "Texture Detail" and "World Detail" being of most importance. These two options scale between 1 and 5, and we of course use 5 as it can be used on almost any current mid-range GPU as long as the resolution is kept in check.
To help make both the game look better and our test more demanding, we force an Anti-Aliasing setting with the help of either ATI's or NVIDIA's Control Center. Both allow us to force a 4xAA setting, which is where we keep it.
Crysis Warhead
As PC enthusiasts, we tend to be drawn to games that offer spectacular graphics… titles that help reaffirm your belief that shelling out lots of cash for that high-end monitor and PC was well worth it. But it's rare when a game comes along that is so visually-demanding, it's unable to run fully maxed out on even the highest-end systems on the market. In the case of the original Crysis, it's easy to see that's what Crytek was going for.
Funny enough, even though Crysis was released close to a year ago, the game today still has difficulty running at 2560×1600 with full detail settings – and that's even with overlooking the use of anti-aliasing! Luckily, Warhead is better optimized and will run smoother on almost any GPU, despite looking just as gorgeous as its predecessor, as you can see in the screenshot below.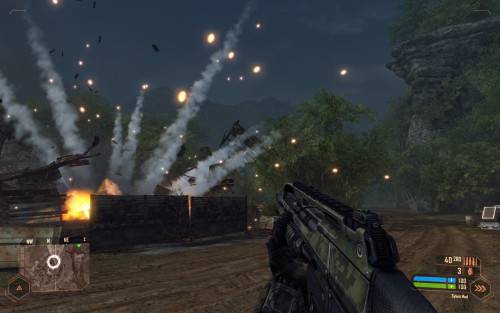 The game includes four basic profiles to help you adjust the settings based on how good your system is. These include Entry, Mainstream, Gamer and Enthusiast – the latter of which is for the biggest of systems out there, unless you have a sweet graphics card and are only running 1680×1050. We run our tests at the Gamer setting as it's very demanding on any current GPU and is a proper baseline of the level of detail that hardcore gamers would demand from the game.
Like all of the other high-end cards on the market, the HD 4850 X2 performs exceptionally with higher-end resolutions, such as 2560×1600. In our top two tests, the card out-performed the GTX 260/216 with ease, and scales well with the performance of the HD 4870 X2.
| | | |
| --- | --- | --- |
| | | |
| Palit HD 4870 X2 2GB | 2560×1600, Gamer, 0xAA | 31.382 FPS |
| Palit 9800 GX2 1GB | 2560×1600, Mainstream, 0xAA | 50.550 FPS |
| Sapphire HD 4850 X2 2GB | 2560×1600, Mainstream, 0xAA | 49.730 FPS |
| Palit GTX 280 1GB | 2560×1600, Mainstream, 0xAA | 46.038 FPS |
| Palit HD 4870 512MB Sonic | 2560×1600, Mainstream, 0xAA | 34.471 FPS |
| Palit HD 4870 512MB | 2560×1600, Mainstream, 0xAA | 32.973 FPS |
| ASUS 9800 GTX 512MB | 2560×1600, Mainstream, 0xAA | 30.840 FPS |
| ASUS HD 4850 512MB | 2560×1600, Mainstream, 0xAA | 26.530 FPS |
| Gigabyte 9600 GT 512MB | 1920×1200, Mainstream, 0xAA | 31.979 FPS |
Although the card offers plenty of power, it was unable to deliver an acceptable gameplay experience using the Gamer setting. Decreasing to Mainstream changed everything, though. If you wanted to use a lower resolution, such as 1920×1200, then Gamer becomes completely playable.
Call of Duty 4
Crysis Warhead might have the ability to bring any system to its knees even with what we consider to be reasonable settings, but Call of Duty 4 manages to look great regardless of your hardware, as long as it's reasonably current. It's also one of the few games on the market that will actually benefit from having a multi-core processor, although Quad-Cores offer no performance gain over a Dual-Core of the same frequency.
For our testing, we use a level called The Bog. The reason is simple… it looks great, plays well and happens to be incredibly demanding on the system. It takes place at night, but there is more gunfire, explosions, smoke, specular lighting and flying corpses than you can shake an assault rifle at.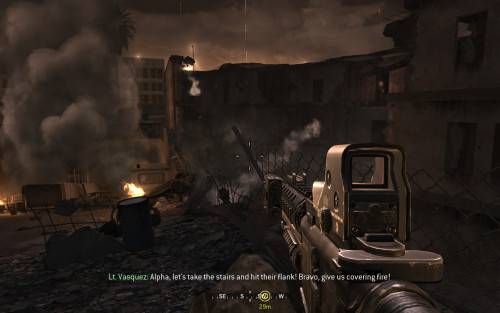 Because the game runs well on all current mid-range GPUs at reasonable graphic settings, we max out what's available to us, which includes enabling 4xAA and 8xAF, along with choosing the highest available options for everything else.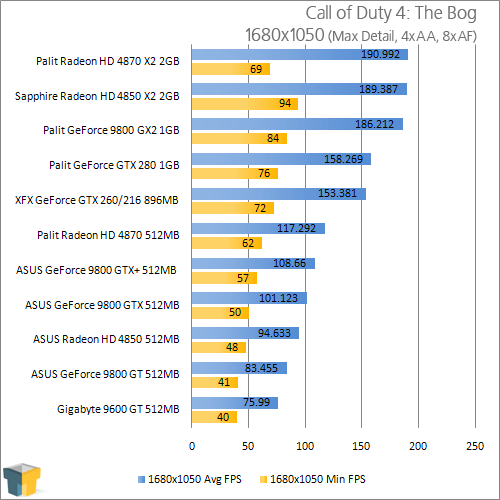 The Call of Duty series is one where ATI's dual cards work extremely well. It goes without saying… everything else is left in the dust, including NVIDIA's own dual-GPU 9800 GX2, and also the GTX 280. Of course, "in the dust" may be a poor choice of words given that each card offered extremely good performance.
| | | |
| --- | --- | --- |
| | | |
| Palit HD 4870 X2 2GB | 2560×1600, Max Detail, 8xAA | 113.024 FPS |
| Sapphire HD 4850 X2 2GB | 2560×1600, Max Detail, 8xAA | 102.476 FPS |
| Palit GTX 280 1GB | 2560×1600, Max Detail, 8xAA | 85.440 FPS |
| Palit 9800 GX2 1GB | 2560×1600, Max Detail, 4xAA | 76.192 FPS |
| Palit HD 4870 512MB Sonic | 2560×1600, Max Detail, 4xAA | 67.928 FPS |
| Palit HD 4870 512MB | 2560×1600, Max Detail, 4xAA | 64.825 FPS |
| ASUS 9800 GTX 512MB | 2560×1600, Max Detail, 0xAA | 70.363 FPS |
| ASUS HD 4850 512MB | 2560×1600, Max Detail, 0xAA | 69.745 FPS |
| Gigabyte 9600 GT 512MB | 2560×1600, Max Detail, 0xAA | 48.180 FPS |
Although all of our cards performed great, it was only ATI's dual-GPU cards that managed over 100 FPS while using 8xAA, offering an incredibly crisp, yet fast gameplay experience.
Half-Life 2: Episode Two
The original Half-Life 2 might have first seen the light of day close to four years ago, but it's still arguably one of the greatest-looking games ever seen on the PC. Follow-up versions, including Episode One and Episode Two, do well to put the Source Engine upgrades to full use. While playing, it's hard to believe that the game is based on a four+ year old engine, but it still looks great and runs well on almost any GPU purchased over the past few years.
Like Call of Duty 4, Half-Life 2: Episode Two runs well on modest hardware, but a recent mid-range graphics card is recommended if you wish to play at higher than 1680×1050 or would like to top out the available options, including anti-aliasing and very high texture settings.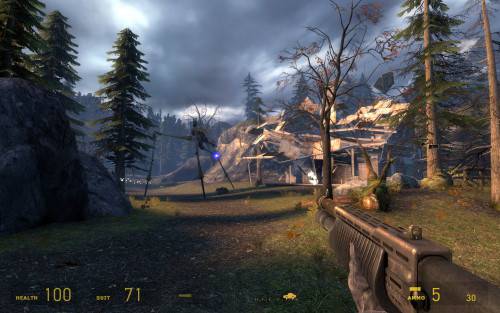 This game benefits from both the CPU and GPU, and the skies the limit. In order to fully top out the available settings and run the highest resolution possible, you need a very fast GPU or GPUs along with a fast processor. Though the in-game options go much higher, we run our tests with 4xAA and 8xAF to allow the game to remain playable on the smaller mid-range cards.
Results with HL2 are far tighter than any other game we test with, and it becomes the CPU that's the bottleneck, not the GPU. Valve does a great job of making sure all of their Source-based games run well on most video cards, luckily for gamers.
| | | |
| --- | --- | --- |
| | | |
| Sapphire HD 4850 X2 2GB | 2560×1600, Max Detail, 8xAA, 16xAF | 84.026 FPS |
| Palit HD 4870 X2 2GB | 2560×1600, Max Detail, 8xAA, 16xAF | 81.418 FPS |
| Palit GTX 280 1GB | 2560×1600, Max Detail, 8xAA, 16xAF | 61.437 FPS |
| Palit HD 4870 512MB Sonic | 2560×1600, Max Detail, 8xAA, 16xAF | 60.413 FPS |
| Palit HD 4870 512MB | 2560×1600, Max Detail, 8xAA, 16xAF | 56.572 FPS |
| Palit 9800 GX2 1GB | 2560×1600, Max Detail, 4xAA, 8xAF | 89.596 FPS |
| ASUS 9800 GTX 512MB | 2560×1600, Max Detail, 4xAA, 8xAF | 51.272 FPS |
| ASUS HD 4850 512MB | 2560×1600, Max Detail, 4xAA, 8xAF | 48.142 FPS |
| Gigabyte 9600 GT 512MB | 2560×1600, Max Detail, 0xAA, 8xAF | 52.297 FPS |
Thanks to ATI's 8.12 Catalyst drivers, which improved performance all-around, the HD 4850 X2 out-performed its bigger brother. That changes when the HD 4870 X2 is tested with the same drivers, but we were unable to deliver those results for this article due to time-constraints.
Unreal Tournament III
As odd as it may seem, every single game we currently use for our graphic card benchmarking is a sequel or an entry in a series of games, including this one. The original Unreal Tournament launched in late 1999, and since then, it has become a stature with GPU benchmarking. Similar to Call of Duty, the UT series of games is one that manages to deliver spectacular graphics, but doesn't require a bleeding-edge machine to see them.
UTIII offers a variety of modes and levels, and has some of the most interesting and lush environments ever seen in a video game. If I could choose where I wanted to die, it would most likely be in the Gateway level, which you can see in the screenshot below. This level is one of the most interesting in the game as it's essentially three levels in one, linked together with portals – and it's hard to beat the feeling of scoring a portal frag.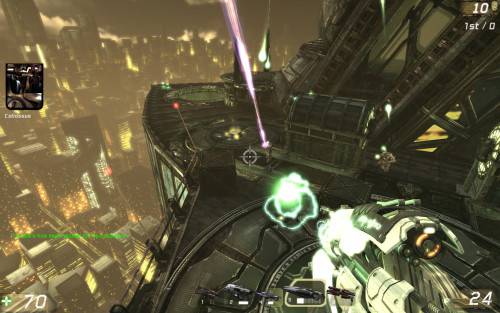 The game might be one of the best-looking currently on the PC, but it doesn't offer robust in-game settings like some others in our suite. Because of this, we are forced to enable anti-aliasing in the control panel of the current graphics card. Both ATI's and NVIDIA's drivers allow us to choose 4xAA, so that's what we stick with throughout all of our testing.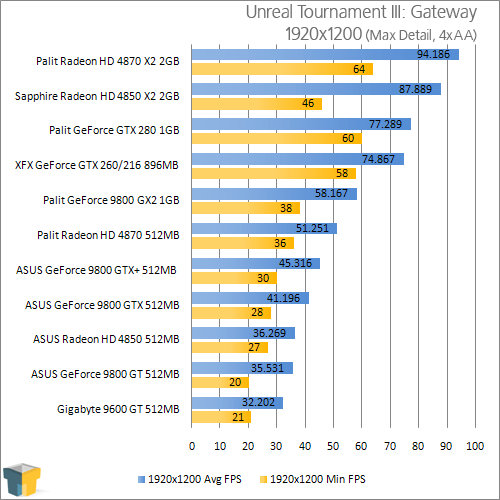 Once again, the HD 4850 X2 performs exceptionally, and in this particular case, it performs very closely to the HD 4870 X2, thanks in part to ATI's latest drivers.
| | | |
| --- | --- | --- |
| | | |
| Palit GTX 280 1GB | 2560×1600, Max Detail, 4xAA | 72.148 FPS |
| Palit HD 4870 X2 2GB | 2560×1600, Max Detail, 4xAA | 55.479 FPS |
| Sapphire HD 4850 X2 2GB | 2560×1600, Max Detail, 4xAA | 53.366 FPS |
| Palit 9800 GX2 1GB | 2560×1600, Max Detail, 0xAA | 78.909 FPS |
| Palit HD 4870 512MB Sonic | 2560×1600, Max Detail, 0xAA | 60.901 FPS |
| Palit HD 4870 512MB | 2560×1600, Max Detail, 0xAA | 57.617 FPS |
| ASUS 9800 GTX 512MB | 2560×1600, Max Detail, 0xAA | 48.874 FPS |
| Gigabyte 9600 GT 512MB | 2560×1600, Max Detail, 0xAA | 43.781 FPS |
| ASUS HD 4850 512MB | 2560×1600, Max Detail, 0xAA | 42.228 FPS |
NVIDIA's GTX 280 took the crown quite easily here, but our top three all offered good performance and they were the only three to allow the game to be played at max resolution with anti-aliasing while retaining smooth gameplay.
Futuremark 3DMark Vantage
Although we generally shun automated gaming benchmarks, we do like to run at least one to see how our GPUs scale when used in a 'timedemo'-type scenario. Futuremark's 3DMark Vantage is without question the best such test on the market, and it's a joy to use, and watch. The folks at Futuremark are experts in what they do, and they really know how to push that hardware of yours to its limit.
The company first started out as MadOnion and released a GPU-benchmarking tool called XLR8R, which was soon replaced with 3DMark 99. Since that time, we've seen seven different versions of the software, including two major updates (3DMark 99 Max, 3DMark 2001 SE). With each new release, the graphics get better, the capabilities get better and the sudden hit of ambition to get down and dirty with overclocking comes at you fast.
Similar to a real game, 3DMark Vantage offers many configuration options, although many (including us) prefer to stick to the profiles which include Performance, High and Extreme. Depending on which one you choose, the graphic options are tweaked accordingly, as well as the resolution. As you'd expect, the better the profile, the more intensive the test.
Performance is the stock mode that most use when benchmarking, but it only uses a resolution of 1280×1024, which isn't representative of today's gamers. Extreme is more appropriate, as it runs at 1920×1200 and does well to push any single or multi-GPU configuration currently on the market – and will do so for some time to come.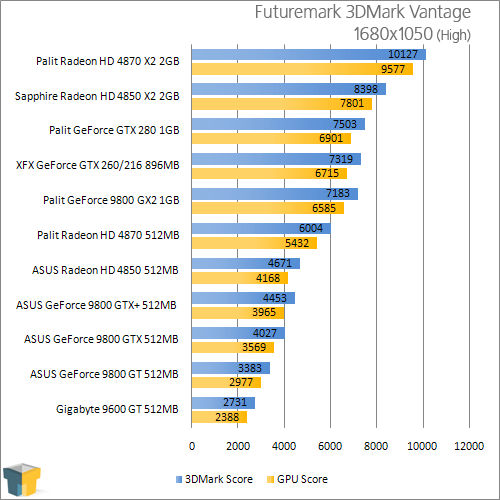 Sapphire's card securely took the second spot all throughout our tests here. The HD 4870 X2's benefit of faster memory and core clocks put it a good deal ahead in our highest-resolution test, though.
Power Consumption, Final Thoughts
In the age where anyone can appreciate good power efficiency, it's almost upsetting to see how much wattage any graphics card manages to pull from our walls. Even the lowest-end models don't seem too impressive when compared to the power efficiency of a CPU, but that's how it is, at least right now. It's interesting to see how different GPUs compare in this regard, as some might perform better than others, but use less power, like we normally see with a shift to a smaller process node.
To help see what kind of wattage a given GPU eats on average, we use a Kill-A-Watt that's plugged into a power bar that's in turn plugged into one of the wall sockets, with the test system plugged directly into that. The monitor and other components are plugged into the other socket and is not connected to the Kill-A-Watt. For our system specifications, please refer to our methodology page.
Like our temperature testing, the computer is boot up and left idle for ten minutes, at which point the current wattage reading is recorded. To test for full load wattage, 3DMark Vantage is again loaded up and run at the "Extreme" setting. The space flight test is used here, with the result being recorded during a specific sequence during that run where it seems to stress the GPU the most.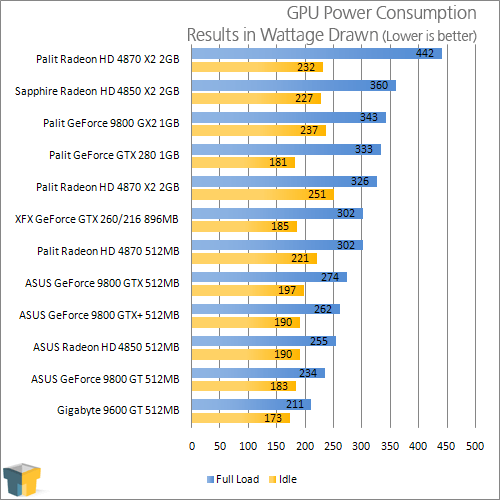 It might be the slower clocks, or the GDDR3, but the power draw seen with Sapphire's card is far less than the HD 4870 X2. These results help make the HD 4850 X2 look even better, as it's close to just as fast as the bigger card in some tests, but the power draw is far easier to stomach.
GPU Temperatures
Regardless of whether or not you plan to overclock, having reasonable system temperatures is always welcomed. Not only will your machine be more reliable with cooler temps, it will likewise not add any unneeded heat to the room you are in (unless it happens to be wintertime and you keep the windows open, then it might be a good thing).
To test a GPU for idle and load temps, we do a couple things. First, with the test system turned off for at least a period of ten minutes, we measure the room temperature using a Type-K thermometer sensitive of up to 0.1°F. The result from this is placed beside the GPUs name in the graph below. Since we don't test in a temperature-controlled environment, the room temp can vary by a few degrees, which is why we include the information here.
Once the room temp is captured, the test system is booted up and left idle for ten minutes, at which point GPU-Z is loaded up to grab the current GPU Core temperature. Then, a full run of 3DMark Vantage is run to help warm the card up, followed by another run of the same benchmark using the Extreme mode (1920×1200). Once the test is completed, we refer to the GPU-Z log file to find the maximum temperature hit. Please note that this is not an average. Even if the highest point was only hit once, it's what we keep as a result.
Sapphire's special cooler proved worth the effort, as seen here. Despite being a dual-GPU card, it ranks low in our graph, and saw temps just a little bit higher than a 9600 GT… that's incredible. The best part is that the card was generally quite quiet as well. Although I didn't take a sound meter to it, I can honestly say it was quieter than our reference HD 4870, even at full load.
Final Thoughts
I didn't know what to expect when diving into testing this card, but it goes without saying that I'm quite impressed. For a $300 offering, it scales well in performance when compared to slightly lesser-expensive cards, such as the GTX 260/216. For the extra $30 – $50, you get a card that works much better with games at very high resolutions, or with copious amounts of anti-aliasing. If it came down to getting insane performance while keeping things as cheap as possible, the GTX 260/216 is still a great card, and for the most part, it's probably a better choice for most people.
As with all of the current high-end cards, the HD 4850 X2 excels at the highest-resolution available, 2560×1600. If that's the resolution you play at, this card is the card to buy. It has the best value, and given its dual-GPU nature, it will allow better performance over any single-GPU card currently out there in most cases. The one exception might be the GTX 280 in some tests, but that is likely to be a rare scenario.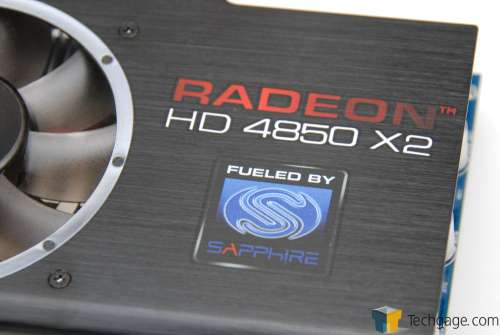 In addition to the fair price, this card features a cooler that's not exactly pleasing to the eyes, at least to me, but it's light and very, very effective. Not to mention quiet. In addition, compared to the HD 4870 X2, it has a far more modest power drain. Overall, there are few downsides, and as a result, it would make a fantastic addition to your gaming PC if you are looking to spend $300 and have the capability to run very-high resolutions. If you run anything lower than 1920×1200, this card is extreme overkill. That can even be said about 1920×1200, but at least there, good AA settings could be used to take better advantage of the power available.
Pros
Extremely powerful, in some cases it comes close to the HD 4870 X2.
Great cooler design, keeps temperatures low.
Much lower power draw than the HD 4870 X2.
At $300, it's priced right.
Cons
The 4 DVI ports could be considered a downside, or an upside.
Discuss this article in our forums!
Have a comment you wish to make on this article? Recommendations? Criticism? Feel free to head over to our related thread and put your words to our virtual paper! There is no requirement to register in order to respond to these threads, but it sure doesn't hurt!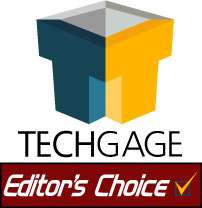 Sapphire Radeon HD 4850 X2 2GB
Copyright © 2005-2019 Techgage Networks Inc. - All Rights Reserved.