Splitting The Atom: NVIDIA Tegra

Date: June 2, 2008
Author(s): Rob Williams

NVIDIA took the opportunity at Computex to announce a brand-new chip series: Tegra. This high-performance/low power 'system on a chip' is set out to take on Intel's Atom, and if all of NVIDIA's claims are spot-on, everyone is going to want to have the chip in their mobile device once available.
---
Introduction
NVIDIA today announced a brand-new product lineup during a press conference at Computex, which surprisingly didn't touch on their forthcoming GPUs, but rather their new Tegra 'system on a chip' solution. This mobile-bound chip will become a direct competitor to Intel's Atom upon release.
Unlike Atom, though, NVIDIA decided to start from scratch with Tegra. This is one of the key reasons, as they point out, why Tegra is very powerful, very small and also very power efficient. Like Atom, a Tegra chip would disappear if a dime was placed on top of it.
Many companies tout "smaller and higher efficiency", but Tegra might be in its own league. This chip will be destined for UMPCs and other MIDs (Mobile Internet Devices) and offer fantastic performance (even enough for Microsoft Word or Excel), while sucking an incredibly low amount of power, at >1W.
One of the biggest features is 1080p H.264 encode support. The idea is that you wouldn't watch the content on the MID itself (it's doubtful a MID will support that resolution anytime soon), but rather allows the owner of the device to hook up to a TV or monitor via HDMI to do so. Sounds like the perfect solution for travel.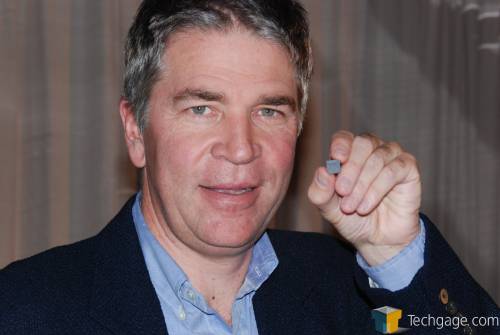 Michael Rayfield holding a Tegra chip
At the conference, a few guests were brought on stage to discuss the benefits of the new chip. First up was Ian Lao, a Senior Analyst at In-Stat. He commented on the fact that mobile computing is more popular than ever, and in the years to come, mobile devices will far out-sell notebooks and desktops. People like to be mobile, and have a keen desire to keep all their content mobile, which is why Tegra is being introduced at a great time.
NVIDIA licensed the ARM11 MPCore CPU for Tegra, one that's completely dissimilar to x86 or x86-64, like Atom's based off. But from what we saw and were told, ARM11 is completely capable.
Vice President of Marketing at ARM, Ian Drew, was brought on stage to discuss why the ARM11 MPCore was the perfect match for Tegra. He went on to claim that ARM is very, very power efficient, on top of being able to keep right up to Atom, clock-for-clock.
He went on to show Internet performance comparisons to Atom, and brought up the fact that Intel once compared an Atom chip directly to the latest ARM processor, but did so unfairly since the Atom chip was clocked at 1.6GHz, while the ARM was run at 400MHz. So Ian took the opportunity to show performance results comparing an 800MHz ARM11 MPCore to an equally-clocked Atom.
In the results shown, both Atom and ARM flip-flopped their performance, but overall, they were pretty even.
What's not claimed to be even is the power efficiency. In another ARM11 vs. Atom test, it was noted that while Atom's power capabilities are measured in hours, ARM's is measured in days.
In a sleep mode, Atom lasts around 19 hours, while ARM can last weeks, and where only the CPU core is concerned, ARM can last almost 11 days, while Atom can't pass 8 hours.
On another semi-unrelated topic, it was noted that a gripe from users in the past pointed out the overall lack of good web support, in that certain websites would either not work well, or at all. This was primarily due to the lack of support of various software technologies that were incompatible with its architecture.
Ian readily admitted to this, but noted all the appropriate steps were taken in order to improve both performance and compatibility. So now, all three of the popular web browsers (Internet Explorer, Mozilla Firefox and Opera), work without a hitch. In addition, Adobe's Flash technology is fully-supported, as well as Microsoft's Silverlight.
What's More? Final Thoughts
The largest benefits to be seen from Tegra, however, are not really software-based, but rather what the chip can handle from the hardware level.
When Michael Rayfield, General Manager of the Mobile Business Unit at NVIDIA, first mentioned that the Tegra processor could output to 1080p without a problem, he immediately went into a demo. In his hand was a regular MID about the size of his hand, that was playing Ratatouille on the projector in full 1080p. It ran incredibly well, with zero lag.
Then of course we come back to power efficiency. On display were two UMPCs – one running an Atom CPU at 800MHz, and another running the Tegra 650, also at 800MHz. Both were connected to power analyzers, and while the Atom-based UMPC drew 13.0W on average, the Tegra model scaled that way down to 1.3W.
It goes without saying that such performance in a small chip is highly desirable. With so many people wanting to bring their digital content or web services with them, great battery-life is imperative, but today, there are no devices available that allow you to go all day without having to charge it.
In one slide that NVIDIA showed, battery-life on Tegra was around 10x better than on Atom… but on top of it, performance was also better. During SD video playback, an Atom-based unit lasted around 2 hours, while the Tegra unit running 720p video lasted just over 25 hours. That is one massive statement, and if true, then Intel is really going to have to go back to the drawing board.
NVIDIA's will launch three different versions of the Tegra, with the leading model being the 650, at 800MHz. The next step down is the Tegra 600, weighing in at 700MHz. It also has weaker overall battery-life (yet still highly impressive), and also lacks 1080p output.
Tegra 650

Tegra 600

Tegra APX 2500

Processor

ARM11 MPCore 800MHz
NAND Flash support16/32-bit LP-DDR
ARM11 MPCore 700MHz
NAND Flash support16/32-bit LP-DDR
ARM11 MPCore
NAND Flash support16/32-bit LP-DDR

HD A/V Processor

1080p H.264 Encode
720p H.264 Decode
AAC, AMR, WMA, MP3 Audio
720p H.264 Decode and VC-1/WMV9 Decode
720p H.264 Encode
AAC, AMR, WMA, MP3 Audio
720p H.264 Decode and VC-1/WMV9 Decode
720p H.264 Encode
AAC, AMR, WMA, MP3 Audio

ULP (Ultra Low Power) GeForce

OpenGL ES 2.0
Programmable pixel shader
Programmable vertex and lighting
Advanced 2D/3D
OpenGL ES 2.0
Programmable pixel shader
Programmable vertex and lighting
Advanced 2D/3D
OpenGL ES 2.0
Programmable pixel shader
Programmable vertex and lighting
Advanced 2D
D3D Mobile

nPower Technology

130 hours audio
30 hours HD video
100 hours audio
10 hours HD video
100 hours audio
10 hours HD video

Imaging

12.0 megapixel camera support
Intergrated ISP
Advanced imaging features
12.0 megapixel camera support
Intergrated ISP
Advanced imaging features
12.0 megapixel camera support
Intergrated ISP
Advanced imaging features

Display

True dual-display support
1920×1200 / HDMI
1680×1050 / LCD
1280×1024 / CRT
NTSC/PAL Output
True dual-display support
1280×720 / HDMI
1280×1024 / LCD
1280×1024 / CRT
NTSC/PAL Output
True dual-display support
1280×720 / HDMI
864×480 / LCD
864×480 / CRT
Composite/S-Video
The last model is the APX 2500, which was launched earlier this year, and is designed exclusively for smartphones and handsets.
Also touched up on during the conference was the 3D capabilities for the chip, using a mobile version of GeForce, most often considered GoForce. With it, users can both enjoy rich user interfaces and also some light 3D gaming.
On screen was Quake 3 playing at 35 FPS, but I'm unsure at what resolution it was running. Also shown was creative 3D user interfaces for mobile devices, most of which were only demos, but showed off what was capable. You could expect smooth 3D transitions, transparency's and many more 3D objects, such as icons.
Not all of it is just eye-candy though. One demo showed a GPU-like application running on a mobile device that would not only help the driver along the way, but render the buildings in 3D to better help you know what to look for. This of course isn't likely available right now, but with Google Earth and the like being so prevalent, it's only a matter of time.
Final Thoughts
From what I saw today, mobile fanatics have a strong reason to look forward to Tegra. NVIDIA boasts that it can beat Intel's Atom in "almost every category", although they didn't mention where Tegra is held back. Most likely it would be the overall performance, since Atom can go as high as 1.87GHz.
The interesting thing about Tegra, though, is that between the 650 and 600 available later this year, they can be thrown into a variety of devices, from small UMPCs to sub-notebooks, such as the ASUS Eee PC, which they had on display.
The claims NVIDIA makes about Tegra are incredibly impressive, and though we did see live demos, the proof will be in the pudding once we have the devices in our own hands. NVIDIA's says that Tegra draws 1/10th the power of Atom, while also being 1/10th of the overall size (I assume this refers to the entire motherboard, not only the chip).
With the ability to play 1080p content from a handheld device and also have amazing battery-life, Tegra is one interesting product. We won't begin to see equipped devices until later this year, but it's one product line-up that should be worth the wait.
Discuss in our forums!
If you have a comment you wish to make on this review, feel free to head on into our forums! There is no need to register in order to reply to such threads.
Copyright © 2005-2019 Techgage Networks Inc. - All Rights Reserved.