Super Talent Mega Screen MP3 Player

Date: September 6, 2006
Author(s): Jen McPherson

Super Talent has been impressing us with their enthusiast memory over the past few months, and now they have gone ahead to release an MP3 player with a huge screen! In addition to MP3/WMA support, you can also view your images and even listen to the radio.
---
Introduction
In this age of high tech, MP3 players are becoming a norm in society. Coming in many different shapes, sizes, colors and specs, its hard picking out the right one for you. Super Talent has released a new series of stylish MP3 players that offer a multitude of features that anyone would find pleasing.
Features
Mfr Part Number: MP3/4-1GBK
Color: Black
Memory Capacity: 1 GB
Interface: USB 2.0
Display: MEGA Screen (262K Color OLED, 128×128 Pixels)
Music Format: MP3 / WMA
Recording: Line-in Real Time Mic/Voice Recording (ADPCM Type); Built-in FM/FM Tuner Recording
Lyrics Supporting
Language: English/ Chinese/ Spanish/ Portuguese/ Korean/ German
Battery: Rechargeable LITHIUM Battery
Operating System: Windows 98/SE/ME/2000/XP/2003; Mac OS 8.6+; Linux 2.4.1+
Warranty: 1 year
Dimension: 87 x 42 x 9 mm
Weight: 36g
Items Included: Earphones, USB2.0 Cable, Product Manual, and Drivers.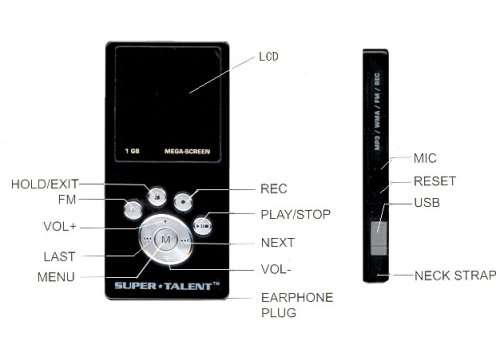 Packaging
I do have to say I was quite impressed with the Super Talent's boxing for the Mega Screen MP3 player. Its a gray box with a picture of the player on the front and the company's logo. The bottom edge of the box shows what memory size the player is. Opening it you remove the security tape and slide the box cover off, which reveals the same box design as before. The flap opens up to reveal the player nested snugly and displayed nicely in the center. The booklet, driver disk and earphones are all inside the box shell, packed well so nothing wiggles around a lot. Overall one of the best boxes I've seen for an MP3 player of its price range. I absolutely despise those plastic bubble packages, and am glad Super Talent didn't go that route in packaging.
First Impressions
Taking the MP3 player out I was immediately taken with it, how smooth and sleek it looks, the size of the screen and the overall portability of the unit. Its quite small and very thin, can fit into any pocket on your shirt, jeans or in your purse easily. I like how the buttons are set up and they aren't super tiny, which I like.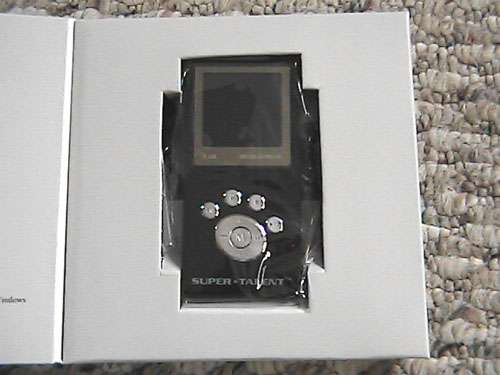 The only thing I was worried about was that the MP3 player is ultra shiny and smooth, and so finger prints and smudging would be an issue.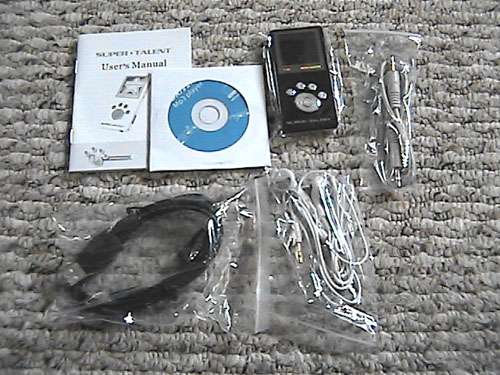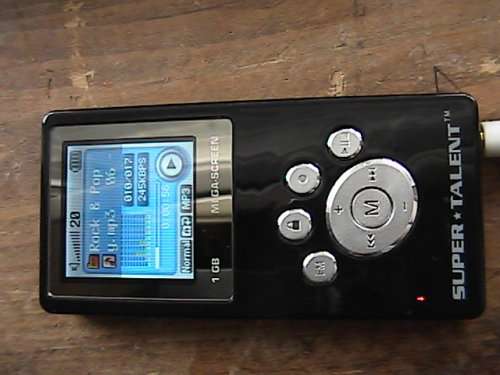 Usage, Conclusion
Before I could use the MP3 player I had to charge it, which was easy enough to do… just hook it up to the PC! The USB slot on the MP3 player is located on its bottom right side, where a little rubber flap covers the opening. The screen would light up and let you know its ready and charging, and so you just leave it alone. There is a charging bar at the bottom right hand side of the screen, and when its full you know its completely charged. They do say to remove the headphones from the player before charging and uploading music.
Looking at the unit you'd very well note that there are no battery slots. This is because the player runs on a rechargeable lithium polymer battery. When its fully charged the player can run for up to eight hours of playtime.
Uploading music is as easy as plugging the player in the same way you would when charging it. It registers as removable hard drive on your system, on mine it was listed as (H:). When uploading music you need to make folders for them, and can make specific folders to organize them in, as many as you'd like. So if you wanted to upload a whole album you can make a folder for it and place all the music inside it. The only folders you can't use and can't delete or rename in the system are Picture, Voice, Line in and FM. Once you are finished copying and access the MP3 player, you can find the music you want to play via the folders you placed them in. This makes for great MP3 organizing, for you can make specific play lists with your folders.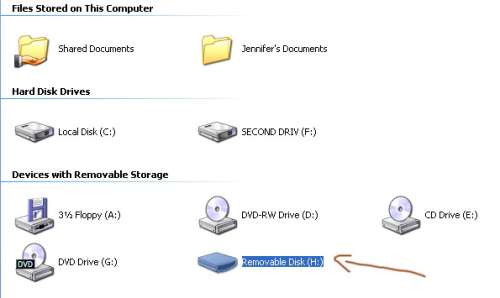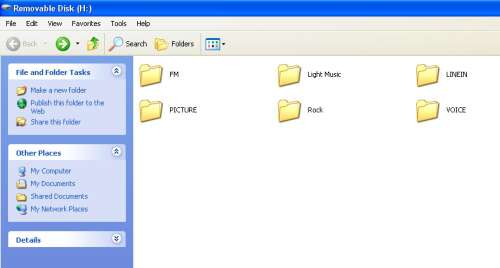 On average it took between 5-10 seconds to transfer a music file of 5 MB on a 1.1 USB port. Specifically an MP3 file of 5.95 MB took 7 seconds to transfer from my HD to the MP3 player. Not too shabby for a slower USB connection, so someone with a 2.0 USB port would have even better transfers.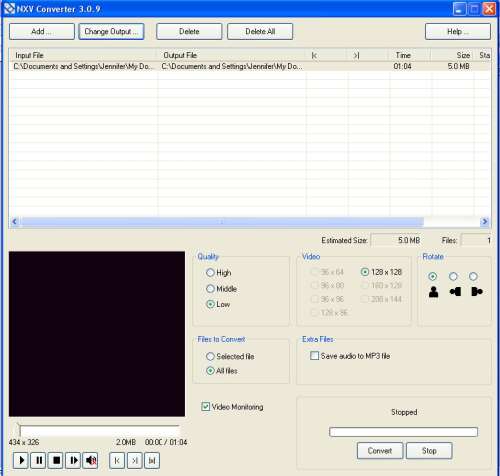 Once I had all the music I liked uploaded then I plugged the headphones back in. These headphones were a bit wiggly and got tangled rather easily, but that's to be expected with earphones. Although they do sit in the ear nicely I find that they grow uncomfortable after a while. They connect to the headphone jack at the base of the player.
Another feature of this player is the photo album. You can upload some of your favorite photos to the player and show them off to friends with the 262K Color OLED screen. Using the disk provided with the player you need to install the ImageEditor Conversion Program, with the file named NxPhoto1.0.3_128x128_Install.exe. As I always state if you've ever installed a program then your good to go, for this is no different. Easy installation and a simple interface makes this a good program to go with the MP3 player. Converting files is easy, just select the image you want, then choose how the image will look on the MP3 player's screen. Once selected, click add. Choose as many photos as you want, convert and add them, then save the file to the MP3 player in the PICTURES file. Safely remove the device from your system and then access the Pictures file on the player, and you can view your photos. It's that easy.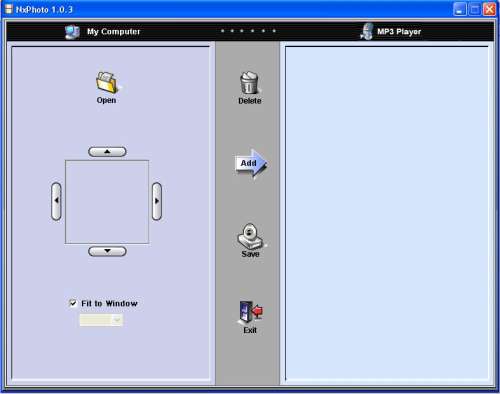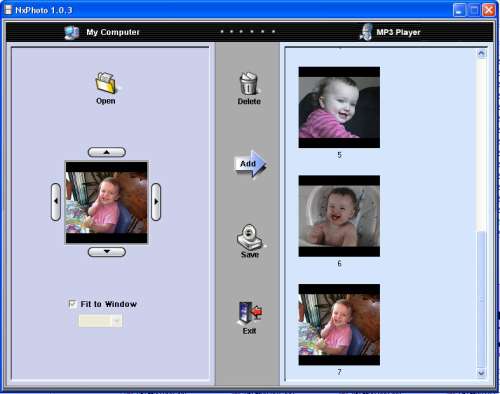 You can also watch music video files on the player or even video files, using the NXV Converter. This program is also included on the provided CD. Installation is again straight forward. The program itself is also easy to use. Simply add the file to be converted, click on 'change output' so that it saves into your Picture folder on the player, and the video screen size to 128×128 and then convert. It'll save the converted file to your player where you can watch it anytime. The video is quite small, so don't expect anything super grand, but the colors are fantastic on this player and the videos play super smooth. A 33MB video file took about 30-40 seconds to upload to the player.
The FM radio tuner is nice, and although I do get a good deal of static on it that's to be expected when I live quite a ways away from the city. If you live in the city then I believe the signal will be much clearer. You can search for channels manually or you can store your favorite stations.
Some of the other features that I won't go into depth on are the clock, which is great to have when your on the go. For jogging outside its nice to have the time with you and not have to wear a watch. You can also set the system to automatic shutdown after a certain time. The sound of the music can be adjusted as well, to either flat, jazz, rock, pops, classic or dbass. And last but certainly not least is the voice recorder. From my few tests of it the voice recording works great, and you can adjust the quality of those voice recordings as well.
I did dislike one factor, and that is since the MP3 player is so ultra shiny, every single finger print and smudge show up like a sore thumb. A good swipe with a dry cloth can take most of this off, but it does get annoying at times. Perhaps a version in a soft matte finish would be ideal, and although it wouldn't look as 'sleek', I think it would look even better. Also, if your outside with the player and there is a lot of sunlight it can be difficult to read the player's screen, but this can't really be avoided.
Conclusions
Overall I find Super Talent's Mega Screen MP3 player to be a real gem. Of course it doesn't offer memory upgrades like some MP3 players today do, but I find that even so it stands up to the competition in features, quality construction and overall stylishness. This specific MP3 player comes in several different memory capacities to service any persons needs, from the casual music listener to the hard core audiophile. Some people like players that offer battery alternatives as well, yet again I don't see that factor detracting from the appeal of this player. The all the 'extra' features for it are excellent as well, I absolutely love the photo album aspect, and would keep this in my purse for listening as well as showing off photos of my kids. Videos are great as well, and the sound on the headset is fantastic.
So, after much use I find Super Talent to have won me over with their product, and so I award it a 9 out of 10 and an editor's choice award.
Discuss in our forums!
If you have a comment you wish to make on this review, feel free to head on into our forums! There is no need to register in order to reply to such threads.
Copyright © 2005-2019 Techgage Networks Inc. - All Rights Reserved.