Thermaltake BlacX 5G HDD Docking Station

Date: September 27, 2010
Author(s): Rob Williams

It's probably clear by now that USB 3.0 is one of the best things to happen to external storage, but when it comes to choosing between the available docks and enclosures, it's tough. One of the best options might be Thermaltake's latest entry to its highly-successful BlacX line, the 5G. It brings looks, stability, and of course, performance.
---
Introduction
If there's one thing that doesn't exist today with regards to PC components, it's selection. In the case of some product types, that selection could almost be considered overkill, with what might seem like a thousand companies offering near-identical products. It's happened with netbooks, notebook coolers, heck… even CPU coolers, and of course others.
This leads me to a personal gripe… one that has to do with the fact that very few companies ever do anything truly unique, or even interesting. Instead, many simply choose the same internals as others, then customize the externals to their liking – then act like it's one of the best products ever released. In particular, hard drive enclosures and docks is a perfect example of where this has been a huge "problem".
For the most part, I have settled on the fact that most external enclosures, or docks, are alike. But despite that, when it comes to hearing recommendations for HDD docks/enclosures from others, I have heard the name "BlacX" far more than any other. I was never sure why, but that fact has remained consistent. Just what does Thermaltake do differently?
A couple of years ago, former site editor and good friend K. Samwell took a look at the original version of the BlacX, and as someone who's generally very hard to please with new tech toys, I was surprised to see her absolutely love it. She wasn't alone, either. I admit, I haven't ever looked at a BlacX except at trade shows, which makes the 5G model the first one I've had actual hands-on experiences with. Did it manage to impress? Well, before we tackle that, let's take a look at what we're dealing with first.
Closer Look
Since the initial BlacX model was released, Thermaltake has stuck to a simple, but effective design. The unit is for the most part a box, slightly angled at the top to help prevent the unit from tipping over. There's a dust-protecting lid in place over the drive entry, and as you can see from the below photo, dust will remain out even when a 2.5″ drive is being used.
I should note that the BlacX is indeed black in color, despite some of the photographs cranking up the contrast.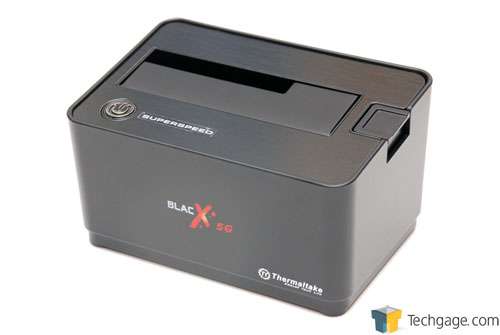 At the back of the BlacX is… well, almost nothing. There's a port for the USB 3.0 cable and then the power port. All-in-all, the entire unit couldn't be much simpler. But it does have some weight to it, which is nice. If you have it sitting on your desk, it's not going to move around easily, which is not something I could say about most docks or enclosures I've used in the past.
As you'd expect, the BlacX 5G supports hard drives of up to 2TB in density, and you can see an example of one in the shot below: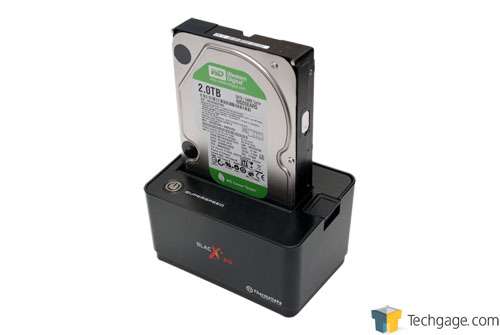 For the sake of keeping the hard drive safe from bumps, Thermaltake includes a silicon jacket for both 2.5″ and 3.5″ drives. Should the BlacX tip over, the rubber should prevent maximum damage from being done.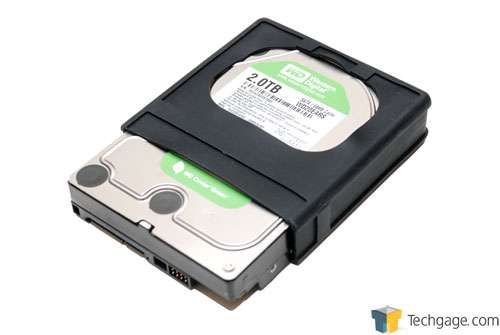 There is nothing included in way of accessories aside from the power adapter and USB 3.0 cable. Thermaltake touts the cable as being premium shielded and one that uses heavy gauge wires for "years of reliable use". As strange as it might seem to see any attention given to a cable, I'd say it's good that companies like Thermaltake are considering them. USB 3.0 cables are thicker by design, and so far in my USB 3.0 history, I've already had one cable die on me. Yes, really.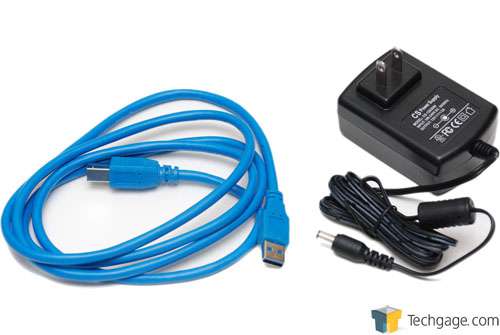 Once the hard drive is plugged into the dock and turned on, Windows will see it as an internal hard drive, not a removable one. Because of this, safely removing the drive will have to be done by clicking the device notifier in the system tray, rather than right-clicking the drive in your "Computer".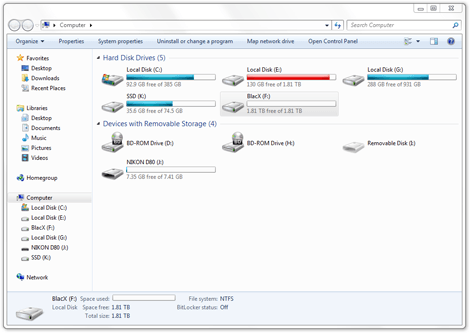 Setting up the BlacX couldn't be simpler. You just need to connect the cords to the unit and then to their respective home – the power socket and USB 3.0 port. Because USB 3.0 is backwards-compatible with USB 2.0 and 1.1, you can use this dock in those ports just fine. So, if you are in the market for a BlacX today, it's highly recommended that you look for the 5G so that you'll be able to take advantage of the 3.0 support when you can.
How about the BlacX's performance? Currently, the unit can handle any SATA drive you can throw at it – that includes both SSDs and SATA 3.0 (6Gbit/s) models. As mentioned earlier, it also handles drives up to 2TB in density, and for our testing purposes, we used Western Digital's Caviar Green.
Because this is a simple article, I'm not going to explain our testing practices or even list out our system specs, but if you are interested in reading into either of those, you can refer to my most recently published storage review, of Seagate's FreeAgent GoFlex Desk 2TB.
Thermaltake BlacX 5G

USB 2.0

USB 3.0

HD Tune Pro
Minimum MB/s
Average MB/s
Access Time (ms)


31.4 MB/s
32.5 MB/s
13.1 ms


56.5 MB/s
96.7 MB/s
12.8 ms

HD Tach 3
Burst Speed
Average Read
Access Time
(ms)


37.6 MB/s
36.0 MB/s
15.5 ms


182.8 MB/s
101.2 MB/s
15 ms

Iometer 2006.06.27
Database
Workstation
File Server

(Read / Write)
55.12 / 27.38
69.45 / 17.02

70.55 / 17.56

(Read / Write)
56.93 / 27.76
71.91 / 17.62
72.57 / 18.20

CrystalDiskMark
Sequential MB/s
512K MB/s
4K MB/s

4K QD32 MB/s

(Read / Write)

35.94 / 30.29

22.85 / 29.21

0.524 / 0.693

0.546 / 0.466

(Read / Write)

131.5 / 129.3

43.58 / 60.02

0.564 / 0.647

0.547 / 0.446

Adobe Lightroom
Convert 100 RAW to JPG


1m 42.18s


1m 35.36s

dBpoweramp
Convert 100 FLAC to MP3


1m 59s

2m 0s

File Copying
16GB File
16GB Folder



8m 47.81s(29.50 MB/s)
14m 00.78
s (18.52 MB/s)


2m 5.60s (121.08 MB/s)
5m 31.64s
(46.96 MB/s)

Hard Drive Model: Western Digital Caviar Green 2TB (WD20EARS)
It's clear that when using a hard drive through the BlacX 5G in USB 3.0 mode, you're going to see performance on par with the drive installed right inside of your PC. Even on the USB 2.0 side the performance was good – but when seeing the gains of 3.0, it's hard to even look at 2.0!
Final Thoughts
When I received the BlacX 5G, I had high expectations. I have friends who swear by them, and I haven't ever heard of anything bad against them. It seemed that Thermaltake had done its homework before embarking on the HDD dock train, and though we're dealing with something that seems simple, the company wanted to make sure it did things right.
The fact that the 5G just came out might be a testament to Thermaltake's goal of making a quality product. The first time I saw this exact model was at CES… eight months ago. That was a live demo, and it performed just as we'd expect it to, but instead of releasing it right away, or even during the months to follow when every other company released their own USB 3.0 products, Thermaltake took its time. That's kind of impressive.
I'm not one to get that excited over a hard drive dock, but the BlacX did impress me enough to convince me that it's the dock I'll be using from now on. I'm not a HDD dock/enclosure expert, but I've used many of them over the years, and none have given me the same sort of reliability and confidence as this one.
At its current price of ~$45, the BlacX 5G is priced a bit higher than other docks and enclosures, but this is one of the rarer cases where I'd say that small premium is worth it. The BlacX 5G looks good, works well, and stands to retain those qualities for quite some time. I highly recommend it to anyone looking for a top-rate external storage solution.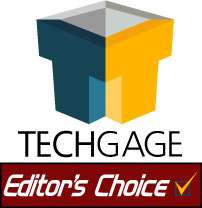 Thermaltake BlacX 5G HDD Dock
Discuss this article in our forums!
Have a comment you wish to make on this article? Recommendations? Criticism? Feel free to head over to our related thread and put your words to our virtual paper! There is no requirement to register in order to respond to these threads, but it sure doesn't hurt!
Copyright © 2005-2019 Techgage Networks Inc. - All Rights Reserved.