Ultra Mini Bluetooth Headset

Date: April 13, 2006
Author(s): Will Pope

Today with the new bluetooth devices coming out in force you're no longer wired to your mobile devices. Today we look at one such accessory that puts more "Mobile" in your bluetooth enabled mobile phone.
---
Introduction
Ultra products is based in Fletcher, Ohio and offers a wide range of products (too many to list here). We're talking PSU's, cases, Bluetooth headsets, case cooling, Memory and more. Today's technology is ever changing and almost all us have and use a cell phone. The first cell phones were huge and clumsy but they evolved to sleek and sexy. The one drawback was the headsets or ear pieces were all wired. I was constantly getting the wire caught on things. With the introduction of bluetooth enabled phones came wireless headsets, for which I am eternally grateful. That's what we are looking at today. The Ultra Mini Bluetooth Headset.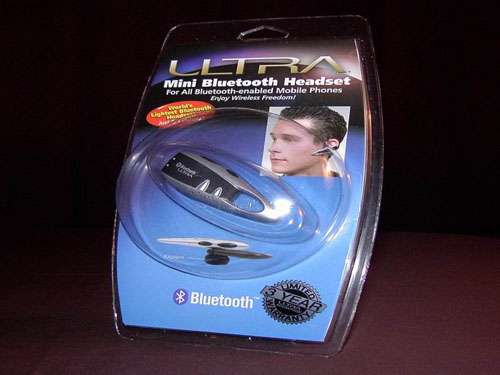 Just a few words about today's blister packs, as in plastic that is almost bullet proof. I had to use a razor knife to get into this Fort Knox of packaging. On the other hand I like to think of my stuff safe and sound in good packaging as it finds its way to me. I mean this stuff is so tough that if I were going down in a plane I would want to be in a larger size of this thing. So what am I saying here? I'm saying that of the two choices of easy open package or a tough (Let's get out the chainsaw) package, I'm going for the second one.
So as you can see from the picture you get two foam ear pieces, a velvet pouch for your headset , a wall charger, the ear piece, charger plug, Lanyard headset keeper, And a User's guide.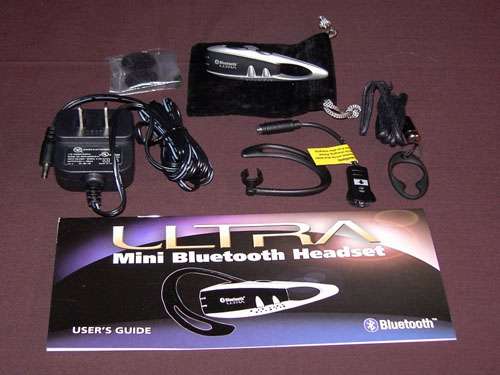 Let's see what Ultra says about it.
The World's Lightest and Smallest Bluetooth Headset! Just 0.3oz!
A perfect choice for any Bluetooth Mobile Phone user! It's slim and light just 0.3 ounces very comfortable.
This Bluetooth Headset can be used up to 33 feet away from a connected Bluetooth mobile phone.
The rechargeable, Li-Ion battery provides up to 4.5 hours of talk time and up to 100 hours stand-by time. Connect to most Bluetooth-enabled computers, PDAs and Bluetooth mobile phones wirelessly!
Features
Supports Bluetooth 1.1
33-foot wireless range
Weighs just 0.3 ounces
Rechargeable Li-ion battery
Up to 4.5 hours talk time
Send a fax from your computer over your Bluetooth cellular phone
Secure with 128-bits Data Encryption
Includes Travel Charger
I'll be comparing the performance of this headset with the Motorola HS850 Bluetooth and all of this will be done on a Razr V3.
Let's begin with the styling. It has a very sleek look and the blue LEDS make for an eye-appealing light weight headset.
Getting Started and Conclusion
Reading the manual I was instructed to charge the headset by plugging the charger into the back of it. The plug end has two lights which are green when you plug it into the power source and green and red while charging. Once it has charged the red light turns green. It took two hours ,as the manual had said it would, To fully charge. I was impressed with the connector to the headset. Very simple design and a solid connection.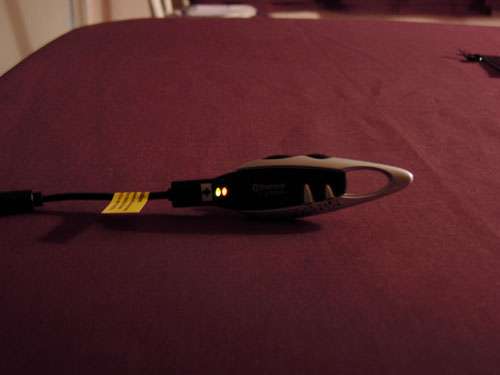 Pairing or linking with my phone was simple enough once I navigated to the correct menu. The Motorola phone found the Motorola headset without having to manually scroll through menus but that is to be expected since they are both made by the same company.
Once you've charged and paired the headset you are ready to go. There are two buttons on the top. The larger of the two located toward the rear turns it on and off and adjusts the volume.When you press the button you will hear two ascending tones and when you turn it off you hear two descending tones.The front button is to make or answer calls. If you have your phone set to auto answer when receiving a call you will hear musical tones, which sounds like America The Beautiful to me.
To make a call using voice dial press the front button and you will hear a tone at which point you just say the name. For calls that are not set up with voice dial just use the handset to dial and it will automatically connect to the headset. You can mute the call by pressing both buttons at the same time.
After wearing this headset for approximately eight hours a day for almost ten days I'm ready to tell it like it is.
Conclusion
While it is lighter than the HS850 it is also somewhat of a lightweight compared to it. First off the maximum volume level was below the HS850's. That's an issue with me because I work in a noisy environment and I had a hard time hearing the caller. Turning up the volume was tricky in that you have to press the large rear button once each time you wanted the volume level to increase. Well if you pressed it a little too long you turned the headset off.Also in turning up the volume I found out that once you reach the optimum level and you press it once more it reverts to the lowest volume level. I found myself either disconnected or yelling "Hello" into the headset while turning up the volume. At the lowest volume level I literally couldn't hear the caller at all. If however you use it in a noise free situation it works fine.
The range was good but not as good as the HS850. By that I mean I went into another room by three feet and the Ultra dropped the signal until I stuck my head out. The HS850 had no problem with the same test.
Pros
Solid charger connection
Bullet proof packaging
Cons
Lower volume at the highest setting
User Interface confusing (careful when pressing those buttons)
With the above mentioned problems I have to give it a 7 out of 10.
In all fairness I have to tell you that the power connector on the Motorola HS850 has some serious problems,a fact that T-Mobile ( my provider ) employees have admitted to me. The next generation will have USB. At the time of this review I'm RMA'ing the HS850 because of that problem. Also the cost of the HS850 is approximately 25% more than the Ultra.
Discuss in our forums
Feel free to discuss this review in our related thread! You do not need to register in order to post to our content threads.

Copyright © 2005-2020 Techgage Networks Inc. - All Rights Reserved.