Unigine's Heaven 2.0 Benchmark Introduces Linux Support

Date: March 24, 2010
Author(s): Rob Williams

To help push the tessellation boundaries just a bit further, Unigine has updated its Heaven benchmark to version 2.0 and introduced more robust modes. Alongside the updated Windows client, Unigine has also unveiled a Linux version, so we decided to take it for a spin to see how it both performs, and looks.
---
Unigine's Heaven 2.0 Linux Benchmark
Last November, game engine developer Unigine gave all Radeon HD 5000 users a fun tool to push their cards to the limit. Called "Heaven", the benchmark was the first on the market that both utilized DirectX 11 abilities and wasn't based around an actual game. Like Futuremark, Unigine builds its benchmarks with the mindset that what's exhibited will be seen in real games in the years ahead, assuring that it will remain a relevant benchmark for a little while.
Since its launch, both AMD and NVIDIA have been making heavy use of the benchmark in its marketing as a way to stress the importance of tessellation and DirectX 11 in general. NVIDIA has been making heavier use of the demo since this past January, though, since it claims that its GeForce GTX 480 soars through the demo smoother than ATI's Radeon HD 5870. You can find out later this week on our site if that's indeed the case.
Although "Heaven" isn't exactly lacking where DirectX 11's tessellation feature is concerned, Unigine has just followed-up with version 2.0, which brings along added content, an improved engine, and "moderate" and "extreme" tessellation modes (meant to be even more hardcore on the GPU, and for the most part, unrealistic in current games). Oh, and then there's something that caught my eye right away… Linux support.
And not surprisingly, the benchmark under Linux looks near-identical to the Windows version. Proof can be seen below, with screenshots we took in-house under Linux using a resolution of 2560×1600, high detail settings and 16xAF. The screenshots were resized to 1920×1200 for the sake of bandwidth.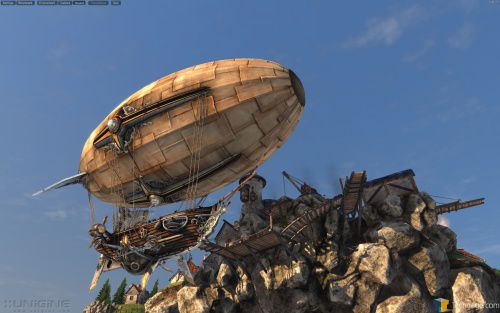 The unfortunate thing for the Linux version, though, is that thanks to the lack of DirectX 11 support (and DirectX support in general), the test can only be run in OpenGL mode. As a result, no tessellation will be seen, and in order for benchmarks to remain fair in a Linux vs. Windows battle, the Windows version should also utilize the OpenGL mode.
For fun, I decided to give Heaven 2.0 a quick test in both Linux and Windows to see how things fared. I also added in a DirectX 10 run for the heck of it, but that again is a Windows-only feature. All testing was done on the same PC, which included an Intel Core i7-965 at stock speeds (3.20GHz), 12GB of DDR3-1333 and an NVIDIA GeForce GTX 285 1GB. I used the latest GPU drivers under each OS (Linux: 195.35.15, Windows: 196.21). Windows 7 Ultimate x64 and Gentoo Linux (2.6.33) were the OSes used.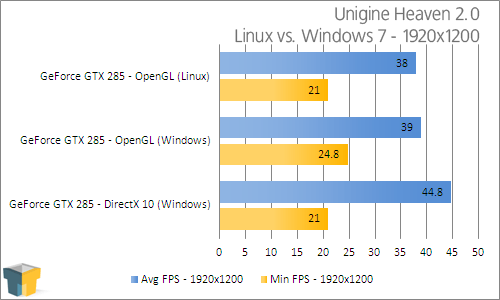 Throughout all of the resolutions, OpenGL performance in the benchmark under Linux was rather impressive, and overall, it never fell too far behind Windows. In our 1650×1080 run, in fact, it was neck and neck with the OpenGL mode in Windows, and even managed to have a better overall minimum FPS rating. Things changed a bit at 1920 and 2560, with Linux falling in last place, even where OpenGL is concerned.
Given the sheer amount of effort NVIDIA dedicates to its Windows driver, compared to its Linux driver, it's great to see such great performance from the Linux client. It is a tad slower, but that's all it is… a tad slower. In the real-world, I'd be hard-pressed to see the real differences between either the OpenGL or DirectX settings compared to the OpenGL setting under Linux, either from a visual or performance standpoint.
I'll note that the reason ATI testing wasn't included here was simply because these were meant to be quick tests done on my own personal machine. Testing out another graphics card would have meant tearing apart my home PC, and I didn't really want to take that route. If there's interest, we could consider introducing Linux-related gaming benchmarks (including this one) in our future graphics content.
One thing's for sure, the performance seen here proves that Linux is a viable gaming platform. The lack of DirectX sure hurts, but with Valve's recent vouch of support for the Apple platform (which also lacks DirectX), there's renewed hope for an improved game support under Linux in the future.
Want to give either the Linux or Windows version of Heaven 2.0 a go? You can head right on over to the official page and grab it at one of the mirrors. Note once again that to experience DirectX 11 tessellation with the benchmark, a DirectX 11-compliant card needs to be used, along with either Windows Vista (with KB 971644 installed) or Windows 7.
For this brief article, I focused on Linux performance since I found it to be a little more interesting, but I've also been testing the latest version of Heaven with both the HD Radeon 5870 and GeForce GTX 480. Thanks to an embargo on the latter, though, I'm unable to talk about the results here. Stay tuned to our site as we'll be posting our GTX 480 review later this week, and you can learn all of the details there.
Discuss this article in our forums!
Have a comment you wish to make on this article? Recommendations? Criticism? Feel free to head over to our related thread and put your words to our virtual paper! There is no requirement to register in order to respond to these threads, but it sure doesn't hurt!
Copyright © 2005-2020 Techgage Networks Inc. - All Rights Reserved.