War Has Never Been Squirmier: A Look At Worms W.M.D.
Date: September 13, 2016
Author(s): Rob Williams

The latest entry in the Worms series has arrived. It's called Worms W.M.D., and while the W.M.D. could stand for a number of things, we know what the game will involve: lots of hilarious violence. W.M.D. is said to be a successor to Worms Armageddon, released in 1999, and for many reasons, that's a good thing. If you've put off playing a Worms game in recent years, this might be the one to break your drought.
---
War Has Never Been Squirmier: A Look At Worms W.M.D.
Worms. Simple ground-dwelling creatures, or blood-thirsty maniacs set on world domination? The latest installment in Team17's Worms series tells us, and it's all in the name: Worms of Mass Destruction. Or Weapons of Mass Destruction. Or Worms Must Die. Whatever it stands for, one thing is certain: gratuitous violence is in order.
I hate to admit it, but up until the launch of Worms W.M.D., I hadn't touched a single Worms game since the release of Worms Armageddon. For those counting, that means I went nearly 16 years in between Worms games, so to call me an expert on the series would be a gross overstatement.
That said, the fact that I went so long without touching a Worms title had more to do with the fact that I didn't have friends who were likewise interested to play, and not to mention the fact that inevitably, other games grab my attention. So when W.M.D. came out, I wanted to break the drought and see what I've been missing.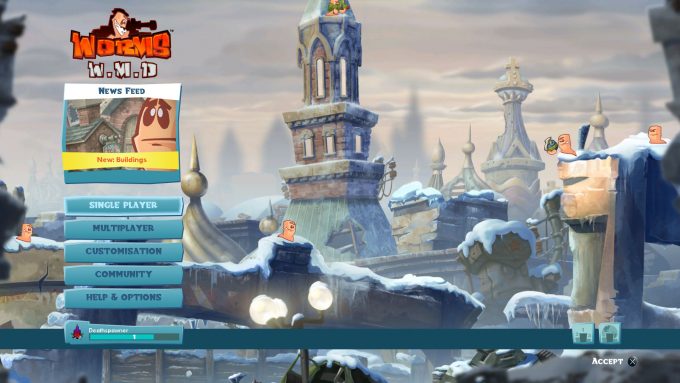 As it happens, I haven't missed a whole lot – at least, not based on this particular title. The game's Wikipedia page states that W.M.D. is a lot like Worms Armageddon, so I apparently chose a seriously coincidental time to get back into the series. That fact is probably behind the reason why Worms W.M.D. is exactly like the Worms I remember – and that's a good thing.
For those unfamiliar with Worms, it's a simple game that has teams of worms battling against each other in hilarious ways. All gameplay takes place on a single screen, with the level being generated on-the-fly before entry.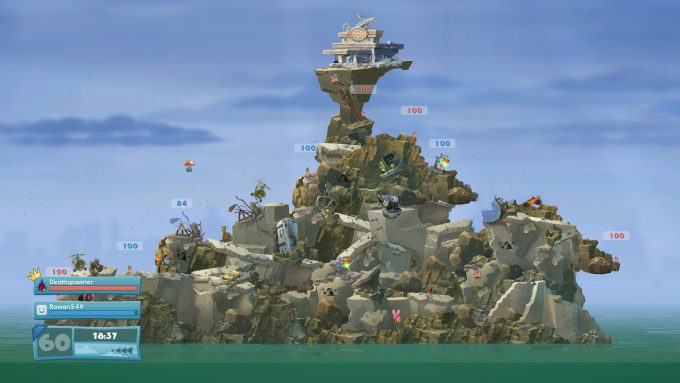 That design means that no two Worms matches are going to be alike, because extremely minor variations can change the strategy up entirely. In some levels, for example, clear views might allow copious use of homing missiles, whereas in others, terrain might prohibit the clear path required. It's this randomized design that helps keeps things interesting, because if the same weapons and strategies were used every single time, a game wouldn't likely be too exciting for long.
Included in Worms W.M.D. are six different environments, each of which can be randomized an infinite number of times until you get a layout that intrigues you. Worms as a whole is really meant to be played with friends, although you can play against AI through a series of campaign levels and challenges. That might actually be a great way to hone your skills, to get a bit of practice in before facing real competition.
One of the true highlights of W.M.D. is the level of customization offered. To start, you can create your own teams, and in addition to naming each and every worm you will be playing as, you can also choose different outfits, speech banks, gravestones (yes, there are gravestones for fallen heroes), victory dances, as well as different fanfare.
Beyond that, the matches themselves can be tweaked in a number of different ways. You can disable certain weapons from being chosen, disable crafting (more on that in a moment), adjust time allowances, enable or disable power-up crates, and so on and so forth. Chances are good that if there is a setting you'd like to tweak, it can probably be tweaked. The developers deserve huge kudos for this level of round customization, because as mentioned before, even small changes can result in greatly varied matches.
Speaking of strategies, crafting is a major addition to W.M.D. that can greatly affect the outcome of a match. No one is forced to use this system, but those that do will be able to craft deadlier weapons. However, to get those deadlier weapons, some others might have to be sacrificed. Again, strategy is the name of the game.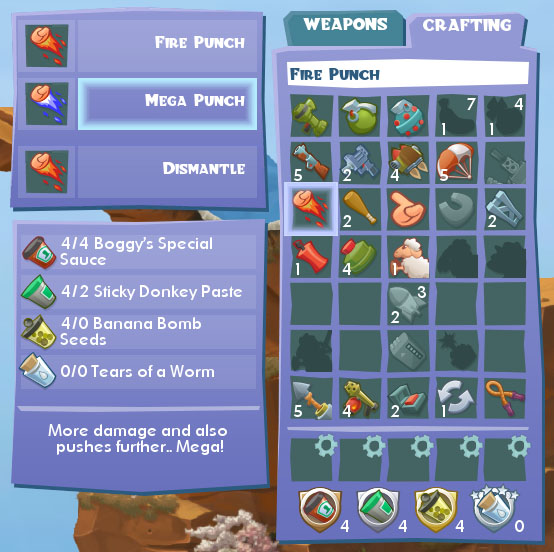 In between turns, or during your turn, you can hit a button to bring up the crafting dialog box. From there, you can hover over each item in the list and see what upgrades you can craft. Crafting in W.M.D. is really simplistic, probably on purpose to make sure everyone actually takes advantage of it.
At the bottom of the crafting dialog is four sets of ingredients, and if you don't have enough of one ingredient to craft something you want, then you'll need to find an item that's composed of it, and then dismantle it. Every little craft interaction requires one turn to process, although if you make a choice while another player is making their move, then your action will complete when the turn comes back to you.
Worms W.M.D. is the type of game that's easy to play, but difficult to master. Even the way the worms jump will take some getting used to, and you'll also have to learn through trial and error how to make the best use of certain weapons. In the matches I played with a friend, there were many occasions where I either misunderstood how a weapon worked, or I simply had no idea where it was going to land. That's sometimes frustrating, but Worms Armageddon was no different. Despite its colorful front, Worms rewards those who understand their arsenal.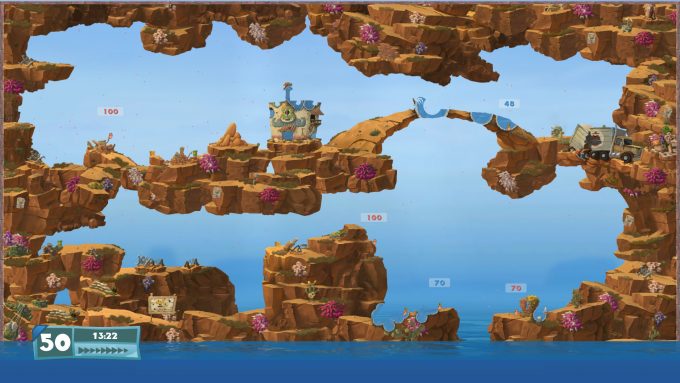 I've mentioned the word "strategy" a couple of times already, and I can't mention it enough, because that's the very core of W.M.D.. For example, there could be odd times where letting yourself get hurt on purpose could actually pay you handsomely. But other times, you might end up hurting yourself by absolute accident. There were a few occasions where I ended up killing my own worm, simply because I completely misunderstood where a thrown weapon was going to land.
And wow – make sure you know where that Holy Hand Grenade is actually going to land! It can be quite devastating. The same goes for the Banana Bomb, and some others. If you're bored with crafting weapons, you could always craft other items that simply help you progress through the match, either by teleporting yourself to another area, or creating climbing equipment to help you scale a cliff.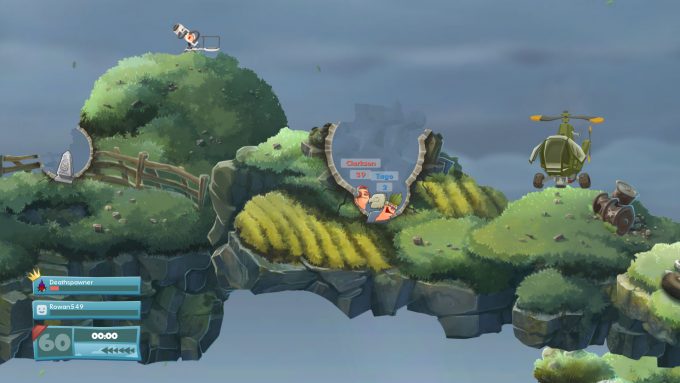 Overall, the combat in Worms W.M.D. is a great deal of fun, although it can be frustrating if you don't understand how a weapon works, or if the map is designed to allow for cheap deaths. I am looking straight at you, Baseball Bat. If you have a map that has water exposed on either end, you are going to want to be very careful about where you stand, because a simple hit with the Baseball Bat could send you sleeping with the fishes. Compare that to needing three shots in the face from the Bazooka. Again, strategy, strategy, strategy!
As I mentioned earlier, I have no experience with any Worms title since the release of Worms Armageddon, so I can't compare this one to any other title in the series that came out recently. What I can say is that if you enjoy the 2D style of Worms, picking up W.M.D. should be a no-brainer – especially if you have a friend that's willing to pick the game up as well.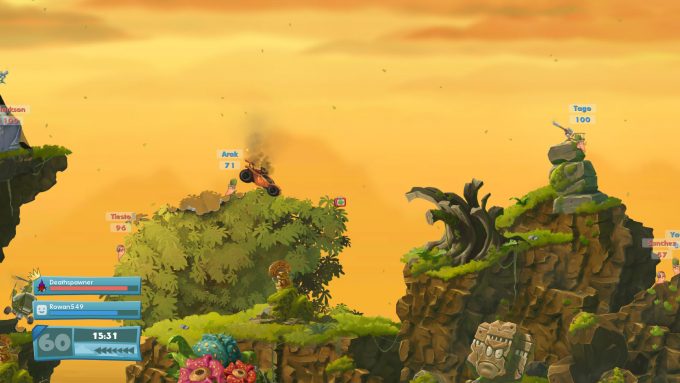 When I first picked up W.M.D., I couldn't believe how little different it felt compared to Worms Armageddon, released some 16-years-ago. That was before I realized W.M.D. was more of a "going back to the roots" kind of game. It helped me realize that maybe the real reason I haven't touched Worms in ages is because I loved the style of Armageddeon so much.
One thing's for sure: I've had a blast with W.M.D., so maybe there is something to be said about a game's simplicity. Even though this "simple" game has a huge amount of customization available, and not to mention an absurd amount of strategy required from round to round. It's simply great.
Pros
A simple game with complex, satisfying gameplay.
A huge number of customization options are made available.
Crafting addition is simple to use and understand.
More weapons and assistance items than you can shake a stick at.
Good variety of vehicles available, each with their own perks and challenges.
A ton of single-player content to play through and challenge yourself with.
Cons
Jumping and moving around in general takes some getting used to.
The camera is less-than-ideal sometimes, especially after a turn transition.
Copyright © 2005-2019 Techgage Networks Inc. - All Rights Reserved.