GIGABYTE Z87X-UD3H Motherboard Review

Date: September 6, 2013
Author(s): Rob Williams

At its $160 price-point, GIGABYTE's Z87X-UD3H brings a fair bit to the table. It offers a plethora of SATA and USB ports, for starters, even going as far as to include two internal USB 3.0 headers. Past that, it has a solid layout, and perhaps best of all, features one of the best EFI implementations we've ever seen.
---
Introduction, Specifications & Hardware Tour
What's this? A look at a second Z87-based board in a single week? Indeed – I've been a bit slack on our motherboard content as of late, but I've found a rhythm and plan to make it a regular feature on the site again. It helps that I genuinely enjoy taking a look at different motherboards, because once you delve a bit deeper into what differentiates one from another – especially at the vendor level – things can get quite interesting.
Last week, I posted a look at ASUS' excellent Z87-EXPERT. Ultimately, that became one of the best motherboards I ever had the pleasure of examining, thanks to its robust feature-set, easy-to-use EFI and the fantastic AiSuite III software. While it was priced a bit high at $240, Thunderbolt was to blame, and thankfully, for those who don't need that, the similarly-spec'd Z87-PRO at $40 less would make for a great choice at that $200 price-point.
The board I'm taking a look at here goes even lower, settling in at ~$160. It's called the Z87X-UD3H, comes from GIGABYTE, and packs some serious promises. At this price-point, it's clear that the UD3H might not be as stacked as the ASUS model I tackled last week, but it does look to offer a lot for that $160.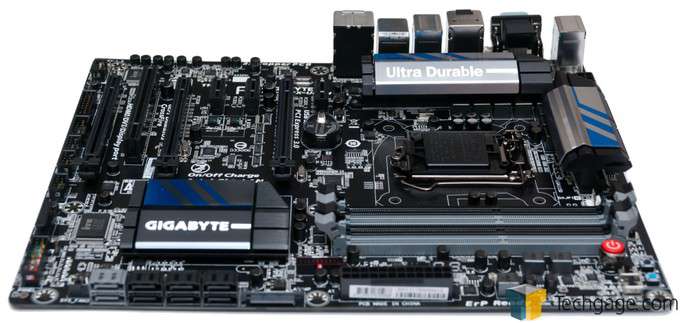 We'll take an in-depth look at the actual hardware on the next page, but for now, feel free to peruse a top-level view of what GIGABYTE's latest UD3H board offers:
 
GIGABYTE Z87X-UD3H
Architecture
Intel Z87 (LGA1150)
Form-Factor
ATX (12″ x 9.6″)
Memory
Up to 4x8GB DDR3-3000
Multi-GPU
2-way NVIDIA SLI
2-way AMD CrossFireX
Expansion
3x PCIe 3.0 x16 (x16 or x8+x8 or x8+x4+x4)
3x PCIe 2.0 x1
1x Legacy PCI
Storage
6x SATA 6Gbit/s (Intel)
2x SATA 6Gbit/s (Marvell)
2x eSATA 6Gbit/s (Marvell)
Network
1x Intel Gigabit
Wireless
None
Audio
Realtek ALC898 8-channel
Input/Output + S/PDIF
USB
Back-panel: 6x 3.0 (Renesas)
Internal: 2x 3.0 (Intel), 2x 3.0 (Renesas), 6x 2.0 (Intel)
Back I/O
1x 1Gbit/s LAN, 6x USB 3.0/2.0, 1x Optical S/PDIF, 6x Audio Jacks, VGA, DVI, HDMI, DisplayPort, PS/2
Features
@BIOS, Q-Flash, Xpress Install, EasyTune, ON/OFF Charge2, EZ Setup, Dual BIOS
Looking over this table, it amazes me a little to see how far we've come in just a handful of years. It used to be that getting a motherboard with more than 6 SATA ports forced you into the $200+ territory, but lo and behold, we have 8 on this $160 offering from GIGABYTE. Likewise, and as we'll see in our upcoming comparison, the board offers 6 fan headers – today, the chance of running into a serious fan routing issue in your build is definitely smaller.
Like ASUS' board from last week, GIGABYTE's can handle up to 32GB of RAM at staggering DDR3-3000 speeds, but unlike ASUS' board, the UD3H cannot handle 3-way SLI/CrossFire. Rather, it's capped at 2-way – something I am sure the vast majority of people are going to be a-OK with.
Worth noting is that the UD3H includes not one, but two internal USB 3.0 headers – one powered by Intel, the other by Renesas. GIGABYTE clearly believes that 3.0 is a big enough deal to offer as much functionality as possible even on a $160 board, and I love that thinking.
GIGABYTE Z87 Mainstream Boards Comparison
One of the most challenging things consumers can encounter when choosing parts for a new build is deciding between one motherboard and another, even of the same brand. This isn't helped when a vendor might sell 10+ boards from the same series. In GIGABYTE's case, it sells 17 Z87 boards – that's not counting H87, B85, H81 and Q87. I'd hate to be in charge of keeping track of all these!
That said, to help better understand the differences between the mainstream options in GIGABYTE's Z87 line, I've compiled a table that takes a look at four boards in sequential pricing order, ranging from $135 to $200 (as of the time of writing).
Price
Multi-GPU
Expansion
SATA
USB
Thunderbolt
Network
Bluetooth
Audio
Power
Back Ports
Onboard
What strikes me as impressive here is that all four of these motherboards feature two internal USB 3.0 headers – even the ~$135 model. That's extremely useful for those who want to use a total of 4 3.0 ports at the front of their chassis.
There are many similarities among these four boards. For starters, each one features 6x USB 3.0 ports at the back, Intel Gigabit Ethernet, Realtek's AC892 audio chip and at least 6x SATA 6Gbps.
Given the mere $15 price difference, the best comparison here might be between the UD3H and UD4H. What does that extra $15 get you? In a nutshell, a boost from 10 phases to 16 (2 dedicated to DRAM, and 2 to iGPU), along with a beefier PWM heatsink, one that's a bit larger and features a heatpipe. Whether this is worth $15 is really up to you, but it's recommended more for those looking to get some serious overclocking done on as inexpensive an ATX board as possible.
With this overview taken care of, let's move onward to our hardware tour.
A Hardware Tour of GIGABYTE Z87X-UD3H
As usual (alright… this is the second time), we'll start things off on this page by taking a look at an overview shot of the motherboard. Where we can, we prefer to use a stock shot, since I haven't quite mastered the art of these top-down photos and don't have a light tent to help remedy that.
That said, looking over the UD3H, I clued in to the fact that GIGABYTE goes about its mainstream lineups in a much different way than ASUS. As we discussed last week, ASUS' entire mainstream lineup features a black PCB with gold accents; GIGABYTE is going a slightly different route by coloring its lineup seemingly without rhyme or reason.
For example, while the UD3H has blue accents, the UD4H is red (and looks quite sharp, actually), while the top dog, the UD5H, boasts gold accents. This is slightly humorous, as GIGABYTE clearly is going with gold for that board to show its superiority among its mainstream lineup, while at the same time, ASUS splashes gold on its entire lineup. There's only one solution for Z97 or whatever it'll be called from GIGABYTE: platinum color schemes!
As mentioned earlier, the UD3H offers the luxury of having two internal USB 3.0 headers, with one settled next to the chassis connectors and the other just below the DIMM slots. The board also includes 6 fan headers; 5 being 4-pin, the other being 3-pin. Just above the CPU socket, 2x 4-pins can be found, with the three others located to the bottom-left of the socket, the bottom-left of the board, and the bottom-right, just under the SATA ports. The lone 3-pin sits beside the 24-pin power connector.
Also of note, an LED BIOS readout can be found just above the aforementioned 3-pin fan header, while reset / power / CMOS clear buttons can be found towards the top-right of the board. In addition to the 2 internal USB 3.0 headers, 3x USB 2.0 headers are located at the bottom.
Alright – let's buckle-up and go on this hardware tour.
At the top-right of the board we can see 4x DIMM slots in their natural habitat, with 5 buttons / switches to the top-right of that. These include: Power, Reset, BIOS Switch, DualBIOS Disable/Enable and CMOS clear. At the bottom of the DIMM slots, the primary USB 3.0 (Intel-driven) header is seen. As mentioned on the first page of this article, the UD3H is designed to handle up to 32GB of RAM @ DDR3-3000 speeds.
It's a little hard to see, but the board's lone 3-pin fan header is located just on the other side of the 24-pin power connector.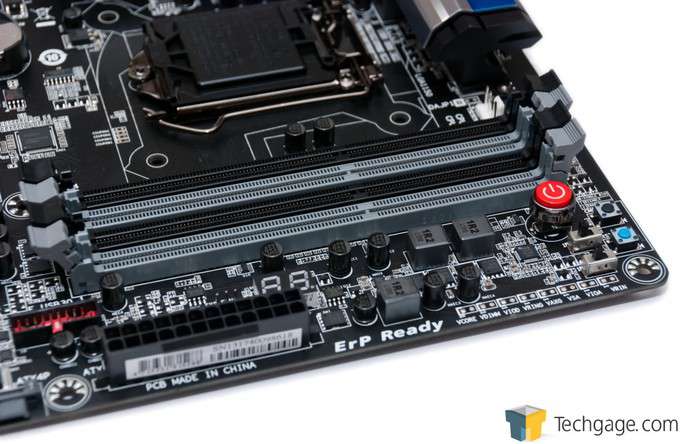 Moving south, we find the 8x SATA 6Gbps ports (the black are Intel; gray, Marvell), one of the 4-pin fan headers, chassis connectors, the other USB 3.0 header (Renesas-based, plugged shut in this shot) and the USB 2.0 connectors.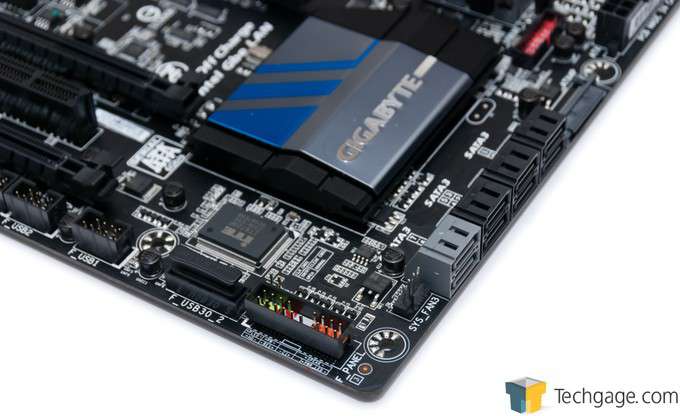 The UD3H has a total of 7 PCI slots to take advantage of, with one being a legacy slot, and the others split down the middle with x1 and x16 options. Due to Z87-limitations, the second and third x16 slot will have reduced overall bandwidth; those taking advantage of multi-GPU on this board will effectively be running an x8+x8 configuration.
Also in this pic (but blurred) is the other bottom 4-pin fan header and various connectors (TPM, COM, audio, et cetera).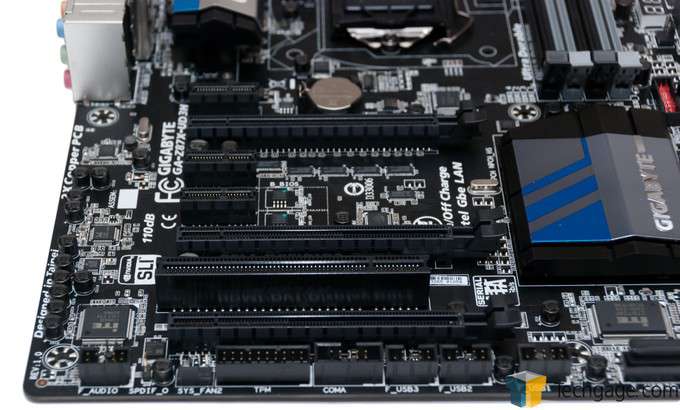 In this angle, we can see the shrouded 10 phase power setup (2 of which is dedicated to the DRAM), the two 4-pin CPU fan headers to the top-right, and another 4-pin header just below the left portion of the heatsink. If the top PCIe x1 slot is left empty, you'll have access to the EFI's battery without having to remove the GPU (and believe me, removing the GPU to get at this battery when it's needed is rather frustrating).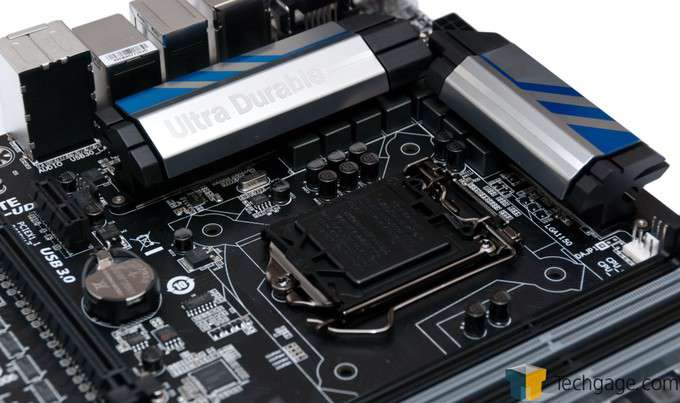 The shot below accomplishes little more than looking cool, but it does give us a quick idea of what we'd be dealing with once the board is installed into a chassis. The 8-pin connector is found vertical up at the top – a huge plus as far as I'm concerned. I do wish the connector would be flipped 180° however, as here, the notch is on the top – if you're routing your PSU cable up behind your chassis and out through the top, it'll be easier to plug in if the notch is the other way. A minor issue, to be sure, but it can be assumed that if you're not routing through the back, you gain the luxury of having enough slack to spin your connector upside-down. I've been in situations where, when routing through the back, I've really had to struggle in turning my cable end around, since I had virtually no slack.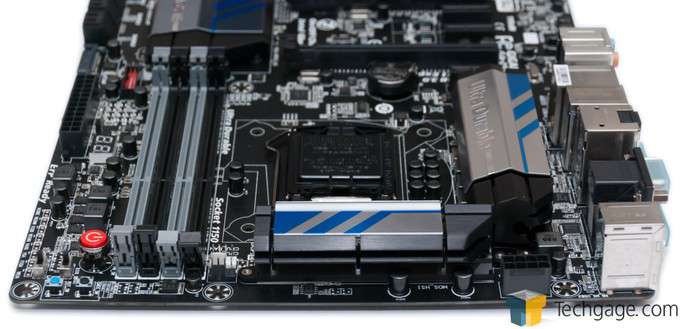 At the back, and from left-to-right, we have the PS/2 keyboard/mouse port, 2x USB 3.0 ports, VGA, DVI, S/PDIF, HDMI, DisplayPort, 2 more USB 3.0 ports, 2x eSATA 6Gbps (which cannot be used at the same time as the onboard Marvell ports (gray)), the Intel NIC, 2 more USB 3.0 ports and finally, a full assortment of audio ports.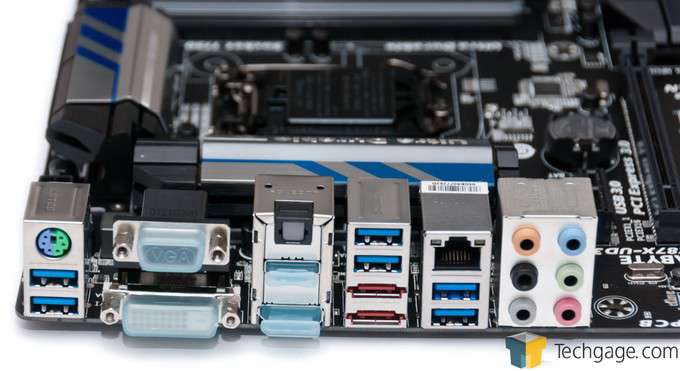 In terms of accessories, what's included here is a bit on the light side, but we'd expect nothing different for a board of this price-range. Found here are 4x SATA cables, the I/O panel, a 2-way SLI bridge, manual and driver DVD-ROM (hidden inside the manual – I'll do anything to avoid photographing white-on-white!).

For $160, I'm impressed with this board quite a bit. It offers plenty of SATA and USB ports (even going as far as to have two internal 3.0 headers), offers the entire assortment of video connectors, has 6x fan headers, and, for what it's worth, it looks good (the most minor of pluses, but something I appreciate).
Continuing our tour, we'll take a left turn and head straight into the EFI.
A Look at the EFI
An archive including all of these screenshots and more can be snatched here (.ZIP, 6.5MB).
In the past, I've been a little critical of GIGABYTE's EFI design choices, as I found them to force me to grab hold of the mouse to get around, rather than stick to just using the KB – which I find to be far more efficient.
In some of my past reviews, I've said that GIGABYTE should focus on building an EFI around keyboard use, and not to mention enhance some other areas just to make the experience better overall.
Well, for its Z87 lineup, GIGABYTE delivered. Big time: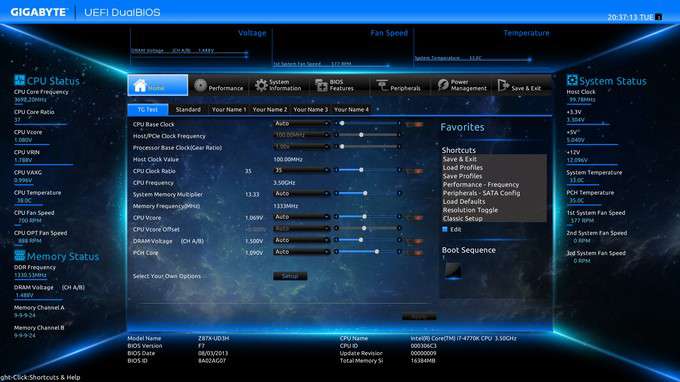 With its latest EFI, GIGABYTE has pulled off a couple of things that I didn't even realize were possible. The visuals, for example, are a level beyond what I've ever anticipated to see – it looks like a desktop app, plain and simple. Helping it to feel like a desktop app is the fact that it can run at full HD resolution (1080p).
Have you ever run a game or your OS at low resolution on your high resolution display? The mouse will feel odd. That's because your monitor is effectively producing 2 or 3 pixels for every 1 pixel that the app is rendering. You lose precision as a result. Thus, when your EFI runs at 1080p, the mouse is going to feel a lot more natural – and in this particular case, I can state with assurance that it does.
Fortunately, that doesn't mean that GIGABYTE decided to stick to the mantra of "mouse is better". Keyboard interaction has been vastly-improved here as well. GIGABYTE's been busy since Z77… that much is absolutely clear.
In our look at ASUS' Z87-EXPERT, we explored a new EFI feature called "My Favorites", where users can cherry-pick the EFI options that they'd like to gain quicker-access to. Here, we can see GIGABYTE had much of the same idea, except the entire screen can be built at once, via a pop-up menu system, seen here:
Both GIGABYTE's and ASUS' solutions are quite nice, but I have to give a slight nod to GIGABYTE's implementation, as I find it a lot easier to keep track of everything that I'm adding to my screen – on ASUS' EFIs I have to go back to the My Favorites screen to see which options I've added (important for someone like me who forgets things instantly sometimes).
The above is an example of an EFI area where a mouse does come in handy, because it allows you to very quickly navigate the various menus in order to get to the option you'd like to add to your custom screen. It can of course be acccomplished via a keyboard as well, but it's just less efficient.
Moving on, a look at something else GIGABYTE's doing that's a bit interesting: Integrating pictures into the EFI to help explain a feature. Granted, this is the only particular area that I noticed an image being introduced, but it's a useful one: Before choosing your loadline calibration, you can see how the board will conduct its scaling on the right.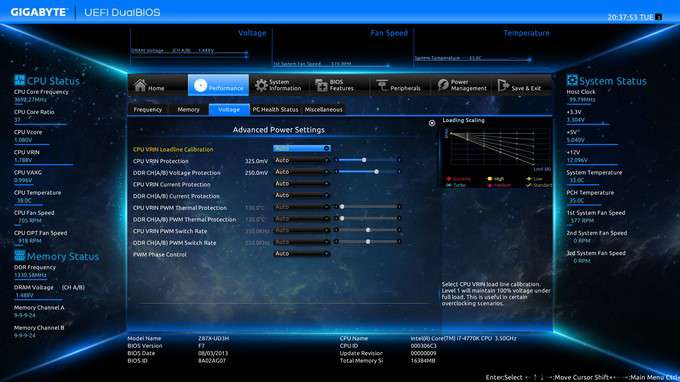 Our last look at a full EFI screen showcases another simple yet attractive option: Setting the date. You get a real calendar, and if you want, can use your mouse to soar through the years and months to get it to where you need it, quickly.
I'd like to call out two other features in this EFI. On the bottom-left, you can see a menu that appears when you right-click your mouse in an open area, giving you quick access to key areas – a nice touch. On the bottom-right, an option that made me laugh out loud (for real): "3DMark01 Boost". Apparently, this is something overclockers had been demanding. It in effect alters some memory functions whenever 3DMark01 is detected so as to deliver better results. I never thought I'd see such a specific benchmark targeted in a BIOS/EFI before.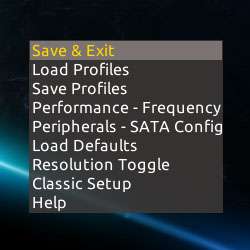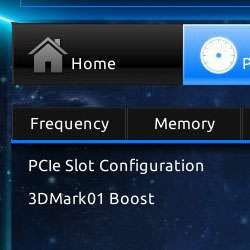 Notice that "Classic Setup" option above? That's for those who might not like GIGABYTE's new EFI style, and instead would like to use something more familiar. Clicking it brings us back to the same EFI design we've seen for the past couple of years:
It should go without saying at this point, but GIGABYTE's latest EFI design is impressive. Very impressive. Let's see if the company's latest software suite matches up.
A Look at the Software: App Center
Until just a couple of years ago, it seemed that motherboard vendors would have loved to do anything other can craft quality software. In fact, it's really only been ASUS that has left us impressed, with its feature-rich and easy-to-use AiSuite package (which, as we discovered last week, still kicks some serious ass).
Where GIGABYTE is concerned, its software options have left me largely unimpressed up to this point, which is somewhat surprising since, in talking to the company in the past, it does seem to genuinely care about giving its users cool features via software. Well, much like its EFI this generation, GIGABYTE has put the effort forth to give its users a worthwhile pairing of software as well.
The first thing anyone with a GIGABYTE Z87 board will want to do is install "App Center", GIGABYTE's all-encompassing software suite, pictured below:

From here, the first stop would be "Live Update", which loads this screen: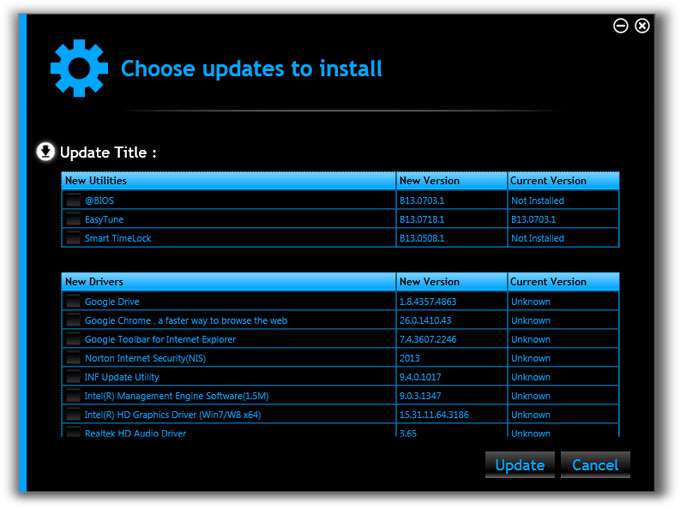 Your move from here is obvious: Check everything you want, and leave alone the things you don't. This will take care of every driver your motherboard requires, along with all of the software that can be used inside of App Center. Alternatively, you could download each component separately off of GIGABYTE's support site, or install it off of the DVD-ROM, but this is by far the easiest way to get going quickly, and with as up-to-date software as GIGABYTE offers.
Admittedly, GIGABYTE's take on this all-in-one software suite isn't as elegant as ASUS' – not even close. Apps don't load inside of the main suite, for example, but rather as individual windows. And past that, nothing here strikes me as all too interesting, or too self-explanatory. One interesting feature, though, is one I've discussed before: USB Blocker. With it, you're able to restrict certain types of USB devices from being plugged in – useful if you don't want anyone to plug in a USB stick and take off with some info (and yes, it's locked behind password protection).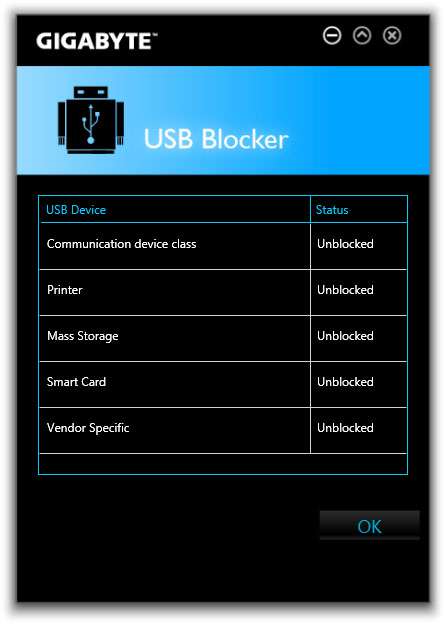 The real highlight of GIGABYTE's Z87 software suite is the latest version of EasyTune, which ties into Intel's "Management Engine Interface", allowing a good deal of interaction with the motherboard's knobs and switches.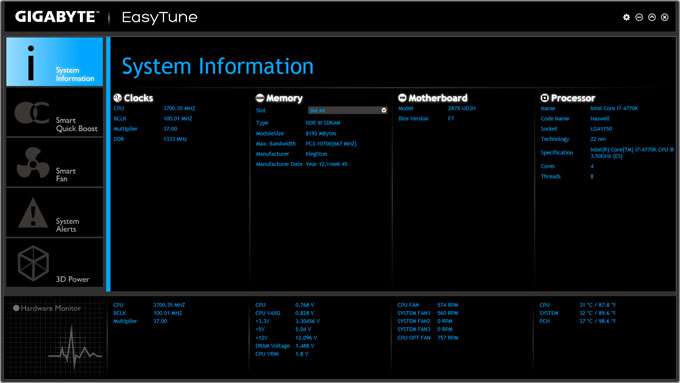 This is an even bigger aesthetics upgrade than the EFI experienced! Don't remember the last version of EasyTune? Take a look. Sheesh – this is like going from Windows 98 to Windows 8 in one fell swoop.
Attractiveness aside, the latest EasyTune does in fact make tuning easy, with everything laid-out in a pretty common-sense way. I am personally not sure I like the massiveness of the application though, which is mostly made that way because of GIGABYTE's choice to use some equally massive fonts in some places. While the app might scale, it ran at 1600×900 on my 1080p display – it takes up quite a bit of real-estate, unlike ASUS' AiSuite III. This is a minor complaint overall though, because again, the app is easy-to-use, and that's what truly matters.
Want a hands-off overclock? Then QuickBoost is for you. Here, you can automatically overclock your CPU to varying levels, or underclock if you're looking to save power. If you want the board to find your most "stable" overclock, you can hit the "Auto Tuning" option. Overall, simple stuff that we've come to expect, but as we can see a 4.50GHz overclocked option in this list, it's nice to see GIGABYTE isn't being too conservitive. Of course, if you want to push your hardware further, you certainly can in the "Advanced" menu.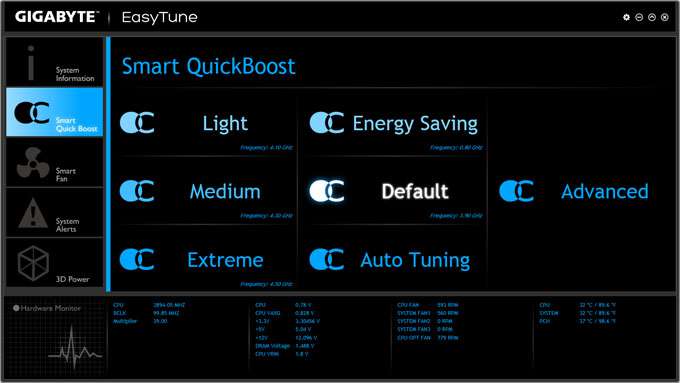 An example of that menu can be seen here: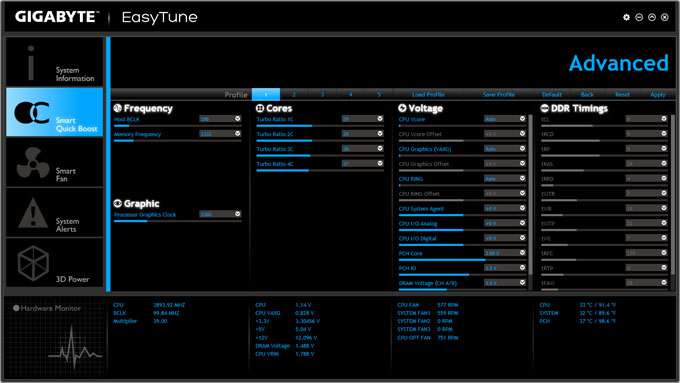 I am very impressed overall with what GIGABYTE has done with EasyTune here, but I can't help but feel that EasyTune should essentially be what ASUS' AiSuite is. GIGABYTE should get rid of the other stand-alone applets, and integrate them into EasyTune (USB Boost, USB Blocker, et cetera). For most people, I'd imagine that EasyTune is going to be enough, so App Center may not even prove to be that useful to many.
Whatever my thoughts, the proof is in the pudding here… GIGABYTE has been hard at work, and it's certainly paid-off.
Performance Testing
From a performance perspective, we feel that motherboard benchmarking is useless. It's the motherboard's job to allow all of the installed hardware to operate at its full potential, so in theory, a $100 option shouldn't be much (or any) slower than a $300 one. The differences in price instead comes down to the quality of the onboard components and other features.
So why do it at all? It's because it's important to make sure that the board we're dealing with doesn't lack in one particular area versus the rest. If board A performs 2% slower than board B in PCMark, for example, that's of no concern to us – random benchmark variance is a fact of life. However, if one board consistently performs weaker than the rest, that's worthy of note – it could suggest that weaker components have been used which do not allow the hardware to operate at its full potential.
Please bear this in mind when perusing our results. Just because a board under-performs in a single test, it doesn't mean anything in regards to its quality as a whole. Our ultimate goal here is to make sure that each board we test performs as we'd expect across the gamut of scenarios we pit them against.
Because some motherboards auto-OC the CPU when certain options are chosen (XMP, for example), we force the Turbo ratios for our Core i7-4770K to reference settings: 39x/39x/38x/37x (1/2/3/4 cores).
 
Intel LGA1150 Test System
Processor
Intel Core i7-4770K – Quad-Core, 3.50GHz
Motherboard
ASUS Z87-EXPERT (BIOS: '1206′ 07/19/2013)
GIGABYTE Z87X-UD3H (BIOS: 'F7′ 08/05/2013)
Memory
Kingston HyperX Beast 2x8GB – DDR3-2133 11-12-11-31 @ 1.65v
Graphics
NVIDIA GeForce GTX 660 Ti (GeForce 326.41 Driver)
Audio
Onboard
Storage
Kingston HyperX 240GB SSD
Power Supply
Corsair HX850W
Chassis
Corsair Obsidian 700D Full-Tower
Cooling
Noctua NH-U14S Air Cooler
Et cetera
Windows 7 Professional 64-bit
Let's get on with it!
| | |
| --- | --- |
| BCLK Values | Result |
| ASUS Z87-EXPERT | 100.0 MHz |
| GIGABYTE Z87X-UD3H | 100.0 MHz |
The BCLK matchup is as perfectly even as it could get.
General System Performance
To take a look at the "overall" performance of our PC configuration, we rely on dual Futuremark suites: PCMark 8 and 3DMark (2013).
PCMark 8 Suite Scores
Home
Work
Creative
ASUS Z87-EXPERT
5525
5386
4333
GIGABYTE Z87X-UD3H
5389
5403
4341
3DMark (2013)
Ice Storm
Cloud Gate
Fire Storm
ASUS Z87-EXPERT
4723
19834
139827
GIGABYTE Z87X-UD3H
4391
19747
137622
Both boards perform just about evenly in the PCMark and 3DMark tests, as we'd expect, with a slight nod going to ASUS in the gaming test.
I/O Performance
To properly give the internal SATA 6Gbps a good workout, we turn to HD Tune and CrystalDiskMark.
HD Tune Pro 5
Minimum
Average
Maximum
Latency
ASUS Z87-EXPERT
308.5
465.2
438.1
0.038ms
GIGABYTE Z87X-UD3H
183.5
363.3
294.7
0.070ms
CrystalDiskMark 3.0.2
Read Seq.
Read 4K
Write Seq.
Write 4K
ASUS Z87-EXPERT
514.3
41.83
317.5
160.2
GIGABYTE Z87X-UD3H
506.8
30.92
314.2
58.66
Despite using the same Intel SATA chipset, ASUS' board managed to give GIGABYTE's a relative pummeling here. Write 4K speeds are worthy of note in the CDM test, and in each one of the HD Tune results, the ASUS clearly comes out ahead. Somehow, it even managed to shave a chunk off of the random access time.
Both sets of results proved to be so different that I ended up hooking up the GIGABYTE board again to make sure that I actually was using Intel's port and not Marvell's. Sure enough, things were fine – it's just the performance that's not.
Admittedly, the speeds are still good enough where real-world experiences are not going to be affected, but it's still a little disconcerting to see the speeds fall so far back. Maybe this is the difference between a $160 and $240 motherboard?
Rendering & Image Manipulation
Writing files to disk or reading a website doesn't do much to exercise our CPU, so for that, we turn to a few common scenarios – image editing, video rendering and 3D rendering – using a combination of Adobe, CyberLink and Autodesk products.
Adobe Lightroom 5.0
Result
ASUS Z87-EXPERT
255 s
GIGABYTE Z87X-UD3H
255 s
CyberLink MediaEspresso
Result
ASUS Z87-EXPERT
3754 s
GIGABYTE Z87X-UD3H
3656 s
Autodesk 3ds Max 2011
Result
ASUS Z87-EXPERT
1082 s
GIGABYTE Z87X-UD3H
1077 s
Cinebench R11.5
OpenGL
CPU
ASUS Z87-EXPERT
80.03
8.14
GIGABYTE Z87X-UD3H
82.08
8.16
Interestingly, while GIGABYTE's board fell quite a bit behind in the synthetic storage tests, its storage limitations held nothing back in these real-world tests. In these gruelling tests, it came ahead.
Sub-system Performance
For memory and CPU testing, we utilize SiSoftware's Sandra 2013 (SP3a), and for Ethernet testing, we use iperf (or more appropriately, the Java-based jperf which utilizes it).
Sandra 2013 SP3a
Integer
Float
Mem Latency
ASUS Z87-EXPERT
27.447 GB/s
27.660 GB/s
22.2 ns
GIGABYTE Z87X-UD3H
27.491 GB/s
27.556 GB/s
22.0 ns
Sandra 2013 SP3a
Arithmetic (Agg.)
Multi-media (Agg.)
ASUS Z87-EXPERT
111 GOPS
400 MPix/s
GIGABYTE Z87X-UD3H
112 GOPS
400 MPix/s
Ethernet (iperf)
50 Jobs (64KB)
50 Jobs (1518KB)
ASUS Z87-EXPERT (Intel I217V)
938
942
GIGABYTE Z87X-UD3H (Intel I217V)
936
941
Everything checks out here – great results overall.
Final Thoughts
After that in-depth look, I have to say that I'm very impressed with GIGABYTE's Z87X-UD3H. At its price-point of about $160, it offers a lot, and thanks to the massive improvements we've seen with the company's EFI and software suite (namely EasyTune), I find myself wrapping-up this review in rather joyous spirits – GIGABYTE has built a thoroughly good board here.
Starting on the hardware side of things, GIGABYTE is offering quite a bit of functionality on its $160 option. Users will have 8x 6Gbps SATA ports to make use of, and at least 6x USB 3.0 (at the back). Those who need more USB connectivity have a plethora of internal options to use – 6x 2.0 and 4x 3.0. Everything else, from fan header selection to connectivity at the back give any user looking for an affordable Z87 board a lot to work with.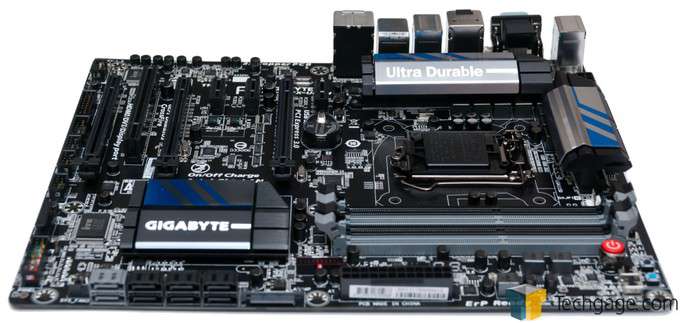 Performance-wise, we saw a couple of oddities with regards to SATA performance, which is something we can't quite understand. While it'd be easy to assume that the board's performance is a bit lacking because it's a sub-$200 offering, the logic doesn't really check out. Both ASUS' and GIGABYTE's boards tap into Intel's chipset, and both delivered very different results. That said, while GIGABYTE's SATA performance leaves a bit to be desired, it's unlikely to be considered an actual issue unless you're RAID 0′ing more than one SSD – aka: you're not going to notice the difference in the real-world.
Apart from this, performance checked-out overall, having matched ASUS' slightly beefier option.
Can I talk about the EFI again? Ok, good.
Given what we've seen from GIGABYTE these past few generations, I didn't expect to be left that impressed with the solution on this board. In fact, I didn't even realize it was supposed to be changed (though looking through the net, it clearly wasn't a secret leading up to the launch). Yet, here I am, touting it as being amazing.
First and foremost, the new EFI is easy-to-use, either with a mouse or keyboard. It looks fantastic, especially when your monitor supports 1080p. It's feature-packed, as one would expect, and offers some other nicities, such as the ability to create and customize your own menu (or multiple), and while I'd always prefer the main options area to be stuck to the left side of the screen, some might enjoy the "dashboard" design here. Overall, a great EFI.
I'd be remiss to not mention the software package again as well. While it doesn't really strike me as being that "ultimate" as ASUS' AiSuite III does, it's certainly suitable for getting certain things done quickly. It's with EasyTune where most of the good stuff is done, from configuring your fans to overclocking. Again, I'm not a fan of the "hugeness" of the app, but that seems like a rather minor complaint at the end of the day.
Having tackled this board from a number of angles, I'm left impressed enough to award GIGABYTE's Z87X-UD3H an Editor's Choice award. It's spec'd well, has a solid design layout, boasts a top-rate EFI, and finally delivers an EasyTune app that's worth using. Well done, GIGABYTE.

GIGABYTE Z87X-UD3H
Copyright © 2005-2013 Techgage Networks Inc. - All Rights Reserved.