Microsoft's Office in the Cloud: Office 365 Review

Date: April 22, 2014
Author(s): Rob Williams

The consumer version of Microsoft's Office 365 service has been available for a little over a year now, and I've been taking good advantage of it for about just as long. At this point, I've spent a lot of time being immersed in the entire Office 365 experience, so read on as I relay all of my discoveries to you.
---
Introduction & Installation
When Microsoft announced in late 2012 that it would be releasing a home version of Office 365, I was a little skeptical. As someone who was getting tired of the word "cloud", I just had little interest. I'm old-school; I like keeping offline installers around to breeze through installs, rather than download a piece of software fresh from the Internet every time I need to install it – especially with something as full-featured as Office.
Alright – last spring, I sucked-it up, aka: I caved-in. I decided to live the Office 365 dream - and with all of that experience under my belt, I now present this article.
Q: What is Office 365, exactly? A: It's a direct replacement to a stand-alone copy of Office, but with a number of perks piled on top. In the post from late 2012 referenced above, I noted, "the company seems to be going out of its way to make the stand-alone version sound way less appealing" – and that still holds true.
As seen in the chart below, Microsoft offers home users two Office 365 options; "Personal" is designed for a single individual, allowing Office to be installed on a PC and a tablet, whereas "Home" has families in mind, boosting the total install count to 5 PCs and 5 tablets. Priced at $100/yr or $10/mo, Office 365 costs a bit less than a stand-alone license of Home & Student (~$130), which can be installed to a single PC only, and lacks the rolling-release update scheme of Office 365.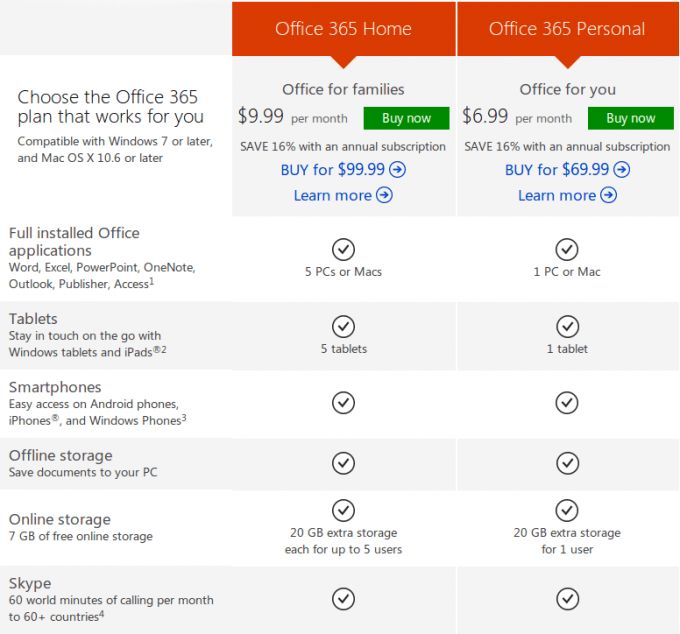 For personal use, and the attractive price of $0.00, Microsoft allows you full access to Office Online, which includes Web versions of Word, Excel, PowerPoint, and OneNote. Further, each OneDrive account gets 7GB free, which is a lot of data for documents (other data can be stored, of course).
What an Office 365 Home subscription adds to all that is: +20GB to OneDrive storage (for each of 5 users); desktop versions of Word, Excel, PowerPoint, Publisher, OneNote, Outlook, and Access; 5 installs of Office for tablets (iPad, Windows); the ability to save documents offline (yes, that's a feature nowadays); and 60 worldwide minutes on Skype each month. For $100/yr (or $10/mo), this is quite a package, and its value will heighten when entire families can benefit from it.
If a single license is all that's needed, then the Personal option is the better choice. It costs $70/yr ($7/mo), and includes the exact same set of features. The sole difference is that it's tuned for just a single individual. I am sure it goes without saying, the option for a Personal license is nice, but that extra $3/mo for the Home subscription goes a long way – if the extra licenses can be used, that is.
As someone who's cursed with a slow Internet connection, Office 365 didn't appeal to me at first for obvious reasons. The mere thought of having to wait 2 hours for Office to download each time I wanted to install it made me feel sick. Well, this is one area where Office 365 impresses the heck out of me. It's as if Microsoft understood where us slow net folk are coming from, because even on a meager 5Mbps connection, I can begin using Office within five minutes.
Past that, the convenience of installing Office to a PC from scratch is even easier than installing it off of a DVD. You must first visit Office.com, sign in, and click "My Account" at the top. That will bring you to a page like this: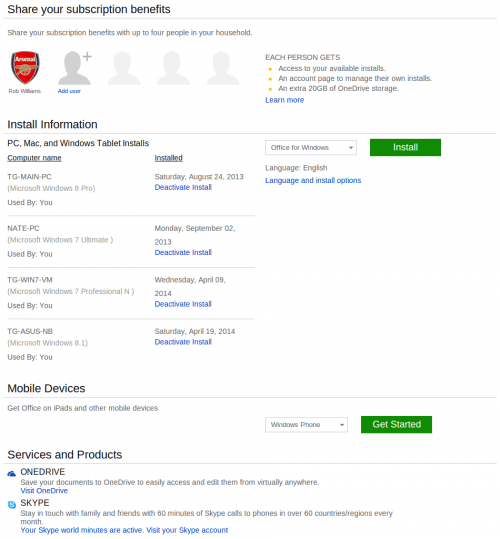 If an install slot is still available, a green "Install" button will be available to the right. Clicking this will download a sub-1MB installer, and once it's run, it must also be signed into. At this point, Office will begin installing, and after a couple of moments, the programs can begin to be used. The hope is that by the time you need a specific feature, it should be downloaded, and nothing should require an application restart once it's in use.
The best part of the above image might not be too obvious: "Deactivate Install". Anyone who's been reading Techgage for a while might be aware that me and Microsoft activation schemes don't go well together. Well, there's no such issue here. You can deactivate an install at will, and install fresh to another PC to take its spot. It's total freedom, and I can't help but wish Windows had the same sort of mechanic (at least let me deactivate, Microsoft!)

Real-time installation of Office 365 on slow Internet connection
I've installed Office 365 about ten times in total, and throughout all of those times, I didn't run into a single issue. I even tried to ruin an install once on purpose in a virtual machine, by cutting the power in the middle of the install. It merely picked-up where it left off after the next boot.
At the top of the account page is a user panel, and each person added there will earn their extra 20GB of OneDrive storage. To claim the Skype minutes, a link at the bottom of the page must be used. After signing into your Skype account, the credit will be applied automatically.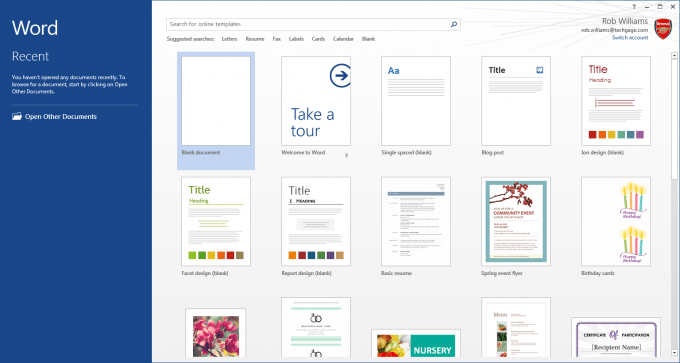 As the screenshot above highlights, Office 365 applications are identical to their stand-alone counterparts. Because this service has a rolling release mechanic, these applications will be updated as soon as Microsoft has newer versions available; this applies to major updates as well. If Office 2015 comes out next year, or 2016 the year after, Office 365 will reflect it when the software is released.
Office Mobile & Final Thoughts
When Office 365 was first released to consumers last spring, a subscription was required to take advantage of the mobile versions of Office. Well, given the fact that Google offers competing apps for free, Microsoft couldn't go too long without following-suit, and so it did. Business subscriptions will still be required to take advantage of these apps for those purposes.
So, while Office 365 isn't required to access these apps, I can't think of a better time than right now to discuss them a little bit.
Compared to the online version of Office, and especially the full desktop version, Office Mobile is quite slim. It's best to consider it as being an editing tool rather than a creating tool. The best feature might be the simple fact that documents render perfectly, as you'd expect given this is an official Microsoft app. Even better: Once a file is loaded, you'll be brought back to the exact spot you left off.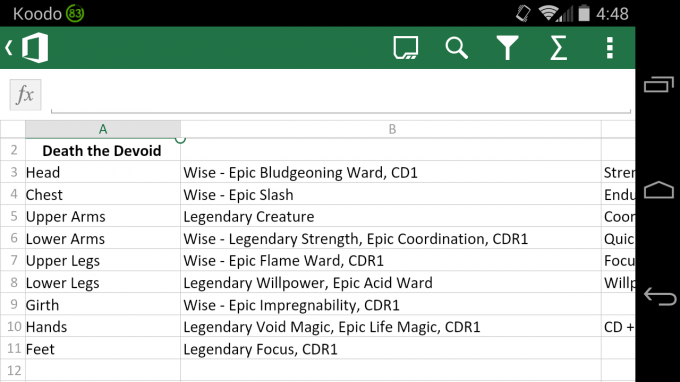 As you can see, the above screenshot shows a very important Excel spreadsheet. Editing is as simple as tapping a cell and holding it for a second. In quick tests, I conducted some edits and then saved the document. Back at the desktop, I could see all of those changes reflected within seconds.
I mentioned above that this version of Office is "quite slim", and here's some proof:
As far as I can tell, this is the extent of the formatting tools. It could just be that the app is not intuitive, but for the life of me I could not figure out how to load a color swatch, so I am led to believe that red, yellow, and green are the only color options in this app. Even as an editing tool, this is weak. Upon opening the app, we're asked to submit feedback, but should it be necessary to ask for more than three colors to choose from? I admit I'll almost never take advantage of mobile office tools, but I'd never turn down greater flexibility.
As I mentioned at the start of this article, I was skeptical about Office 365 in advance of the release of its consumer version. I had settled on the fact that I didn't want it – I couldn't imagine liking a piece of software with its roots in the cloud. Well, while I'm still not gung-ho about editing in the cloud, installing a piece of software can be made a lot more seamless than I anticipated – especially on the slow Internet connection I suffer with.
I do hate the fact that Microsoft has gone out of its way to make the stand-alone copy of Office unattractive, but the upshot is that Office 365 proves to be a good value. At $10/mo, or $100/yr, setting five different PCs up with seven popular Office apps is great. Even better is getting 20GB of extra OneDrive storage per each of five users. The extra Skype credit is a nice perk as well, if you can take advantage of it.

If you rely on Microsoft's Office package as much as I do, a service like Office 365 can prove invaluable. I love the fact that I can install the suite to different PCs with ease, and even have control over their individual activations (seriously – thanks for that, Microsoft). As seen in the video posted on the previous page, even on my seriously slow Internet connection I could load Excel four minutes after clicking the "Install" button at Office.com – it wasn't perfect, but we're talking four minutes. Word followed suit, and after about 15 minutes, the entire suite can be considered fully operational (even if it has more data to download).
If in the event Office is needed on a PC right there and then, which seems a little unlikely, then the online variant of Office should suffice. Again, on my horrendous Internet connection, I was impressed with how well that worked. Whether desktop, mobile, or Web, Microsoft has its bases covered here.
Continuing the baseball analogy, I am having a difficult time coming up with something about Office 365 that could be considered a "strike!". I do find the Personal subscription to be unattractive given what the $3 extra would net you, but if a single individual needs a license, then that $3 would still go to waste. Even so, I feel that $50/yr for an individual would be a lot more attractive than $70/yr.
As it stands today, I've been using Office 365 for nearly an entire year, and overall, I'm impressed. I couldn't imagine not having it at this point. It's one of the best software solutions Microsoft has ever created, and while $100/yr is a bit steep on paper, the amount of features packed in can make it feel like a fantastic value when multiple people benefit from the subscription.
I should note that $100 is Microsoft's SRP; etailers can sell for less. So before biting the bullet, I'd recommend perusing the Web, and hitting-up the likes of Amazon to see if a subscription could be had for less. A couple of minutes spent doing this could save you a chunk of cash and enhance the value proposition even further.

Microsoft Office 365
Copyright © 2005-2014 Techgage Networks Inc. - All Rights Reserved.