A $50 Bargain: Patriot's Viper V570 RGB Gaming Mouse

Date: August 9, 2017
Author(s): Rob Williams

Have just 50 bucks to spend on a new gaming mouse, but feel anxious about the features you may have to give up? With its Viper V570 RGB, Patriot has your back. Despite its modest price, the V570 sports a weight system, RGB lighting (as its name suggests), awesome macro support, and even a solid software solution.
---
Introduction
A couple of weeks ago, I took HyperX's $50 Pulsefire FPS gaming mouse for a spin, and overall, I was impressed. Ultimately, though, there was little that could go wrong, considering the fact that the mouse is simple in design and function – it doesn't even include a software package. Heck – it didn't even include RGB lighting (for shame!).
Fortunately, for those who don't want to spend anything more than $50 but prefer something with a generous serving of "bling", there's another option: Patriot's Viper V570. The company calls this mouse one of the most "versatile" on the market, and taking half a second to look at it can back that assumption up.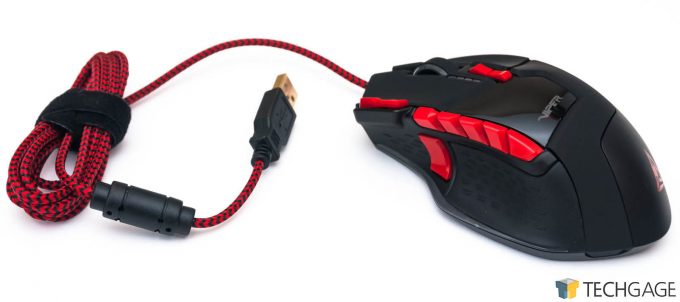 I have to admit that after first taking a look at the promotional material for this mouse, I didn't have a ton of confidence in it. It looked almost a little too blingy… almost "toyish", in a way. I am happy to say, though, that after having spent a little over a week with the mouse, my opinion has greatly changed.
A Tour Of Patriot's Viper V570 Gaming Mouse
The first thing that will probably stand out to most about this mouse is its array of buttons on the left side, nestled above the thumb rest. Fortunately, none of these are meant to replace the back / forward buttons; instead, those are pushed ahead, towards the front of the mouse, completely separating the two groups. For good measure, an extra button has been added in front of the thumb rest, used to instantly slow your DPI for improved sniping accuracy (which could really save your butt in games like PUBG).
Speaking of DPI, this mouse's sensor comes courtesy of Avago, with its 9800. This sensor had a bad rap a few years ago because of acceleration issues – issues which I assume are all but wiped out on newer mice, since I haven't experienced any such issues at all. So, if you are concerned about issues with the sensor, you probably shouldn't be.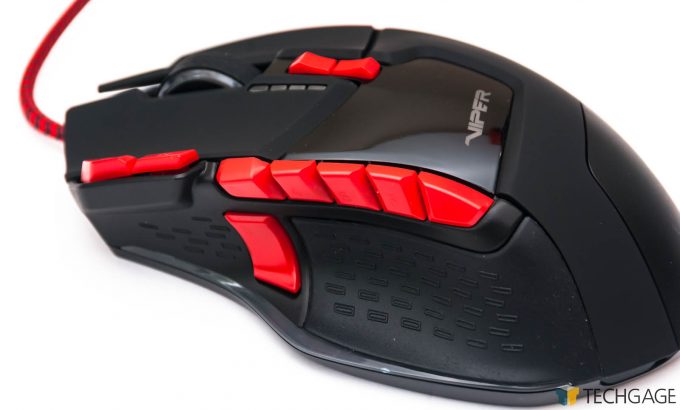 While not the first mouse to implement a weight system, Patriot's V570 RGB is definitely one of the least-expensive options to. It's also one of the first (or the first) I've seen where the weights go into the top, not the bottom, behind a secret compartment that's actually very easy to take off (but not accidentally).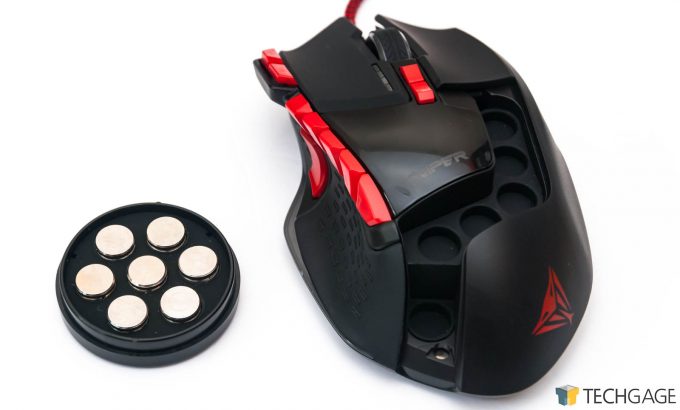 One small feature I came to appreciate about the V570 pretty quickly is the wide, flat scroll wheel. It feels good to scroll, and feels very accurate. The only other mice I've used with similar wheels have been in the Logitech MX family. They are so similar, in fact, that I caught myself at times clicking down the wheel on this mouse expecting the same free-scrolling feature those MX mice offer. Alas, such a feature is a bit much to ask for on a mere $50 mouse.
The last two buttons to be found around the V570 are located beneath the scroll wheel. If you're anything like me, you're probably going to assume that the top button increases DPI, and the lower, decrease. Close, but not so. Instead, the bottom of these two buttons switches between 4 preset (but customizable) DPI levels, while the top one changes the mouse profile you're on (for five in total). The color of the (customizable) LED beside these buttons represents the overall profile, while the meter represents the DPI setting.
I don't think about mice feet too often, but the ones on this Viper V570 did impress me. Rather than use flat pads which can become prone to scratching over time, Patriot used five reflective and very smooth gliding button-like feet, ensuring clean movement regardless of how you slide it. Unlike built-in pads, these feet can be removed, although Patriot doesn't sell replacements (probably because it doesn't need to; the feet are glued in and are probably not meant to be removed). In the absolute worst case, you could DIY yourself some new feet if the included ones become damaged somehow.
From a hardware standpoint, Patriot's Viper V570 impressed me out-of-the-gate, although if I had to conjure up a complaint, it's that the 7 red buttons lacing the left top of the mouse don't feel very durable, and they offer modest feedback. I never felt that I was going to break these buttons with mishandling, so there's at least that. There's also no room for complaint, because for $50, it's impressive to get this many buttons at all. I could totally deal with modest materials in lesser-used areas if it means a feature-packed offering at a great price.
Speaking of feature-packed, Patriot includes a full software package with this mouse, and just as I was impressed with the hardware, I found myself really impressed by the software. I pretty much loathe having to deal with peripheral software, because it's so often done horribly, but the software here is anything but horrible. It's clean, and easy to follow – two extremely important bullet-points.
After opening the software, you'll see a full breakdown of your button configuration. By default, the five buttons above the thumb rest don't have any function tied to them, so you can click on each one and edit to your heart's content. After you click a button, a screen will pop-up that will let you assign mouse or keyboard functions, advanced options (think axis adjustments), and macros.
To my surprise yet again, macro support is quite impressive on this mouse, allowing you to insert keyboard and mouse special functions, and separate your commands with custom delays. What really surprised me is the fact that this software lets you create run-once, loop, and "firekey" macros, something I haven't seen some mice costing twice as much offer.
With loop, the V570 will continue executing a macro until you hit the button again (other buttons will not interrupt). Firekey runs the macro when the button is held down, giving you a bit more control over how you can maximize its usefulness.
Other things you can tweak with the software include the DPI presets, as well as the RGB lighting. In total, there are 7 lighting areas; 4 line the bottom of the thumb rest, while the rest occupy the front, scroll wheel, and Viper logo on top of the mouse. You can customize each one of these seven zones independently, or simply choose "random" and enjoy really colorful configurations. This all comes in addition to the 4-bar DPI readout beside the scroll wheel, which can also use a customized color.
Final Thoughts
Patriot's Viper V570 is without question one of the best budget peripherals I've ever laid my hands on. I am almost excited at the amount of functionality it packs in for a mere $50. It might not be built with the highest-quality materials, but it packs in more features than many more expensive options. Every time I thought I'd find a limitation of this mouse, it proved me wrong.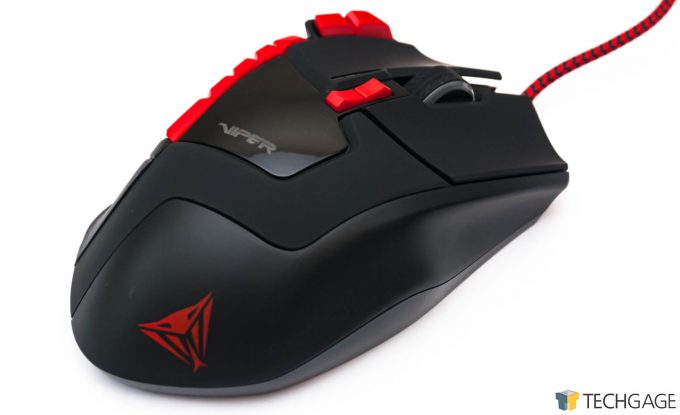 Even without the five additional buttons that grace the thumb rest, this mouse gives us RGB lighting, very robust macro support, configurable weights, full control over functions of every single button (except the left click, for obvious reasons), and excellent DPI control (including a readout on the mouse itself). But then it does have those five buttons, making it all the more useful for gamers, and even desktop warriors, who'd like to assign some macros or functions to one of those five buttons to increase the efficiency of their workflow.
Simply put, I am truly impressed with Patriot's Viper V570 RGB. It packs a punch, and delivers that punch for a very modest price tag. You can't go wrong with the value proposition here.
Pros
A great gaming mouse for $50.
Very customizable (RGB lighting, DPI, macros, button assignments).
One of the smoothest mouse glides I've experienced.
Includes 7x 5g weights to better suit your tastes.
Excellent software solution; easy-to-use and follow.
Cons
Would love the option to launch any application with the side buttons.
Isn't built with the highest-quality materials, but it's hard to expect otherwise for its price.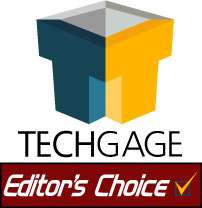 Patriot Viper V570 RGB Gaming Mouse
Copyright © 2005-2021 Techgage Networks Inc. - All Rights Reserved.