A Computer Case, Or Tiny Life House? A Review Of EVGA's DG-87 Gamer's Case

Date: September 28, 2016
Author(s): Tom Roeder

EVGA has been expanding into more and more markets lately, including computer cases. This is not an easy market to break into, with so many already great choices out there. EVGA is making an aggressive move into this market with its DG (Designed For Gaming) series of cases, and as we find out, there's lots to be impressed by.
---
EVGA DG-87 Review Introduction
A computer case is likely to be the most personal, and should be the most thoughtful selection of your entire build. It has the potential to house several motherboards, GPUs, etc, installed over the years.
You may even upgrade fans and coolers over the years, but the main shell of the case will remain.  This is largely thanks to ATX form factors that are keeping manufacturers adhering to standards that have been largely unchanged over the years, even when other technologies are leaping forward.
When selecting a computer case for your build, there are many, many things that you have to consider.  Aesthetics are certainly important, but you also have to consider things like air flow and cooling efficiency, expandability, accessibility via external USB or HDMI ports (HDMI is great if you are going to be using or adding VR to your repertoire) and so on.
You have to consider whether or not you want to add things to a 5.25" slot, such as Blu-ray or DVD drives, additional USB connectors, fan controllers, A/V connectors, not to mention some of these GPUs being as long as they are.  If you are into liquid cooling, you have to consider radiator placement, reservoir placement, etc.
If you are in the market for a case, do yourself a favor and really spend some thought here, as your needs today may not even resemble your needs 2 years from now.
Today we are looking at the latest offering from EVGA, with its all-new line of computer cases that promise to cater to the most enthusiastic gamers out there.  This new line is the DG, or Designed for Gaming line.  None of the cases in this line are what you would consider budget cases, but the first case, the DG-84, starts at MSRP of $149.
There is also the DG-85, DG-86, and the flagship and what we are looking at today, the DG-87.  These are priced at an MSRP of $169, $199, and $229 respectively.  This pricing is much lower than many enthusiast-class cases out there, and are what I would consider to be within reach of most home PC builders out there.
The most notable features are:
K-Boost button which at a press changes your power profile. You can set this to go to/from High Performance, Balanced, or Power Saver.  By default, this will take you to High Performance which will bring your CPU and GPU clock speeds to max, and ramp all the fans up to 100%, all controlled with the onboard fan controller
Diverse water cooling support for dual 410mm or 360mm radiators, and also a dedicated section to mount your reservoir if you have a DIY setup
Easily removable dust filters
Support for up to 12 SSD/HDDs
Immense fan support – up to 8 140mm or 120mm fans
Front and top facing Power, Reset, and K-Boost buttons with front facing USB 3.1 Type C and HDMI (a very noteworthy feature if you are using VR or plan to)
There are many more features in this case, let's take a look under the hood and see what's going on inside this leviathan.
A Visual Tour
Let's get the obvious out of the way right now… this thing is big… like really, really, big.  The DG-87 measures an incredible 686x270x642.45mm (27" x 10.6" x 25.3") and weighs in at an equally incredible 43.2lbs (19.6KG).  Needless to say, the DG-87 has an immense stature.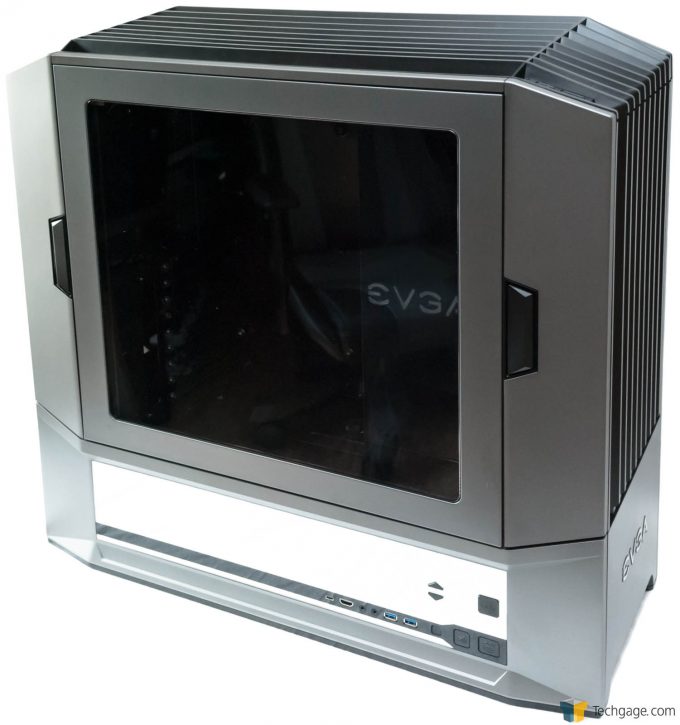 Normally, I go for muted aesthetics when it comes to case design, which this EVG DG-87 case has, but also bold styling at the same time.  The case is two-tone with a large mirrored surface on the side.  The front of the case has a very industrial look, with a large grill taking up the top 3/4s of the front, with the EVGA logo centered on the bottom section. The front easily removes with spring-loaded latches that attach at the top.  This contains a screen to help catch dust, and hides the 3 140mm fans for the intake.

The right side of the case is just a blank panel with a handle at the top for easy removal.  With this panel removed, we find a myriad of cable routing options, cable hold downs, and more hard drive mounting locations than you can shake a platter at, up to 12 total SSD/HDDs.

The backside of the case carries a similar theme as the front, just an industrial looking grill, with the PSU occupying the very bottom section.  What makes this case special is, that the back section is actually a door that completely covers up all of your cords, and passes them through to a generously sized cord grommet on the back of the right side of the case.

We also find two more 140mm fans attached to the door, and an HDMI cable for the pass through to the front connector.  We also find an air flow diverter in between the two fans, more to come about that later.

The left side of the case has a large plastic window on a door that opens easily at the press of a button.  The door is also easily removable thanks to a quick release lever at the door hinge.



The top follows the same theme as the front and back with the large grille, and towards the front left of the top we find two USB 2.0 ports, and a secondary set of reset, K-Boost, and power buttons.  This is a great feature if you decide to put this tower on the floor.

Just below the main door, we find the mirrored section which houses the USB 3.1 Type C connector, the HDMI connector, 3.5mm headphone jack, 3.5mm microphone jack, two USB 3.0 connectors, a reset button, the K-Boost button, and the power button.

Just above these connectors we see buttons to control fan speed, and a mode button.  There are 3 seven segment LEDs hidden behind the mirror surface that are only visible while the case is on.  This readout gives you by default the internal temperature probe's reading, and shows you the fan speeds for the front or rear when you cycle through the choices in the menu.

The top section removes with a little force, allowing access to one included 140mm fan, and plenty of space for liquid cooling, or adding more fans if you choose.

With the side door open, we find the main insides of the case, which is painted a matte black finish.  On the right we find the dark plastic panel with the EVGA logo inscribed on it which comes out easily with the removal of one thumb screw, and the motherboard tray has a very large cutout allowing you the flexibility of using (I am sure) any liquid cooler you can think of easily.
The Build
I have never built a PC in a case this big before, and one thing I learned was, you don't reach around a case this large: you walk around a case this large.

First thing, I removed the side door, which comes off easily thanks to the quick release hinges, which is a really nice touch.  One thing worth mentioning, is you don't need to install any motherboard standoffs.

The back of the case actually has the mounting holes raised up, so you just lay in your board and screw it down.  A small detail, but one that makes the build a little easier.

Next I mounted my radiator and fans to the top of the case.  This was easy enough, and the hoses on my all-in-one cooler were plenty long enough for what I wanted to do here.

Next came the GPU, TV tuner card, and a sound card that doesn't work properly, and I only added because it lights up (yes, I am that petty).  I didn't care for the expansion slot covers here.  They overlay each other at the top of each one, so if you want to remove one in the middle, it makes it a little more work than is necessary.  Not a major deal, but I found it a little annoying.



Next came the PSU, which with the removal of a plate on the back, slides in easily from the back. There is also a temperature sensor that you can mount wherever you choose, this connects to the onboard fan controller and reports the temperature to that and the EVGA software.

Next I mounted and cabled my SSD and the other cabling for the build.  There is a myriad of cable routing holes with premium silicone rubber grommets.  At no point did I find myself making any compromise on how I routed my wires and cables because there wasn't an available hole where I wanted one.  EVGA really gave the system builders every fathomable choice possible.

Next came time to run the cables through the grommet in the back corner, land all the connections, and close the door, making this the cleanest build I have ever built.  And this is where I encountered a pretty major flaw in the case's design.  As I mentioned, I installed a useless (albeit pretty) sound card, but I am using the on-board audio from my motherboard.  And where the connectors are, you can't plug in a standard 3.5mm stereo connector to the speaker out port and close the door, because of the air diverter that is installed on the door in between the two fans.  Heartbreak.

Luckily, this back door is easily removed.  All you have to do is open it, unplug the fan connectors, and lift up and it comes right off the hinges.  The door easily comes apart with a few Phillips screws removed, and I was able to easily remove this divider, and now the door closes beautifully.  I found the placement of this divider in a bad location, as I anticipate my ASUS motherboard will not be the only one with the audio connectors in that spot.
Use and Final Thoughts
Again, this is one mammoth case.  I actually installed a shelf in my office just above my desk to put this monster on, which worked out very well for my setup.  The case is beautiful, and the engineers at EVGA have worked very hard to give this case a lot of great features.
The main side door opens and closes with a wonderful, premium feel.  The closing latch mechanism works perfectly, and even with every fan in the case (8 chassis fans, plus three in my GPU and one in my PSU) there isn't a single buzz or rattle anywhere in the case.
Each panel fits perfectly, and it was really easy to work inside, aside from the fact that due to its size, you find yourself walking around the case whereas with a smaller tower you could reach over or around.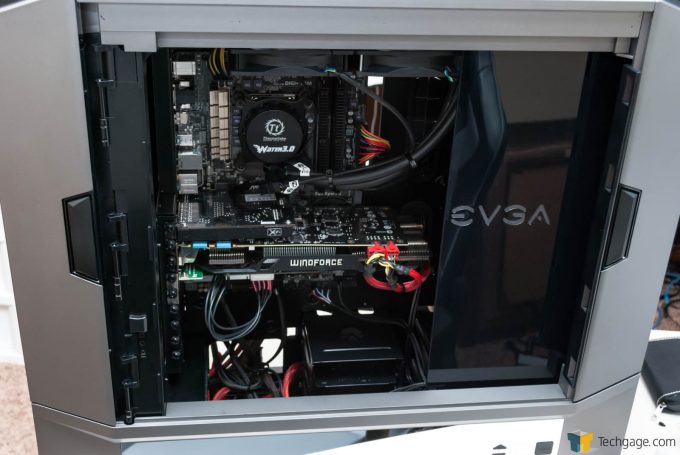 The K-Boost function works really well, just a tap of a button on the side or top of the case, or clicking the icon in the EVGA software will give you 100% fan speeds, and changes your Windows power profile to Max Performance. This brings your GPU and CPU clock speeds to full, making your system ready to do some serious work.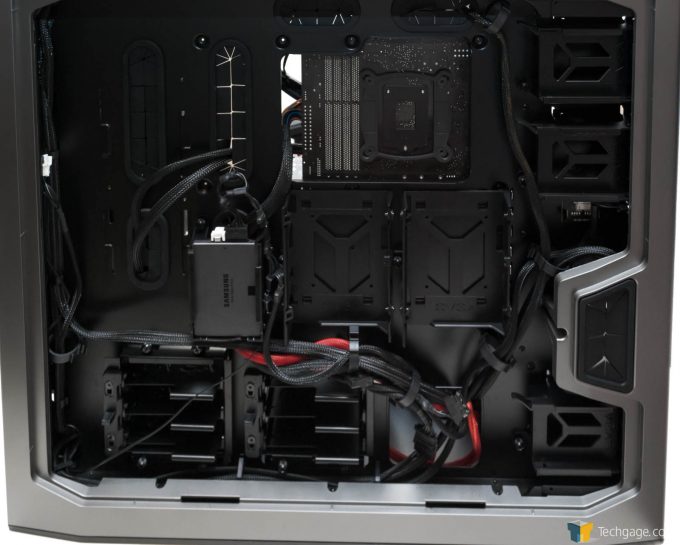 The EVGA software is a pretty lightweight program that installed very easily. You can control the front and rear fans independently of each other from in the software, or on the side panel.  There is even a hardware monitoring program included which gives you a line graph readout of your CPU temp, system temp, GPU temp, and your front and rear fan workload.



This however, raises an interesting question: what happens if this onboard fan controller fails?  It doesn't appear to be able to be replaced, and it is a proprietary controller.  You aren't likely to find another like it, unless EVGA decides to offer them as a replacement part (which could happen, this is just speculation).  You may just be telling yourself that you will go buy another fan controller.

Well, most (99%) of those fit into a 5.25" bay in your tower, which do not exist in this EVGA DG-87 case.  Upon doing some research, I did find a couple of different fan controllers that would tuck away easily into the basement of this case. These plug in through a USB header and can be controlled through Windows. It's not a completely crazy workaround, but it is something to consider when choosing a case like this: proprietary parts means limited replacement options.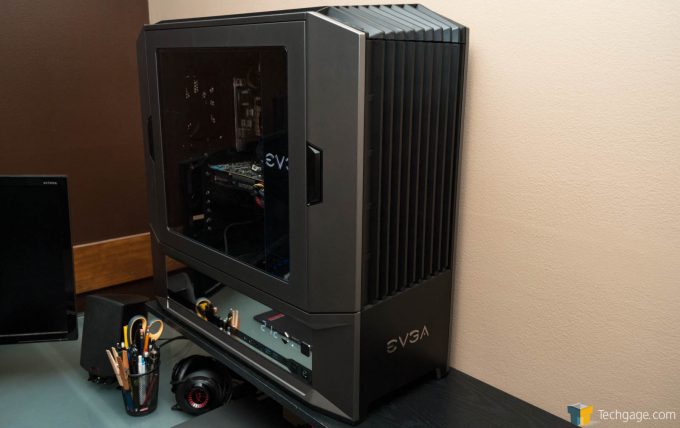 Overall this is an amazing case, I give it my 100% endorsement as being a fantastic choice.  The HDMI pass through is a really thoughtful addition, and is really just a theme that runs consistent in every aspect of this case: well thought-out design, and fantastic execution.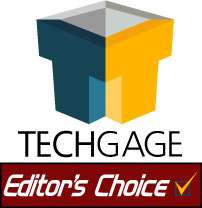 EVGA DG-87 Gaming Case
Pros
Gorgeous styling.
Extremely thoughtful cable management.
Formula One quality engineering.
Immense water cooling flexibility.
Spacious and well thought-out interior.
Cons
It's big, it's heavy.
Proprietary fan controller (not necessarily a con, but it does raise a few interesting questions).
Copyright © 2005-2019 Techgage Networks Inc. - All Rights Reserved.