A High-end Killer? OnePlus 2 Smartphone Review
Date: November 29, 2015
Author(s): Rob Williams

When a smartphone vendor comes along and offers its latest option as a "flagship killer", it doesn't exactly leave much room for leeway: it's either going to be accurate, or off the mark. On paper, the OnePlus 2's case seems to be solid, so let's take a hard look at it and see if its promises are lived up to.
---
Introduction; A Look At OnePlus 2's Hardware & Specs
When the OnePlus One hit the market in early 2014, it was a smartphone that came out of nowhere from a company that came out of nowhere. OnePlus was founded a mere five months prior to the launch of the OnePlus One, and given the hype that seems to follow the company around, it certainly seems to be experiencing an expedited journey.
No one knew how the OnePlus One would be received, but it took little time to figure it out. Before long, both the device and the company itself gained a strong following of fans, and when the time came for the OnePlus 2 to get pushed out the door, the level of hype was enviable of any startup.
Given the success of the company's original phone, and the touting of this second one being a "Flagship Killer", it's clear that OnePlus is willing to do whatever it takes to secure as big a piece of the marketshare pie as it can. But, let's not beat around the bush: "Flagship Killer" is quite the promise. Can a $329 phone really make people forget about the crop of higher-end ones available?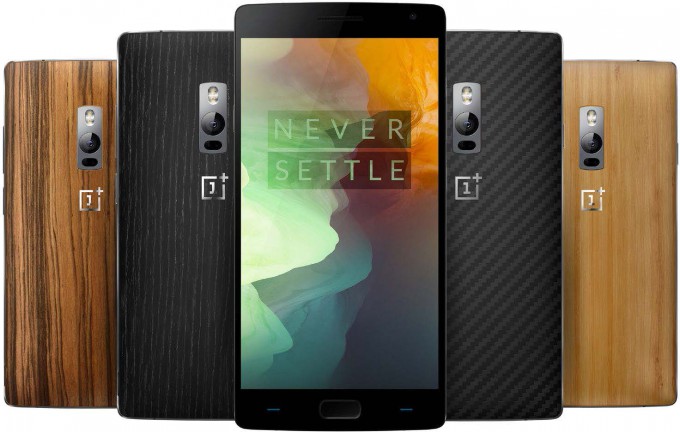 Perhaps, and there's a good reason for it. Since smartphones became a de facto device in our lives, their hardware has evolved rapidly. While it can be argued that things are beginning to slow down a wee bit, at least on the CPU side of things, today's modest hardware will run circles around top-end hardware that came out just two years ago. That's a sad thing for those who like to have the best hardware all of the time, but it's amazing for those who don't want to shell out $600 or more for the latest and greatest when it's only marginally "better" than a device half of the price.
That's largely what we're dealing with nowadays. A couple of months ago, I took a look at ASUS' ZenFone 2, a $200 option that's simply mind-blowing in comparison to $200 phones from two years ago. Who says tech is too boring nowadays?
For its price tag of $329, OnePlus promises to deliver a smartphone that will feel and perform "high-end". It of course sports a lot of hardware to help back that up, including an eight-core Qualcomm Snapdragon 810 processor with Adreno 430 graphics, a 5.5-inch 1080p IPS display, 4GB of memory on the 64GB model and 3GB on the 16GB model, dual-band Wi-Fi, Bluetooth 4.1, a 13 megapixel camera at the back, and a beefy 3,300mAh battery.
Another perk worth noting is that this phone also supports dual SIM cards and utilizes a USB-C connector, effectively meaning there is no "upside-down" with regards to the connector. Notable features missing on this phone include NFC (OnePlus says that not enough customers used it on the OnePlus One), wireless charging, FM radio, and a microSD slot. The latter of those confuses me the most, as being able to expand the storage is something I want to do on any mobile device I own.
OnePlus 2
SoC
Qualcomm Snapdragon 810 (1.8GHz) 8-core CPU
Adreno 430 GPU
Display
5.5-inch 1080p (401ppi) IPS
Storage
16GB or 64GB
Memory
3GB (16GB model) or 4GB (64GB model) LPDDR4
Wireless
Supports LTE, GSM & WCDMA
Supports Dual-band 802.11ac, Bluetooth 4.1, GPS
Camera
Front: 5 megapixel
Rear: 13 megapixel
Battery
3300mAh Li-Polymer
Weight
175g
Dimensions
74.9 x 151.8 x 9.85mm
Et cetera
Support for 2 SIMs
Uses USB-C connector (standard USB plugs into PC)
Like the ASUS ZenFone 2 I took a look at back in August, OnePlus 2 comes in a 5.5-inch form-factor, and with its 401 pixels-per-inch resolution, there's a lot of crispness gracing its display. One thing I complained about on the ZenFone 2 was its plastic back, because it just didn't feel that durable overall. The OnePlus 2, by contrast, feels far more durable, and despite that, it weighs only 5 grams more, to settle at 175g.
I don't often feel compelled to snap a photo of a product's packaging to share, but OnePlus 2's seemed neat enough to share. The box itself is quite rigid, and has a smooth textured feel. After pulling the top off, the phone is revealed; under that, you'll see a neatly-organized charger.
On the topic of the cable that's included with this phone, OnePlus has recently come under fire for it being out-of-spec. While it's suitable for this particular phone, it might not be safe to use with other USB-C devices. While it seems likely that OnePlus will replace the cables for future shipments, only those who purchased this cable separately from the device will be able to get a replacement for free.
Let's take a tour of the OnePlus 2, shall we? The first shot in the slider above shows-off the phone's USB-C connector as well as its home button, which doubles as a fingerprint reader. The audio out port is at the top of the device, while the power is on the right-side, nestled underneath the volume rocker. On the opposite side of the device is a notifications button, allowing you quickly mute all notifications or just the unimportant ones.
One nice feature of this phone worth calling out is the textured back, which makes it very easy to grip. This back is actually very thin, and can be pulled away easily with the help of a little notch on the left side of the phone. After it's taken off, it can be replaced with a different one. OnePlus itself sells a handful of different backs, with examples seen at the top of this page. As mentioned earlier, the OnePlus 2 supports two SIM cards, of the nano variety.
Overall, the OnePlus 2 is a great phone from a design standpoint. It's aesthetically-pleasing, and easy to grip. It also feels very durable, which is a definite plus.
On the next page, we'll see if the software solution is as high-quality as the hardware.
A Look At OnePlus 2's Software
One of the things OnePlus does to stand out of the crowd is ship its devices with a customized version of Android it calls OxygenOS. This is designed to be lightweight and offer a couple of perks that most users would want to use. Notably, it ships with the SwiftKey replacement keyboard, and it also supports a dark mode, custom icons, UX improvements, as well as security patches.
The OnePlus 2 shipped with a version of OxygenOS based on Lollipop 5.1.1, and as that's the last-released major version from Google, that's where it remains up to this point. OnePlus has said that this phone will receive Android 6.0 "Marshmallow" in Q1.
The setup process for this phone couldn't be much simpler, as the screens below will highlight. The most standout software feature of OnePlus devices is the "Shelf", something that can be seen if you swipe your phone's homepage to the right. Its goal is to let you access your most-used apps and contacts quicker than other methods.
While the OnePlus 2 ships with SwiftKey, you're able to choose to stick to the default Google keyboard if you want. Other tweaks include enabling certain gestures and opting for software controls over hardware controls.
After logging into a Google account, you'll be greeted to a seriously clean-looking desktop.
As mentioned above, a goal of OxygenOS is to be as fast as possible, and to cater to that, OnePlus doesn't bundle a slew of preinstalled apps on the OnePlus 2. In fact, almost all of the preinstalled apps come from Google itself, making it hard to figure out what's actually unique. Like Google's own Nexus devices, the OnePlus 2 gives us a seriously trimmed-down and stock experience.
It is worth pointing out OnePlus' Shelf though, a simple screen that lets you open a common app or contact quickly. Depending on your usage, this could very well allow you to keep your home screen completely clean, leaving only the Shelf and possibly as second screen to the right littered with the apps you use on a regular basis.
It's with the contacts where the Shelf might prove most useful; clicking on a recent contact will let you give them a call, text message them, see recent conversations, and even let you get quick info on their address, if you happen to have that stored.
Overall, there's not actually too much to say about the software solution with the OnePlus 2 because it's about as simple as it could be – a great thing if you appreciate "clean" operating systems.
Test Results & Final Thoughts
For a phone to be a proper "flagship killer", it needs to have some serious horsepower under its hood. The OnePlus 2 doesn't fail to deliver here, as it sports Qualcomm's highest-end SoC, the Snapdragon 810. This is effectively an eight-core chip design composed of two quad-cores; one based on Cortex-A57, and the other on Cortex-A53. For graphics duties, the Adreno 430, with its 192 shader cores, are put to work.
At 1.77GHz, the Cortex-A57 chip found in the OnePlus 2 isn't a slouch. There are just a handful of other models utilizing the Snapdragon 810 that have boosted clocks. Notably, the $649 Lumia 950 XL features an updated CPU equipped with a 2.0GHz clock speed. For comparison's sake, the Exynos 7 Octa 7420 SoC Samsung uses in its S6 and S6 Edge sports a 2.1GHz Cortex-A57.
While it's featured in a less-expensive phone, it's worthwhile to note that the ZenFone 2's Intel Atom Z3580 is clocked at 2.3GHz. As seen in the performance comparisons below, though, clock speed doesn't mean everything. The OnePlus 2 far surpasses the ZenFone 2 in most tests, while it obliterates it in every graphics test.
| | | |
| --- | --- | --- |
| | ASUS ZenFone 2 | OnePlus 2 |
| PCMark | 5586 | 4911 |
| Geekbench (Single) | 910 | 1179 |
| Geekbench (Multi) | 2863 | 4490 |
| MobileXPRT – Overall Perf | 307 | 250 |
| Antutu 5.7.1 Overall | 48141 | 58807 |
| 3DMark Ice Storm Unlimited | 20278 | 22621 |
| 3DMark Sling Shot (3.1) | N/A | 990 |
| 3DMark Sling Shot (3.0) | N/A | 1735 |
| GFXBench 3.1 Manhattan Onscreen | 405 | 836 |
| GFXBench 3.1 Manhattan Offscreen | 421 | 911 |
There are some discrepancies worth pointing out here. How is it, for example, that the ZenFone 2 is much slower in certain tests but much faster in others? The tests it's faster in are PCMark and MobileXPRT; both of these tests include image manipulation tests that are accelerated much better on Intel hardware.
To give a more granular example, the "Apply Photo Effects" test in MobileXPRT 2015 took a mere 15 seconds to complete on the ZenFone 2, whereas it took 25 seconds on the OnePlus 2. The one area where the OP2 excelled was in the "Detect Faces to Organize Photos" test; all others favored Intel's chip. This isn't a massive hit to the OP2, but it does highlight that even if Intel's CPU isn't faster in the grand scheme, it does have some perks to flaunt.
Speaking of efficiency, let's talk battery-life. OnePlus doesn't seem to offer estimates about how long its latest flagship will last on a single charge, but to its benefit, it packs a huge 3,300mAh battery, so it should at the very least serve most people well for an entire day.
In personal use, where I don't talk on the phone a lot but do a fair amount of Web browsing, I find the phone can last two days before a charge becomes dire. On the busiest days, I'd wrap with about 30~40% remaining. Of course, different usage patterns are going to result in different charge lifespans, but overall, this phone isn't lacking in this regard.
If a situation does reveal itself where the battery-life is nearly depleted, how quickly will the OnePlus 2 charge back up? From 0% to 35%, the phone takes 30 minutes. From 0% to full, it takes 2 hours and 15 minutes. The ZenFone 2 charges faster both due to the fact that it has a slightly smaller battery (3,000mAh) and includes a more powerful charger.
ASUS ZenFone 2
OnePlus 2
15 Minutes
21%
18%
30 Minutes
42%
35%
1 Hour
77%
60%
Until Full
1h 54m
2h 15m
Performance and battery-life tests aside, in real use, the OnePlus 2 feels snappy. I've been using the phone for about two months now, and it still feels just as fast as it did when I first hauled it out of the box. I never experienced any significant lag (or insignificant, for that matter); apps open fast, close fast, and overall, work fast.
As covered on the previous page, OnePlus doesn't bundle much software with the OnePlus 2; most of it comes straight from Google. One exception is the camera app. It's similar in look and feel to the official Android camera app, but has some tweaks. One neat feature is that it can be used in manual mode, allowing you to adjust the white balance, shutter speed, focus, and ISO. Like any good camera app, it also supports panorama and slow motion modes.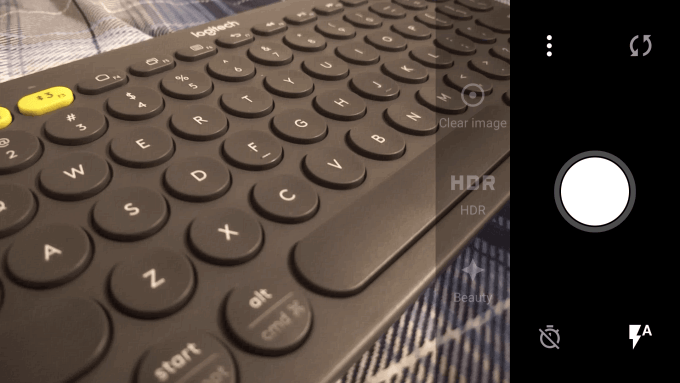 Overall, this camera app works well, but it has two niggles I'd like to see tackled. For starters, there's an odd bug that will randomly place the shutter release button on the screen after the app is first opened, rather than where it should be situated (bottom or side, depending on the orientation). I've encountered this bug about four times since using the phone.
The other issue is minor, but it's an issue nonetheless. After using the phone for so long, I began to feel like this camera app simply refused to ever use the flash. Even in total darkness, it wouldn't activate. It turns out that I had one of the three modes seen in the above shot enabled. When I first began taking pictures with the phone, I must have clicked "Clear Image" and thought it was default, because there's no "None" option here. That's not the case. In any one of these three modes, the flash will not activate. It's only when they're all disabled that the flash becomes available. This, to me, was not at all obvious. If there was a "None" option, there would have never been confusion.
The OnePlus 2 proves itself as a competent camera, even without a flash. But of course, if you don't use the flash indoors, your pictures are going to gain a hue inspired by the lighting in the room. A great example of this can be seen in the cat picture above, where the cats are not black, but instead sepia. In this particular case, a flash wouldn't have helped much, as it would have reflected off of the cats' eyes, making the picture even more awful.
The graphics card picture next to that is far better, as it was taken during the day. The card in focus is crisp, both with the PCB and the small branding at the top-front. The photo of a sticker on a box is about as boring as a picture can get, but it highlights just how crisp text will come out when photographed.
As for video, the OnePlus 2 can record at 720p, 1080p, and 4K, with the latter capped at 10 minute intervals. Overall, light video I've captured looks good, but is nothing to write home about. It's also not ideal in situations where there's a lot of movement, as the phone will constantly try to adjust its focus. Unfortunately, while you can select a focus in this mode, the phone will continue to autofocus as soon as it detects movement.
Final Thoughts
There are some aspects of the OnePlus 2 I'd rather not see (such as the lack of a microSD card slot), but overall, the phone has far more upsides than downsides, making it an excellent choice in this particular price-range.
OnePlus starts this phone out at $329 USD, which represents the 16GB model with 3GB of memory. The beefier 64GB / 4GB model demands a $60 premium, which isn't too hard to stomach given it means a quadrupling of the storage.
After a lot of use, nothing stood out to me about this phone as a major, or even moderate problem. Minor issues crept up once in a while (eg: the sometimes clunky camera app), but those can be experienced with absolutely any phone out there. Regardless of its price-range, this phone feels super-fast, is well-built, and has a couple of nice perks, such as the dual SIM capability and also the fingerprint reader.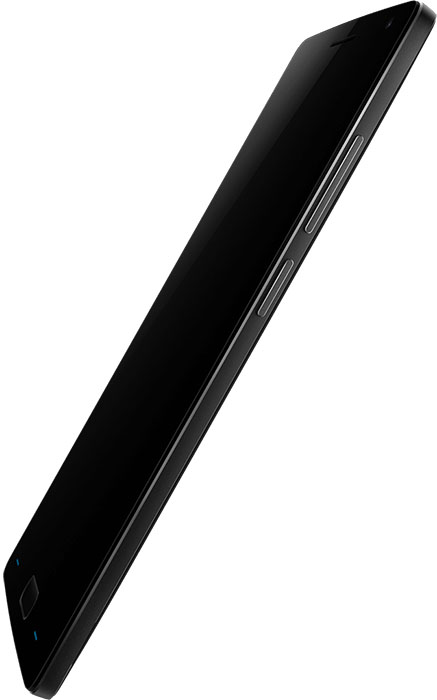 I'd like to focus on that fingerprint reader for a moment. Somehow, I've ignored just how useful these things can be up until I decided to use it with this phone. I've stuck to using a 4 digit PIN code on all of my devices, never wanting to add complexity to it even though I felt like I should. A fingerprint reader negates that issue. You could set a more complex PIN code, for when your thumb falls off and you need to get in another way.
Once setup, you'll be able to access the phone in under one second – much quicker than typing in even a modest pin code. It might not be obvious, but you can also log in this way while the screen is still off, saving yet another button that needs to be pushed.
As far as durability goes, this phone simply feels great when held. There's no creak when twisted ever so slightly; it feels just as solid as a phone should. Its textured back also helps you feel a bit safer when gripping it.
Beyond all that, the lack of NFC could burn some, especially those wanting to take advantage of Android Pay. Some might also hate the lack of wireless charging, as it grows in popularity.
Of course, one other hit that must be mentioned is that it's not straight-forward to purchase this phone. Purchases are still locked behind an invite system which requires a bit of effort on your part to get. When this phone first launched, the company said that it'd be much easier to get this phone over the original one, but a couple of months after its launch, and it's still behind that invite system. Your best bet is to follow OnePlus via its various social networks and wait for a chance to snag one. Here's to hoping that the next OnePlus flagship is able to forego this invitation requirement entirely.
It's up to you to decide whether or not the OnePlus 2 is actually a "flagship killer", but it ultimately proves itself to be a great phone worthy of your consideration.
Pros
Great-looking IPS 1080p display.
Well-built; feels very sturdy.
Good overall design; notification button is a nice touch.
Fast performance, both with regular use and gaming.
Fingerprint reader works exceptionally well.
Supports dual SIM cards.
Feature-rich camera, can take clean images when used right.
Cons
No microSD card slot, which is unfortunate..
No NFC, FM radio, or wireless charging (these omissions won't matter to everyone.)
Camera app can be a little wonky at times.
Invite system is still too tedious to deal with.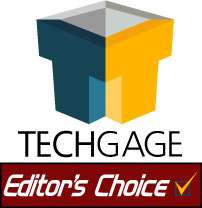 OnePlus 2 Smartphone
Copyright © 2005-2022 Techgage Networks Inc. - All Rights Reserved.