A Look at ASUS' Upcoming Z97 Motherboard Lineup

Date: May 5, 2014
Author(s): Rob Williams

The launch of Intel's Z97 chipset is right around the corner, and with Intel's Haswell refresh, "Devil's Canyon", not due out for another month or so, the star of the show is the myriad of motherboards from all the usual vendors. Once again, ASUS' collection of boards is quite large, so let's dive right in, and tackle new features as well.
---
Introduction & ASUS Z97 Mainstream Motherboards
It's a great time to be a PC enthusiast. No, it's not because we're soon going to be able to admire the gorgeous weather outside while we're gaming-it-up on the inside. Instead, it's that we're about to be inundated with motherboards equipped with Intel's latest chipset: Z97.
Despite the fact that most information surrounding Z97 is technically under embargo until Sunday, the collective Web has decided that adhering to it is valueless. After one site "broke" embargo (I use that term lightly, since Intel's embargoes are verbal agreements, and don't require a signature), another one did, and then another. As it is now, Intel concedes, and we're now allowed to talk about Z97 without fear of being sliced in half with a wafer Frisbee.
But… I'm not going to, at least not here. I'm going to instead begin our Z97 coverage with a look at what's coming from ASUS, as I did last May. Because the number of features that come with each generation of motherboards is enormous, I'm only going to tackle the features here that I consider most notable – hoping that I don't overlook something. I'll tackle other unique features in more detail when I post a review of a board belonging to a series that has them.
At this point, the article is begging for an image, so allow me to share a shot of the first Z97 motherboard I'll be taking a look at: The ASUS Z97I-PLUS, an ITX offering.
With its Z87 mainstream lineup, ASUS stylized it using dark PCBs and gold accents. Overall, the look was quite nice, though it was oft-debated whether it actually looked "better" than what the company gave us previously (I'm of the mind that it was in fact better). This time around, the same dark PCB is used, but the gold accents have turned dull, perhaps a little metallic, or brassy. The color scheme as a whole puts the mainstream lineup closer than ever to the TUF one, so this could be ASUS' way of highlighting its commitment to stability and durability on these boards.
A signature for this generation's mainstream ASUS boards is a round chipset heatsink. I have to admit that I don't care much for the look of this, but I do appreciate ASUS' willingness to do something a little different. Heatsink aside, the entire lineup looks fantastic; I really do like the color schemes and overall designs that ASUS has delivered here.
ASUS has taken a lot of pride in its EFI implementations since its first one with the P67 generation, and as expected, things have been further refined here – although "overhauled" might be more appropriate. At the forefront, the color scheme has clearly been board-inspired, and options have been rearranged for even easier access. One of the key differences between ASUS' EFIs and others is the "EZ Mode" screen. This screen is the first one anyone entering the EFI will see, and its goal is allow users to tweak common settings. With this design, not many will need to enter the "Advanced Mode". You can set the time, enable XMP and RAID, adjust boot priorities, and check up on a variety of information, like voltages and temperatures.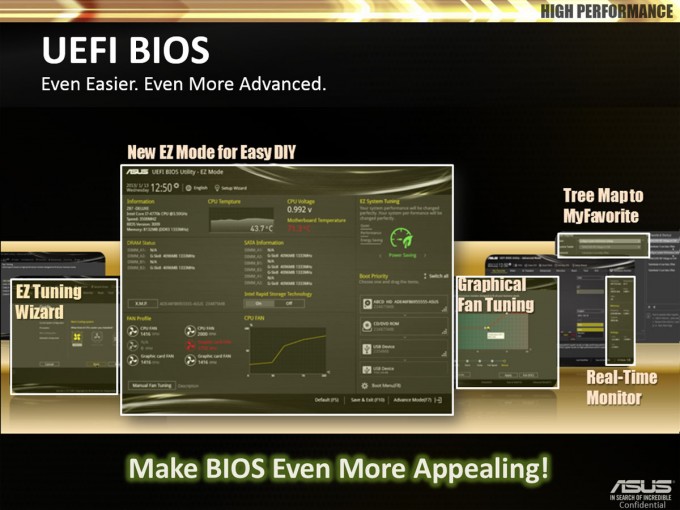 Beyond the easier-to-use EFI, specific functions have also been improved, like the Overclocking Wizard. When taking advantage of this feature now, you'll be asked what your main PC use is, and what kind of CPU cooler you're using (stock, tower, water, or "I'm not sure"). RAID Wizard has also seen some vast improvements, allowing those who don't understand the different RAID levels to choose the right one by asking them what their goal is, and providing graphical representations of how the data will be stored.
ASUS has long offered outstanding fan configuration options on its motherboards, but to take the best advantage of it, Windows software had to be used. Well, with Z97, that's not so much the case, since now, the company offers the full bell curve control right there. For those who don't feel like meticulously configuring all of the hooked-up fans, the automatic detection tool might prove suitable enough.
SATA Express SSDs are a major selling feature of the Z97 chipset, and ASUS is very pleased with the performance that can be seen from its boards. Versus a SATA 6Gbps SSD, ASUS' own HYPER EXPRESS SATA Express SSD can reach heights of about 750MB/s with ATTO, and 777MB/s with CrystalDiskMark.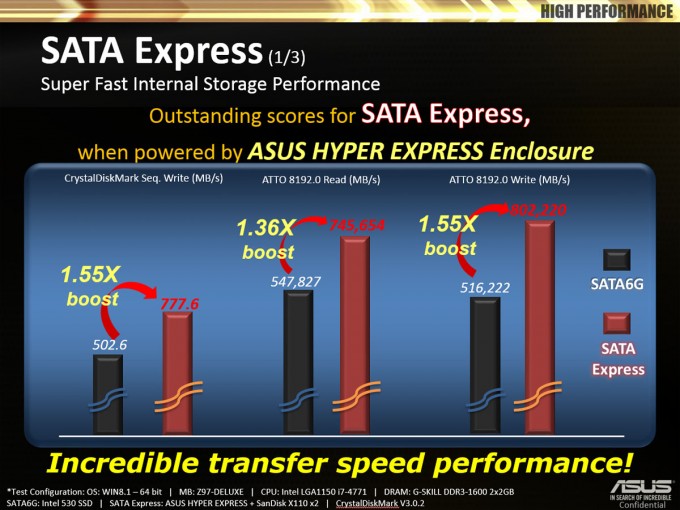 The verdict is still out on how valuable SATA Express SSDs will be to the end consumer, but if pricing is kept in line with SATA 6Gbps variants, it'd be a no-brainer to opt for a SATA Express version.
Since SATA Express drives are not going to become plentiful for some time, ASUS' HYPER EXPRESS allows you to combine two SATA or mSATA SSDs together to attain the sort of speeds mentioned above. It's a very cool offering, even if it's quite niche.
Z97 brings ASUS' 5th generation Dual Intelligent Processors, which refers to the EPU energy-saving chip and also the TPU performance-enhancing chip. Also part of this family is Fan Xpert 3, DIGI+ Power, and a brand-new tool called Turbo App.
At this point, I haven't touched Turbo App, but it's easy to understand its goals with the above slide. In a way, it can be considered a task manager, although it doesn't appear that you'd be able to kill an app through it. What you can do, though, is adjust performance and network priorities for a given app, as well as set a certain audio profile on a per-app basis. While many may not need customization like this, it could prove extremely useful to some, if one app is being a little stubborn because another one is hogging the CPU, or the network.
While there exist a number of other cool features on ASUS' Z97 mainstream boards, I have to stop somewhere – else I'll never get to actually test a board. Other key features I'll namedrop are Crystal Sound 2 (audio engine), NFC EXPRESS 2 (wireless phone charging and data syncing), Turbo LAN, and 802.11ac on most mainstream Z97 boards.
On the mainstream side, here's the big gun:
For those wanting to take advantage of the NFC EXPRESS 2 and Wireless Charging, a special version of the Z97-DELUXE board will be made available that includes both. Some key features of these boards include a mini-DP port alongside DP and HDMI, a DIGI+ 16-phase solution for the CPU and 2-phase for the memory, dual Intel LANs, 802.11ac wireless, 10 SATA 6Gbps, 2x SATA Express, and up to 18 USB ports, 10 of which are 3.0.
The Z97-PRO also has a second variant which includes the ac wireless; otherwise the boards are the same. Compared to the DELUXE, the PRO's CPU power phase count gets knocked-down to 12, and one of the Intel LANs disappears. 8 SATA 6Gbps ports is included along with 1x SATA Express. Further, 14 USB ports can be found in total, with 8 being 3.0.
The Z97-A is the lowest-end mainstream board we know about, but it still has some solid specs. For the most part, it's spec'd quite similarly to the above boards, but only has 6 USB 3.0 ports (and 8 2.0), 6x SATA 6Gbps, and no Wi-Fi.
Like the PRO, this board has only one SATA Express port as well as one Intel LAN port.
Up next, coverage continues with a look at the TUF and RoG series.
ASUS TUF & RoG Motherboards; Final Thoughts
Most of the focus of this article up to this point has been on ASUS' mainstream series, which is because it's the most popular series ASUS has, as its denotation would suggest. The company has a number of non-mainstream boards worth talking about though, and quite honestly, these are the boards I generally have the greatest amount of interest in, thanks to their specific focus.
I've long been a fan of ASUS' SABERTOOTH series because it has an enormous focus on durability and long-life, and for similar reasons I'm starting to dig the GRYPHON mATX series. Both series fall under the TUF label, a name that explains itself well.
Like the SABERTOOTH, an "Armor" version of GRYPHON Z97 will be made available: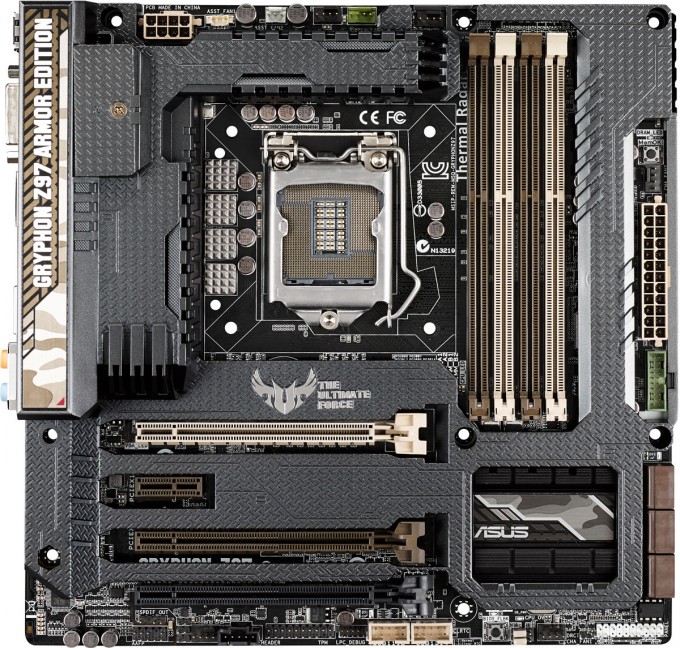 ASUS GRYPHON Z97 Armor Edition
Speaking of SABERTOOTH, ASUS will offer both the Z97 Mark 1, and Z97 Mark 2. Contrary to the numbering, the Mark 1 is the more expensive board, thanks to its armor inclusion.
Bare, but still rugged-looking:
All TUF series boards feature Japan-made 10K capacitors, military-spec MOSFETs with lower RDS, and multiple electrostatic guards (for KB+mouse, USB connectors, audio connectors, and LAN port). The SABERTOOTHs will come equipped with a thin backplate that adds rigidity – a nice touch, since no one likes a bent motherboard.
There's a lot to talk about with the TUF series, but I'm hoping to take a look at one of these boards in the future and talk more about those features at that time. What everything really boils down to, though, is that TUF is designed to be tough… seriously and genuinely tough.
After looking at the photo of the Z97-WS below, you'll know as much as I do about it. This is one board in particular I'd like to take a good look at in the future, because the the WS series' seriousness excites me. Weird, I know.
For those looking for a gamer-focused motherboard, ASUS has six to choose from here, all falling into the RoG MAXIMUS VII lineup. The higher-end boards are the EXTREME (the eATX option) and FORMULA, while the mid-range is HERO and a brand-new offering called RANGER. Smaller form-factors are taken care of with the mATX GENE and mITX IMPACT. There's a lot of shouting going on in these titles, which might be why the RoG series is one of ASUS' most noticeable.
Unfortunately, I don't have photos for the top-end boards, but do for those in the middle of the pack:
The most intriguing feature on this generation of RoG boards is KeyBot, a chip + software solution (yes, yet another onboard chip enters the arena). When a keyboard is plugged into a specific port, you can give it some interesting abilities, such as hitting Delete when the PC is turned off in order to turn it on and go straight to the EFI, hitting F12 to apply an XMP profile, or F11 to boost your CPU's clock.
Further, with KeyBot you can also create macros, assign keys to become shortcut keys or function keys, and even assign a button that seems to store your password (hopefully securely) so that logging in can be done very quickly.
A big part of gaming is going online, so ASUS has implemented a number of networking enhancements on RoG. For starters, an Intel onboard NIC is used, which is pretty-well standard for all of ASUS' boards at this point. Further, LANGuard helps protect the NIC during a power surge with the protection built into the port itself, and the GameFirst software helps you fine-tune priorities to your heart's content.
On the audio side of things, SupremeFX and Sonic Radar II help deliver the best aural experience possible with the use of a robust software package, and includes an ability to set profiles regardless of which OS you're in (I presume through an onboard switch; it's not entirely clear).
In addition to all of that, the RoG boards have a big focus on hardware protection, so you can expect a healthy assortment of over-current protection, ESD guards, stainless steel I/O panel, 10K capacitors, and backplates.
Final Thoughts
In truth, this preview could have been twice as long, but I do think I covered the most interesting bits. As I mentioned before, when we take a look at a motherboard from a given series, we'll talk about all of what it brings to the table. ASUS' mainstream series will be our first tackle, with the Z97I-PLUS. I showed it earlier, but here it is again, because it's so cute:
It might seem odd to kick coverage off with a super-small motherboard, but I just love these things – they're small, yet extremely feature-packed. Despite its small size, this board doesn't lack anything the bigger boards from ASUS' mainstream lineup have – outside of the limitations created by the amount of space for onboard components, of course.
So what do you guys think? Did ASUS do well? Is there a certain model you'd like more than any other?
Copyright © 2005-2020 Techgage Networks Inc. - All Rights Reserved.