A Look At Corsair's A500 Dual-fan Air Cooler

Date: June 15, 2020
Author(s): Rob Williams

Corsair surprised us earlier this year when it released a new air cooler: the dual-fan A500. From the get-go, the cooler gave us reason to be intrigued, with its ease-of-installation, adjustable (and easily removable) fans, and a clean aesthetic that takes the rare route of foregoing RGB. Let's see how it cools our Core i9-9900KS!
---
A Look At Corsair's A500 Dual-fan Air Cooler
At any CES, it's guaranteed that Corsair is going to have a lot to show off, and it's almost just as guaranteed that something will be announced that we weren't expecting. Well, after many years of exclusively focusing on liquid cooling, Corsair released the A500 air cooler to quite a bit of fanfare earlier this year. It's big, it looks good, and it has a couple of neat features that helps set it apart.
By all appearances, the A500 looks simple in design, but there's a lot that's not obvious just by looking. The fans, for example, can easily slide up and off for removal, or just bump up a little bit in order to support tall memory sticks. Its hollow center also allows for seriously easy installation.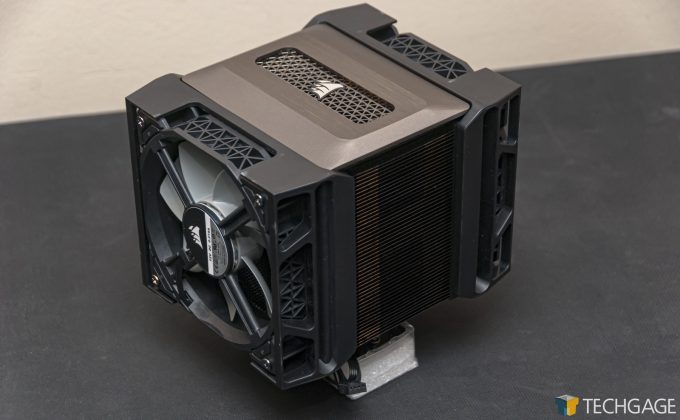 It's likely obvious from the above shot, but this isn't a modest-sized cooler. In an ATX build, it's going to dominate the inside, but that's not necessarily a bad thing. The best part about this cooler is the height-adjustable fans, because if there's one true annoyance that can arise in a new build, it's RAM that's too tall and gets in the way.
Here's a breakdown of the A500's specs:
Corsair A500 Dual-fan Air Cooler
Dimensions
137mm x 169mm x 103mm
Dimensions w/fans
144mm x 169mm x 171mm
Fan Dimensions
120mm x 120mm x 25mm
Fan Speed
0~2400 RPM
Fan Airflow
75 CFM
Fan Static Pressure
4.2 mm-H2O
Fan Noise Level
10~36dBA
Fan Count
2x ML Series
Heatpipe Material
Copper
Heatsink Material
Aluminum
Socket Support
Intel: 1200, 115X, 2011, 2011-3, 2066
AMD: AM4, AM3, AM2
Max RAM Height
45mm
Lighting
None
PWM
Yes
iCUE Support
No
Warranty
Five years
The fact that this cooler has a five-year warranty is nice, although we wouldn't expect it to be much less given it's a rather simple design. It's actually so simple that iCUE is not even supported, making this one of the rarer Corsair products that can't be seen within its own software.
The top piece flaunting Corsair's logo is magnetic, and can be lifted off to access the inside. The fans themselves don't have any lock in place, and can be lifted up and off the cooler in mere seconds. As mentioned before, this design complements builds with tall memory, although we didn't need to adjust them at all in our build, despite using what we felt was taller memory (which can be seen in some of the photos).
The fans Corsair has included here is of its ML maglev series, and overall, they're meant to be quiet and long-lasting. The ideal configuration is to have one fan pulling air into the cooler, and then have the other act as an exhaust to push the warm air towards the back of the PC.
It's already been said that this cooler is easy to install, but that point should almost be emphasized because of how true it is. There's less fiddling that will need to be done versus a typical liquid cooler, although your platform choice may add some challenge. In the case of our LGA1151 build, we placed a bracket on the back of the motherboard for holders on the other side to connect to. The first shot in the slider above shows installation immediately before the cooler can be placed on (well, after thermal paste is added.)
Once the cooler is placed on the chip, the included screwdriver can be used to tighten two screws directly in the center of the cooler. Once that's done, the fans can be readded and connected to the motherboard. Since there's no iCUE interaction here, you're as good as done once the cooler is installed.
The chassis seen above is Corsair's 220T, and from the get-go, we had planned to continue using this build for our gaming GPU test PC afterwards – but it didn't quite work out like that. While this A500 cooler fits inside of this build without issue, our all-in-one liquid cooler we wanted to compare temperatures with wouldn't. Had the motherboard been designed a bit differently, we wouldn't have run into this issue, so boo to that.
There are a couple of things to note here. When we first received this A500, it was suggested that a good candidate to test with would be a chip like the Intel Core i9-9900K. We had the 9900KS already in the machine, so we did our testing with that. We don't often review coolers, and it's because we're not good at it, but since we we sent this one, we decided to dive in a little bit.
After testing this cooler, we realized the full extent of just how hot Intel's CPUs can get. The 9900KS is spec'd to run at 5GHz on all cores at load, but very few people who own one will ever see that actually happen. At peak, the A500 managed to let our 9900KS run at about 4.4GHz per core, while peaking at under 70°C (seen above).
Inside the EFI, we forced our 9900KS to run at 5GHz on all cores, and doing so would result in rather quick crashes when using the A500. Now, to be fair to this A500, even liquid-cooling has a rough go with this. We used Corsair's iCUE H100i RGB PRO XT to do the same test, and it did manage to let the chip run at 5GHz on all cores, but some of those cores came really close to tMAX.
As we mentioned before, we're not cooler experts, so we just wanted to tackle this from a simpler standpoint, since we have no comparison data. We were glad to dig in, though, because it became super clear that some CPUs are not getting enough cooling. In our regular CPU testing, we've always seen the 9900KS outperform the 9900K, but that's despite the fact that the 9900KS never ran at a full 5GHz across all cores, either due to platform configuration, or cooling. When we manually forced 5GHz across all cores, our Cinebench score saw a nice increase.
The moral of the story is: don't skimp on your cooler. It'd also be worth monitoring clocks to make sure you're getting what you've paid for, as well, and if you're not, you can work towards improving it.
Final Thoughts
From a number of standpoints, Corsair's A500 is a great cooler, but we'd be foolish to act like we're the gospel on that, considering we don't have much comparative data. Some of our industry friends took in-depth looks at this cooler months ago, such as Hardware Canucks, and were not that impressed overall, since they actually had some comparative data to highlight where it lacks.
That realization makes this cooler a hard one to outright recommend, considering the fact that it's not priced aggressively. It's an air cooler that is priced at $100, which is where some AIO liquid cooling kits used to be. With a cooler of this size, it's surely going to outperform some $100 AIOs of old, but the reality is, it's not going to be as effective some of the competition (namely Noctua DH-15).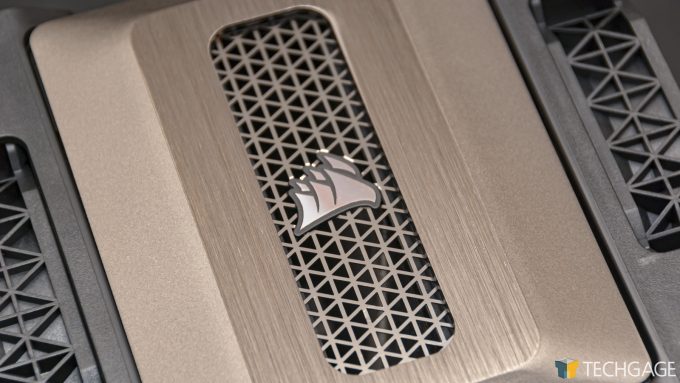 If you either don't care about the weakened performance or have a CPU that's not going to run nearly as hot as eight Intel cores at 5GHz, this cooler can redeem itself with its good looks, and ease-of-installation. The ability to slide the fans up to compensate for tall memory is a great feature, as is the ability to simply remove them as easily as they do. There's no awkward clips here, so cleaning the fans will be a breeze (assuming the cables are not routed inconveniently).
Overall, the A500 is a nice cooler, but it could offer better performance for its price. We're glad to see Corsair decided against RGB for this one, so it acts as a bit of a palate cleanser. That said, the lack of iCUE interoperability means you can't easily increase or reduce the fan speed based on whether you want performance, or silence.
Pros
Looks great. A rare Corsair product without RGB.
Fans are easily removable / adjustable.
Really easy to install, despite the cooler being so large.
Cons
Can get noticeably loud at full-tilt.
Doesn't cool as well as some slightly cheaper competition.
Copyright © 2005-2020 Techgage Networks Inc. - All Rights Reserved.